Grand Daddy Purple – the most well-known 'purple' cannabis strain in the USA – is a gentle formulation coming from a mellow and soothing strain that is ideal for beginners. Originating from California in 2003, it is actually one of the most popular Indica strains on the west coast with 1% CBD and 17% THC content.
With parentage coming from Big Bud and Purple Urkle, this plant blooms in shades of deep purple with a complex grape and berry aroma. It is usually a short and stocky plant with oversized buds that is generally grown indoors in well-ventilated areas. Yet, this sun-kissed bud can be cultivated outside as well in a warm, sunny, and humid climate.
In fact, growing Grand Daddy Purple is quite low maintenance; the main challenge lies in maintaining the appropriate humidity levels. As the plant prefers a dry climate, the humidity should be in the range of 50%; else the stomata will close and it will not be able to absorb water. The plant delivers a massive yield with flowering starting in around 60 to 80 days and harvesting time typically around mid-October.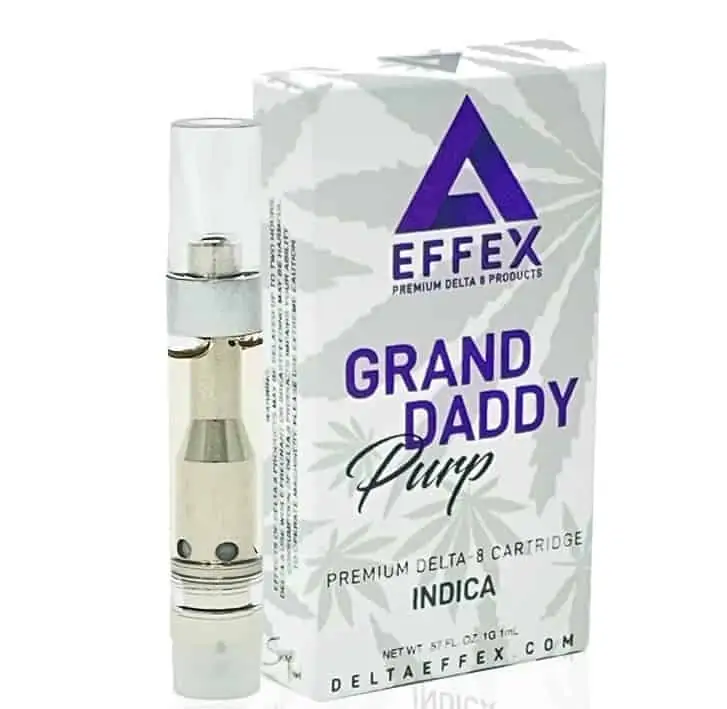 The effects and benefits
The fruity – sweet and citrus – notes of this legendary Indica cannabis induce a relaxing and euphoric effect that relieves stress and delivers a good night's sleep.It is favored for treating pain, anxiety, insomnia, loss of appetite, muscle spasms, and other physical discomforts. The formulation has proved particularly effective in dulling pain and fighting depression.
This is accompanied by a deeply relaxing body high which quickly fades into a smooth buzz, making it perfect for nighttime use. Even the smoke tastes of sweet fruits and herbs while the incredibly good feeling lingers on for a while. However, it is better to avoid this strain of cannabis when focus-oriented work is on hand. People report feeling lazy and prefer to use it at the end of the day to decompress and relax when only eating and sleeping are on the agenda. So much so that, it works as a natural sedative!
How to vape it.
This cannabis strain is usually formulated into concentrates, candy, and edibles which are easy to consume. Still, regular users prefer to vape this cannabis to enjoy the gentle euphoria while staying grounded in the body!
When it comes to where to acquire the best Grand Daddy Purple, there is no need to think beyond Element Earth CBD Shop – The Element of Wellness (www.elementearthcbd.com). Hailed as one of the most prominent CBD products suppliers across the USA, the online store offers nothing but the most reputed and reliable brands to the customers. High on quality, all products have been lab-tested for quality both in the raw form and finished product. This ensures safety at all times as long as consumers stick to the prescribed usage!
The post Getting to Know Grand Daddy Purple (or GDP) appeared first on Element Earth CBD.