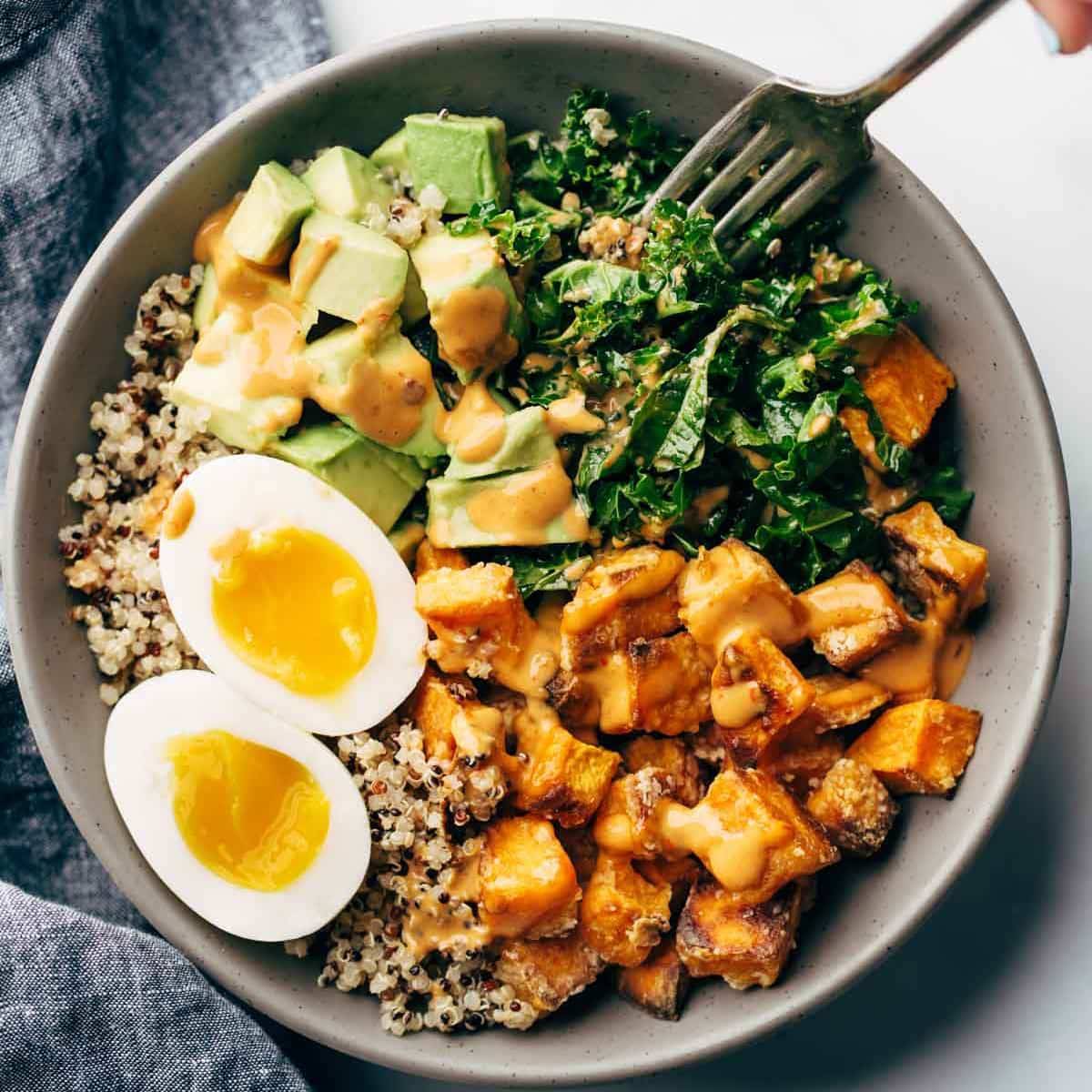 Chipotle Tahini Bowls
Healthy and versatile bowls that come together under a generous drizzle of addictingly creamy vegan chipotle tahini sauce.
sweet potatoes, kale, tahini, chipotles in adobo sauce, avocado, eggs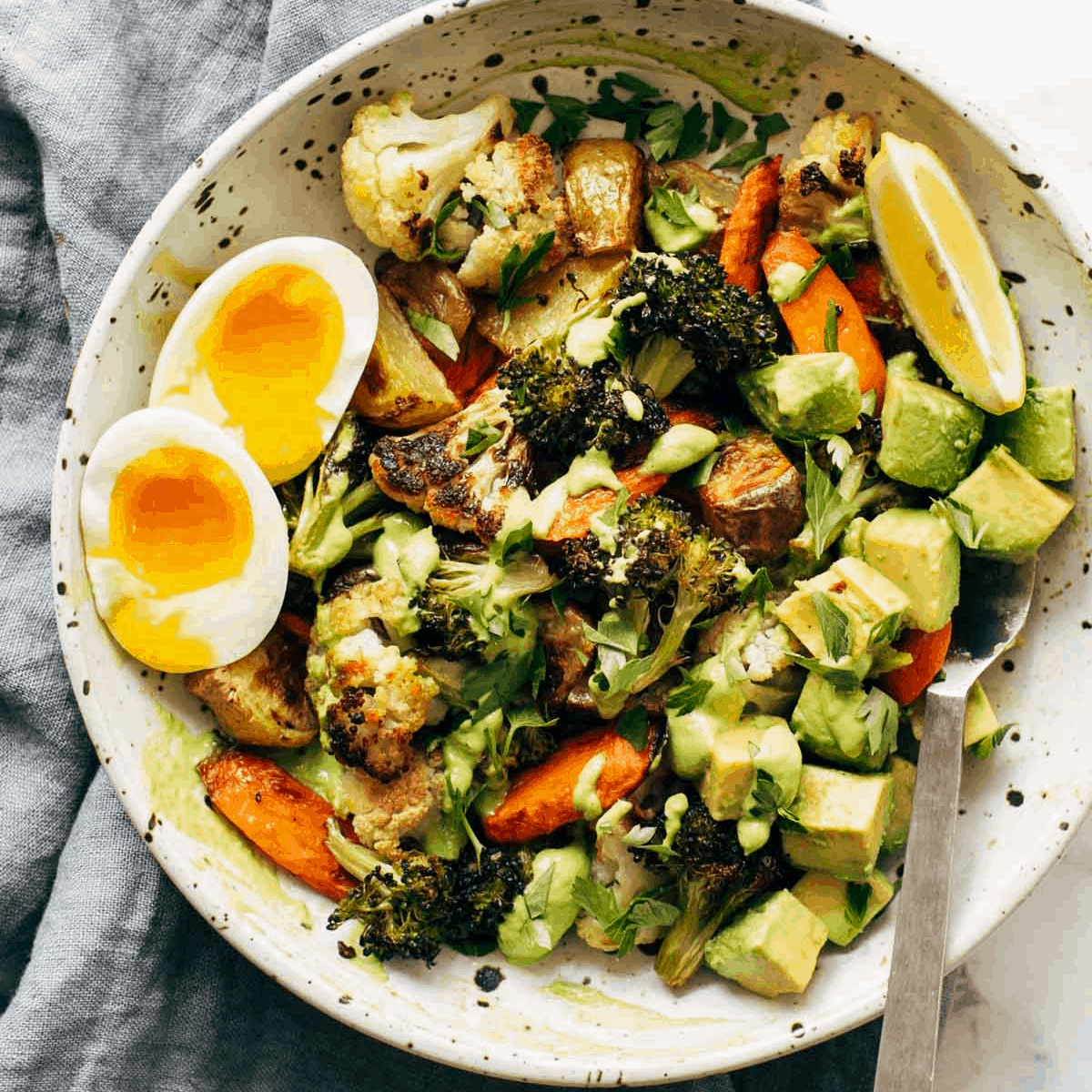 Roasted Vegetable Bowls with Green Tahini
Roasted Vegetable Bowls! Crispy tender roasted veggies, buttery avocado, all together in a bowl with a drizzle of green tahini sauce.
carrots, golden potatoes, broccoli, cauliflower, tahini, cilantro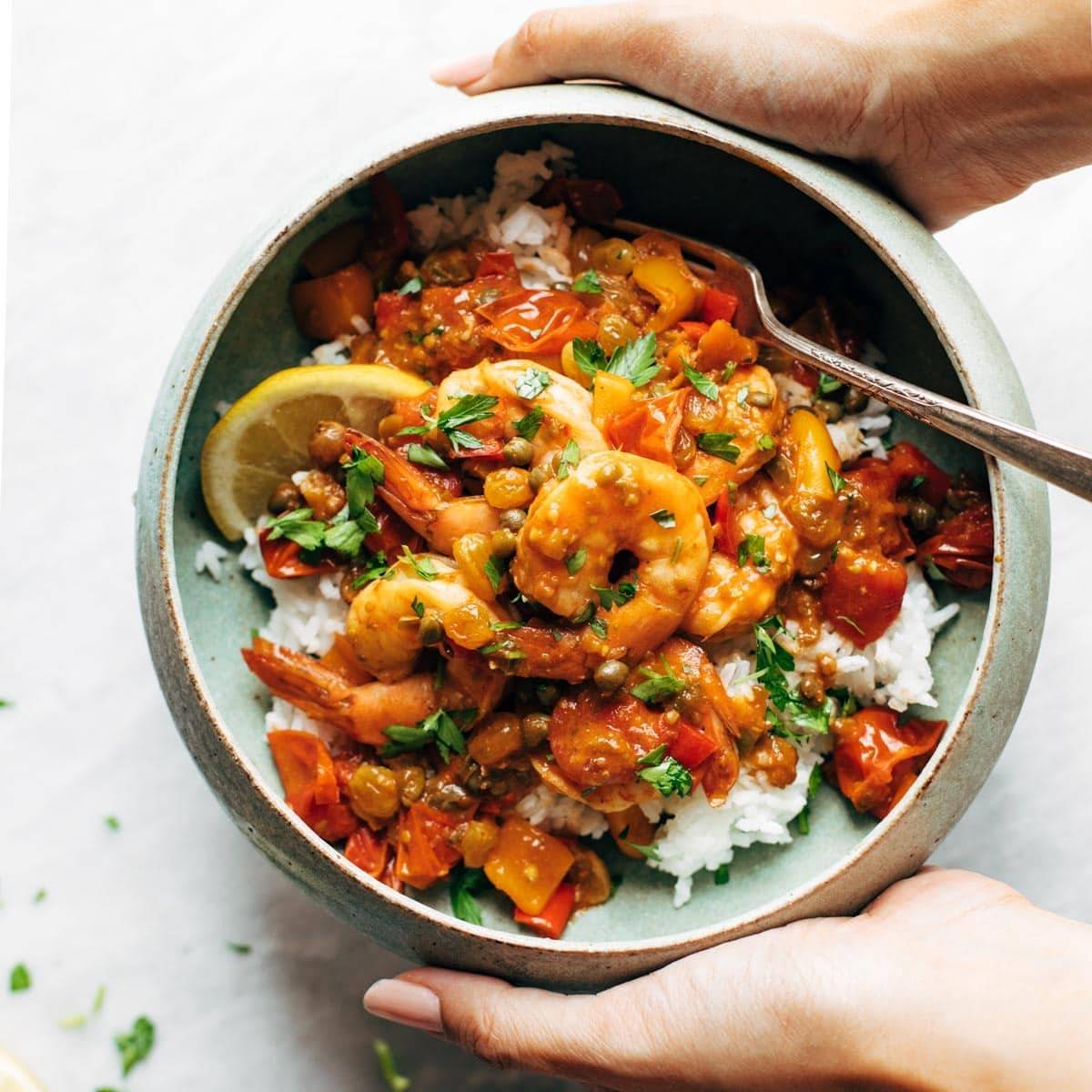 Spicy Shrimp Veracruz
Shrimp Veracruz – my new favorite recipe!! Juicy shrimp in a pepper / tomato spicy, briny sauce served over rice. Oh my gosh, THIS IS SO GOOD.
shrimp, mini peppers, cherry tomatoes, pickled jalapeños, capers, golden raisins
Roasted Cauliflower Burrito Bowls
Nothing fancy to see here – just a healthy, delicious, vegan burrito bowl combo featuring spicy roasted cauliflower, pico de gallo, creamy refried black beans, rice, corn, avocado, and a good lime drench.
cauliflower, black beans, tomatoes, corn, onion, avocado, cilantro
Quick and Easy Spiced Chickpea Bowl
Spiced Chickpea Bowl: clean eating meets comfort food!
chickpeas, onion, garlic, fire-roasted diced tomatoes, cucumbers, mint
Lemongrass Meatball Bowls
Lemongrass Meatball Bowls! A quick and easy meal featuring quinoa or rice topped with quick pickled carrots, herbs, peanuts, and easy lemongrass pork meatballs, all covered with spicy mayo.
ground pork, lemongrass paste, chili paste, carrots, quinoa, herbs, peanuts, spicy mayo
Healing Bowls with Turmeric Sweet Potatoes,
Poached Eggs, and Lemon Dressing
Healing Bowls: turmeric sweet potatoes, brown rice, red quinoa, arugula, poached egg, lemon dressing.
sweet potatoes, garlic, turmeric, lemon juice, eggs, brown rice, greens
Dynamite Plant Power Sushi Bowls
Dynamite Sushi Bowls! just like a dynamite roll, but easier and healthier with tofu, avocado, cucumber, ginger, brown rice, and spicy mayo. 
tofu, rice, carrots, cucumber, avocado, pickled ginger, greens
Marinated Kale and Chicken Bowls with Sun Dried Tomato Sauce
Marinated Kale and Chicken Quinoa Bowl with Sun Dried Tomato Sauce! This recipe is clean, simple, and nutritious!
chicken, quinoa, kale, sun dried tomatoes, avocado, garlic, lemon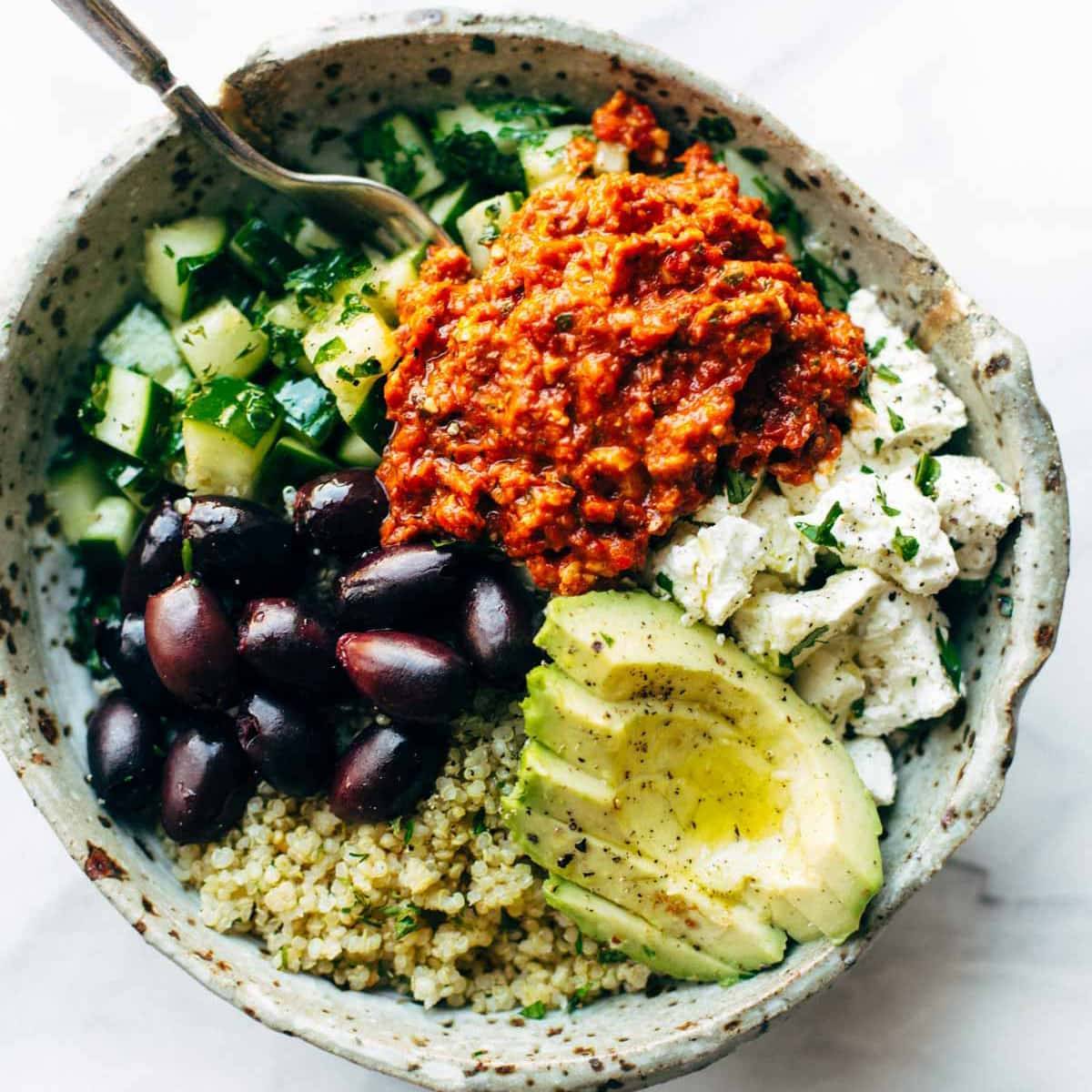 Mediterranean Quinoa Bowls
with Roasted Red Pepper Sauce
Mediterranean Quinoa Bowls with Roasted Red Pepper Sauce! A mix of quinoa, cucumbers or kale or spinach, feta cheese, kalamata olives, and pepperoncini!
quinoa, roasted red peppers, cucumbers, feta cheese, kalamata olives, pepperoncini, red onion
One More Thing!
Looking for even more flavor-packed bowls? Check out a list of all of our bowl recipes!
The post 10 Best Healthy Bowl Recipes appeared first on Pinch of Yum.