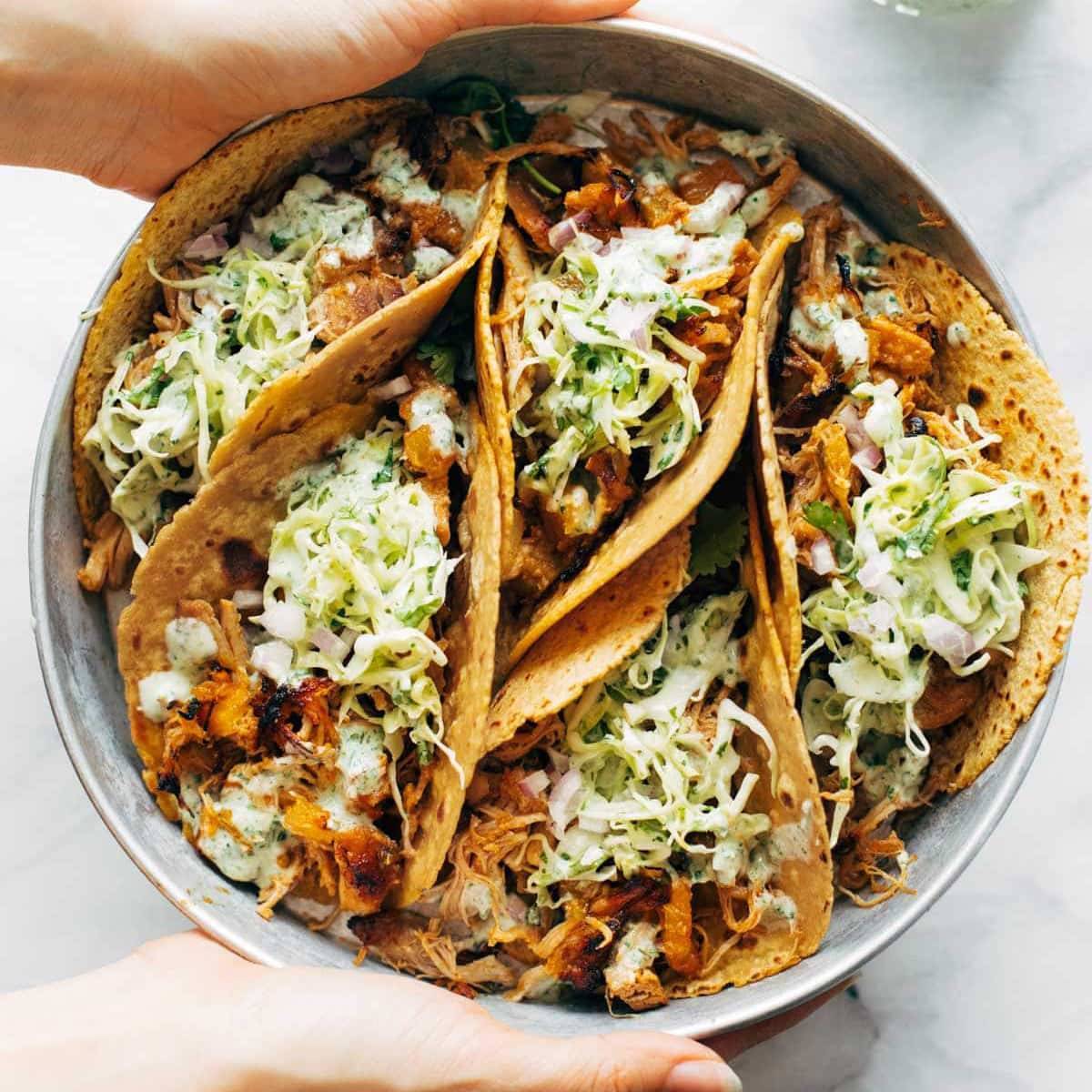 Instant Pot Hawaiian Chicken Tacos
THESE TACOS. Juicy pineapple and spiced chicken crisped under the broiler, tucked into tortillas, and rolled up with creamy jalapeño ranch slaw.
chicken thighs, pineapple, jalapeño, sriracha, mayonnaise, fresh herbs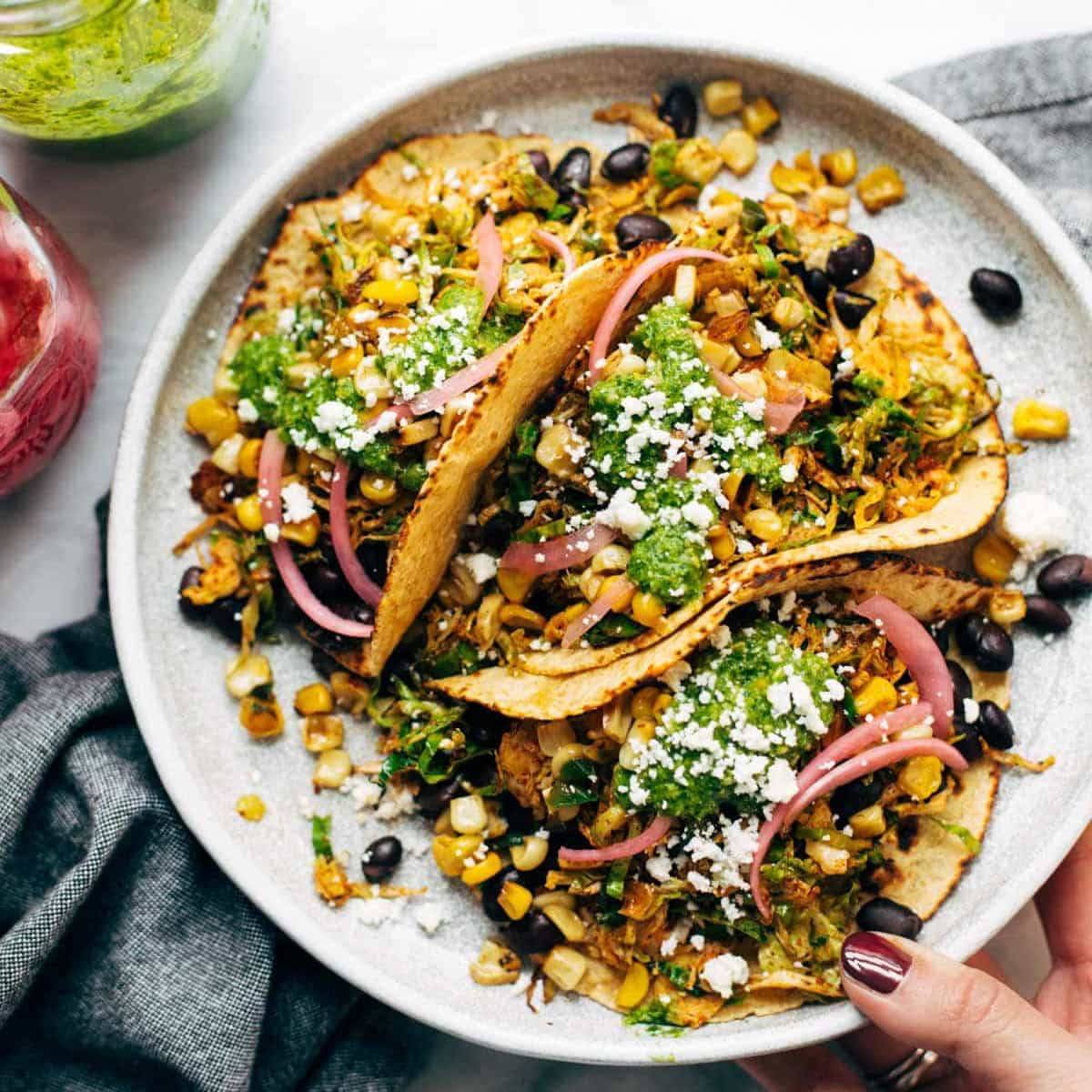 Brussels Sprouts Tacos
Savory sauteed shredded brussels sprouts tucked into charred tortillas with roasted corn, jalapeño, black bean, and cilantro chimichurri. WHOA.
brussels sprouts, black beans, corn, jalapeño, cilantro, cashews, limes
Walnut Chorizo Tacos with Pineapple Salsa
Spicy walnut/cauliflower "meat", fresh guacamole, tangy slaw, and a homemade pineapple salsa. Our favorite tacos!
cauliflower, walnuts, chipotles in adobo sauce, pineapple, jalapeños, red onions
The Best Chicken Tinga Tacos
The only chicken tinga tacos recipe you will ever need! Spicy, saucy, simple, and so fresh.
chicken, fire-roasted tomatoes, chipotle peppers in adobo sauce, garlic, corn tortillas
Easy Chili Lime Fish Tacos
These tacos are so easy, it will blow your mind. Five basic ingredients for the fish, and a quick peach salsa to add some color and flavor.
barramundi, chili powder, cilantro, peach, jalapeño, red onion
Instant Pot Korean Beef Tacos
Food truck fusion-style tacos, straight outta the Instant Pot! Flavorful garlic and ginger beef gets tucked into flour tortillas with kimchi, cilantro, peanuts, and spicy mayo. Oooo-ee!
top sirloin, pears, ginger, soy sauce, flour tortillas
Buffalo Cauliflower Tacos with Avocado Crema
This colorful, spicy, crispy, mega-yum recipe was inspired by the amazing buffalo "wings" at J. Selby's in Saint Paul and this recipe from Sarah Sullivan.
cauliflower, hot sauce, cabbage, avocados, sour cream, tortillas
Spicy Shrimp Tacos with Garlic Cilantro Lime Slaw
Spicy Shrimp Tacos with Garlic Cilantro Lime Slaw – ready in about 30 minutes and loaded with flavor and texture. SO YUM!
shrimp, cabbage, chili powder, sour cream, cumin, limes, tortillas
Caramelized Pork Tacos with Pineapple Salsa
Caramelized Pork Tacos with Pineapple Salsa – topped with sriracha mayo, obviously! Quick and easy to make! Naturally gluten free.
boneless pork loin, jalapeño, pineapple, red onion, cilantro, tortillas
Spicy Fish Taco Bowls with Cilantro Lime Slaw
Spicy Fish Taco Bowls with cilantro lime slaw – crispy, fresh, and SO yummy! Quinoa, slaw, avocado, and crispy fish. YUM.
cod, quinoa, chili powder, cumin, cabbage, sour cream, limes
One More Thing!
Looking for even more ways to taco? Check out a list of all of our taco recipes!
The post 10 Best Taco Recipes appeared first on Pinch of Yum.