10 Cozy Casseroles for Winter
It's a new year! And it's cold outside.
Like, brrr. I drove over to Caribou Coffee this morning for a one-shot-of-syrup Ho Ho Mocha (can't let go, guys, I just can't) and during my frigid 3-minute drive, all I could think about were the cozy, creamy, comforting foods that need to be a part of my day today. Whathat you say? You're not the kind of person who thinks about dinner before you've even had breakfast? …But I don't understand.
Any day that you bake dinner all in one pan and carry it proudly out to your table to be gawked at, scooped up, and devoured is a day that you are the food hero.
And my resolution this year was to be a food hero. HOW PERFECT IS THAT.
Ten Cozy Casseroles, Coming Atcha!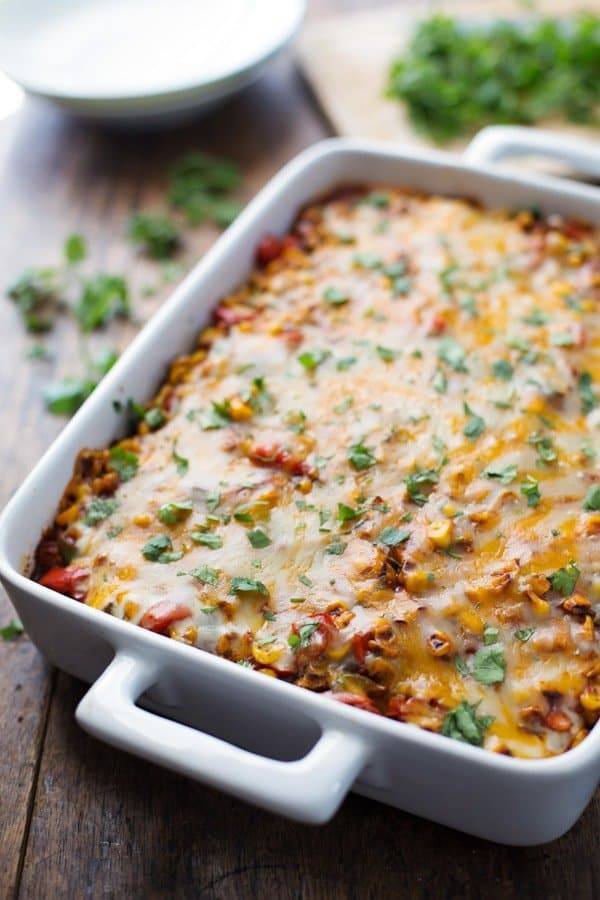 This vegetarian, naturally gluten free casserole of Mexican flavor and cheesy goodness has less than 250 calories per serving because it's loaded with veggies and beans. WIN!
Ohhhh my oh my oh my. Roasted tomatillo chicken enchilada casserole is everything I love about food in a casserole dish and covered with melted cheese. Favorite part: the homemade tomatillo sauce. *emoji with the googly heart eyes*
This baked goodness is the antidote to winter. Partying together up in here we have: generously seasoned chicken, nutty quinoa, crispity delicious bacon, velvety homemade sauce, a sprinkle of Gruyère, and bright green pops of broccoli.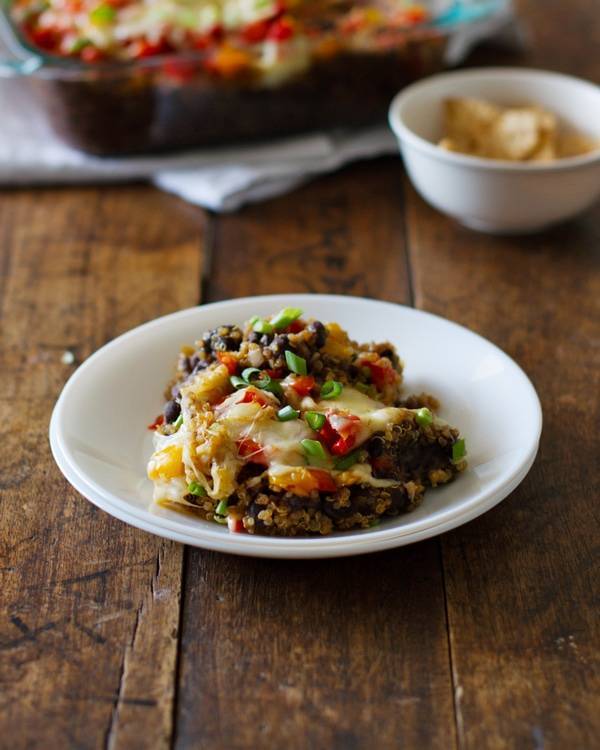 Quinoa again! Another naturally gluten-free and vegetarian dinner packed with Southwestern flavor and begging to be scooped up with chips because hiiii I love chips.
This has this sort of all-up-in-there casserole kind of a feel to it, with the small pieces of wavy lasagna noodles, chicken, peas, Parmesan, creamy butter garlic sauce, golden breadcrumbs, fresh thyme, etc etc etc. PS. yum yum yum.
This Chicken Enchilada Casserole is sososososo delicious. It's like taking all the goodness of a red saucy chicken enchilada, stacking it up with some refried beans for added awesome points, and baking it under a layer of cheese. It's also incredibly easy. Five ingredients!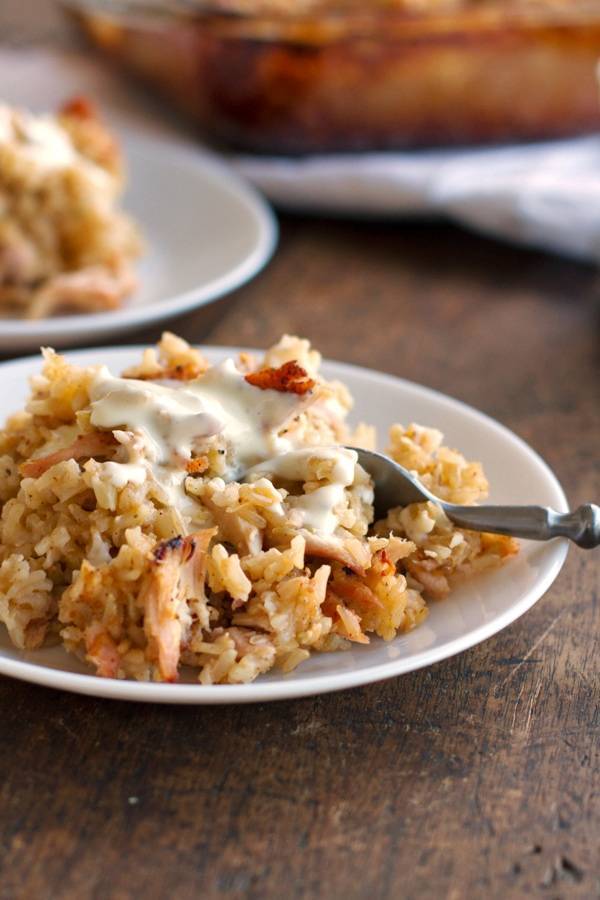 This is a Bjork request (kind of a remake of retro Forgotten Chicken) except this one features homemade cream of chicken soup, so if you're craving that creamy, chicken-y taste, this casserole is for you.
Let's combine pan-roasted mushrooms with whole wheat pasta with the really defined ridges (mmm texture!) and creamy cauliflower sauce, and then bake it under a blanket of Gruyere cheese with fresh sage ribbons. Purrrr.
A pasta-lovers casserole! Also, how great is provolone cheese?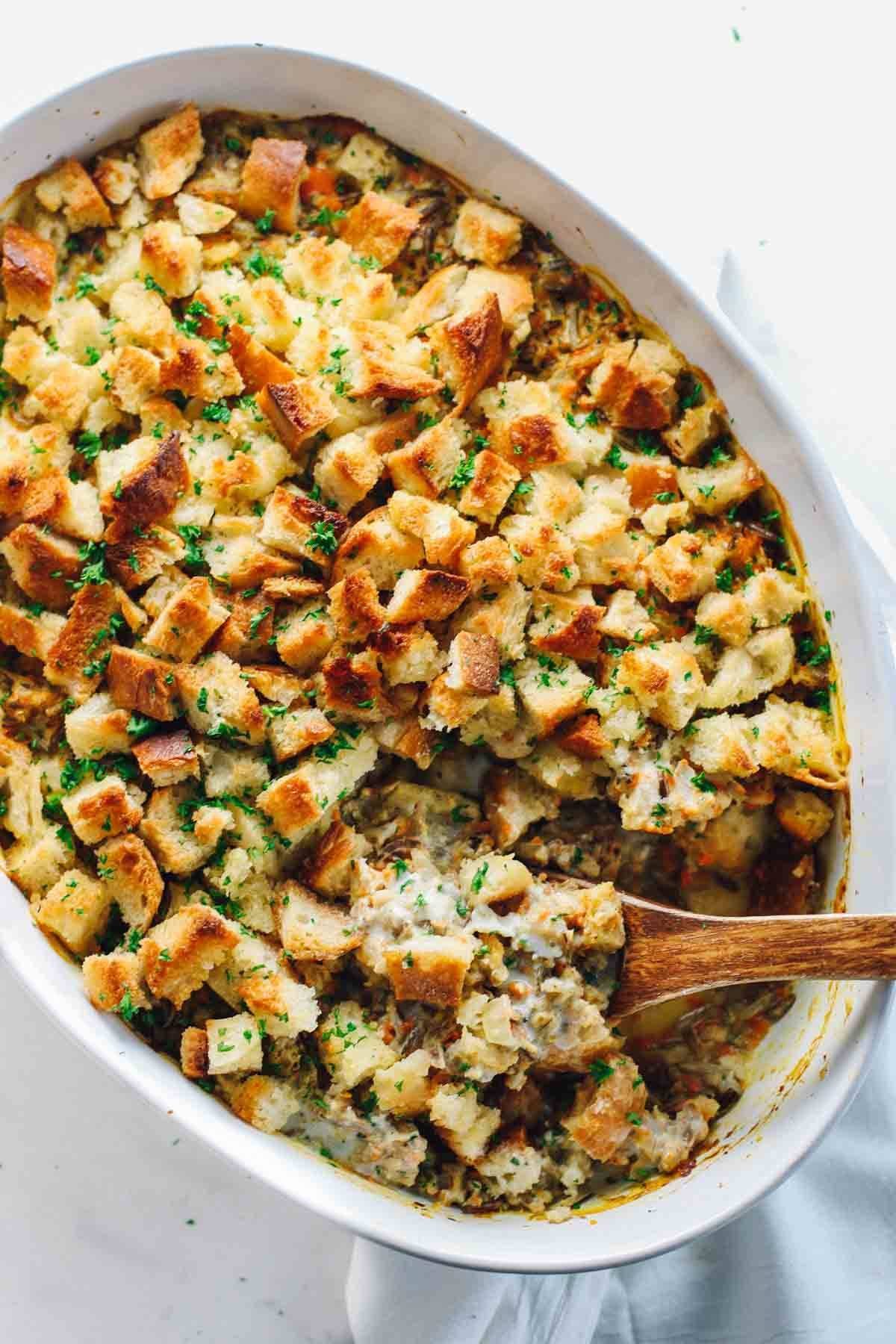 Essentially what this Wild Rice Deliciousness is all about is a good hearty pile of wild rice cooked in broth and carrots, onions, and celery, then baked with the chicken and homemade creamy sauce, then topped with the cutest little butter-soaked bread cubes. It's Chicken Wild Rice Soup in casserole form.
---
There you have it! Ten cozy casseroles that will keep you warm and happy for the rest of the cold days.
And now, I'll be hibernating for the next three months kthanks bye.
The post 10 Cozy Casseroles for Winter appeared first on Pinch of Yum.