Springy Blueberry Lemon Bread
Blueberry Lemon Bread – loaded with juicy lemon and blueberries. SO YUMMY with the perfect thick, soft texture!
blueberries, lemon, butter, sugar, flour, eggs
Basic Soft Pretzels
Basic Soft Pretzels! Necessary dippers for your beer cheese soup.
flour, milk, instant yeast, salt, butter
Lemon Poppyseed Zucchini Muffins
These Lemon Poppyseed Zucchini Muffins are the BEST! Lemony and bright and made with simple ingredients like zucchini, olive oil, flour, and sugar.
zucchini, brown sugar, flour, olive oil, lemon zest, poppyseeds
Miracle No Knead Bread
This bread is SO UNBELIEVABLY GOOD and ridiculously easy to make. Crusty outside, soft and chewy inside – perfect for dunking in soups!
flour, salt, instant yeast
Cinnamon Sugar Apple Cake
This simple cinnamon sugar apple cake is light and fluffy, loaded with fresh apples, and topped with a crunchy cinnamon sugar layer!
apples, cinnamon, sugar, flour, butter
One Ingredient Socca
One Ingredient Socca! Amazing, crispy, golden brown, flaky flatbread that requires just ONE ingredient. Just mix, pour, bake, and done!
chickpea flour
Peanut Butter s'mores Bars
Chocolate, peanut butter, and marshmallow sandwiched between two layers of a graham cookie crust. It's everyone's favorite summer snack in dessert bar form.
graham crackers, peanut butter, marshmallow creme, chocolate bars, butter, vanilla
3 Ingredient Sweet Potato Crust
All you need is sweet potatoes, rolled oats, and an egg! SUPER easy hand-holdable healthy pizza crust.
sweet potato, oats, egg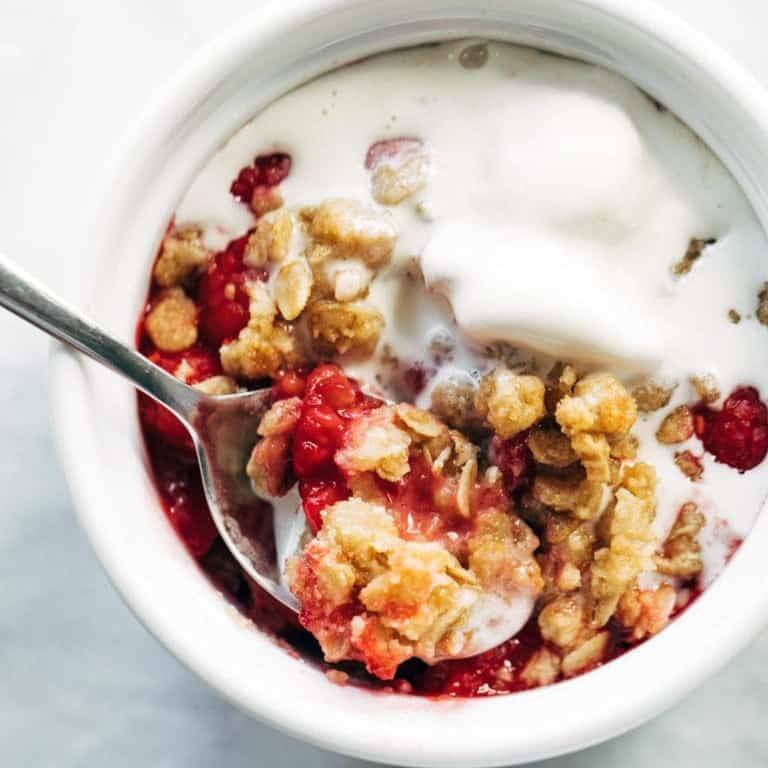 Two Person Raspberry Crumbles
The BEST easy summer dessert – for two! A layer of oat-brown-sugar crust, juicy, sticky, bubbly raspberries, and topped with a buttery crumble that's baked to perfection.
fresh berries, rolled oats, lemon juice, flour, brown sugar
The Best Soft Chocolate Chip Cookies
These are THE BEST soft chocolate chip cookies! No chilling required. Just ultra thick, soft, classic chocolate chip cookies!
chocolate chips, sugar, flour, brown sugar, vanilla, butter
One More Thing!
Looking for even more freshly baked faves? Check out a list of all of our baking recipes!
The post 10 Easy Baking Recipes appeared first on Pinch of Yum.