10 Recipes To Save You When You Just Don't Feel Like Cooking
And by the way, "when you just don't feel like cooking" is code for THE WHOLE SUMMER.
I think we can all appreciate that summer is the time when sitting outside on a hammock with a sparkly drink and watching dogs and kids play in little splashy pools is far, far superior to standing over the stove trying to get creative about what we eat for dinner.
The problem, for me, is that while I have little to no interest in meal planning and cooking right now, I still want to eat GOOD food. Like, if I could exclusively eat food that tastes happy and fresh and fun while also exerting little to no effort for planning, prep, or dishes, that would be great.
Option A: get takeout for every meal.
Option B: embrace the low-key nature of the summer season and hit up one of these tried and true lazy person recipes instead.
---
Listen, this is not meant to impress you. That's why it's called Cheater's Power Salad. But if we are going to talk about what to make when you really don't feel like cooking, then we need to face the very real facts that sometimes a pre-bagged salad can deliver the foundation from which to build something very scrappy, healthy, and delicious.
Here's the recipe: a bag of salad, a package of pre-made dressing if it's a good one – YES YOU HEARD ME – and then whatever fresh veggies are in your fridge (tomatoes? cucumbers? corn?). Don't forget some chunks of avocado, maybe some beans, possibly grilled chicken if you are going fancy, and done.
I am totally for real with this. Variations of this have been on my real life meal plan for the last three weeks. Zero shame.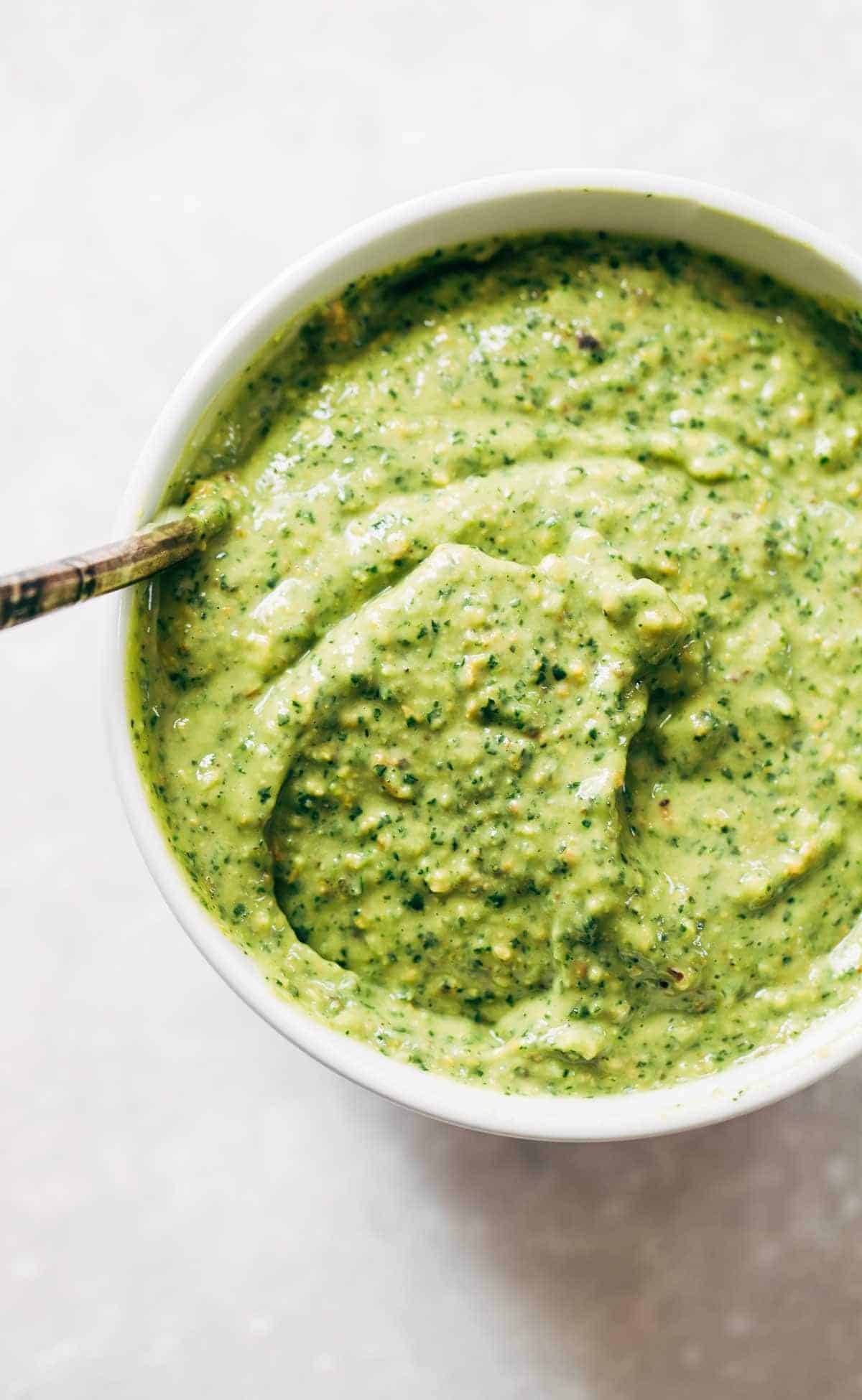 So you don't feel like cooking? Cool. Don't cook.
Gather some raw veggies, some cheese, crackers (and by crackers I mean chips), and make a five-minute batch of Magic Green Sauce.
I have been known to eat this sauce with a heap of tortilla chips as just straight lunch. It's not really advisable from a balanced eating perspective, but listen, we are dealing with some major cooking delinquency here. A win is a win is a win!
In other words, crispy pork loaded with flavor that delivers greatly and yet asks so very little of you. You make it in the slow cooker or Instant Pot. It feeds a crowd beautifully and everyone is always impressed at "what a great cook you are." The end.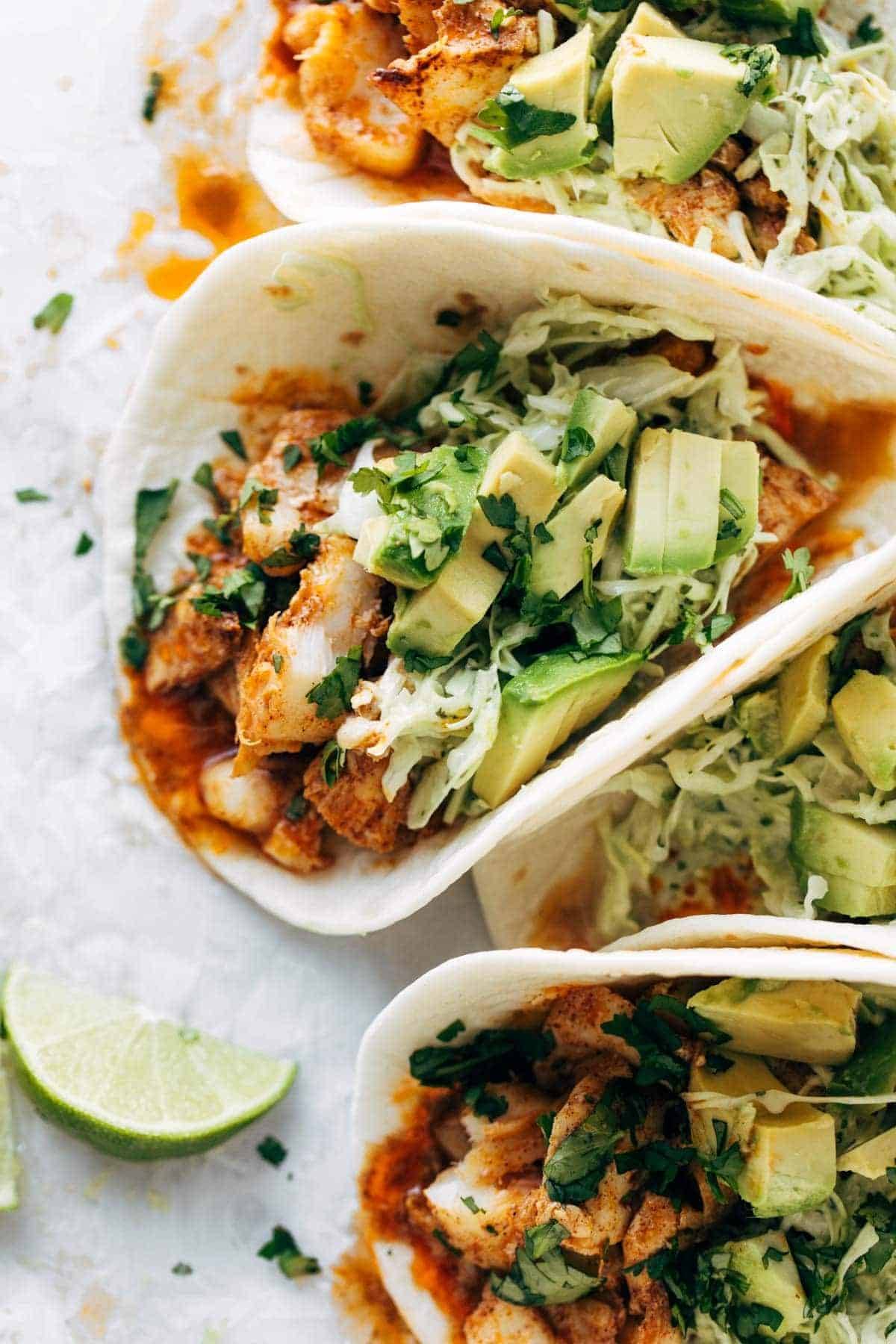 This is the fish tacos recipe for when you are THISCLOSE to getting takeout. Again.
Recipe instructions: Put fish in pan. Cover with melted butter and spices. Bake, flake, and done.
A) it's so easy.
But B) IT'S REALLY SO GOOD.
Make the (admittedly very delicious!!) garlic cilantro sauce if you want, or skip it if you'd rather just sit outside and drink a lemonade. How much can one person be expected to do when it's this nice outside, honestly?
Under no other circumstances would I tell you to eat salmon from a can.
Except for now. This is the time that I'm going to tell you that yes, salmon from a can will save your lazy bum when you're just needing a good meal right now, like, ready in 15 minutes. And things will get shockingly delicious when fried into a little salmon burger situation and thrown onto a bun and/or over some saucy cabbage slaw. It is one of my favorite easy recipes of all time.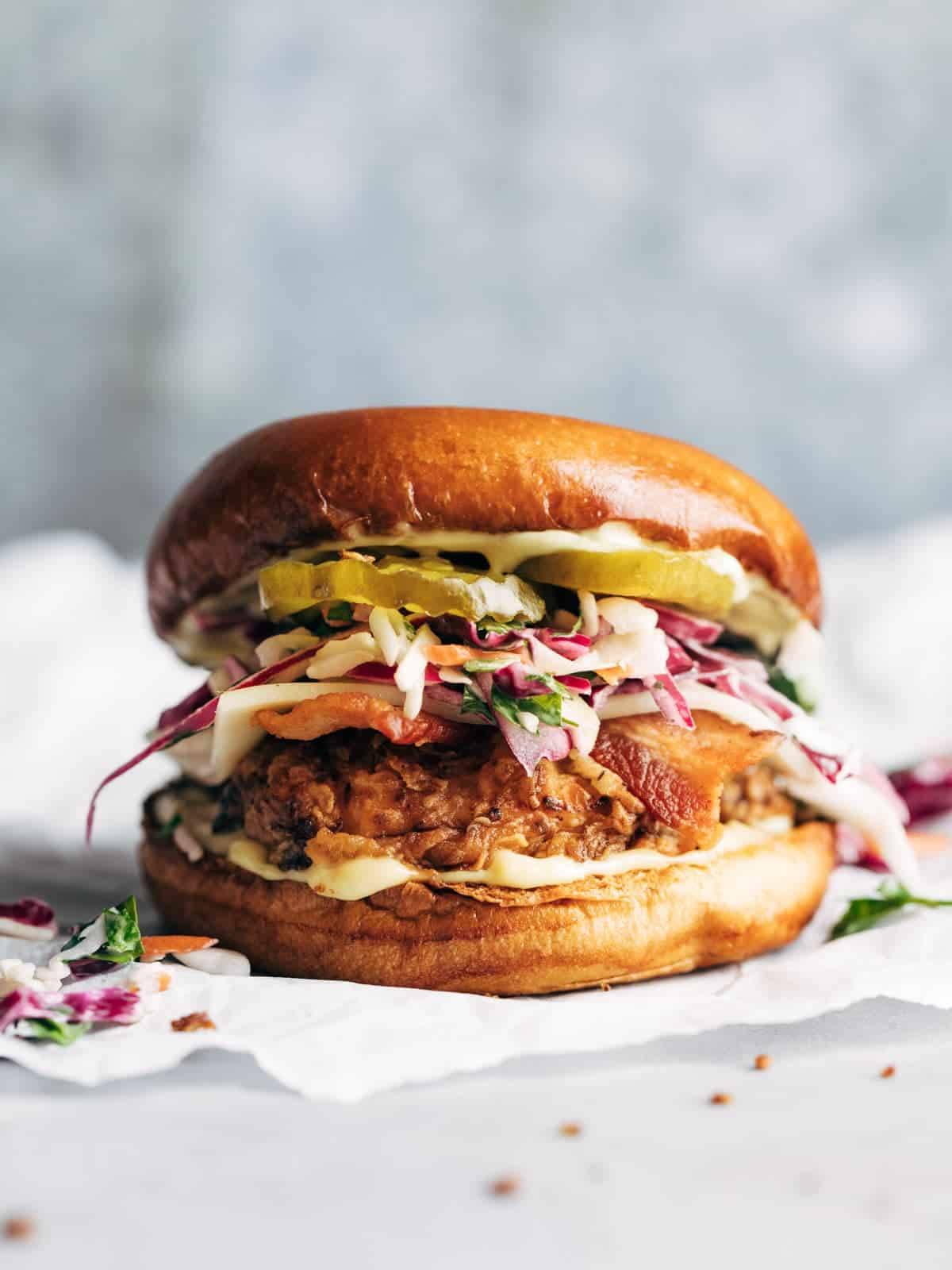 The twisted thing about not wanting to cook is that sometimes you don't really want to cook but you are open to taking on a bigger cooking project. Like, no, I can't make dinner tonight. And yes, after I eat a frozen pizza, I will embark on my first ever journey to homemade croissants.
No one said this was going to make any sense.
Weirdly, I find that when I don't feel like cooking, sometimes what it means is that I'm just bored with cooking. And making something mega from scratch, like FRIED CHICKEN SANDWICHES THAT WILL BLOW YOUR MIND, is exactly what the doctor ordered to get my excitement level up again. Is this… am I… like, how do we feel about this?
Yes, this is a project. No, technically this recipe doesn't belong on this list. But speaking from experience, this could be the OMG-yum project that makes you excited to cook again.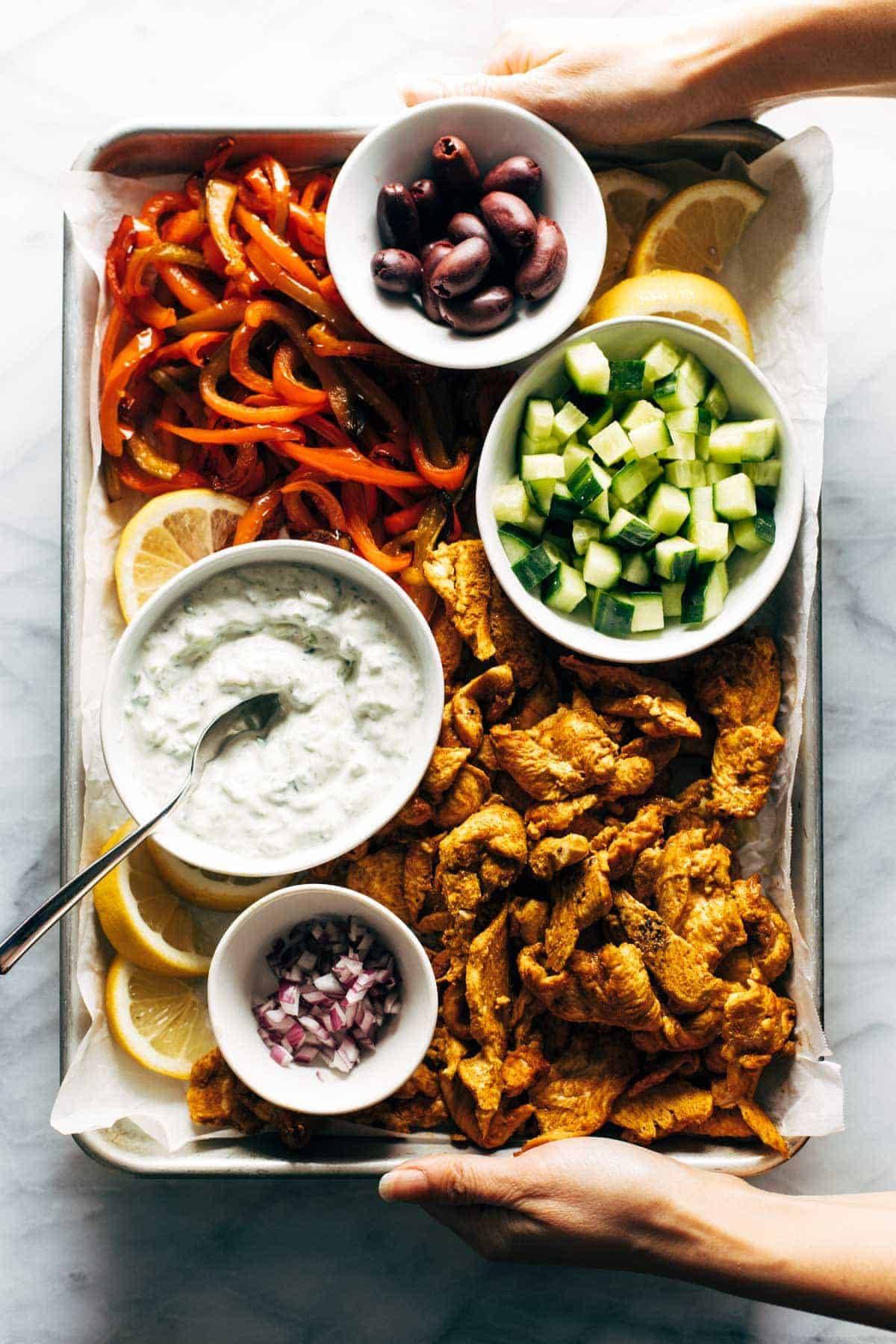 Or sheet pan anything.
Here's one of my favorite hacks about sheet pan pitas: you make one sheet pan of stuff (chicken and peppers), and then you can buy all the sauces and extras! No prep needed! Sure, you can make your own tzatziki or hummus or pitas, but hey guess what! LOTS of grocery stores sell that stuff pre-made! 2020 is a great time to be alive!
Looks beautiful, makes people happy, very low maintenance. Highly recommend.
This is a picture of avocado egg salad on a toasted everything bagel because is there any other way?
Both the egg salad and the chicken salad are just so friendly to us Not-Wanting-To-Cook People in that they require, like, 5-8 pantry ingredients, and about 10-15 minutes of prep. I think lunches are settled then.
Hello hi this is a salad that features those little crunchy chow mein sticks? So that is where we are at now.
This is more of an assembly situation and less of a cooking situation. The creamy, sweet, unusually yummy dressing can be shaken up in a jar and the chow mein noodles can be, well, you can just open the bag. There's also plenty of non-demanding healthy stuff in there like edamame, cashews, and cabbage.
I might actually make this for dinner tonight. It's pulling me in.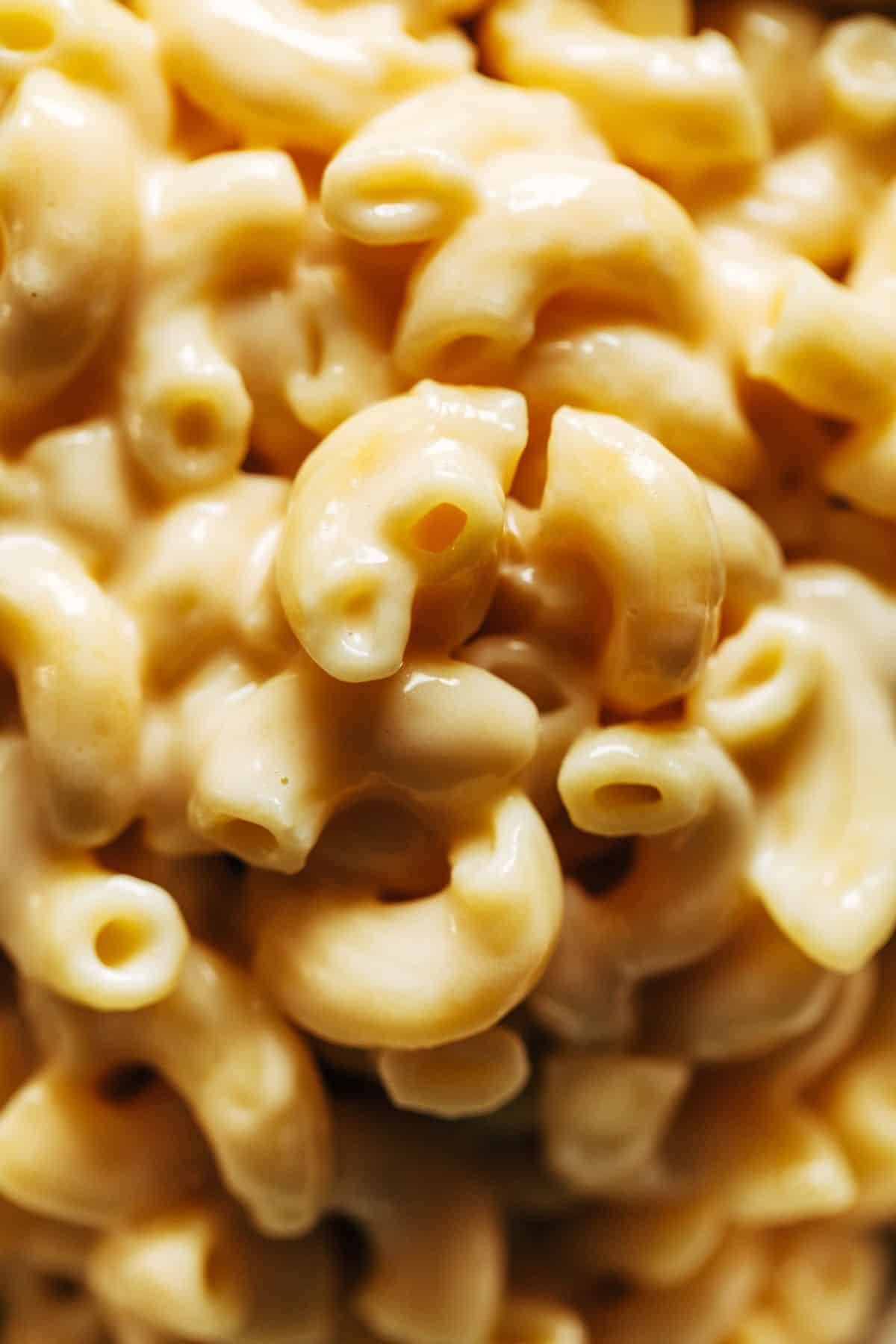 I'll be the first to tell you that we eat a lot of boxed mac and cheese at our house. There is a time and a place (or lots of times and places!) where that is the exact thing you need.
But this mac offers something even more special by combining the low, low effort of boxed mac and cheese with the texture, sauciness, and actual cheese flavor of a really nice homemade mac and cheese. It's truly the best of both worlds.
In the form of cheese sauce. On noodles. In the Instant Pot.
---
What do you cook when you don't want to cook?
Asking for a friend.
The post 10 Recipes To Save You When You Just Don't Feel Like Cooking appeared first on Pinch of Yum.