Harissa Meatballs with Whipped Feta
These meatballs are the perfect SOS dinner! Store-bought meatballs, bell peppers, zucchini, harissa, and whipped feta all in one bowl. YUMMY!
frozen meatballs, feta cheese, bell peppers, zucchini, harissa paste, pita
Chicken Meatballs with Peppers and Orzo
This is the BEST combo. Quick chicken meatballs, tangy tomato sauce with garlic and peppers, and a silky-creamy pile of hot orzo on the side.
ground chicken, Parmesan cheese, bell peppers, tomato sauce, orzo, mascarpone
Mini Chicken Meatballs with Crispy Potatoes and Romesco
A super easy recipe made with chicken, breadcrumbs, Parm, garlic, eggs, salt. Served with crispy potatoes and a 5-minute Romesco sauce!
ground chicken, potatoes, Parmesan cheese, romesco sauce, garlic, breadcrumbs
Garlic Herb Spaghetti with Baked Chicken Meatballs
This pasta is SO GOOD! Lots of lemon, butter, parsley, and a handful of Parmesan. Yum!
spaghetti noodles, lemon, ground chicken, butter, Parmesan cheese, garlic, spinach
Vegetarian Swedish Meatballs
These little meatballs are made with wild rice and mushrooms and they are served up in a simple and savory brown gravy. Yum!
wild rice, mushrooms, sour cream, breadcrumbs, Greek yogurt
No-Boil Baked Penne with Meatballs
No-boil, fail-proof, garlic-buttery, easy dreamy weeknight dinner. SO GOOD! 
penne pasta, fire roasted tomatoes, butter, spinach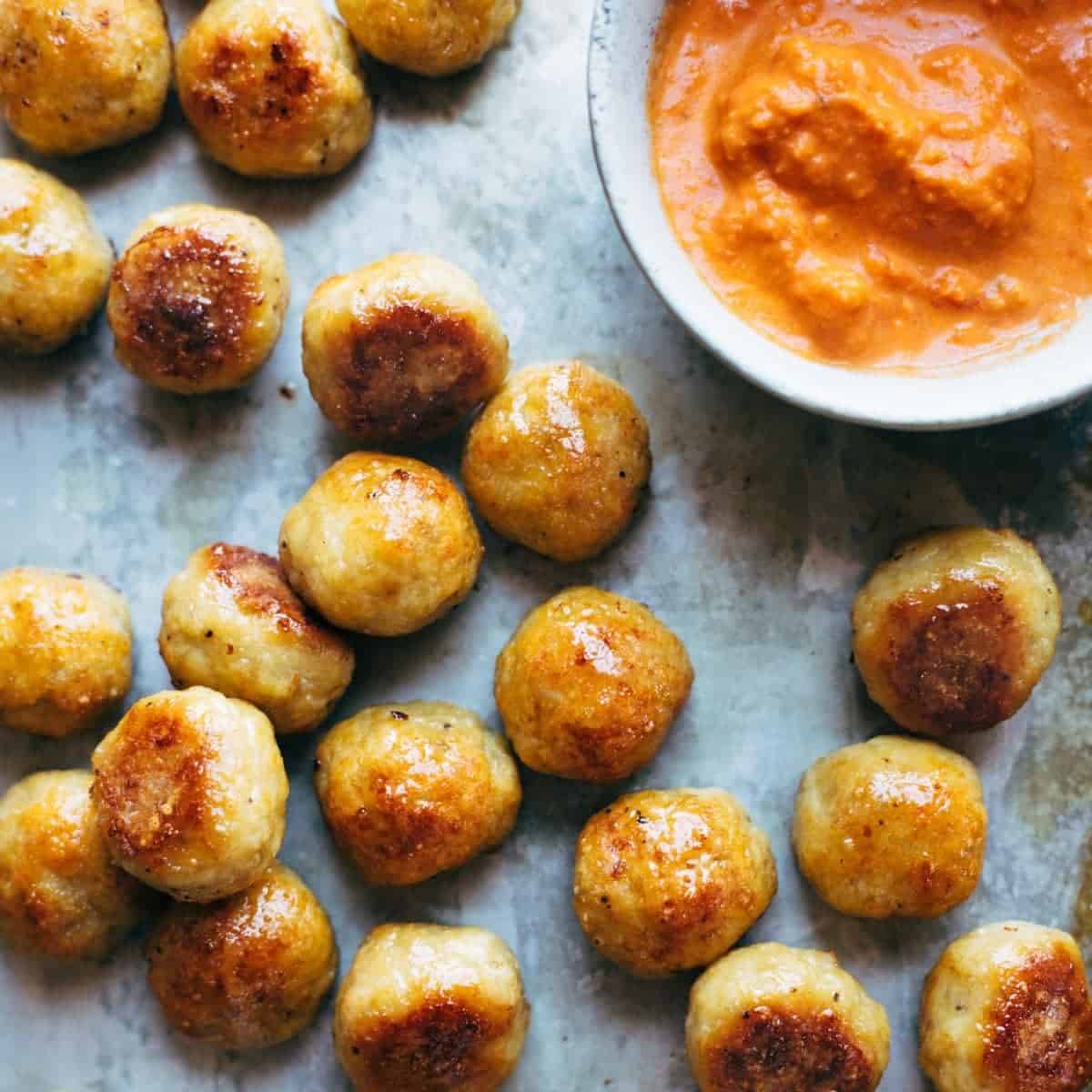 Best Anytime Baked Chicken Meatballs
These Baked Chicken Meatballs are the BEST! The perfect addition to any meal or to eat right on their own. Bonus: they're meal-prep friendly to stock up throughout the week!
ground chicken, breadcrumbs, Parmesan cheese, garlic powder
The Best Swedish Meatballs
Swedish Meatballs that are perfectly tender and spiced, served with creamy, savory, tangy gravy. Comfort food at its best!
ground pork, ground beef, butter, white bread, heavy cream
30-Minute Vegetarian Meatballs
Cauliflower, quinoa, brown rice, garlic, and spices. SUPER versatile – recipe makes a huge batch so you can stockpile them in your freezer for easy meals later!
cauliflower, quinoa, brown rice, breadcrumbs, chili powder
Lemongrass Meatball Bowls
A quick and easy meal featuring quinoa or rice topped with quick pickled carrots, herbs, peanuts, and easy lemongrass pork meatballs, all covered with spicy mayo.
ground pork, lemongrass paste, chili paste, carrots, quinoa, herbs, peanuts, spicy mayo
One More Thing!
Looking for even more meaty goodness? Check out a list of all of our meat and chicken recipes!
The post 10 Savory Meatball Recipes appeared first on Pinch of Yum.