Triple Berry Cheesecake Muffins
Juicy berries, a luscious cheesecake layer, and some heavy streusel on top to finish it off. Baked to perfection!
flour, butter, cream cheese, sugar, eggs, frozen berries, plain yogurt
Summer Chipotle Chicken Cobb Salad with Cilantro Vinaigrette
This juicy salad tastes like summer! With chipotle chicken, sweet corn, avocado, cilantro vinaigrette, bacon crumbles, and fresh strawberries for a pop of sweetness. 
chicken breasts, bacon, strawberries, corn on the cob, avocados, chipotle chiles in adobo sauce, cilantro
Berry Chia Overnight Oats
Chia Overnight Oats made with chia, oats, and almond milk. So easy and perfect for a quick healthy breakfast on the go! YUM!
oats, chia seeds, berries, maple syrup, yogurt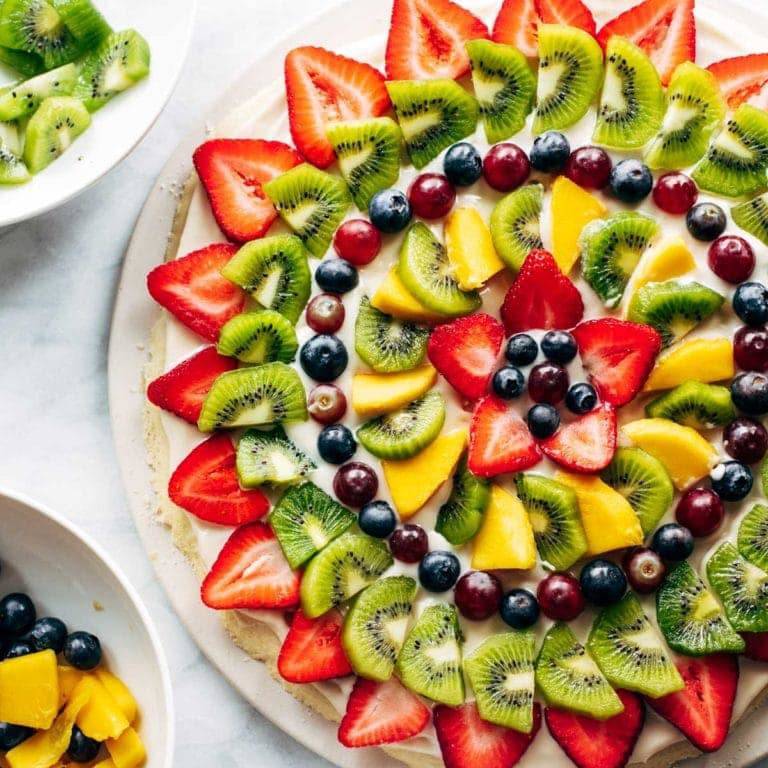 Fruit Pizza
This simple fruit pizza is beautiful and delicious! A soft sugar cookie crust with a cream cheese frosting and topped with sliced fruit.
strawberries, kiwis, mango, blueberries, grapes, sugar, butter, cream cheese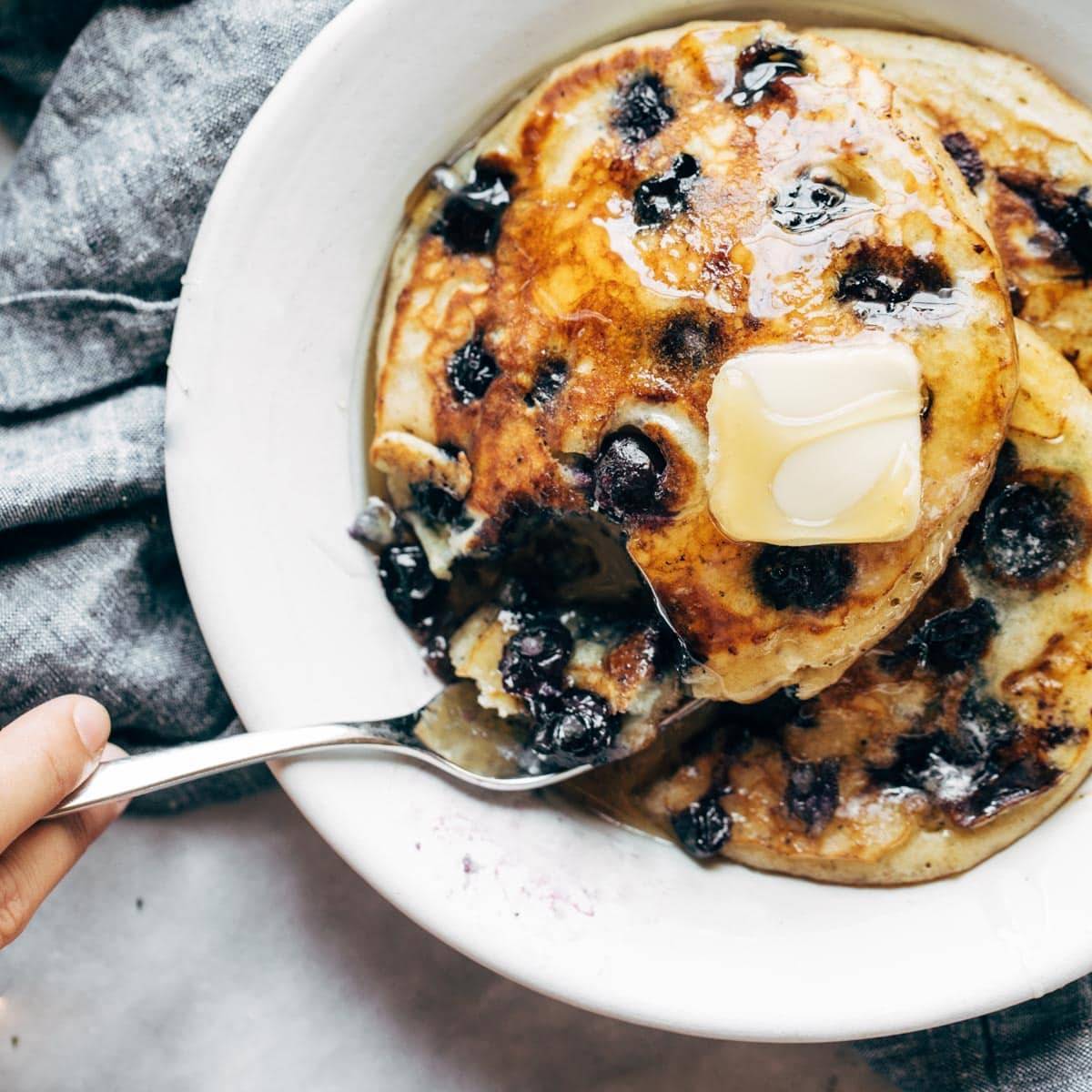 Fluffiest Blueberry Pancakes
Super thick and fluffy blueberry pancakes! Melt in your mouth, golden brown, and bursting with blueberries.
blueberries, flour, sugar, egg, milk
Ricotta Berry French Toast Casserole
French Toast Casserole with SUPER EASY 5 minute homemade brioche, ricotta cheese, and berries. No canned biscuits! So delicious!
flour, butter, eggs, ricotta cheese, honey, raspberries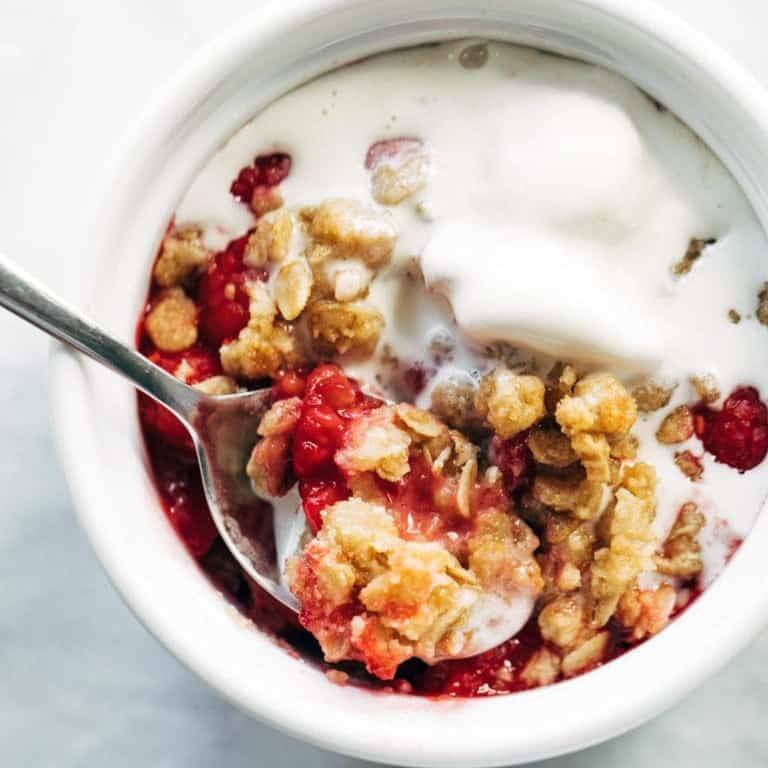 Two Person Raspberry Crumbles
The BEST easy dessert – for two! A layer of oat-brown-sugar crust, juicy, sticky, bubbly raspberries, and topped with a buttery crumble that's baked to perfection.
fresh berries, rolled oats, lemon juice, flour, brown sugar
Springy Blueberry Lemon Bread
Blueberry Lemon Bread – loaded with juicy lemon and blueberries. SO YUMMY with the perfect thick, soft texture!
blueberries, lemon, butter, sugar, flour, eggs
Simple Oat & Pecan Blueberry Crisp
Simple Oat and Blueberry Crisp – refined sugar free and made with whole grains. Warm, juicy blueberries with a delicious crumbled topping.
blueberries, oats, cinnamon, pecans, maple syrup
Raspberry Crumble Bars
These Raspberry Crumble Bars are THE BEST! So soft, buttery, and delicious. My favorite summer dessert.
frozen raspberries, oats, brown sugar, sugar, lemon
One More Thing!
Looking for even more ways to up your berry game? Check out a list of all of our berry recipes!
The post 10 Sweet Berry Recipes You Need to Try appeared first on Pinch of Yum.