Winter Spa Salad with Lemon Chicken
Beautiful AND healthy to boot. Loaded with chickpeas, spinach, pomegranates, oranges, avocado, shallots, herbs, dressing, and lemon chicken.
chicken breasts, cara cara oranges, spinach, pomegranate arils, chickpeas, fresh herbs, avocado, lemon
Spinach Queso with Crispy JalapeñOs
Melty queso dip with spinach, garlic, onion, cilantro, and crispy jalapeños on top! Perfect for parties and get-togethers.
spinach, jalapeños, garlic, shredded cheese, cilantro
Creamy Spinach Sweet Potato Noodles with Cashew Sauce
Creamy Spinach and Sweet Potato Noodles with Cashew Sauce – easy to make, adaptable, gluten free, vegan. Divine and delicious!
sweet potatoes, spinach, basil, cashews, garlic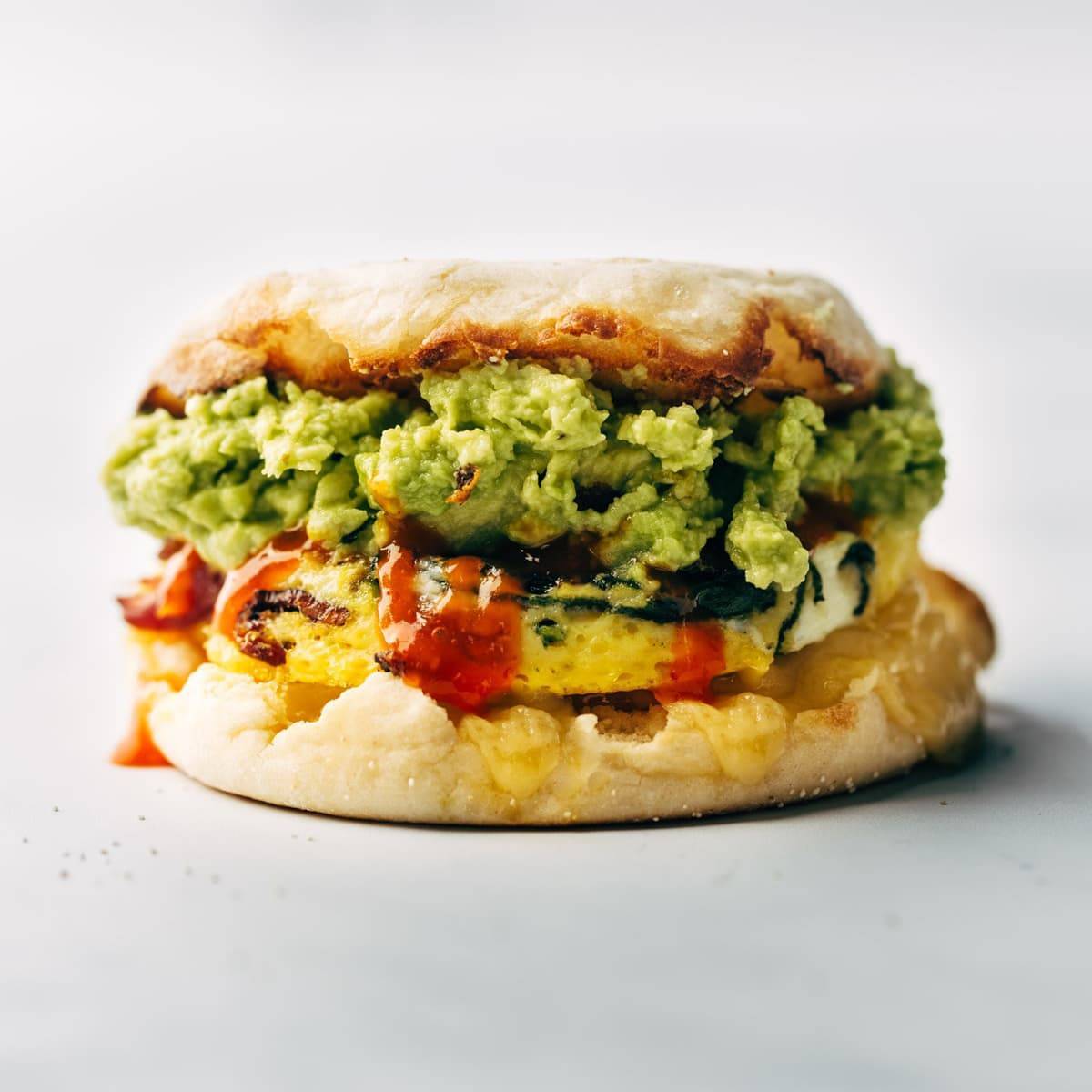 Meal Prep Breakfast Sandwiches
Breakfast Sandwiches – meal prep style! Bake up your eggs on a sheet pan with bacon and spinach, tuck them into english muffin with some cheese, and stash them in the freezer for the week. SO GOOD.
eggs, English muffins, spinach, bacon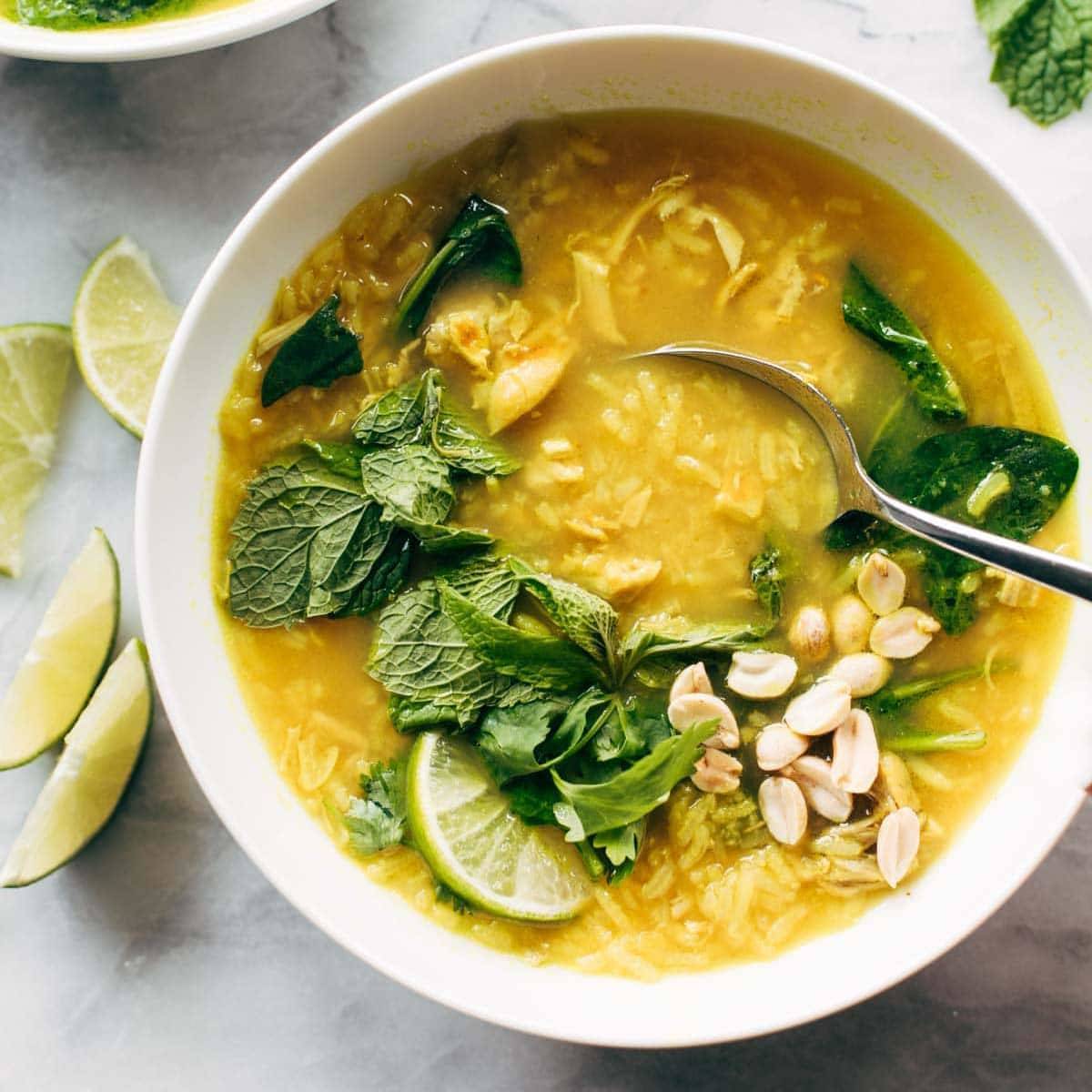 Healing Chicken and Rice Soup
Healing Chicken and Rice Soup that is limey, salty, and so fresh! Garlic-ginger-infused brother, shredded chicken thighs, tender jasmine rice, fresh herbs, and peanuts. YUM.
chicken thighs, jasmine rice, spinach, ginger, limes, turmeric, fresh herbs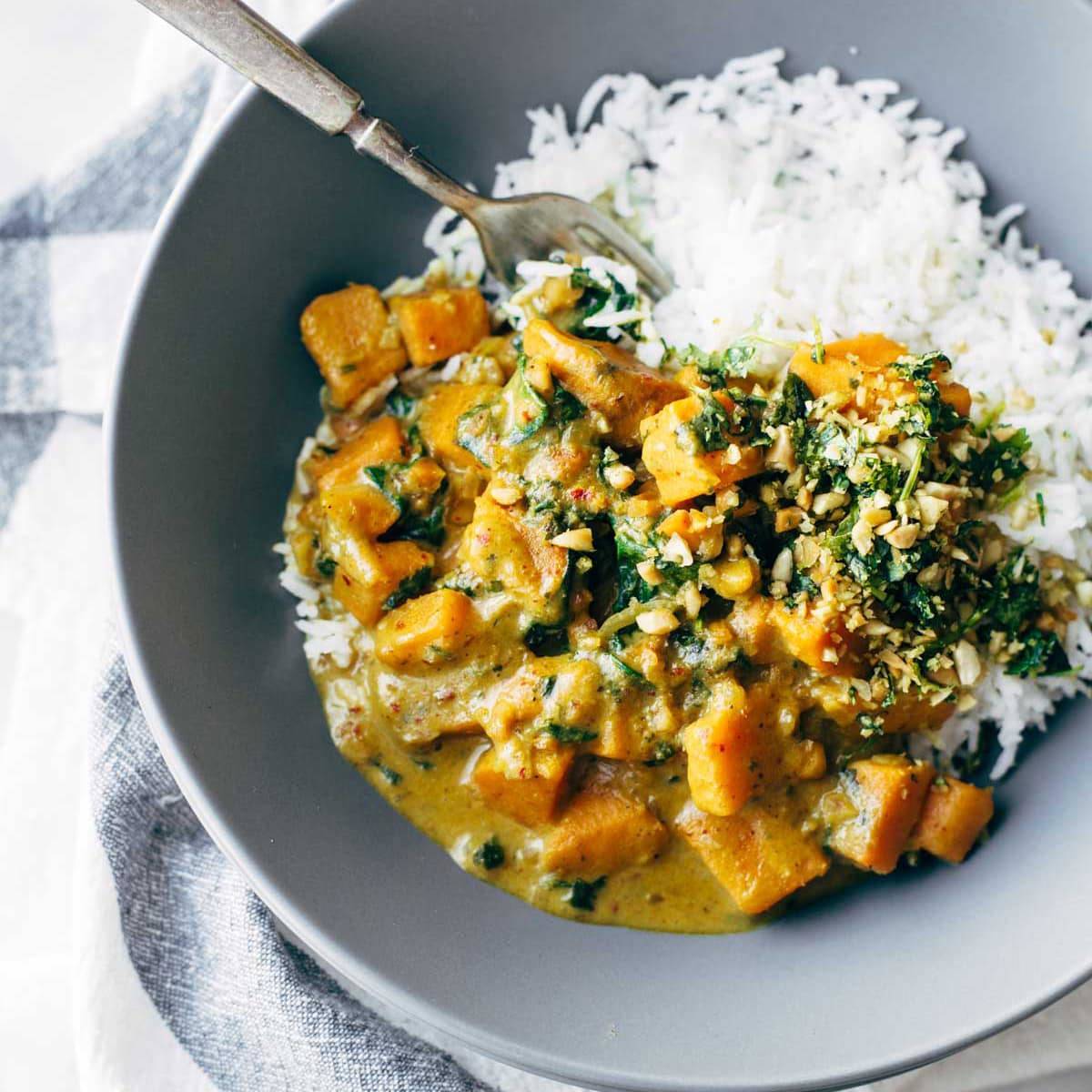 Creamy Thai Sweet Potato Curry
Creamy Thai Sweet Potato Curry – packed with nutrition! Our favorite easy, healthy, winter comfort food recipe.
sweet potatoes, spinach, curry paste, coconut milk, peanuts, cilantro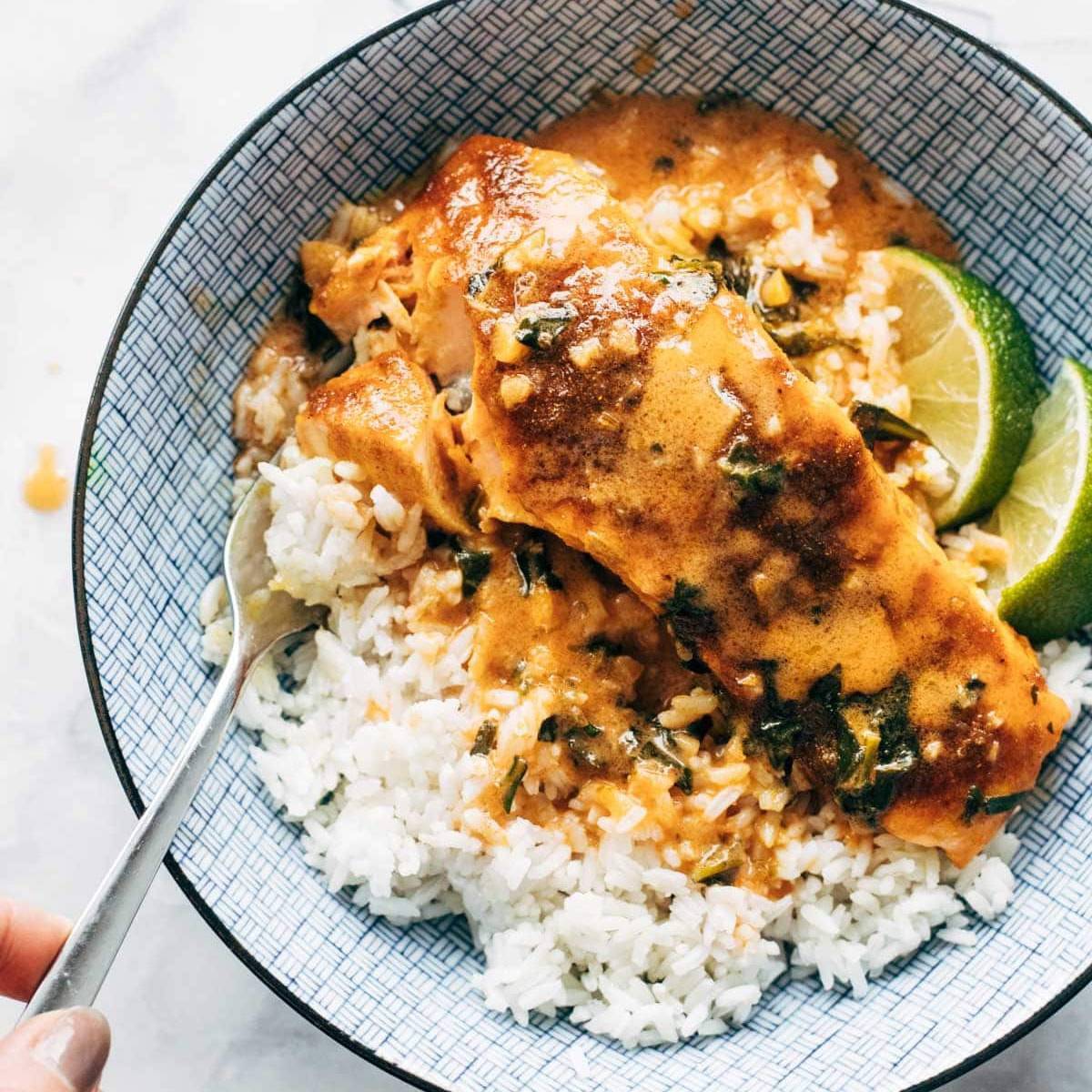 Coconut Curry Salmon
Coconut Curry Salmon! Broiled salmon with a salty-sweet spice rub, creamy coconut curry sauce, and steamy rice to soak it all up. YUM.
salmon, brown sugar, lemongrass paste, coconut milk, red curry paste, spinach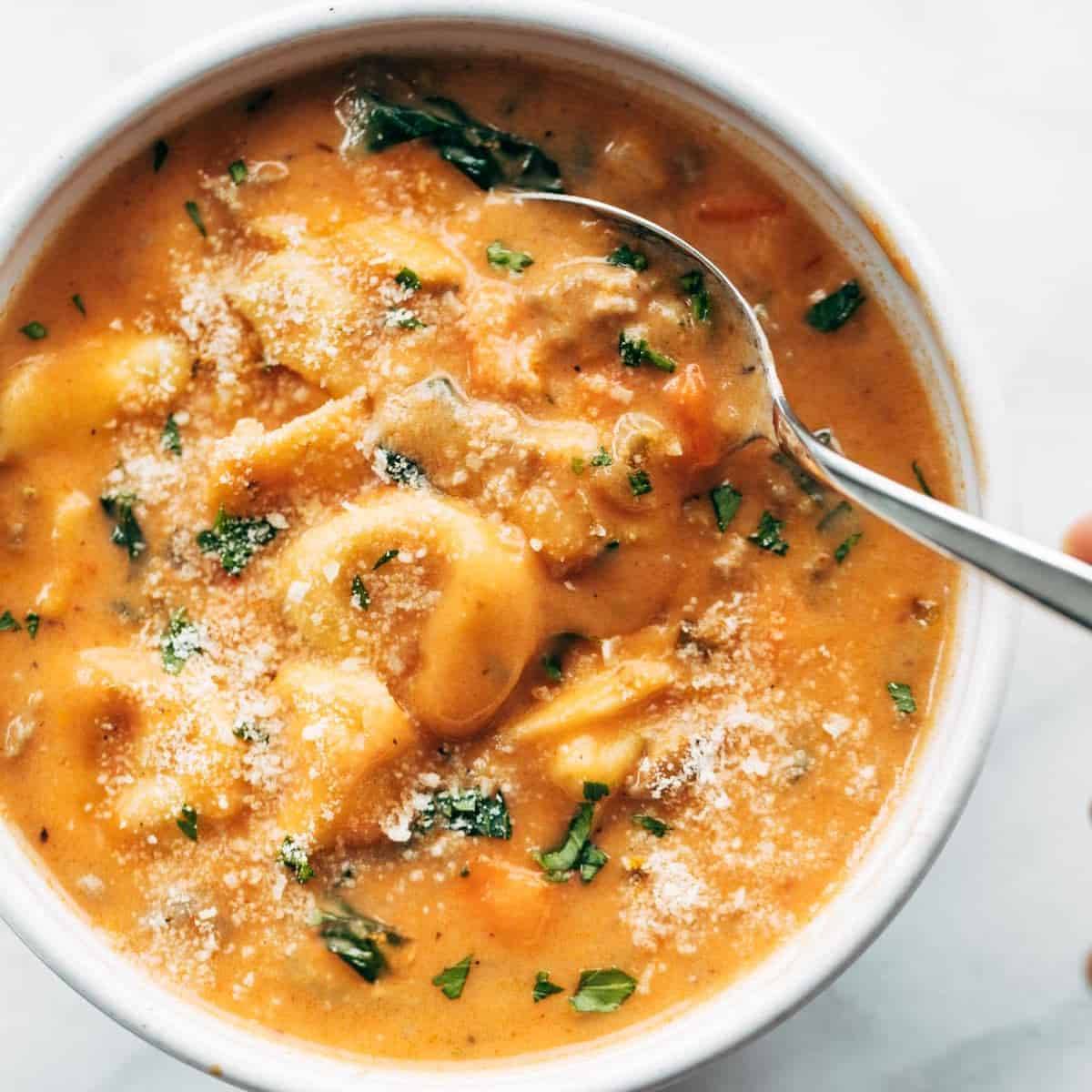 Ang's Creamy Tortellini Soup
Creamy Tortellini Soup that is comforting, cozy, and so yummy! Rich and creamy tomato broth, cheesy tortellini, fresh spinach, and Italian sausage.
Italian sausage, celery, onion, carrots, spinach, cheese tortellini, cream, fennel seed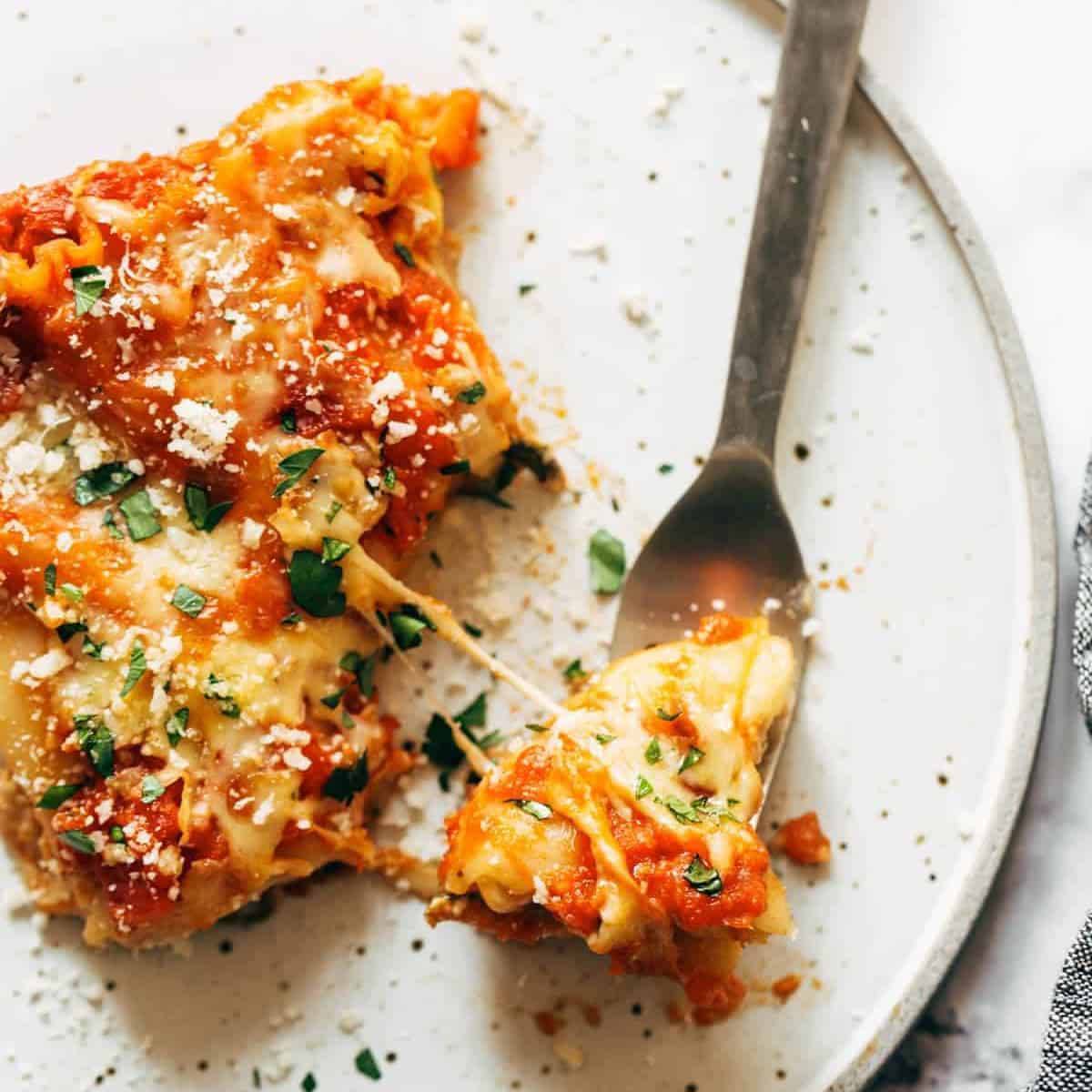 Creamy Tomato Lasagna Florentine
This Creamy Tomato Lasagna Florentine is so deliciously comforting and simple. Noodles, tomato sauce, and a creamy spinach layer!
lasagna noodles, Parmesan cheese, spinach, cottage cheese, tomato sauce
Egg and Croissant Brunch Bake
The BEST Croissant Brunch Bake! Cheese, brown sugar ham, caramelized onions, and spinach baked into creamy eggs and topped with a crispy golden croissant topping. YUM.
eggs, shredded cheese, mini croissants, ham, spinach, onion
One More Thing!
Looking for even more green goodness? Check out a list of all of our spinach recipes!
The post 10 Yummy Recipes to Use Up All Your Leftover Spinach appeared first on Pinch of Yum.