12 Best Healthy Fall Recipes
Feel-Good Apple Muffins
These Apple Muffins are EVERYTHING. Wholesome and nutritious, moist and dense, perfectly but not overly sweet, and honestly divine with a little butter and honey.
apples, oats, dates, maple syrup, olive oil, eggs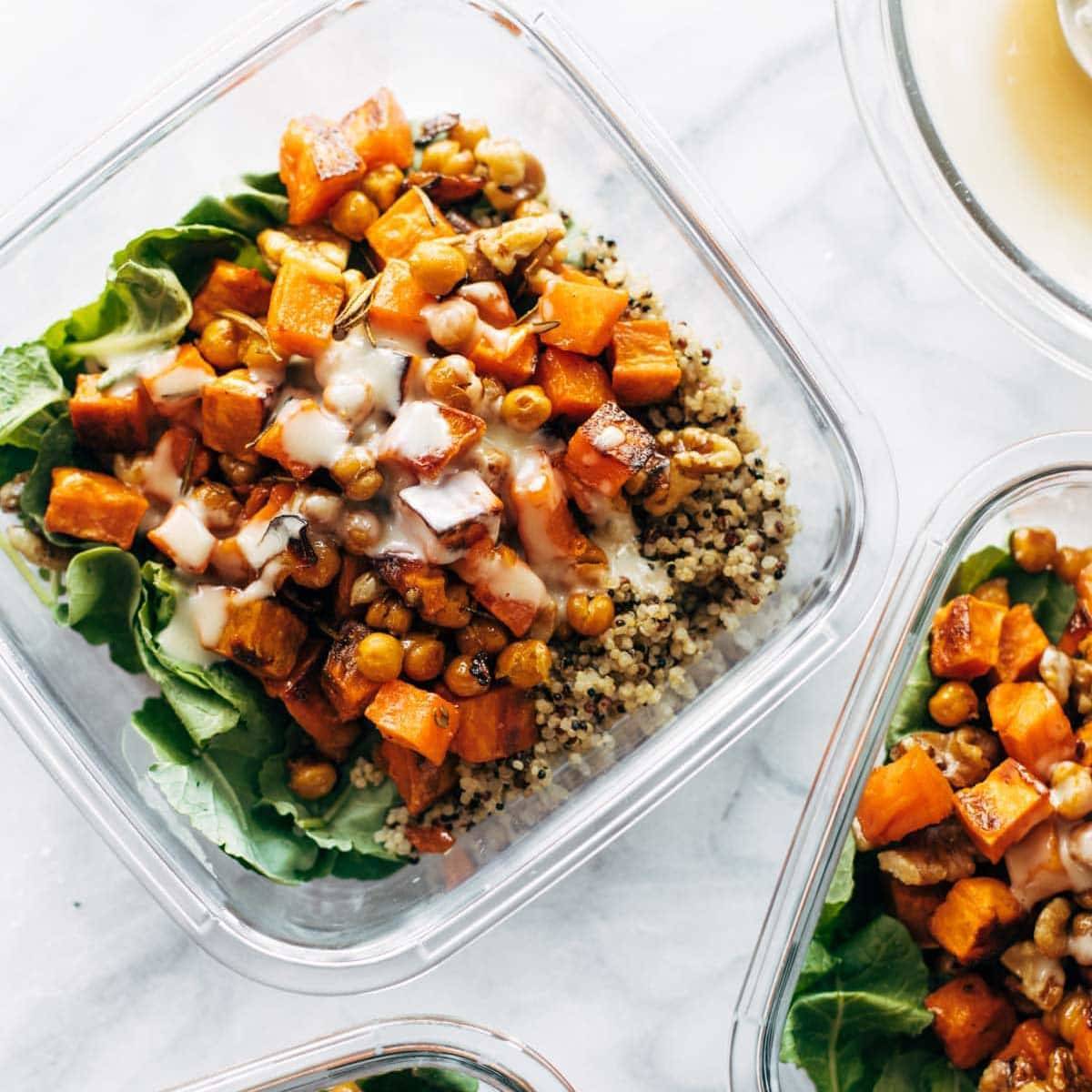 Quinoa Sweet Potato Salad
A sheet-pan meal prep salad packed with roasted sweet potatoes, caramelizy onions, crisped chickpeas, fresh rosemary, and toasty maple walnuts.
quinoa, sweet potatoes, shallots, walnuts, chickpeas
Red Pepper Cashew Pasta with Roasted Cauliflower
Red Pepper Cashew Pasta with Roasted Cauliflower. ♡ TOO GOOD TO EVEN BE TRUE. This sauce is a three-ingredient game-changer!
cauliflower, cashews, roasted red peppers, whole wheat pasta
Instant Pot Pumpkin Walnut Chili
Yummy vegan Instant Pot chili featuring red lentils, fire-roasted tomatoes, walnuts, black beans, pumpkin, chipotles, and all the good toppings.
poblano peppers, chipotle peppers, walnuts, red lentils, bulgur, pumpkin puree, black beans
Pumpkin Energy Bites
The BEST Pumpkin Energy Bites! Made with oats, pumpkin, almond butter, maple syrup, and pumpkin seeds. Naturally sweet, super healthy!
pumpkin puree, oats, almond butter, maple syrup, pumpkin seeds, chia seeds
Autumn Glow Salad with Lemon Dressing
A MUST for healthy, glowy eating! Roasted cauliflower, sweet potato, grains, and apples. Vegetarian and vegan.
freekeh, cauliflower, sweet potatoes, apple, parsley, lemon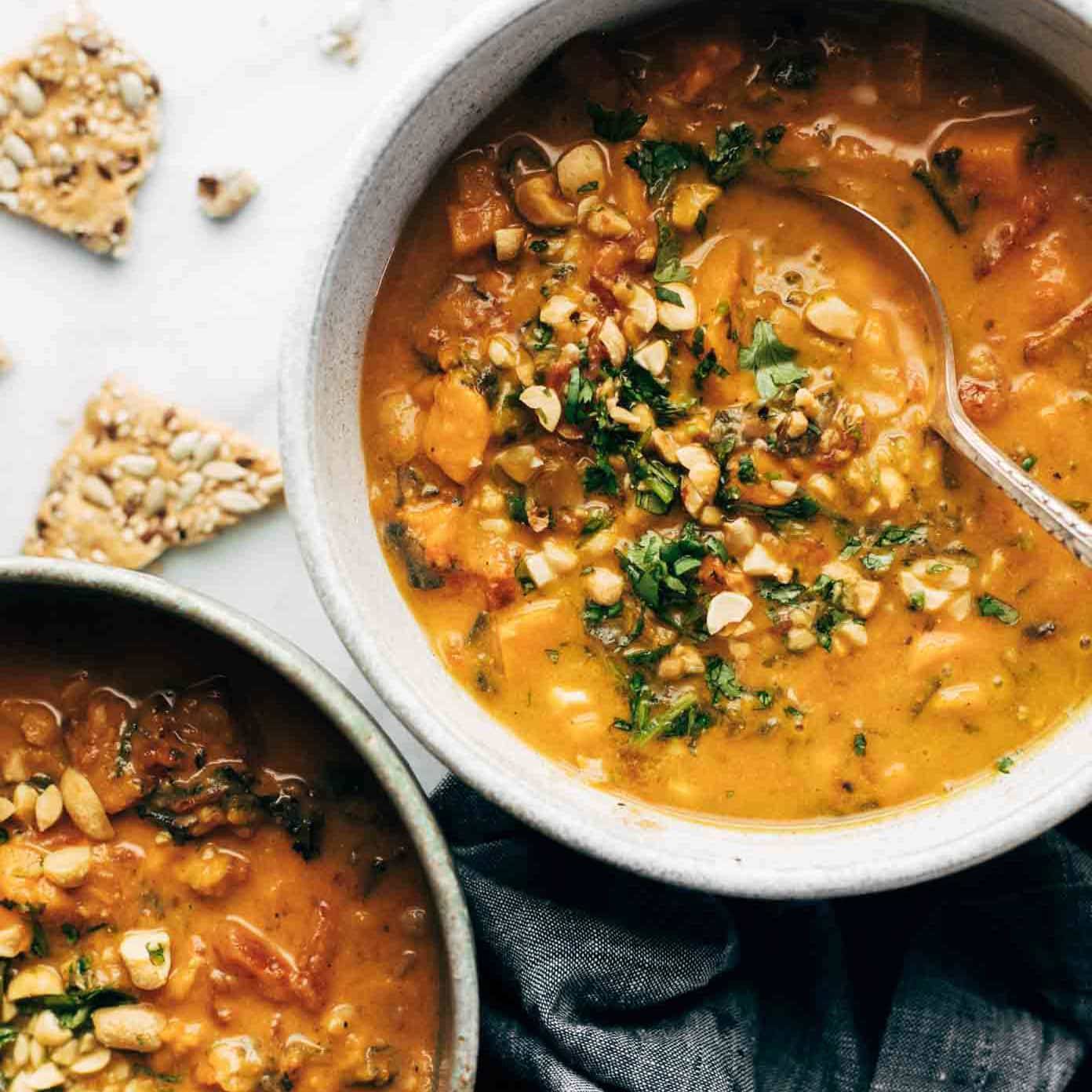 Spicy Peanut Soup with Sweet Potato + Kale
Comforting and SUPER nutritious. Naturally vegan, gluten free, refined sugar free, ALL THE GOOD THINGS.
jalapeño, sweet potatoes, light coconut milk, peanuts, peanut butter, kale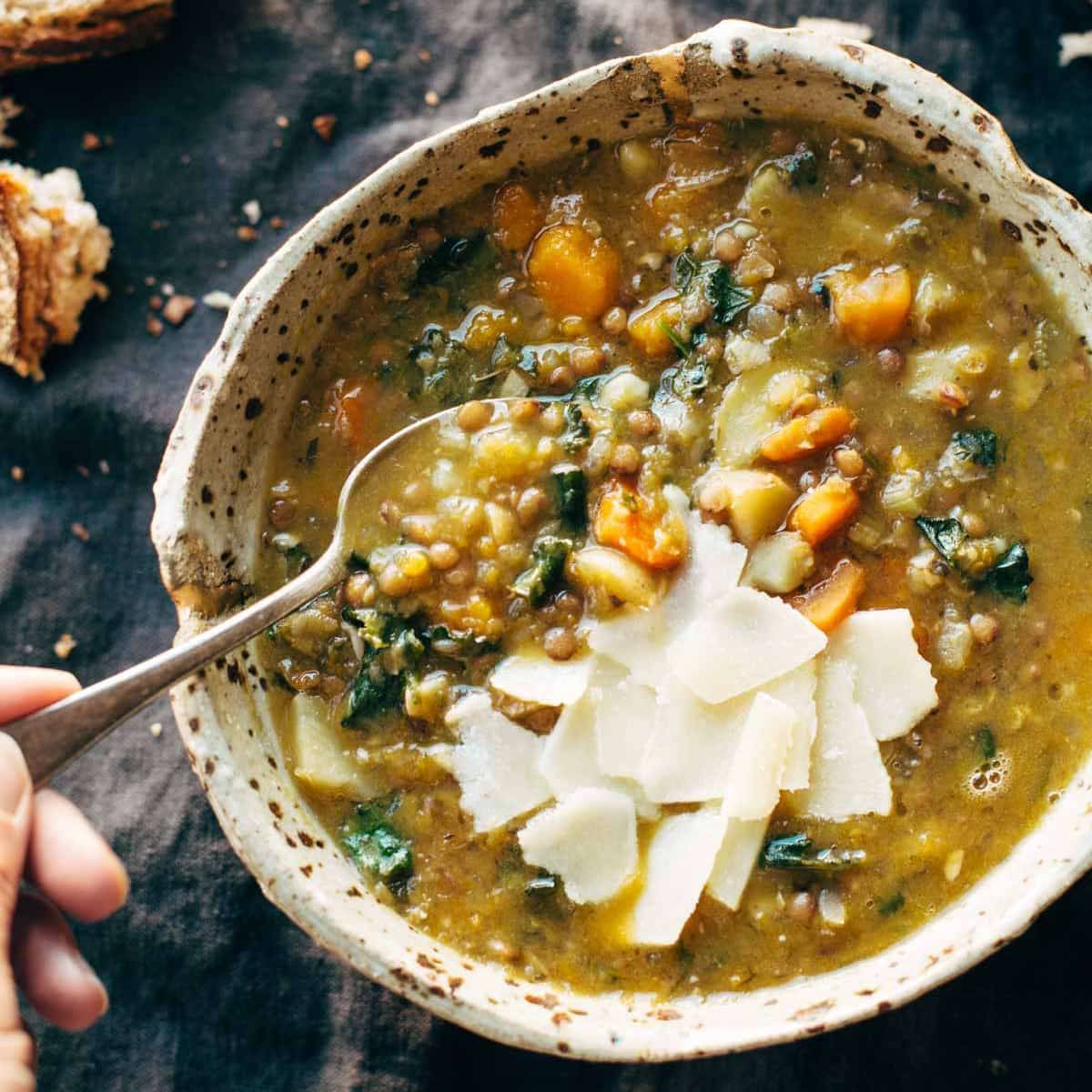 The Best Detox Crockpot Lentil Soup
Detox Crockpot Lentil Soup – a clean and simple soup made with onions, garlic, carrots, olive oil, squash, and LENTILS! Super healthy and easy to make.
butternut squash, carrots, potatoes, celery, green lentils, yellow split peas, kale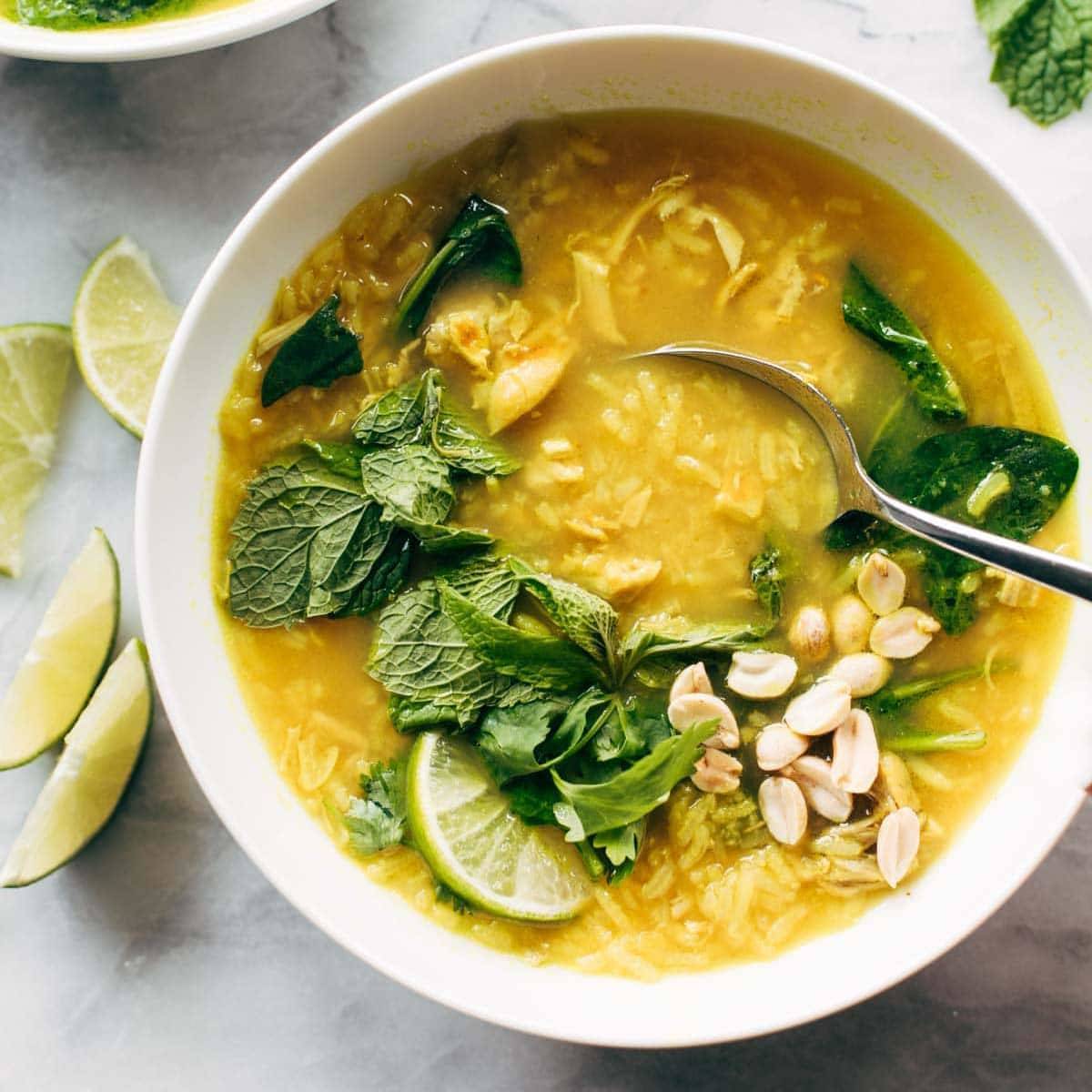 Healing Chicken and Rice Soup
Healing Chicken and Rice Soup that is limey, salty, and so fresh! Garlic-ginger-infused brother, shredded chicken thighs, tender jasmine rice, fresh herbs, and peanuts. YUM.
chicken thighs, jasmine rice, spinach, ginger, limes, turmeric, fresh herbs
Instant Pot Creole Chicken and Sausage
Shredded chicken, andouille sausage, creole seasoning, a rich tomato sauce, veggies, and rice. Cooked in the Instant Pot or slow cooker!  
chicken breasts, Andouille sausage, fire-roasted tomatoes, Creole seasoning, red bell peppers
Instant Pot Cauliflower Curry
Tender cauliflower, butternut squash, and red lentils cooked in a coconut-creamy red curry sauce and poured over a mini-mountain of steamy rice. YUM.
cauliflower, squash, red lentils, red curry paste, coconut milk
Favorite Pumpkin Muffins
These Pumpkin Muffins! Made with oats instead of flour and real maple syrup instead of refined sugar. And everyone loves them, including meeee!
pumpkin puree, oats, Greek yogurt, maple syrup
One More Thing!
Looking for even more yummy fall foods? Check out a list of all of our fall recipes!
The post 12 Best Healthy Fall Recipes appeared first on Pinch of Yum.