12 Best Healthy Snack Recipes
Raw Vegan Carrot Cake Bites
Raw Vegan Carrot Cake Bites that are chewy, cinnamony, cake-bally, and just the right amount of sweet. Perfect on-the-go snack for spring!
carrot, oats, almond butter, unsweetened coconut
5 Minute Vegan "Yogurt"
This Creamy Dreamy Vegan "Yogurt" is the BEST! Made in five minutes with three ingredients and naturally sweetened.
tofu, peaches, cashews
3 Ingredient Vegan Queso
This creamy vegan queso is SO LUSCIOUS! It's made with just three ingredients: cashews, green chiles, and taco spices.
cashews, green chiles, taco seasoning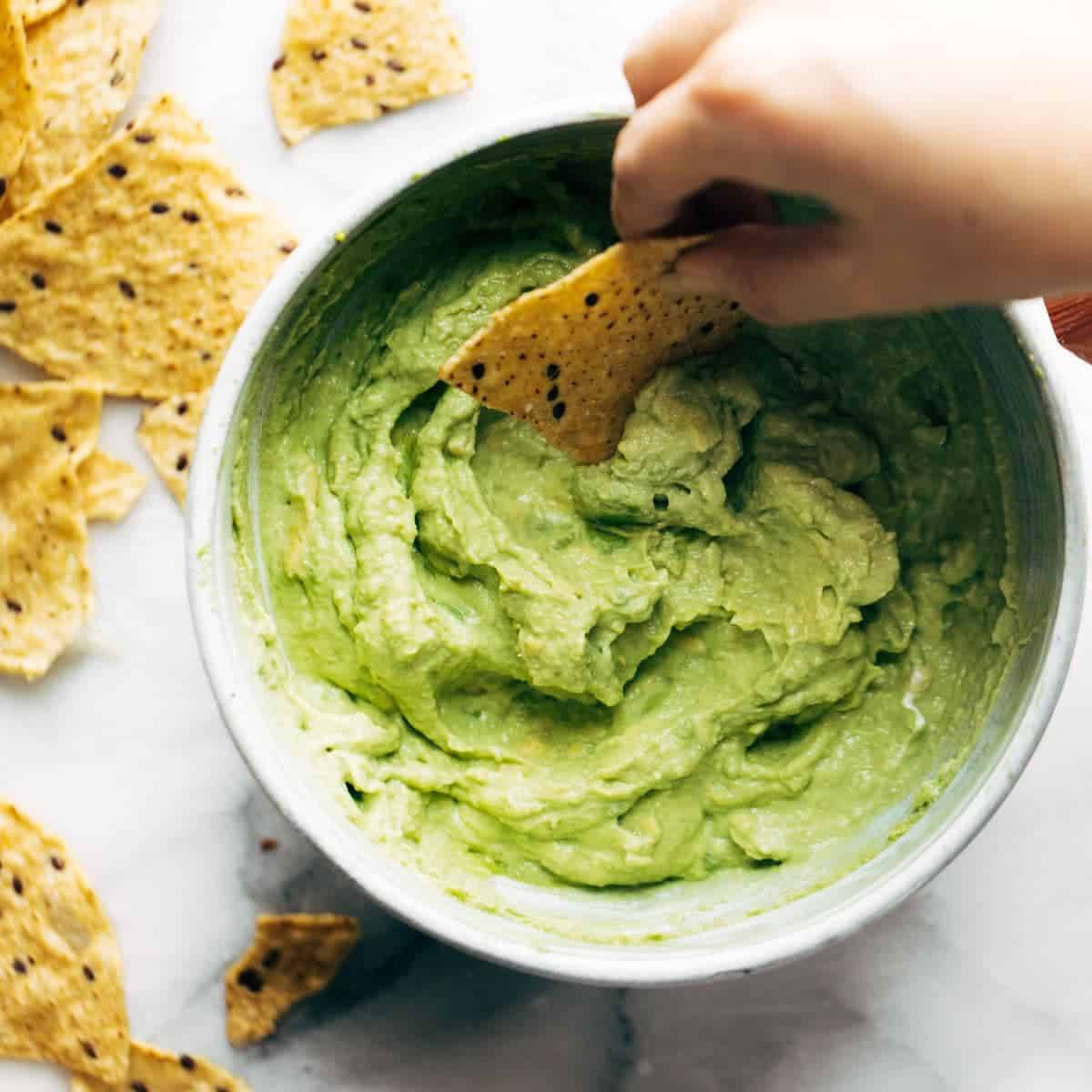 2-Minute Creamy Avocado Dip
Creamy Avocado Dip that comes together with less than five ingredients in two minutes flat! This is the BEST easy, healthy snack. Also a great spread for tacos.
avocado, Greek yogurt, lime juice
The Best Green Smoothie
The best basic, smooth, creamy green smoothie. So easy – just blend peaches, mango, kale, almond milk, and ginger. Honey or cinnamon if you want, too!
frozen mangos and peaches, kale, almond milk
Almond Butter Cups
Almond Butter Cups: made with five ingredients and no refined sugar. So creamy, rich, and yummy!
cocoa powder, agave, coconut oil, almond butter, sea salt
Favorite Pumpkin Muffins
These Pumpkin Muffins! Made with oats instead of flour and real maple syrup instead of refined sugar. And everyone loves them, including meeee!
pumpkin puree, oats, Greek yogurt, maple syrup
Curry Hummus
Curry Hummus! smooth, creamy, and perfect for a healthy snack or in a wrap for an awesome lunch. gluten & dairy free. YUM.
chickpeas, coconut milk, curry powder, red curry paste
Iced Matcha Green Tea Latte
Iced Matcha Green Tea Latte – 3 ingredient perfection! featuring almond milk, matcha powder, and honey or agave.
matcha green tea powder, almond milk, agave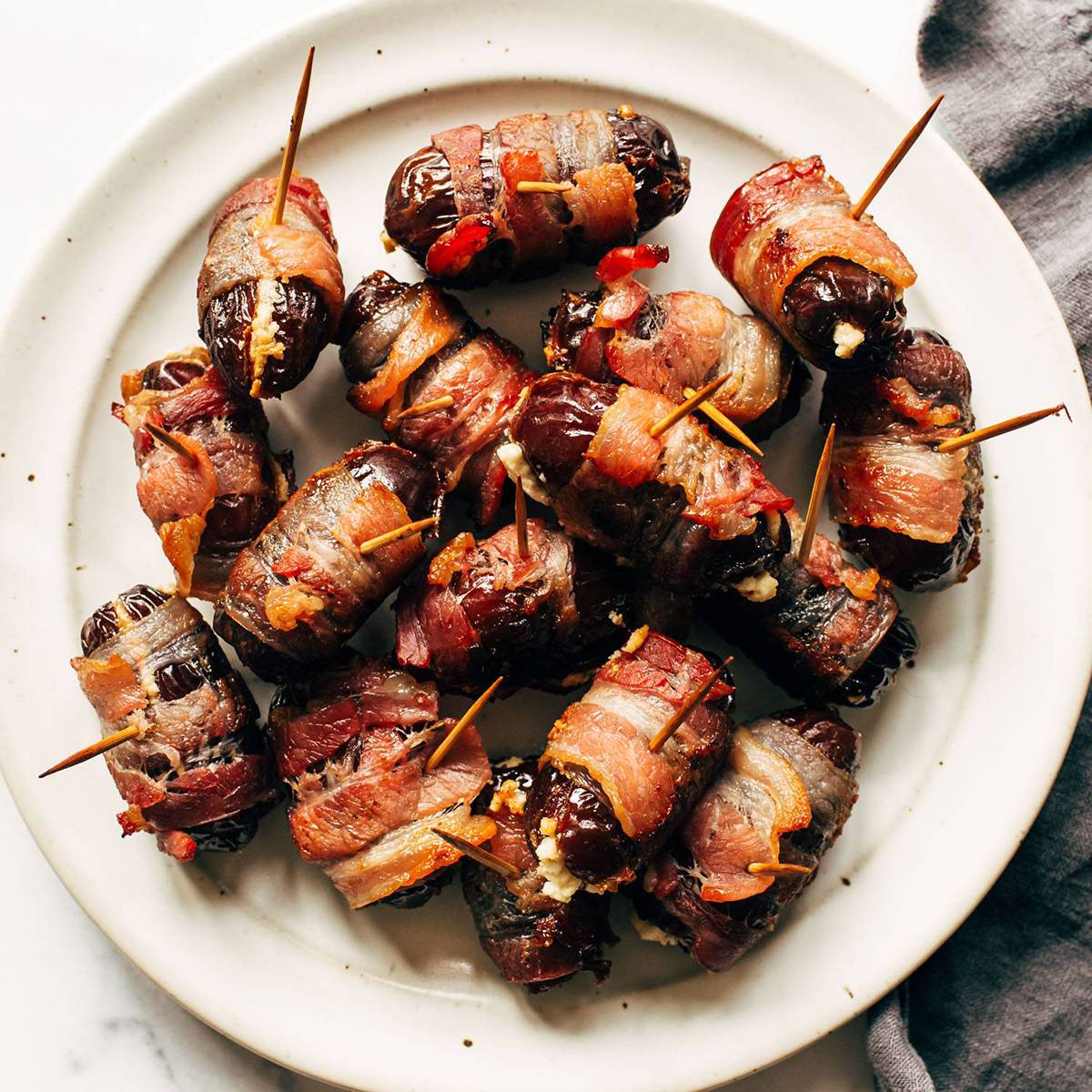 Bacon-Wrapped Dates with Goat Cheese
Bacon-Wrapped Dates with Goat Cheese – a simple 3-ingredient appetizer that will blow you away! Enjoy with a crowd of friends!
bacon, dates, goat cheese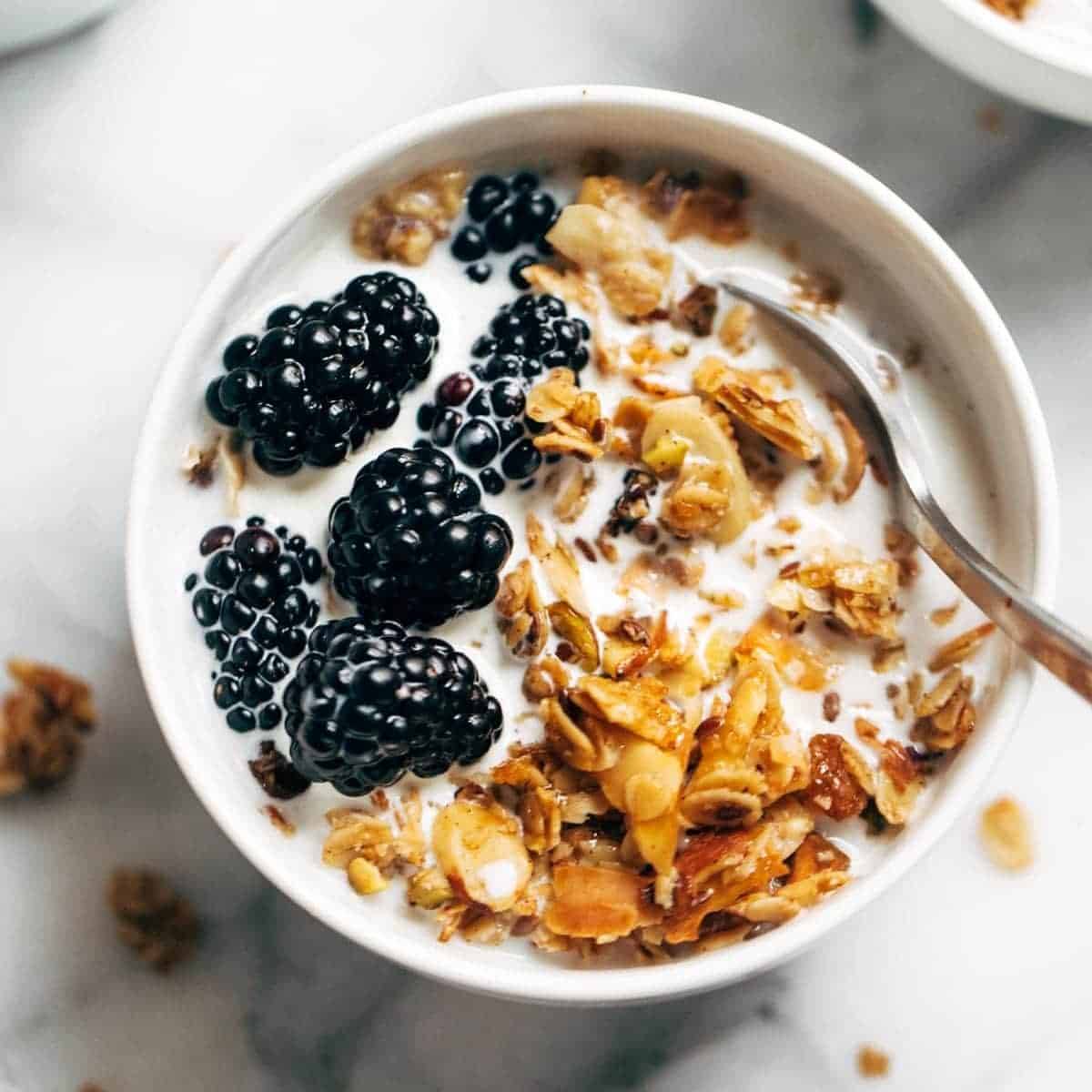 Coconut Oil Granola Remix
Naturally Sweetened Coconut Oil Granola! Golden, crispy, satisfyingly clustered granola that is speckled with almonds, coconut flakes, oats, flax, and all the other wholesome things.
oats, unsweetened coconut, sliced almonds, flax, honey, raisins
Raw Salted Chocolate Snack Bars
Salted Chocolate Snack Bars with simple clean ingredients: pecans, oats, dates, cocoa powder, coconut oil, and maple syrup. SO GOOD!
oats, dates, pecan halves, maple syrup, cocoa powder, coconut oil
One More Thing!
Looking for even more yummy snacks? Check out a list of all of our snack recipes!
The post 12 Best Healthy Snack Recipes appeared first on Pinch of Yum.