12 Best Healthy Winter Recipes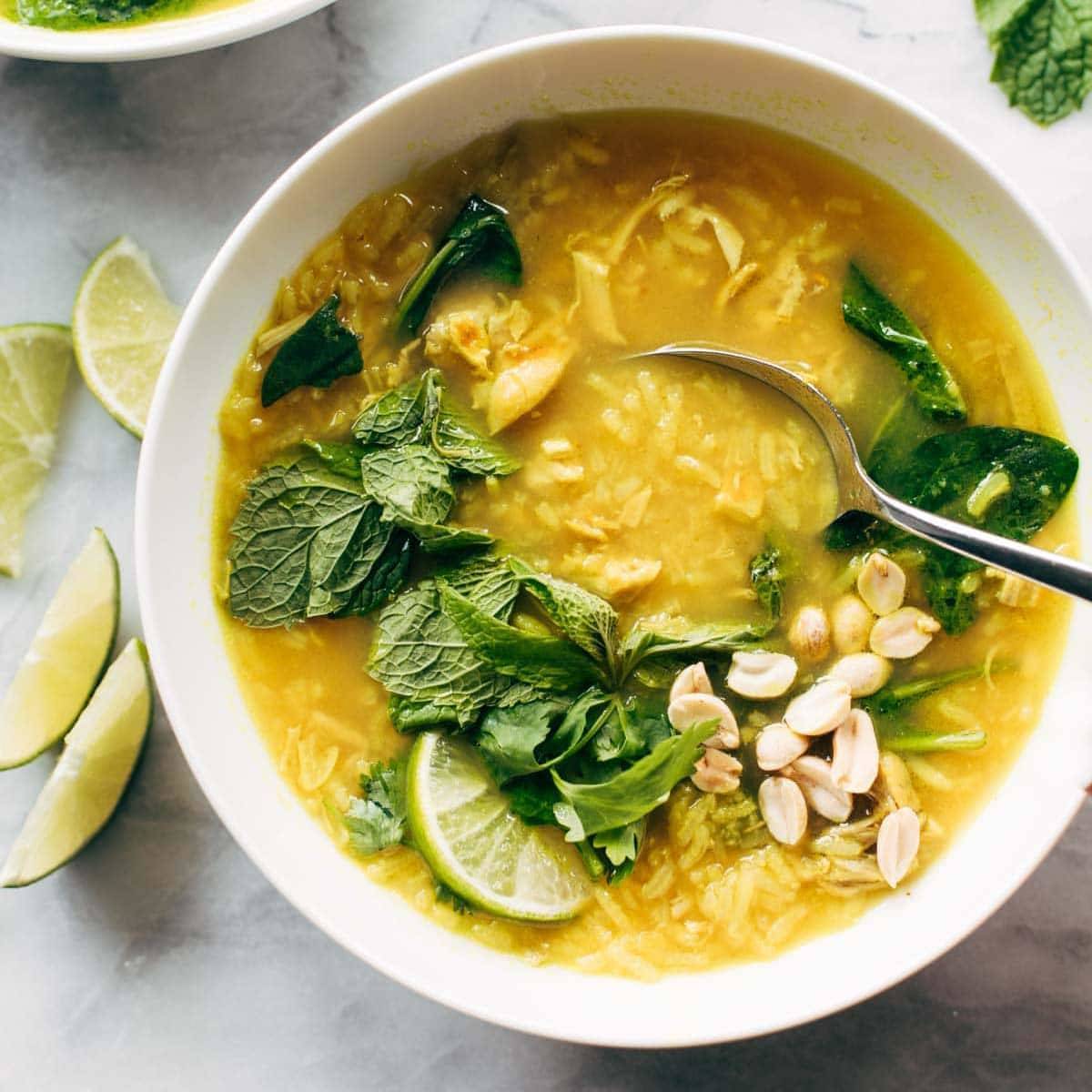 Healing Chicken and Rice Soup
Healing Chicken and Rice Soup that is limey, salty, and so fresh! Garlic-ginger-infused brother, shredded chicken thighs, tender jasmine rice, fresh herbs, and peanuts. YUM.
chicken thighs, jasmine rice, spinach, ginger, limes, turmeric, fresh herbs
Instant Pot Coconut Tandoori-Inspired Chicken
Coconut Tandoori-Inspired Chicken made with rich spices and creamy coconut milk. EXTREMELY EASY and so, so yummy.
chicken thighs, spices, honey, coconut milk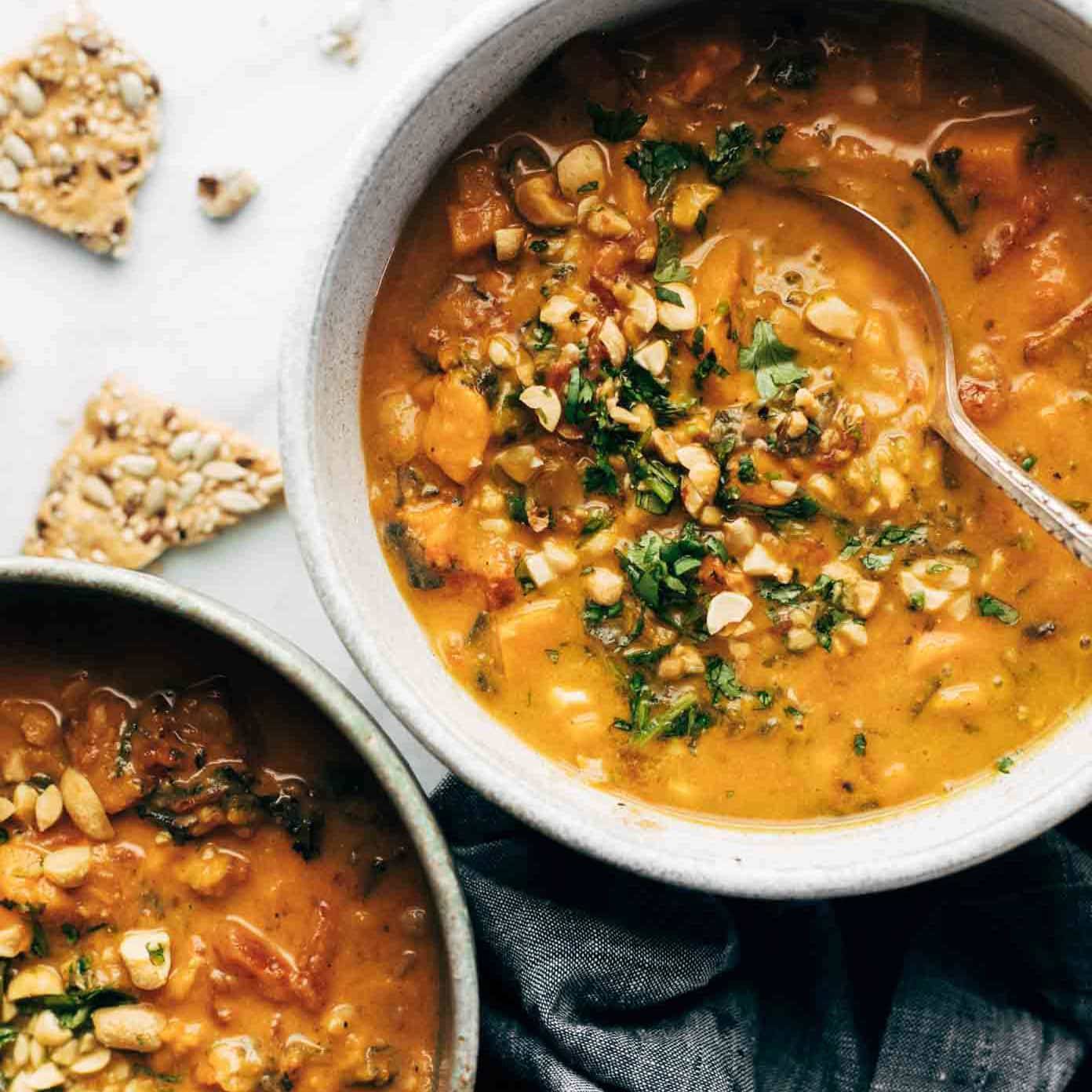 Spicy Peanut Soup with Sweet Potato + Kale
Comforting and SUPER nutritious. Naturally vegan, gluten free, refined sugar free, ALL THE GOOD THINGS.
jalapeño, sweet potatoes, light coconut milk, peanuts, peanut butter, kale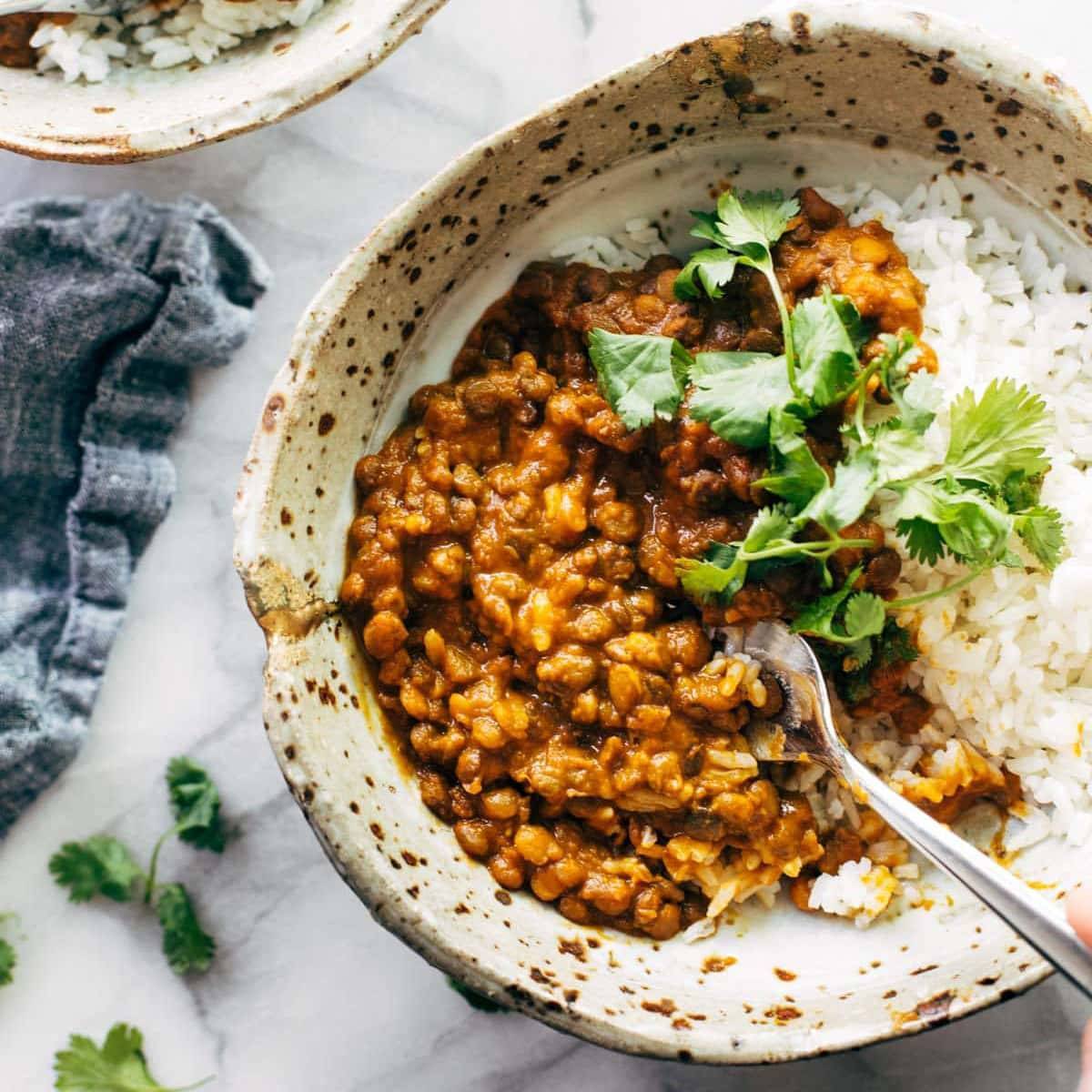 Instant Pot Red Curry Lentils
Creamy, spicy, delicious red curry lentils, made in the Instant Pot. This is the BEST easy, filling, healthy dinner!
brown lentils, red curry paste, ginger, garam masala, coconut milk, tomato sauce
Perfect Baked Salmon with Lentils and Lemon Herb Sauce
Perfect Baked Salmon with Lentils, Quinoa, and Lemon Herb Sauce – super healthy, high protein, bakes all in one big easy dish. This stuff is SO DELICIOUS!
salmon, lentils, quinoa, lemon juice, green beans
Quick and Easy Spiced Chickpea Bowl
Clean eating meets comfort food! Spiced chickpeas, fluffy couscous, and a tangy cucumber salad, all topped with a dollop of hummus and yogurt.
chickpeas, onion, garlic, fire-roasted diced tomatoes, cucumbers, mint
Winter Spa Salad with Lemon Chicken
Beautiful AND healthy to boot. Loaded with chickpeas, spinach, pomegranates, oranges, avocado, shallots, herbs, dressing, and lemon chicken.
chicken breasts, cara cara oranges, spinach, pomegranate arils, chickpeas, fresh herbs, avocado, lemon
Healing Bowls with Turmeric Sweet Potatoes, Poached Eggs, and Lemon Dressing
Turmeric sweet potatoes, brown rice, red quinoa, arugula, poached egg, lemon dressing. SO GOOD.
sweet potatoes, garlic, turmeric, lemon juice, eggs, brown rice, greens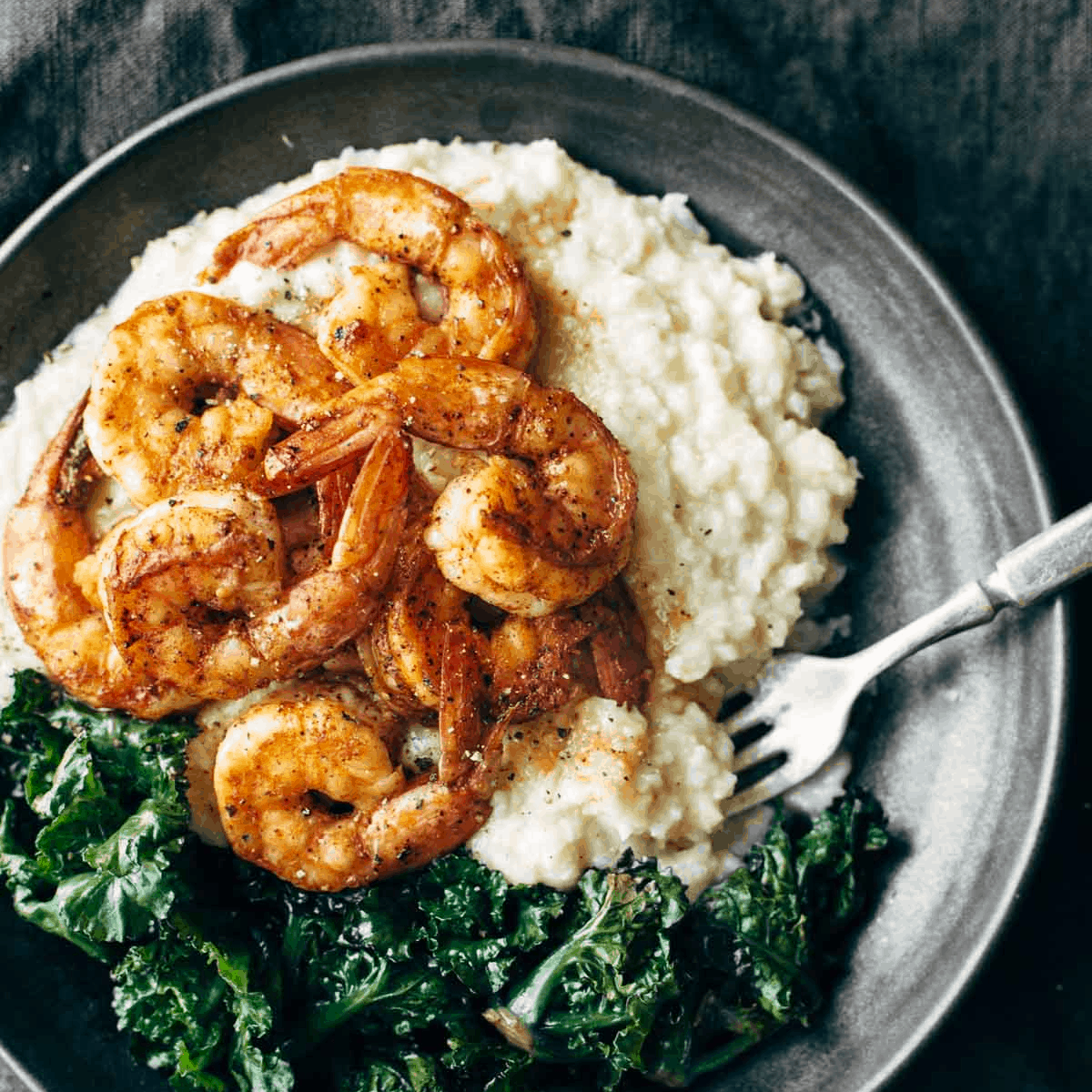 Spicy Shrimp with Cauliflower Mash and Garlic Kale
Tender-sweet shrimp and smoky garlic kale over creamy cauliflower mash. DELICIOUS weeknight dinner!
shrimp, cauliflower, kalettes, shredded cheese, garlic, white beans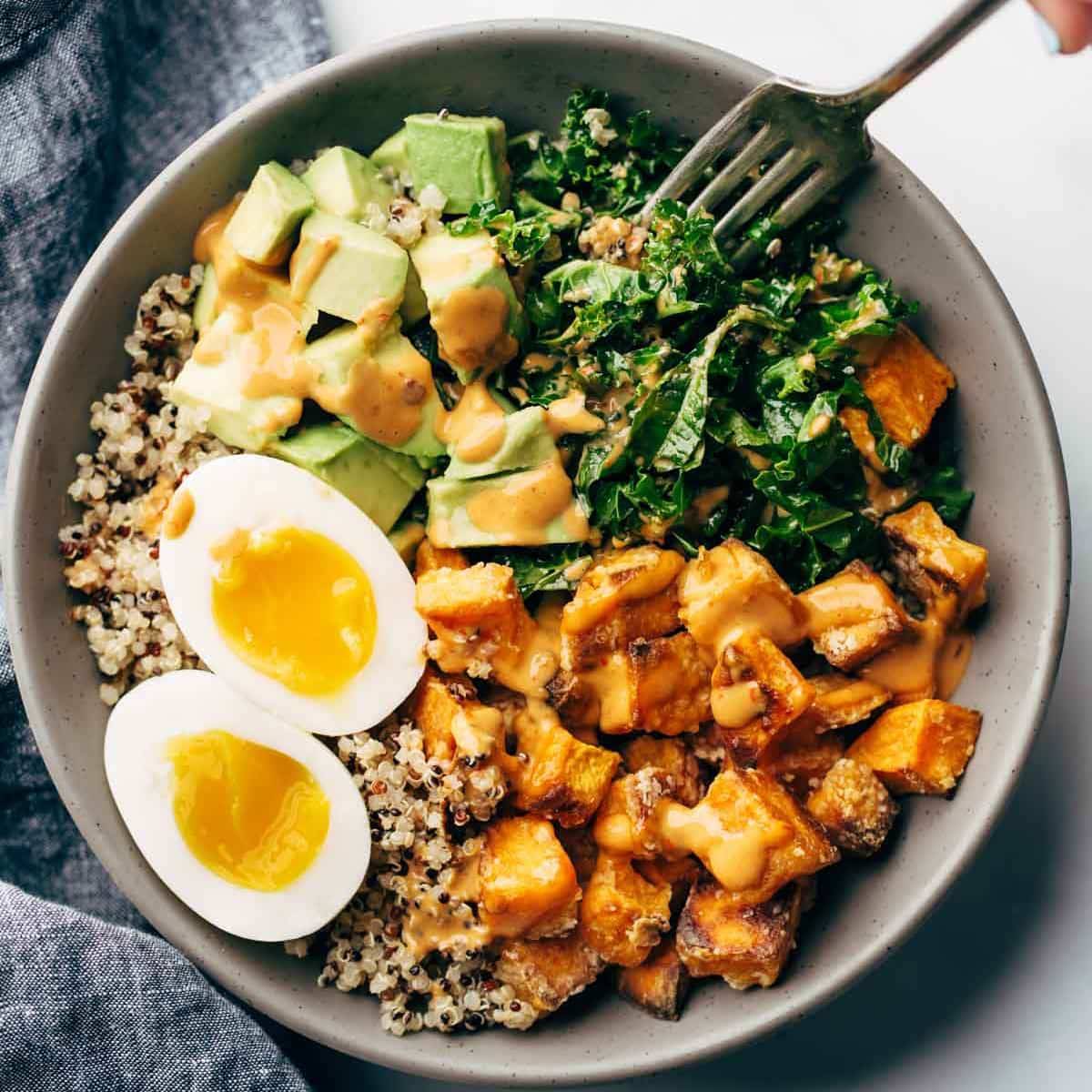 Chipotle Tahini Bowls
Healthy and versatile bowls that come together under a generous drizzle of addictingly creamy vegan chipotle tahini sauce.
sweet potatoes, kale, tahini, chipotles in adobo sauce, avocado, eggs
Golden Soup
Cozy, bright, and healing with power-foods like turmeric, cauliflower, and cashews. Topped with crispy chickpeas. Super creamy and SO GOOD.
cauliflower, cashews, turmeric, lemon juice
5-Ingredient Green Curry
5-Ingredient Green Curry! Packed with tons of veggies, an easy green curry sauce, and finished with golden raisins and cilantro.
tofu, sweet potatoes, green curry paste, coconut milk, broccoli florets
One More Thing!
Looking for even more coziness? Check out a list of all of our winter recipes!
The post 12 Best Healthy Winter Recipes appeared first on Pinch of Yum.