12 Best Instant Pot Recipes
Instant Pot Cauliflower Curry
Tender cauliflower, butternut squash, and red lentils cooked in a coconut-creamy red curry sauce and poured over a mini-mountain of steamy rice. YUM.
cauliflower, squash, red lentils, red curry paste, coconut milk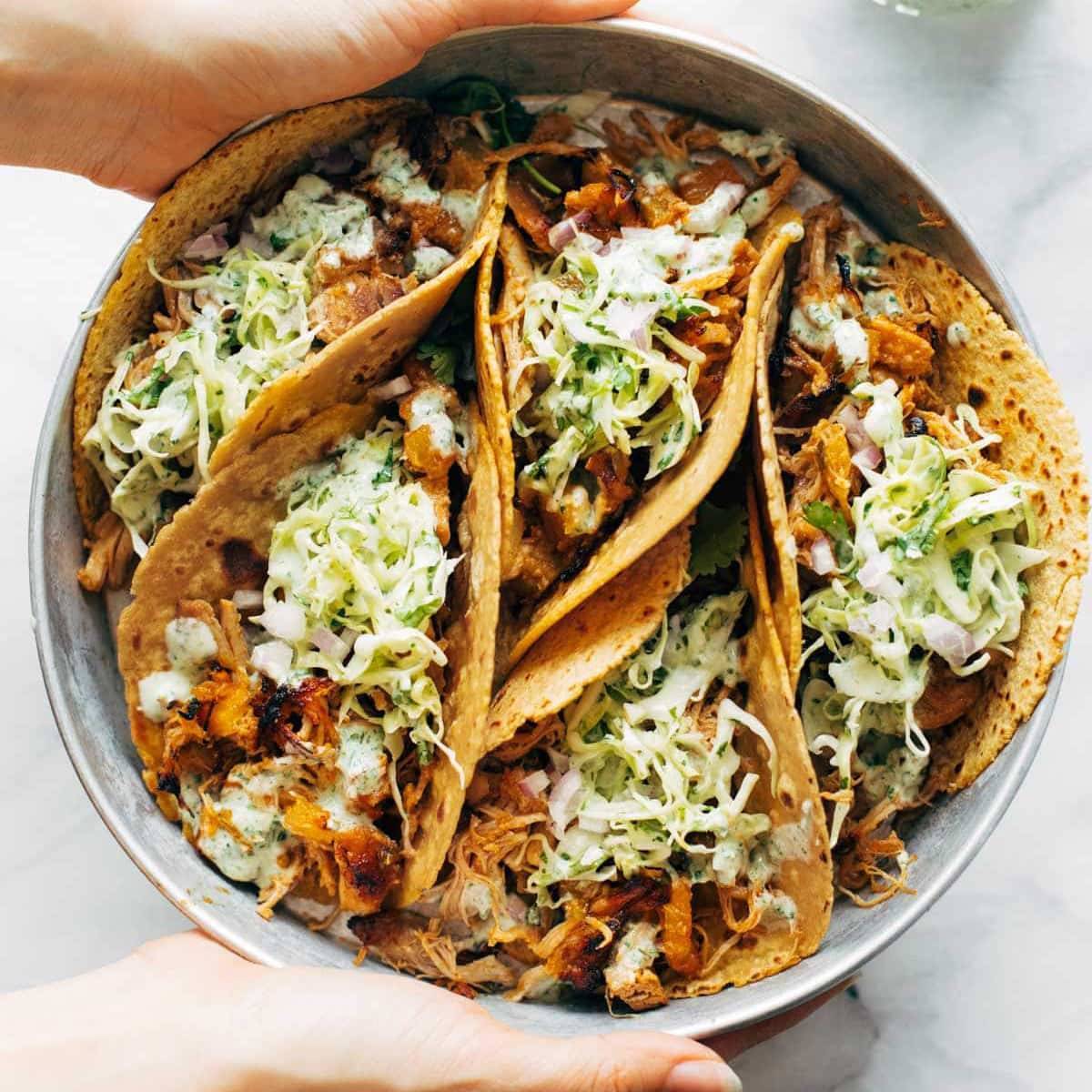 Instant Pot Hawaiian Chicken Tacos
with Jalapeño Ranch Slaw
Juicy pineapple and spiced chicken crisped under the broiler, tucked into tortillas, and rolled up with creamy jalapeño ranch slaw.
chicken thighs, pineapple, jalapeño, sriracha, mayonnaise, fresh herbs
Instant Pot Pumpkin Walnut Chili
Yummy vegan Instant Pot chili featuring red lentils, fire-roasted tomatoes, walnuts, black beans, pumpkin, chipotles, and all the good toppings. I LOVE THIS ONE.
poblano peppers, chipotle peppers, walnuts, red lentils, bulgur, pumpkin puree, black beans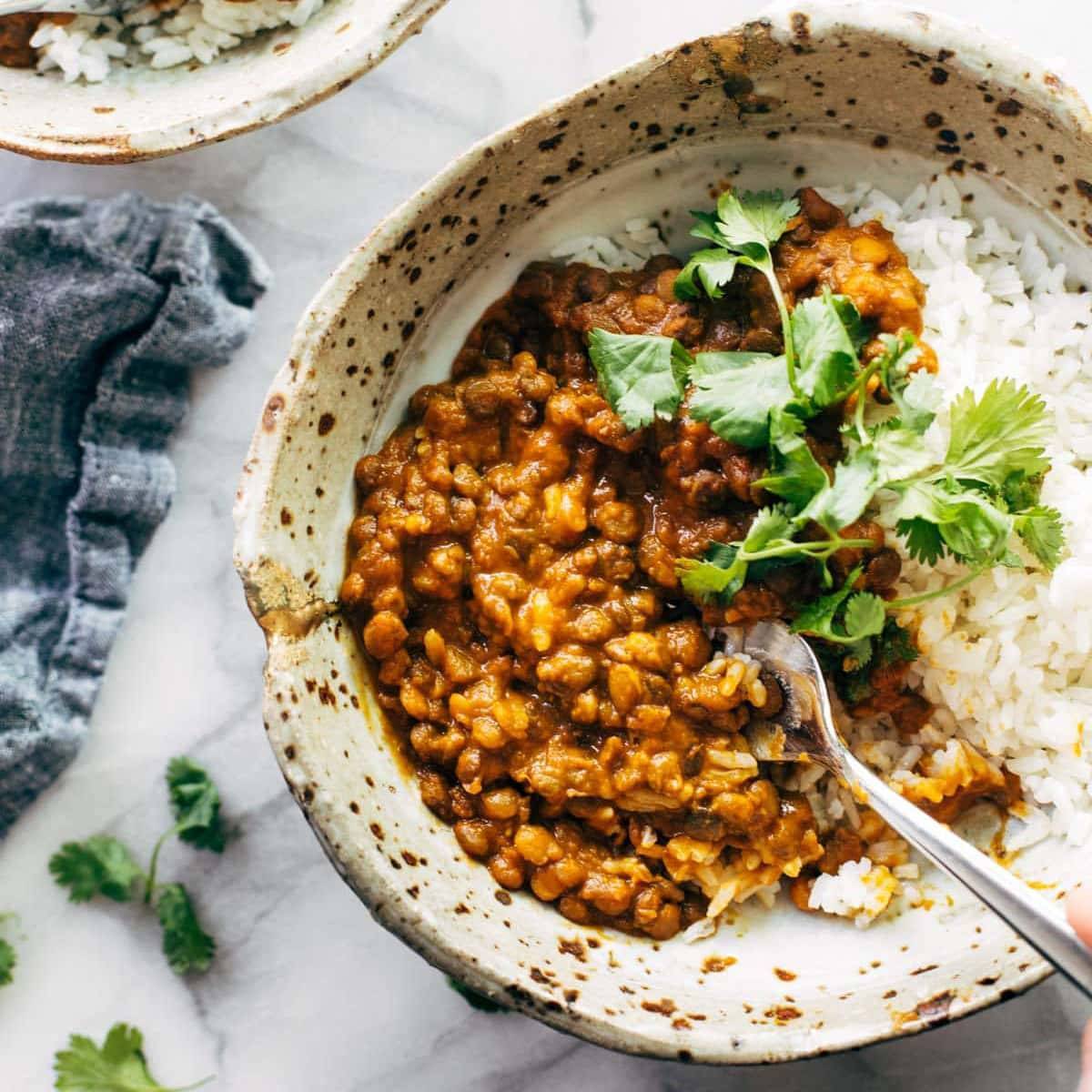 Instant Pot Red Curry Lentils
Creamy, spicy, delicious red curry lentils, made in the Instant Pot. This is the BEST easy, filling, healthy dinner!
brown lentils, red curry paste, ginger, garam masala, coconut milk, tomato sauce
Instant Pot Creole Chicken and Sausage
Shredded chicken, andouille sausage, creole seasoning, a rich tomato sauce, veggies, and rice. Cooked in the Instant Pot or slow cooker! 
chicken breasts, Andouille sausage, fire-roasted tomatoes, Creole seasoning, red bell peppers
Instant Pot Coconut Tandoori-Inspired Chicken
Coconut Tandoori-Inspired Chicken made with rich spices and creamy coconut milk. EXTREMELY EASY and so, so yummy.
chicken thighs, spices, honey, coconut milk
Instant Pot Short Rib Ragu
Instant Pot Short Rib Ragu! Ready in an hour. AMAZING on gnocchi, pasta, polenta, rice, potatoes, and more.
short ribs, marinara sauce, garlic, onion, dry red wine
Instant Pot Korean Beef Tacos
Food truck fusion-style tacos, straight outta the Instant Pot! Flavorful garlic and ginger beef gets tucked into flour tortillas with kimchi, cilantro, peanuts, and spicy mayo. Oooo-ee!
top sirloin, pears, ginger, soy sauce, flour tortillas
Instant Pot Wild Rice Soup
Wild Rice Soup in the Instant Pot! So creamy and simple and ready in an hour. Perfect for fall/winter nights!
wild rice, mushrooms, celery, onion, carrots
Instant Pot Mac and Cheese
Instant Pot Mac and Cheese – made with just 5 real food ingredients. This is SO MUCH BETTER (and easier) than any mac and cheese I've ever had! Unreal.
pasta, butter, whole milk, shredded cheese
Instant Pot Sweet Potato Tortilla Soup
A smoky, limey, tomato-rich broth with onion, garlic, jalapeño, crispy tortilla strips, and tender chunks of sweet potato.
sweet potatoes, corn, fire-roasted tomatoes, chipotles in adobo sauce, jalapeño, corn tortillas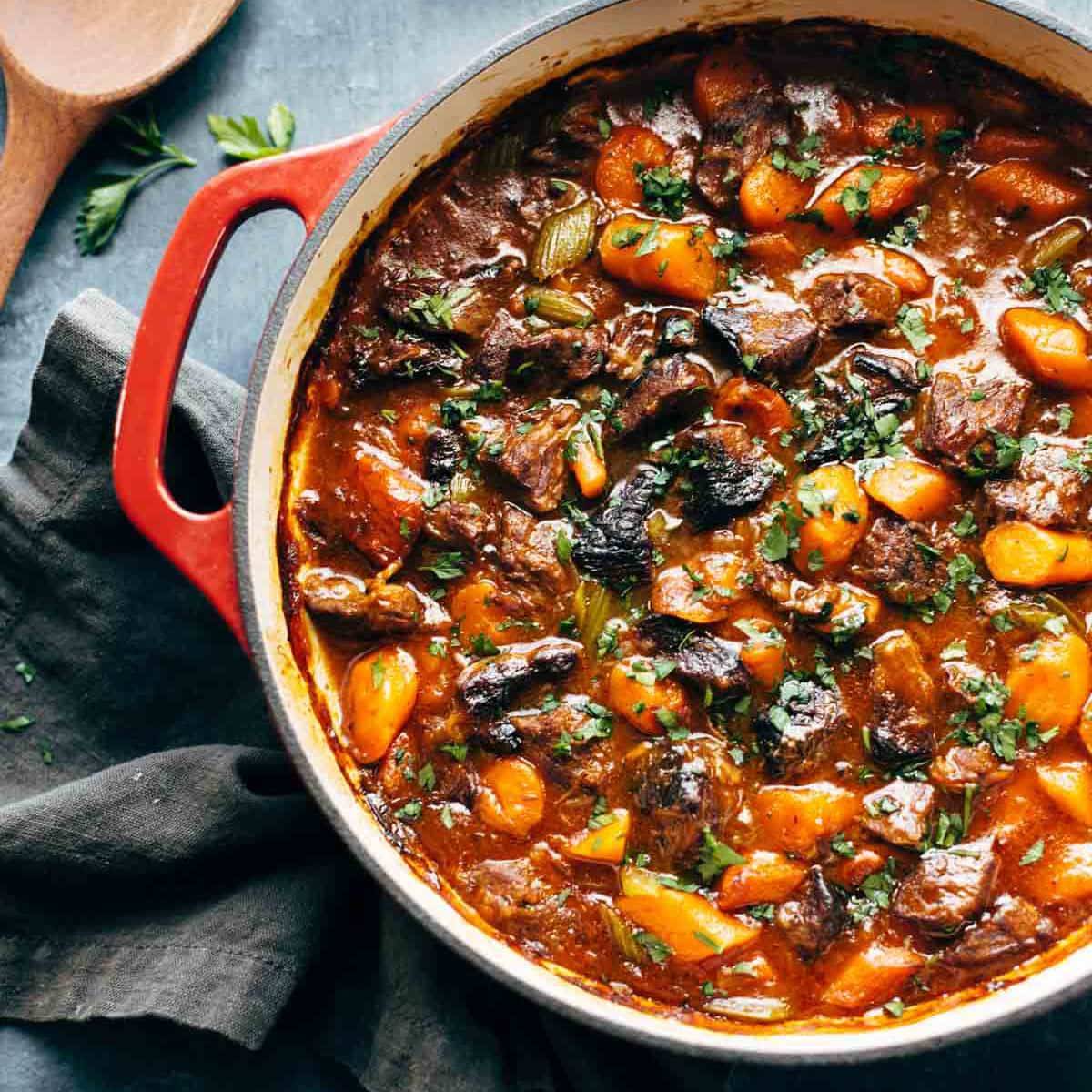 Instant Pot Beef Stew
Beef Stew made in an Instant Pot! 6 ingredients, 45 minutes, SO EASY.
beef, onion, celery, carrots, tapioca pearls, tomato juice
One More Thing!
Looking for even more meals to pop in your pressure cooker? Check out a list of all of our Instant Pot recipes!
The post 12 Best Instant Pot Recipes appeared first on Pinch of Yum.