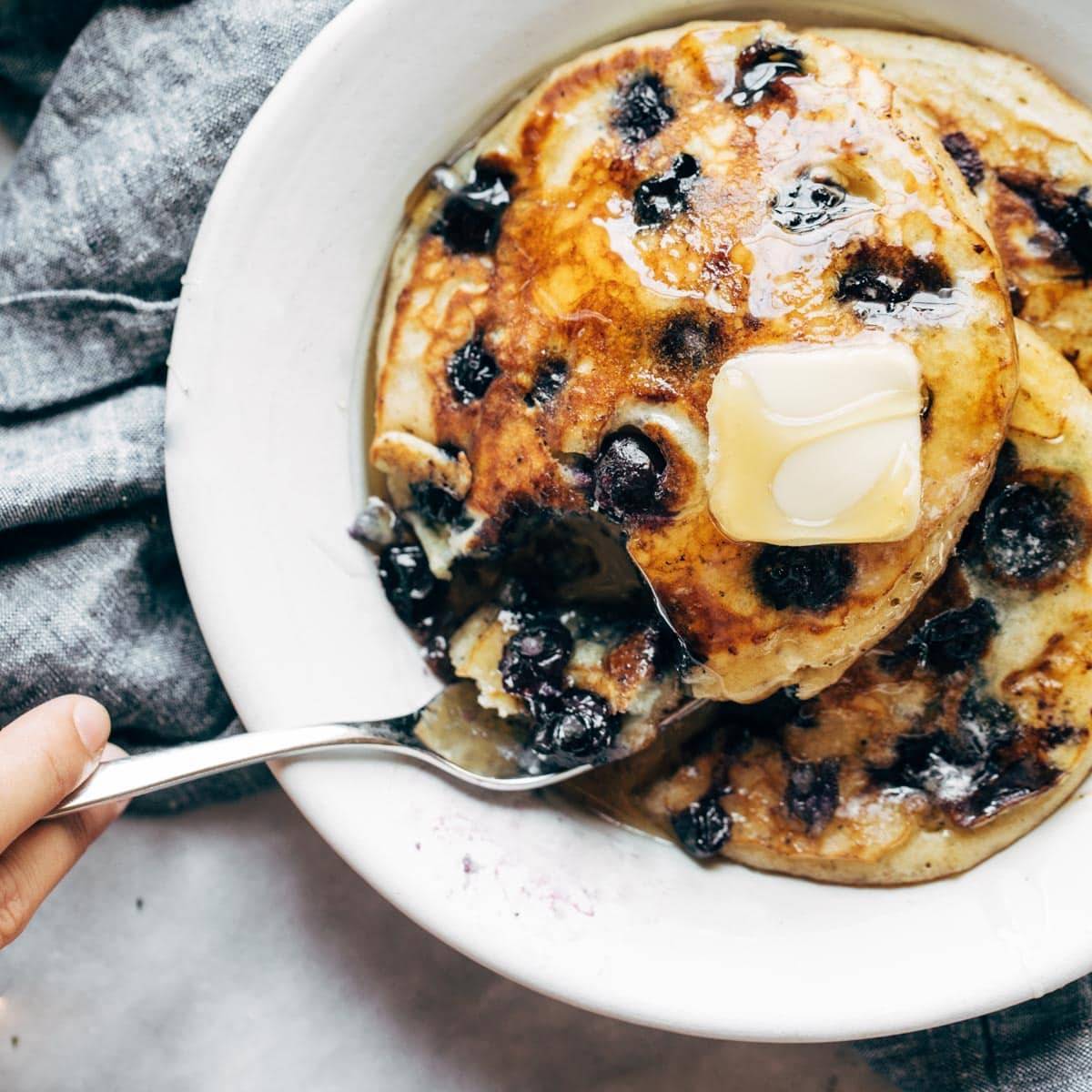 Fluffiest Blueberry Pancakes
Super thick and fluffy blueberry pancakes! Melt in your mouth, golden brown, and bursting with blueberries.
blueberries, flour, sugar, egg, milk
Ham, Egg, and Cheese Brunch Cups
Puff pastry, egg, ham, and a creamy cheese sauce make these little brunch cups easy, delicious, and so beautiful! Perfect for effortless entertaining.
eggs, ham, puff pastry, Swiss cheese
Pumpkin Bundt Cake
Pumpkin Cake! A perfectly dense, moist cake with a crunchy sweet brown sugar streusel. YUM!
pumpkin puree, flour, eggs, honey, Greek yogurt, cinnamon, brown sugar
Egg and Croissant Brunch Bake
The BEST Croissant Brunch Bake! Cheese, brown sugar ham, caramelized onions, and spinach baked into creamy eggs and topped with a crispy golden croissant topping. YUM.
eggs, shredded cheese, mini croissants, ham, spinach, onion
Springy Blueberry Lemon Bread
Blueberry Lemon Bread – loaded with juicy lemon and blueberries. SO YUMMY with the perfect thick, soft texture!
blueberries, lemon, butter, sugar, flour, eggs
Migas
Migas – eggs scrambled with crispy tortillas, garlic, jalapeño, and melted cheese served with black beans and avocado. Quick, easy, and SO DELICIOUS. Breakfast, lunch, dinner, or brunch!
eggs, corn tortillas, pepper jack cheese, jalapeño, garlic, black beans
Blueberry Orange Brunch Cake with Agave and Pistachios
Blueberry Orange Brunch Cake – SUPER YUMMY because it's made with olive oil and whole oranges! topped with whipped cream and blueberries and you're in fancy brunch business.
oranges, blueberries, agave, pistachios, flour, sugar, eggs
Breakfast Enchiladas with Roasted Poblano Sauce
Breakfast Enchiladas – with scrambled eggs, chili potatoes, spicy turkey, cheese, and a homemade roasted poblano sauce. SUPER yummy! Love this recipe for breakfast, brunch, or brinner.
eggs, cheese, ground turkey, tortillas, poblano sauce
Carrot Cake Coffee Cake
Carrot Cake Coffee Cake! A super easy batter loaded with shredded carrots, topped with a thick crumbly cinnamony streusel, and finished with a melty sweet honey butter.
carrots, sugar, butter, flour, cinnamon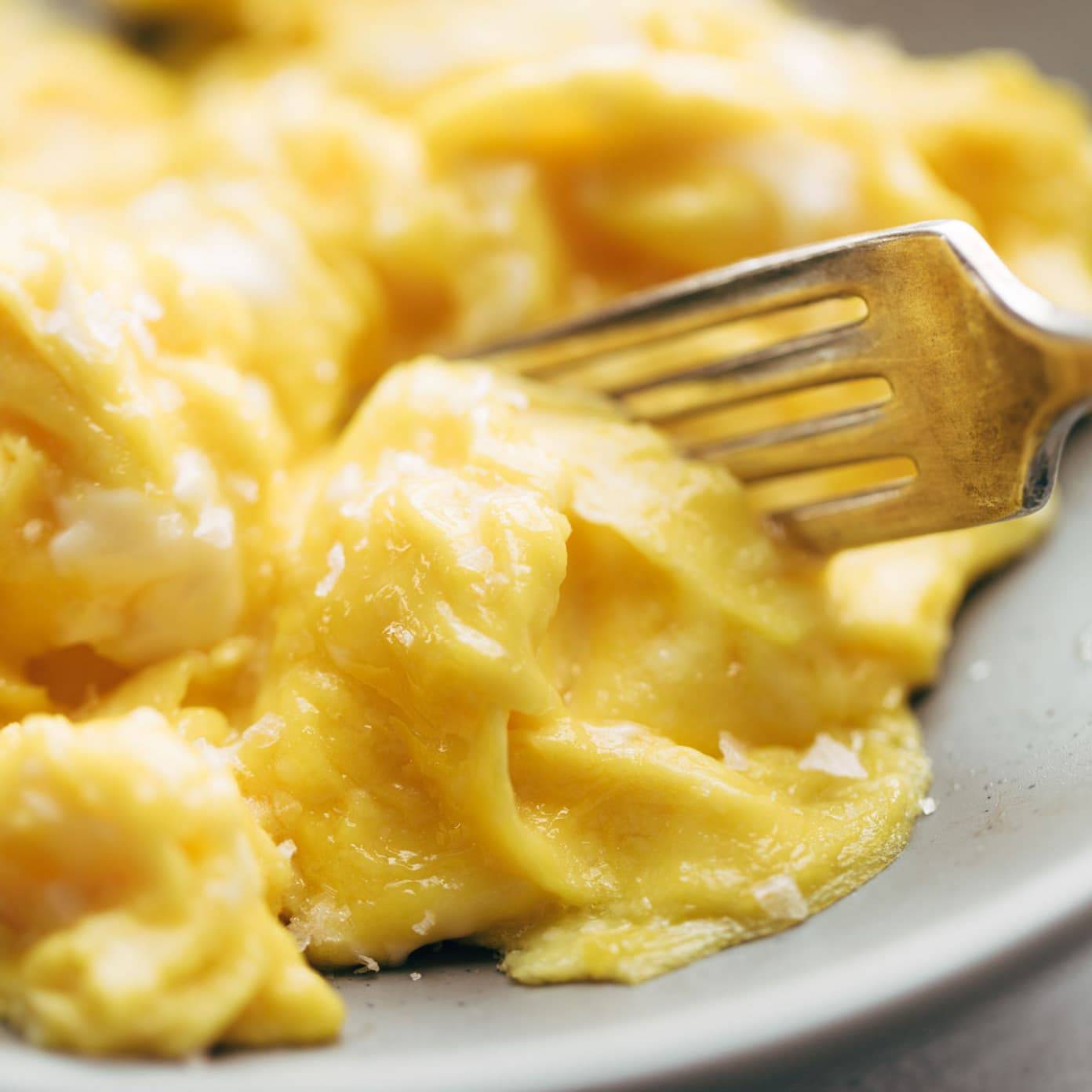 Life Changing Soft Scrambled Eggs
These soft scrambled eggs are so easy and SO dreamy! Four quick and easy secrets to the best scrambled eggs of your life.
eggs, butter, salt
Gooey Caramel Monkey Bread
This Gooey Caramel Monkey Bread is LOADED with homemade caramel sauce and made with a pillowy homemade brioche dough. Perfect made-from-scratch, crowd-pleasing recipe that is conveniently low-maintenance. Just how I like it.
honey, eggs, brown sugar, heavy whipping cream, flour
Healthy-Ish Breakfast Cookies
These healthy-ish breakfast cookies are made with an oat, banana, and peanut butter base and can be packed with any mix-ins that you like! Personal favorites: flaked coconut and chocolate chip.
banana, honey, peanut butter, oats, whole wheat flour, chocolate chunks
One More Thing!
Looking for even more delicious morning eats? Check out a list of all of our breakfast recipes!
The post 12 Easy Brunch Recipes appeared first on Pinch of Yum.