Golden Grahams Bars
Crunchy, chocolatey, and made with just FIVE ingredients. Winning!
chocolate chips, Golden Grahams cereal, marshmallows
Raw Vegan Carrot Cake Bites
Raw Vegan Carrot Cake Bites that are chewy, cinnamony, cake-bally, and just the right amount of sweet. Perfect on-the-go snack!
carrot, oats, almond butter, unsweetened coconut
Mocha Peanut Butter Pie
A mocha cookie crust filled with creamy peanut butter cheesecake and topped off with chocolate ice cream and plenty of peanut butter cups.
chocolate sandwich cookies, peanut butter, chocolate ice cream, peanut butter cups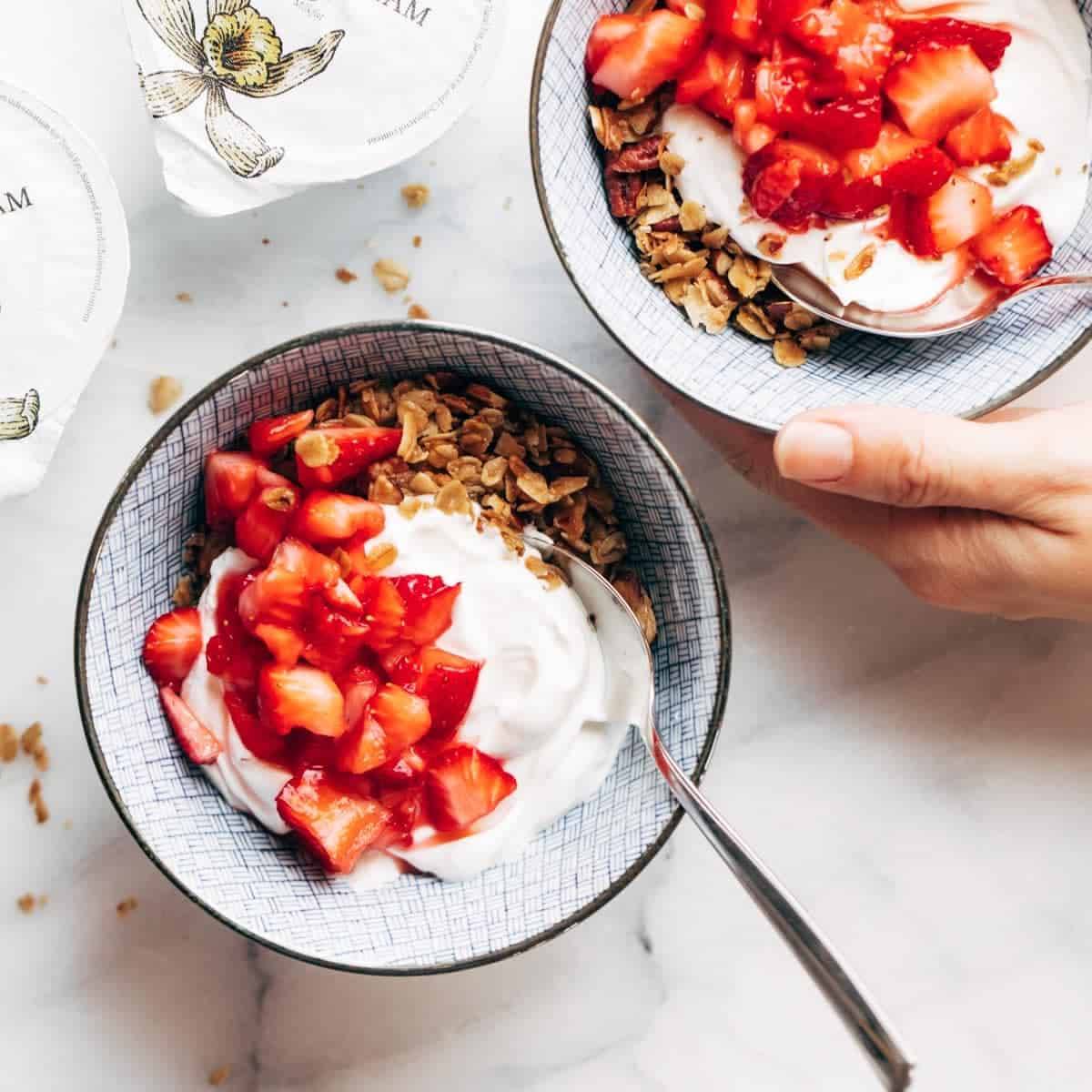 Strawberry Shortcake Yogurt Bowls
Strawberries + shortcake-inspired granola + creamy vanilla yogurt. This strawberry shortcake yogurt bowl is breakfast, snack, and dessert goals!
triple cream yogurt, strawberries, oats, maple syrup, unsweetened coconut flakes
Almond Butter Cups
Almond Butter Cups made with five ingredients and no refined sugar. So creamy, rich, and yummy!
cocoa powder, agave, coconut oil, almond butter, sea salt
Raw Salted Chocolate Snack Bars
Salted Chocolate Snack Bars with simple clean ingredients: pecans, oats, dates, cocoa powder, coconut oil, and maple syrup. SO GOOD!
oats, dates, pecan halves, maple syrup, cocoa powder, coconut oil
Modern Scotcheroos
The classic chocolate covered peanut butter rice krispie bars, but with minimal refined sugar thanks to a few modern swaps.
brown rice krispies, brown rice syrup, peanut butter, maple syrup, dark chocolate chips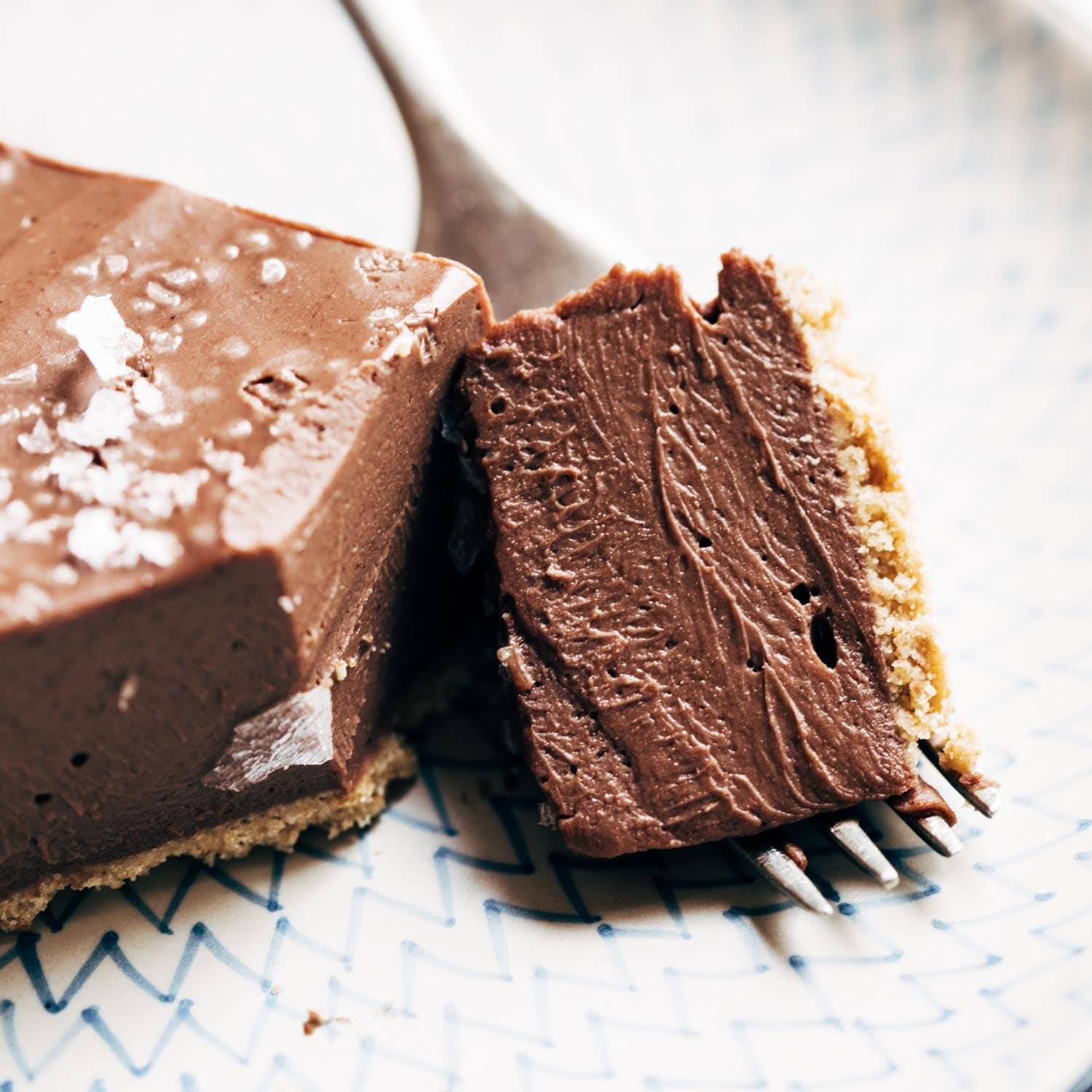 Mind-Blowing Vegan Chocolate Pie
This vegan chocolate pie is a five-ingredient, no-bake miracle. The ultra-thick and creamy chocolate pie filling is made with tofu, almond butter, almondmilk, and melted chocolate. Easy!
tofu, chocolate almond milk, almond butter, chocolate chips
No-Bake Salted Caramel Cups
Oat crust with a soft salted caramel center, topped with chocolate and sea salt. Perfect for a quick snack or dessert!
oats, caramel sauce, pecans, dates, pretzels
Cookie Dough Energy Bites
These nutritious little energy bites taste a whole lot like cookie dough! This recipe was adapted from the Minimalist Kitchen cookbook.
oats, peanut butter, honey, chocolate chips, chia seeds
Naturally Sweet Dark Chocolate Coconut Bites
These dark chocolate coconut bites are naturally sweet and creamy on the inside and covered with a layer of delicious chocolate!
dark chocolate, coconut flakes, honey, sea salt
The Best Easy Peanut Butter Pie
The BEST Easy Peanut Butter Pie! A simple cookie crust under a layer of fluffy peanut buttery filling that is pillowy, light, and incredibly rich all at the same time.
peanut butter, sugar, whipped topping, Oreos, cream cheese
One More Thing!
Looking for even more sweets to crush on? Check out a list of all of our dessert recipes!
The post 12 Easy No-Bake Desserts appeared first on Pinch of Yum.