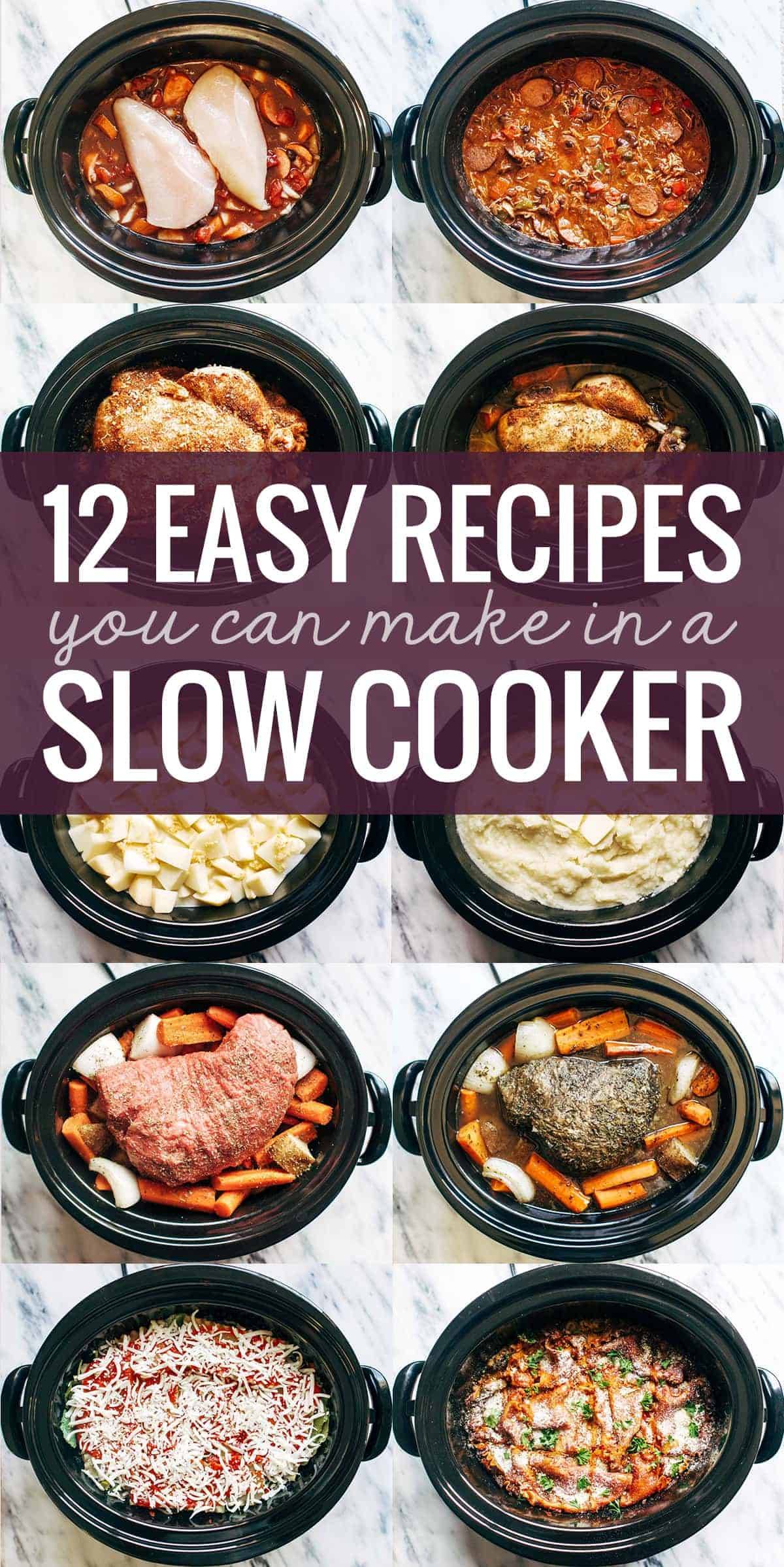 Temps are dropping, days are shortening, and I'm getting hungry for everything pumpkin and chili – pretty sure it's all just a scheme of the universe to get us to bust out our slow cookers.
So today let's dust off the crockpots slash slow cookers slash whatever you want to call them and get them to magically make us something delicious (and easy, always always easy) for dinner. Magic + delicious + easy: this is how we roll around here.
Let's just address this right off the bat – there is absolutely a certain amount of food-fancy-ism in the cooking world related use of the slow cooker. Like, there are people in the world who are above it. I know, right? Does the slow cooker have a certain dowdy Midwestern vibe to it? Maybe a little bit. Maybe a lot. But does it make incredible meals that basically cook themselves? I repeat: INCREDIBLE MEALS THAT COOK THEMSELVES? Psh. I guess some people are too vain to appreciate this life-changing, time-saving magic, so we'll just leave them be.
Where my Normals With Day Jobs Who Love Time-Saving Meals at? This post was written for us. *disclaimer: I say us but, actually, technically, I'm not a Normal With A Day Job anymore I KNOW but I used to be one and I understand the struggle – can I be grandfathered into the group?* We, as a group of Normals, are going to be moving forward today with confidence, knowing that use of the slow cooker is one of the best ways to get an easy meal on the table AND surprise! one that actually tastes really good because that food, whatever it is, has been simmering into flavorful perfection all day long.
Let's talk slow cookers (or as we call them here in Minnesota – "crockpots") for a quick minute.
I have this slow cooker which is a round Crock-Pot. To be honest, I have no idea what model or size it is (4 quart, maybe?) because I just registered for it when we got married without paying any attention to any of that. This was the closest thing I could find on Amazon. I have been using it for the last six years. It works beautifully.
If I were to do it again and/or if I were to currently recommend a slow cooker to you, I would say CHOOSE THIS ONE:
The Crock-Pot 6 Quart Cook and Carry Slow Cooker!
This is the #1 best selling slow cooker on Amazon and it has a 4.3-star rating from 1,800 reviews. My sister has this one and she loves it. We used it for the pictures in this post.
I am not going to say much more about the slow cookers themselves because I don't have a strong brand loyalty or model preference here – I just really want you to enjoy these recipes made in a slow cooker – ANY slow cooker. So if you don't have a slow cooker already or if yours is falling apart (for example, recently I went over to my best friend's house and watched her pry the lid of the very hot slow cooker off with five million hot pads because the handles on the lid were broken – NONE OF THAT NOW), then please, by all means, find a way to get a functioning slow cooker in your kitchen ASAP.
Also just a thought: slow cookers make great gifts! Although maybe pause first – there's that one rule about not buying appliances as gifts, right? So maybe if you're not sure if it's offensive, just hold off. But if you've never really understood those rules anyway (like, why? I don't get it, says the food blogger who LOVES appliances), and/or if it's your sister or your cousin or ME and you know she's been dying for a new slow cooker, then totally cool for you to bring the slow cooker joy to your people.
Tis the season for slow cooking!
---
Why it's great for the slow cooker: The chicken shreds so easily right in the crockpot, and the long cooking time allows all the flavors to blend together into a really delicious flavor combo. My sister helped me test some of these recipes, and she (and her family) listed this one as their FAVORITE of all ten.
Why it's great for the slow cooker: At the risk of sounding Midwestern-slow-cooker-dowdy, this is a classic "dump it in and forget it" recipe. You should sear the exterior of the meat first for best results, but if it's Monday morning and you're on the way out the door – no. Not happening. This is a forgiving recipe that can work either way. It's really convenient and yummy with polenta or mashed potatoes or pasta (click picture or title for the full recipe including the polenta)!
Why it's great for the slow cooker: It's really quick to layer all the ingredients together, and then you can leave it all day until dinner. Easiest recipe on the list, for sure! (and a personal favorite of mine thanks to all those veggies and DA CHZZZ.)
Why it's great for the slow cooker: This is a go-to for me when we are entertaining because I can leave it cooking all day and then just pop it in the oven at the end for browning, right when our friends walk in the door. Also: because of the slow, long cooking time, the meat gets really tender and flavorful, and it's really easy to shred right in the crockpot once it's cooked.
Why it's great for the slow cooker: Maybe I'm starting to sound like a broken record here, but it's easy! Also, the chicken becomes really moist and tender from all the liquids staying in the crockpot. To get a crispy skin at the end, you just need to put the chicken under the broiler for a little bit.
Side note from Kristin who tested the recipe: "Making the chicken like this creates a broth right in the crockpot. I kept the vegetables, the broth, and some of the meat as a base for chicken noodle soup! All I will have to add in is the noodles!"
Why it's great for the slow cooker: It's a good alternative option to making granola in the oven, especially if you don't have access to an oven or you simply don't want to use the oven and heat up the kitchen (I'm looking at you, California). It will yield a different (but still delicious) type of granola – one with less clusters and a softer texture.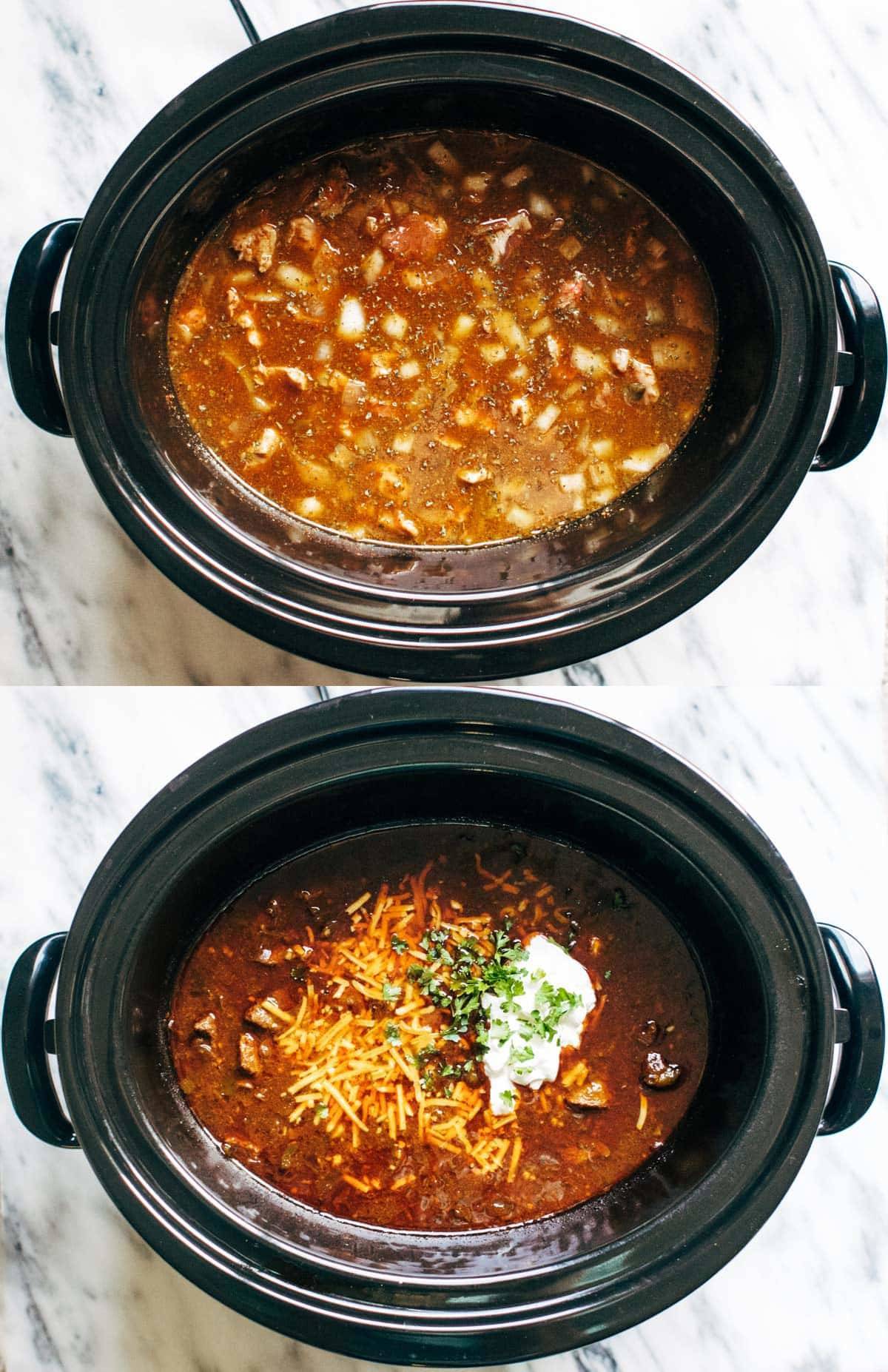 Why it's great for the slow cooker: This chili recipe is perfect for the crockpot because the meat gets so tender and flavorful over the long cooking time. My friend Ang introduced us to this recipe and it's been a favorite in our little friend circle ever since – it's a great have-people-over-and-put-chili-on-anything kind of meal.
Why it's great for the slow cooker: This recipe = less hands-on time, and using the hand mixer saves lots of time and energy in the mashing process. It's not the same technically perfect fluffiness as ricing the potatoes one at a time and mashing them by hand, but this is how we have it every year at Thanksgiving with Bjork's family and it's really darn good.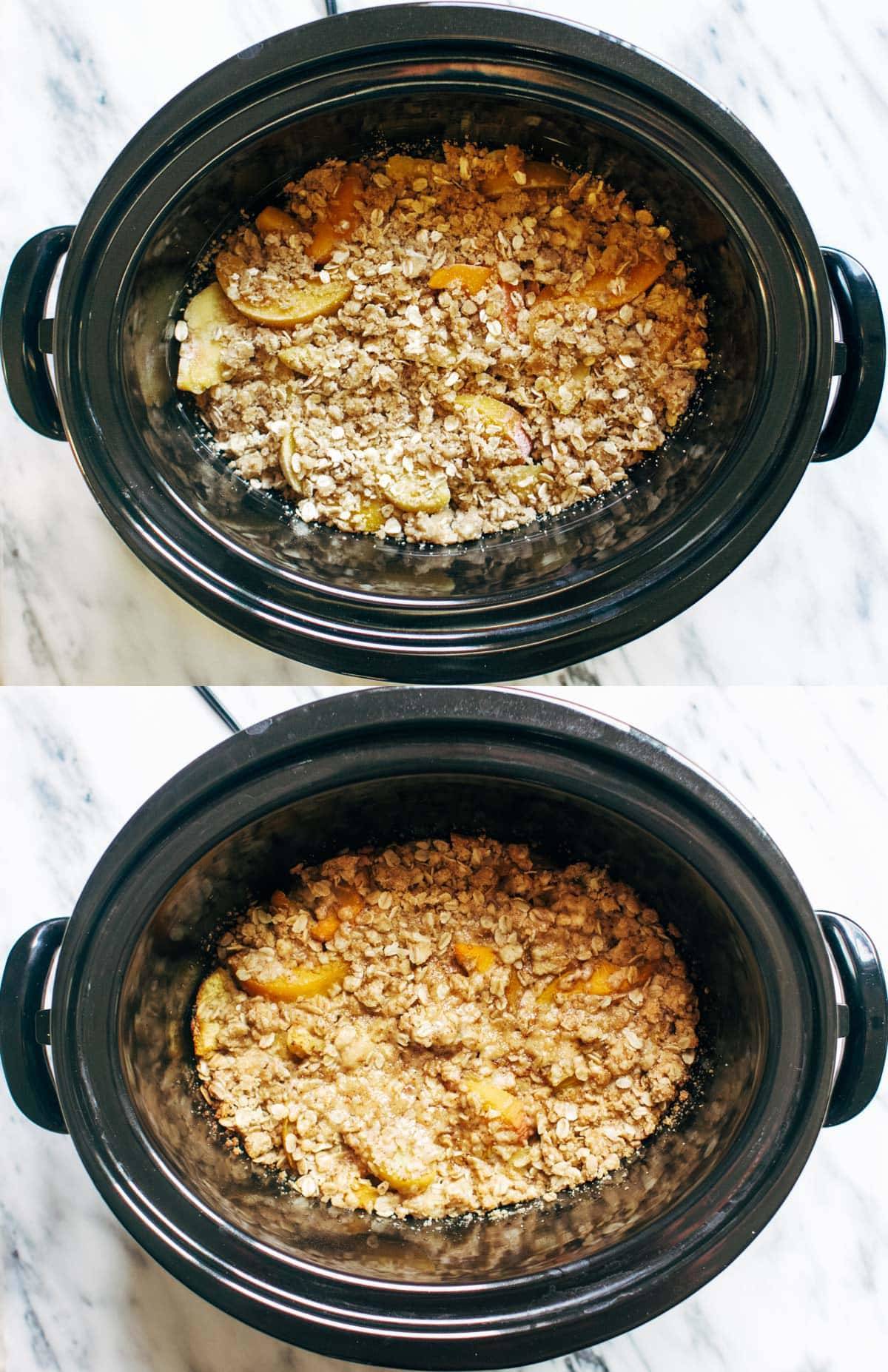 Why it's great for the slow cooker: This is a really easy recipe that yields delicious results! The peaches get a little caramelization from the crockpot (!!), and the topping is perfect. Talk about great for when you have guests for dinner – you can do it all ahead of time, but then still serve a nice warm cobbler when dinnertime rolls around.
Why it's great for the slow cooker: First of all, because red lentil curry is meatless and AMAZING. Secondly, lentils are so perfect for the crockpot because they get a great texture and they soak up all the flavors of the other ingredients during the long cooking time. Plus – easy!
Why it's great for the slow cooker: Let me start by saying this one doesn't look like much, but it is EVERYTHING. The non-slow-cooker version of this soup is what we make at Christmastime, and the slow cooker version is for busy weeknights all throughout the winter. The chicken gets really tender and is super easy to shred (saves time from boiling chicken and then chopping it), the wild rice can cook at its own super slow pace, and you add in the creamy roux to make it all luscious and velvety at the end.
Why it's great for the slow cooker: The meat stays tender and flavorful, and the broth created in the crockpot can be used to make a delicious homemade gravy. GRAVY!!!
---
And that's a wrap!
In terms of getting yourself set for these recipes, I highly recommend THE #1 BEST SELLING SLOW COOKER on Amazon – it's that Cook and Carry one with over 1,800 reviews.
If you have other favorite slow cooker recipe ideas, please leave them in the comments because we're a champion slow cooking team together and every recipe counts!
Disclaimer: this post contains affiliate links for the slow cookers that we use.
---
Also:
---
The post 12 Easy Recipes You Can Make in a Slow Cooker appeared first on Pinch of Yum.