Juicy Lucy
A delicious hamburger stuffed with molten, bubbly, waterfalling cheese, all piled on a buttery toasted bun with all the fixings. The BEST.
ground beef, American cheese, brioche buns
Roasted Cauliflower Lettuce Wraps with Korean BBQ-Inspired Sauce
Crispy roasted cauliflower tossed in a sweet and sticky Korean BBQ-inspired sauce, all topped with chives, peanuts, and spicy mayo. YUM.
cauliflower florets, butter lettuce, peanuts, sambal oelek, soy sauce, garlic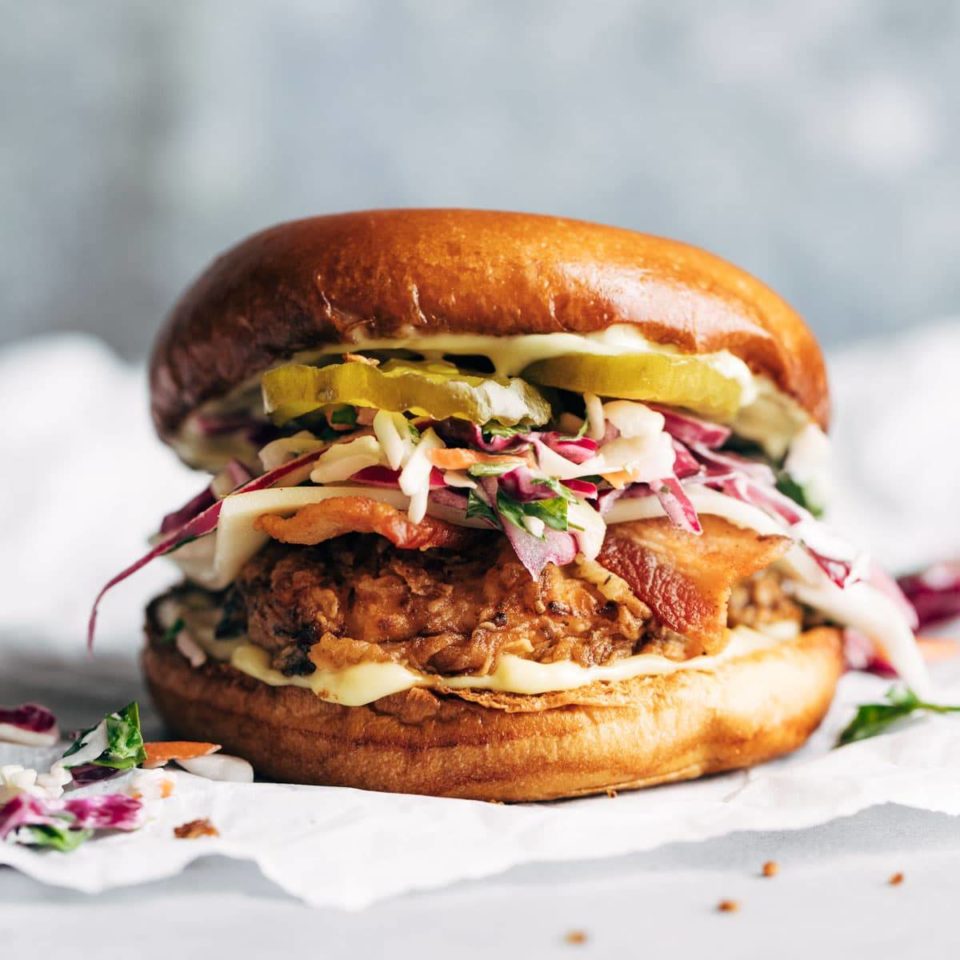 Summertime Fried Chicken Sandwiches
with Tangy Slaw
SUPER YUMMY fried chicken sandwiches loaded with Swiss cheese, bacon, pickles, slaw, and honey dijonnaise.
chicken breasts, brioche buns, Swiss cheese, shredded cabbage, pickles, mayonnaise, bacon
Couscous Summer Salad
Spiced couscous, juicy nectarines, crunchy cucumber, avocado, chickpeas, cherries, sweet corn, and mint. It's sunshine in a bowl!
couscous, dried cherries, chickpeas, corn, cucumber, nectarines, avocado, spinach
Blt Panzanella
BLT Panzanella! The best salad of summer. Fried bread, arugula, tomatoes, bacon, and an easy balsamic dressing.
cherry tomatoes, bacon, ciabatta bread, arugula, avocado
Chopped Salad Pizza
A tangy Italian chopped salad on a crispy flatbread pizza with tomato and mozzarella, aka Chopped Salad Pizza. My favorite food this summer!
pizza crust, lettuce, tomato, chickpeas, salami, cheese
Clean Eating Instant Pot Summer Soup
The perfect blend of comforting and fresh for the season. Packed with all the fresh summer produce and super customizable to whatever you have on hand!
chicken breasts, crushed tomatoes, carrots, celery, garlic, farro, zucchini, corn
Summer Bliss Bowls with Sweet Potato Fritters and Jalapeño Ranch
Favorite summer bowl! And you will not BELIEVE how easy the 5 ingredient fritters are.
sweet potato, brown rice, spinach, tomatoes, corn, dill, jalapeño ranch
Loaded Caprese Grilled Cheese
This Caprese Grilled Cheese is loaded with basil pesto, a thick and chunky garlic butter tomato sauce, and fresh mozzarella cheese, all on grilled sourdough bread. The perfect taste of summer.
mozzarella cheese, sourdough bread, butter, pesto, tomatoes
Spicy Cauliflower Burgers
Spicy Cauliflower Burgers with avocado sauce, cilantro lime slaw, and chipotle mayo! Meatless, filling, and delicious!
cauliflower, quinoa, Pepperjack cheese, chipotle mayo, red cabbage, buns
Buffalo Cauliflower Tacos with Avocado Crema
These tacos are SO GOOD! Baked, not fried, and breaded in a two-ingredient batter. Crispy, tangy, fiery taco perfection.
cauliflower hot sauce, avocados, cabbage, garlic, sour cream, tortillas
5 Ingredient Spicy Pork
A fancy-feeling dinner recipe that actually comes together in snap. Serve it in bowls, stir-fry it with some veggies, or add it to burritos!
pork tenderloin, soy sauce, hot chili paste, ginger, brown sugar
One More Thing!
Looking for even more warm weather meals? Check out a list of all of our summer recipes!
The post 12 Easy Summer Dinners appeared first on Pinch of Yum.