Instant Pot Chicken Cacciatore
Braised Italian chicken in saucy pasta-friendly form that is bright, acidic, rich, and savory. Just put everything in the Instant Pot and let it go!
chicken breasts, mushrooms, bell pepper, capers, butter, diced tomatoes, capellini
Easy Veggie Enchiladas
Saucy, cheesy, filling, cozy, and packed with any roasted veggies you want. Super versatile and easy to make!
broccoli, sweet potatoes, red bell pepper, black beans, corn tortillas, enchilada sauce
Chicken Meatballs with Peppers and Orzo
Chicken Meatballs with Peppers and Orzo! The BEST combo. Quick chicken meatballs, tangy tomato sauce with garlic and peppers, and a silky-creamy pile of hot orzo on the side.
ground chicken, Parmesan cheese, bell peppers, tomato sauce, orzo, mascarpone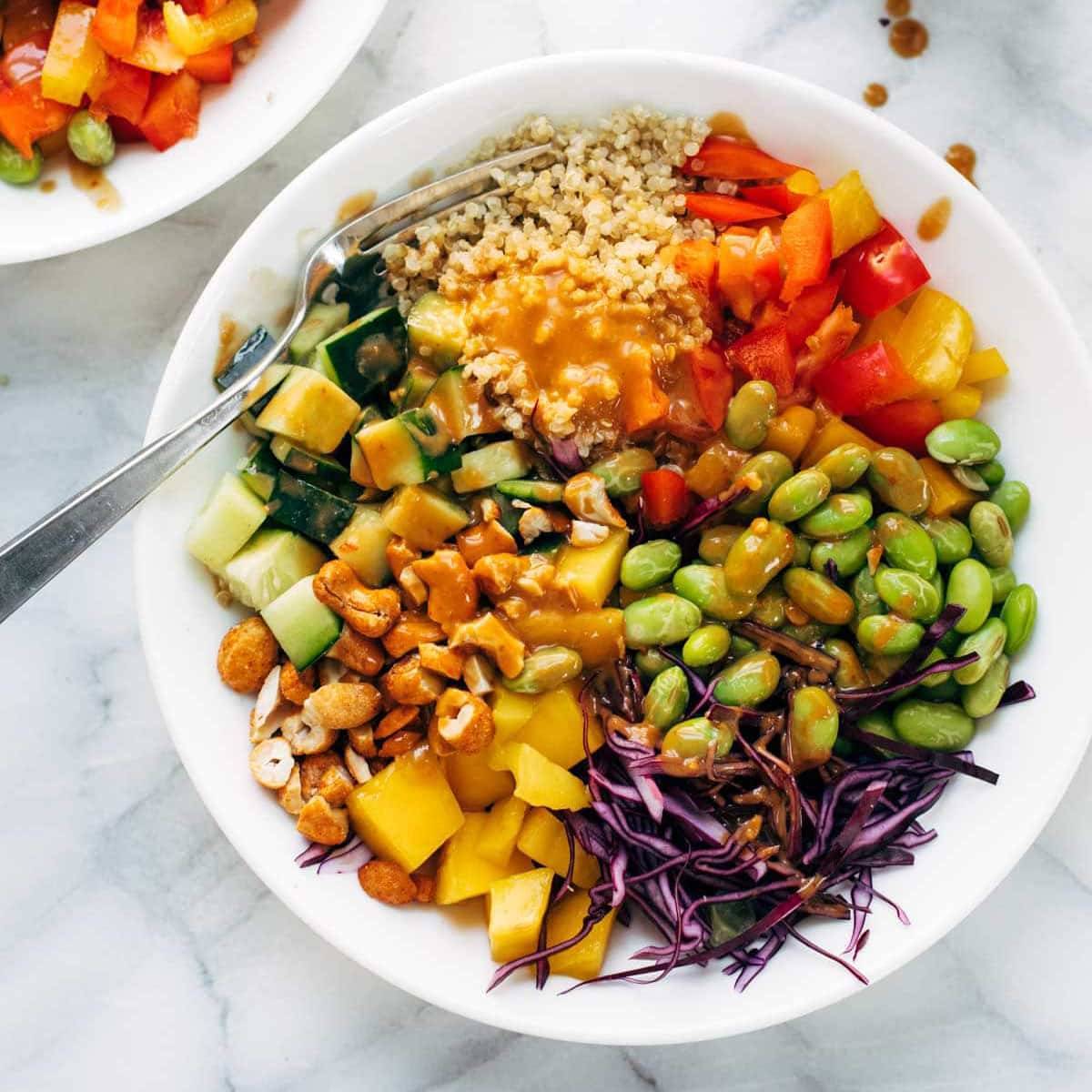 Quinoa Crunch Salad with Peanut Dressing
Crunchy rainbow veggies, juicy fresh mango, fluffy quinoa, chili lime cashews, and some creamy peanut dressing.
edamame, quinoa, cucumber, bell peppers, mangoes, carrots, purple cabbage, cashews, peanut butter, chili paste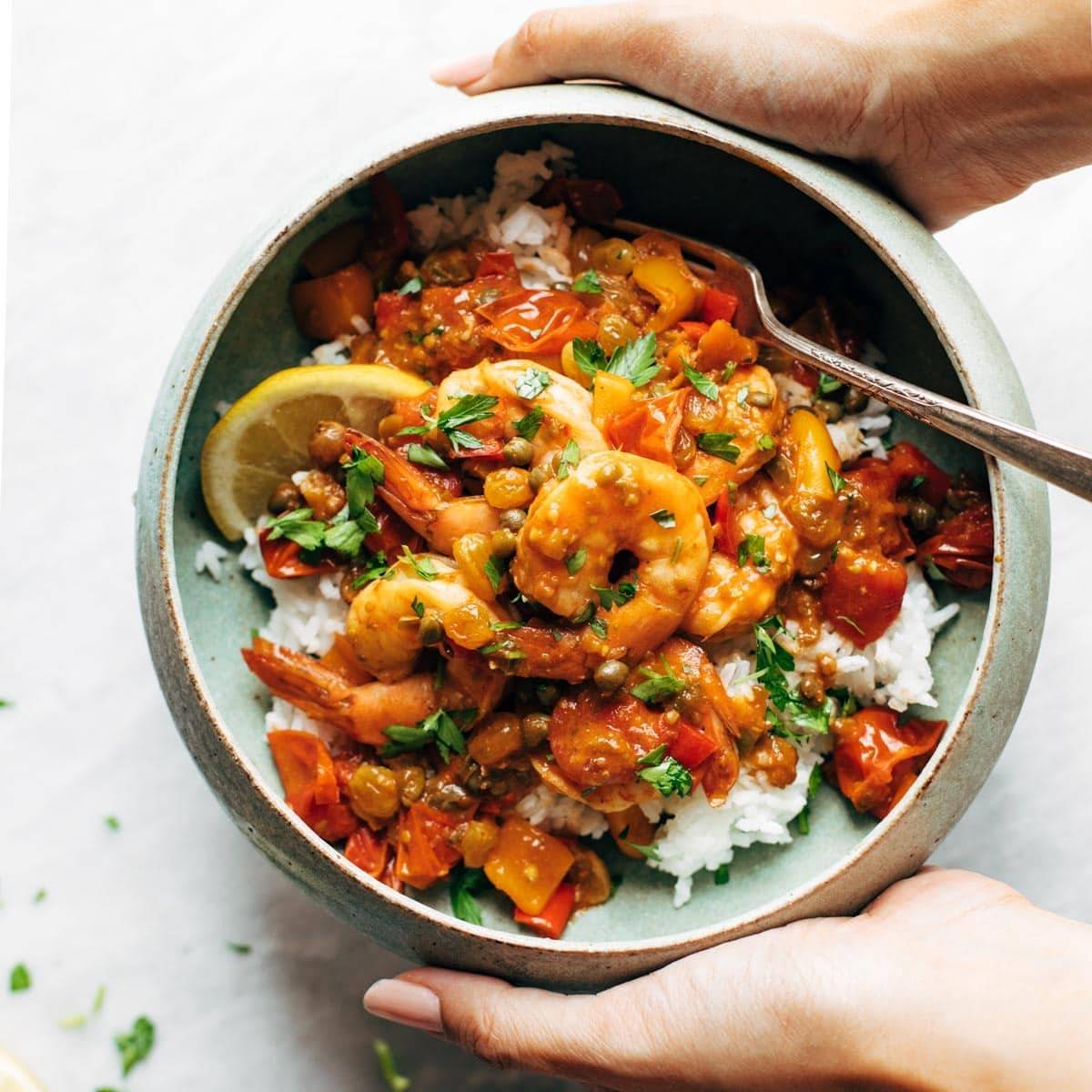 Spicy Shrimp Veracruz
One of our favorite shrimp recipes! Juicy shrimp in a pepper / tomato spicy, briny sauce served over rice. SO GOOD.
shrimp, mini peppers, cherry tomatoes, pickled jalapeños, capers, golden raisins
Peanut Noodle Salad
This peanut noodle salad is made with veggies, chicken, brown rice noodles, and an easy homemade dressing. My favorite salad ever!
brown rice noodles, chicken, baby kale, carrots, bell peppers, cilantro, green onions, soy sauce
Quinoa Black Bean Crockpot Stuffed Peppers
These Quinoa Black Bean Crockpot Stuffed Peppers can be made with or without meat – all with simple pantry ingredients! Minimal prep, awesome taste.
bell peppers, quinoa, black beans, refried beans, enchilada sauce
Grilled Sausage and Peppers with Garlic Aioli
Grilled Sausages, plus onions and peppers, all grilled and juicy and tucked into a toasted (but still fluffy) brioche bun swizzled with a punchy little aioli to tie it all up. SO GOOD.
chicken sausages, bell peppers, onions, mayonnaise, garlic paste, basil paste
Amazing Mushroom Bowls with Kale Pesto
Amazing Mushroom Bowls with Kale Pesto! Smoky, sweet, salt mushrooms (or tempeh!), caramelized pineapple, peppers, and dollop of kale pesto, all served over rice. SO GOOD.
mushrooms, pineapple chunks, bell peppers, soy sauce, maple syrup, kale pesto, rice
Greek Baked Orzo
Lightly tomato-sauced orzo baked in a skillet with red peppers, kale, chicken – or chickpeas – and a topping of feta, lemon juice, and fresh dill.
orzo, chicken, red bell pepper, kale, garlic, onion
Korean BBQ Steak Bowls with Spicy Sesame Dressing
Korean BBQ marinated steak, bell peppers, scallions, greens, wonton strips, a spicy sesame ginger dressing.
sirloin steak, bell peppers, spinach, sesame oil, sambal oelek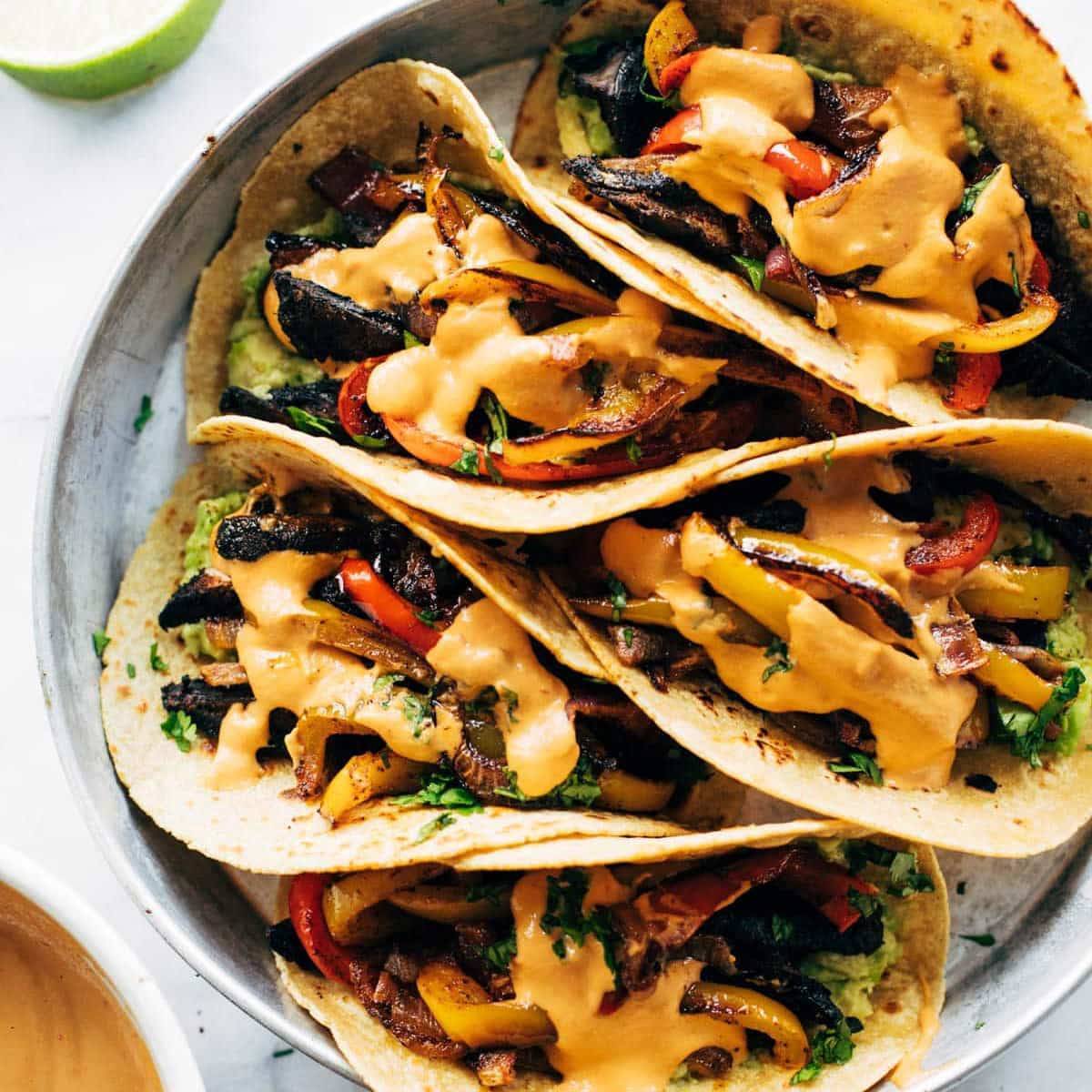 Vegan Sheet Pan Fajitas with Chipotle Queso
These Vegan Sheet Pan Fajitas are SO GOOD. Roasted peppers and onions, steak-like portobello mushrooms, some mashed avocado, and waterfall of spicy cashew queso.
portobello mushrooms, bell peppers, red onions, cashew, green chiles
One More Thing!
Looking for more recipes that bring the heat? Check out a list of all of our jalapeño recipes!
The post 12 Favorite Bell Pepper Recipes appeared first on Pinch of Yum.