Honestly, my whole life has been leading up to this moment.
It's time for me to come clean: Pinch of Yum is really just a place for me to publicly document the progression of my major love affair with my food processor. That's all it is, you guys. It has happened without me even realizing it.
I think the level of food processor obsession that I'm dealing with really started to sink in when got a comment on our reader survey a few months ago that constructively criticized me for having so many recipes that require a food processor, and that made me realize: wow, I really do use that thing a lot. Like, CAN'T STOP.
And that, my friends, has brought me to this post where I count the ways that I love that machine for all the magic it can do in the kitchen.
Slash has brought me to the point where I take food processor selfies. Cheeeeez!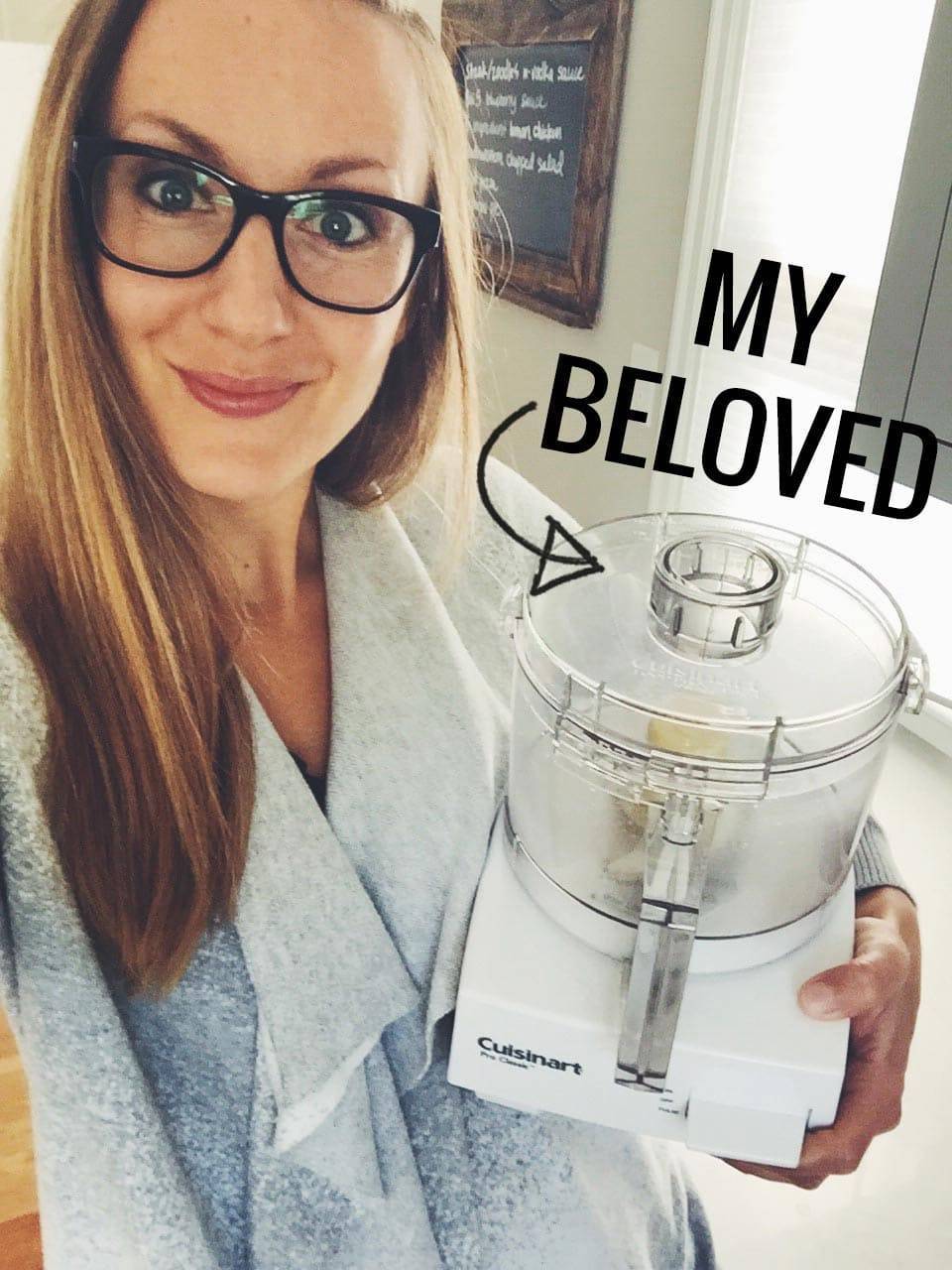 My options at the food processor obsessed crossroads in my blogging lyfe:
I can try to use the food processor less in recipes, knowing that not everyone has one or enjoys using it as much as I do.
I can try to bring you on board the crazy train with me.
You guys! There are so many cool things that food processors can do with food! 12 Magical Things, to be specific, and that's only scratching the surface. So obviously I chose my second option. You, me, and the food processors riding the crazy train together? Fuhhhhn.
Before we jump into the 12 Magical Things, though, let's take a walk down Food Processor Memory Lane.
---
I honestly feel like I didn't learn how to cook until the day I first brought home a food processor.
…From a garage sale.
…From the FREE box.
Oh my gosh, I'm gross.
I remember bringing it up to the lady hosting (hosting? do you say hosting in reference to a garage sale?) and asking what it was. She told me it was a food processor and she didn't think it worked anymore, which was why it was free. Umm, let me think. SOLD.
I took it home and washed it out 500 times and started making things with it – primarily recipes I had bookmarked for the day when I would someday have that elusively magical thing called a food processor. Most of my starter recipes were sauces and dressings and things like that. I actually specifically remember making a Cashew Chicken recipe from an Indian food cookbook in the dank kitchen of the college-y house that my friends and I rented, and I also specifically remember being amazed at the texture and flavor of the sauce once it took a run through that little machine. Because it's normal for college students to make spicy Indian-inspired food from scratch on a Saturday night? Just… I don't even know.
Sadly, that old garage sale beauty isn't around anymore, and I have no idea what brand it was, but she deserves a mention for starting this whole addiction.
---
Next up!
I graduated up to the KRUPS Mini Chopper. This is what I registered for when Bjork and I got married five (almost six! ahh) years ago. The original chopper is no longer available on Amazon, but I've linked to a similar Cuisinart product.
I remember the exact moment, standing in Crate & Barrel, looking at all the food processors with a scanner gun in my hand and my mom at my side, and trying to figure out if we were going to be *those people* who register for the cadillac of food processors as young 20-somethings who don't really know how to cook, or if we were going to be normal and try to keep it under control with a smaller, more efficient, less expensive version.
I opted for the mini chopper, which is like a tiny, compact food processor, and it served me well for a few years. It was actually just last summer that this little guy died mid-basil-dip-making-session during summer vacation at the cabin. Because, yes, I am the girl who packs my food processor in my suitcase when I go on vacation. The death of this mini chopper was really sad (um, hello understatement). This little friend and I enjoyed four sweet, delicious years together, and for the price, I felt like it was a great starter food processor that helped me step it up from my free garage sale find.
PS. If you're out there reading this, dear person who got us our first mini food processor for a wedding gift, I hereby credit you with most of the success of this blog. THANK UUUUU.
---
But ultimately where this food processor journey is bringing us is to the BIG GUY – the amazing, the beloved, the Cuisinart 7-Cupper.
Er, okay, fine, it's the Cuisinart Classic 7-Cup Food Processor, if we're being official.
Cuisinart Classic 7-Cup Food Processor
I was definitely sad to lose my baby food processor last summer – well, I mean, like, not BABY food processor, just, like, baby … food processor. UGH wordssss. But the silver lining was that I had always wanted a big, profesh food processor and this was my time to get one!
You guys. I've had it for about 9 months now, and I mostly just want to say one thing: this machine is INCREDIBLE. If I could only choose one kitchen appliance to have for the rest of my cooking life, it would be this. No hesitation.
It's so, so, so sturdy. And big – yes. That's something to consider, and I can say that with experience being that I am a person who operates out of a 90-square-foot kitchen. But wowsa, they pack a lot of power into that motor base! It's like a brick, that thing. This Cuisinart is SO STRONG and SO STURDY that you could have the thickest of mixtures in there and it wouldn't even budge, squeak, or smoke in the slightest. Trust me – I've really given it a run for its money.
There is just one button – you either push it up to leave it on, or you push it down to just sporadically pulse something. EVEN I CAN FIGURE THIS OUT.
If you are in the market for a big, real, going-to-use-it-for-a-long-time food processor, this is a winner. Reviews on Amazon: 4.5 stars out of 1,500 reviews.
A quick note: this machine comes with lots of parts, but for today's post, I'm only talking about using it with the primary blade (see pictures) and the short, easy to use top. Okay, fine, confession: I literally never use the tall top and alternate blades. I have them in a special "extra things" drawer in my kitchen and I've never used them, not even once. Because you don't need to! Also: LAZY.
You guys.
Let's jump into the MAGIC of what this machine (or the smaller versions, for that matter) can do for your cooking life!
---
1. Making Homemade Nut Butters
Yay! We just talked about this in a post not that long ago – remember that homemade peanut butter that can be made in five minutes? Or this luscious five minute cashew sauce?
The texture of homemade peanut butter is everything. And you guys? If you need me, I'll just be over here making nut butters from every type of nut possible.
2. Grinding Meat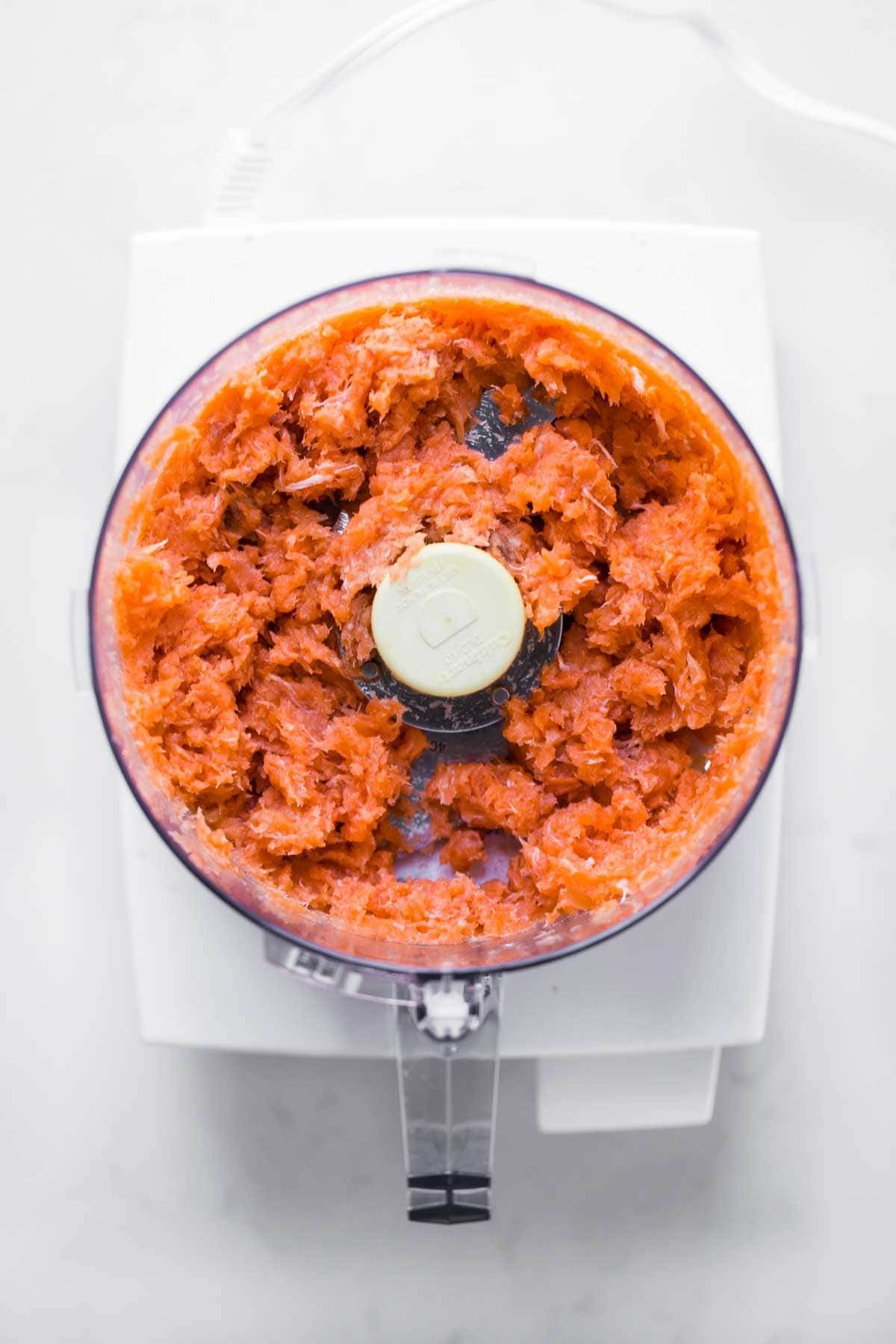 Mmm, glamorous.
Pictured here is some nice pink salmon, being prepared for awesomely textured lemon herb salmon burgers! I use my food processor to grind meat for meatballs and burgers galore.
3. Homemade Pesto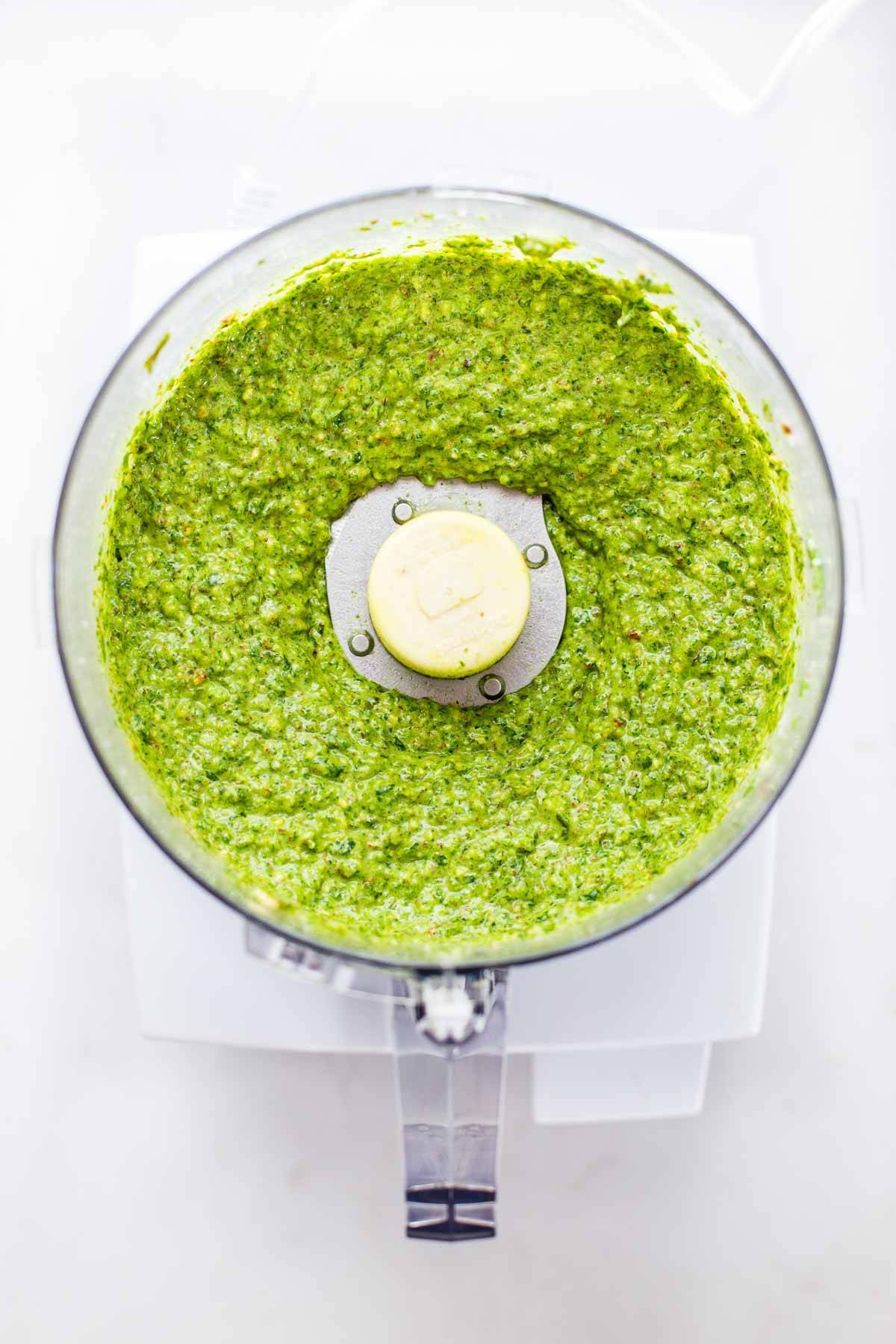 Obviously!
But this pesto is a favorite healthier version from a pesto pasta bake that I made last summer which is now taking over my life again. I ♡ THIS STUFF. Yay for customizable pesto that we can put on everything!
4. Curry Paste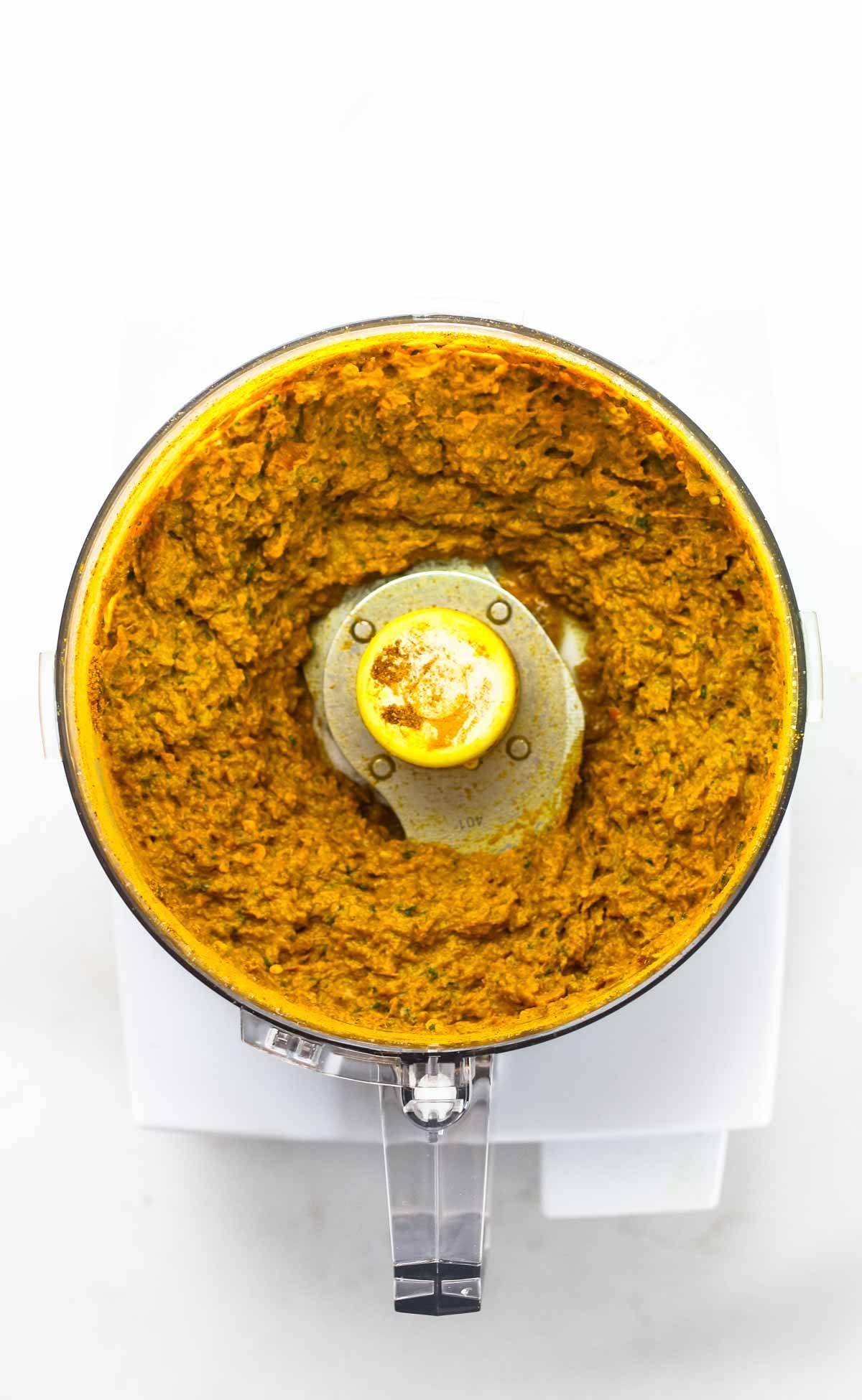 Umm, yeah, we just talked about the wonders of making curry paste at home. Food processors = making people feel like they're awesome cooks.
I'm digging it. Next up: bring on the red and green curry pastes!
(tip! tip! tip! spray the white part of your blade with nonstick cooking spray to prevent neon yellow stains. that darn turmeric…)
5. Getting Awesomely Textured Veggies For Salads
I use this food processor ALL THE TIME when it comes to quickly chopping things up for salads.
Carrots, especially! I love to use it to cut up carrots, onions, and celery for a soup base and I also use it for cutting up veggies in stuff like this Herbed Quinoa Garden Veggie Salad!
Also pictured: white beans and herbs that I was chopping up for these little 10 minute artichoke toasts.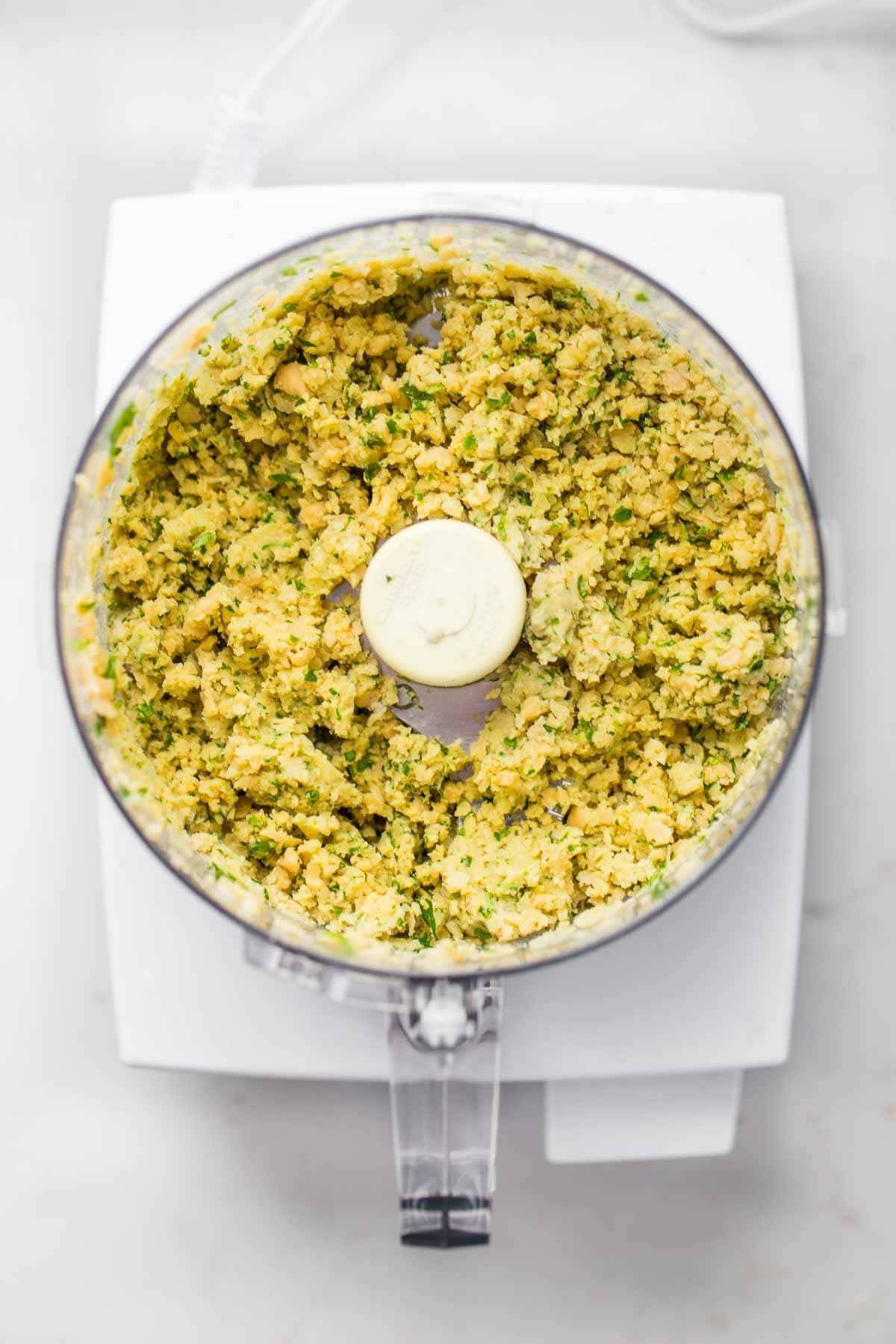 6. Making Homemade Hummus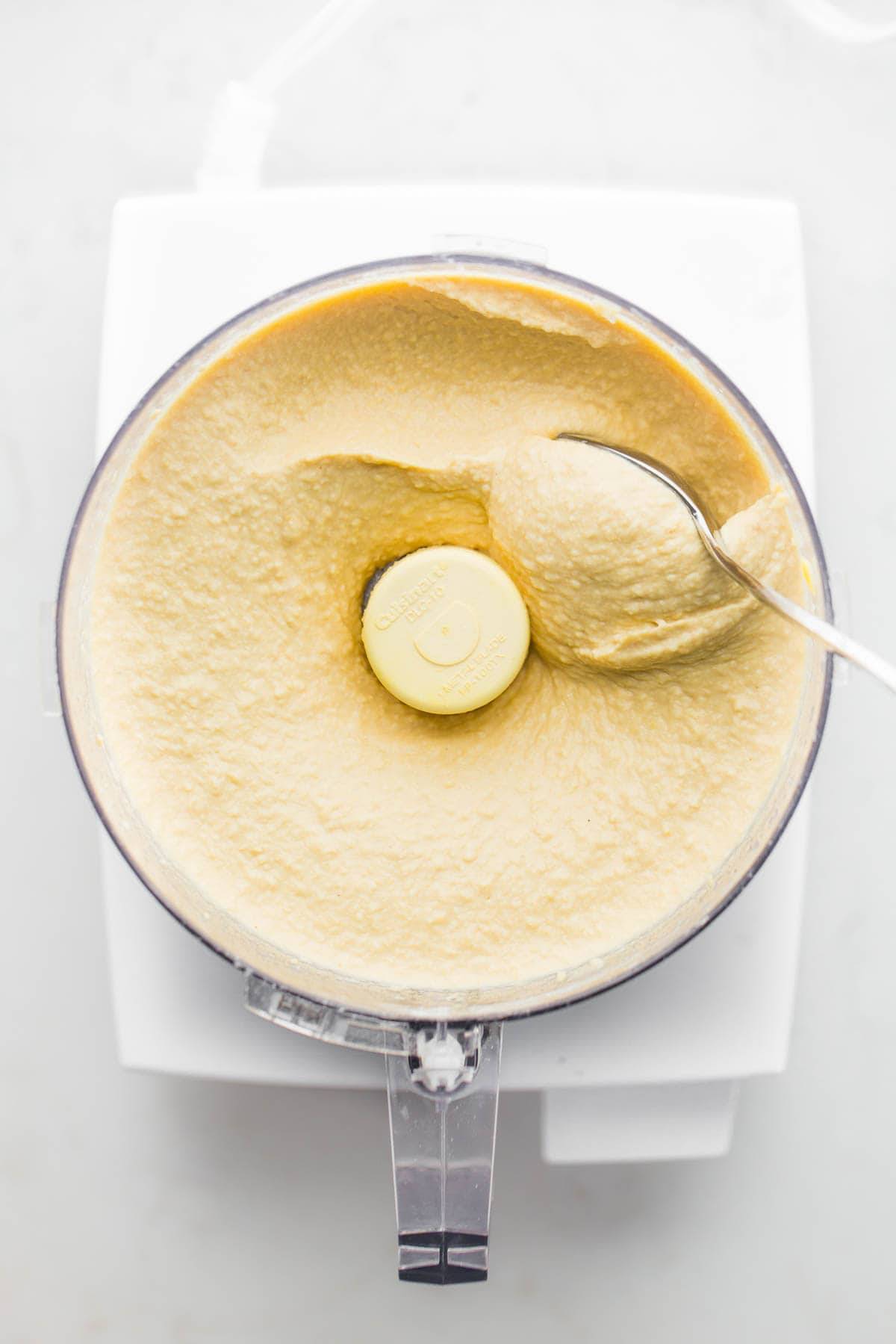 Right? I love my food processor for hummus! We made some at my dinner club the other night and it was so easy + so good.
My favorite recipe for homemade hummus is this one – but warning – the best best best texture comes from spending a little time taking the skins off the chickpeas. I know, annoying, but so worth it if you're a texture freak. (The version pictured here did not have the skins removed. Still delish.)
7. Inner Goddess Chocolate Truffles (and Other Healthy Snacks)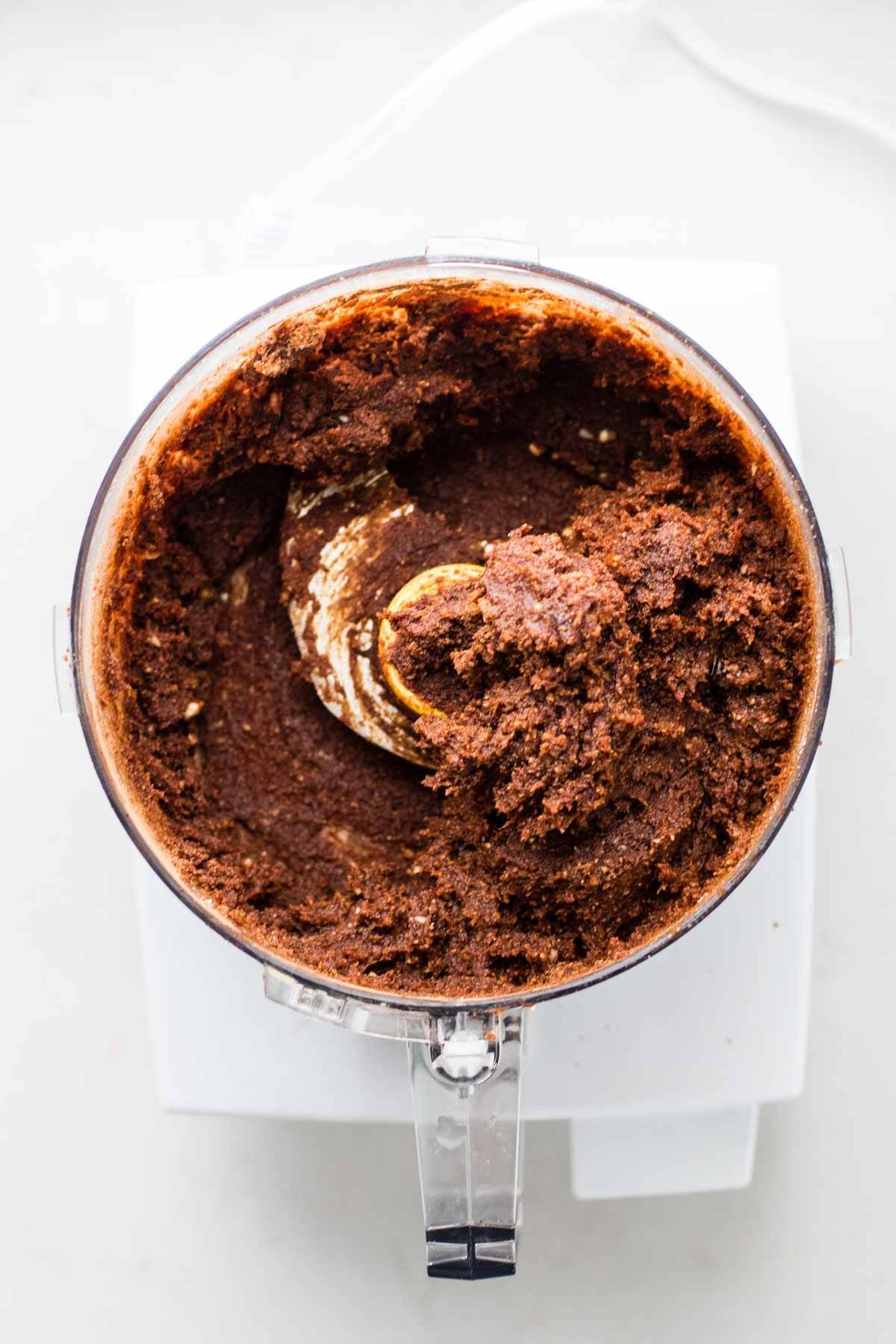 The Cuisinart LOVES dates, date balls, date bars, and other date mixtures. Seriously, it works like a dream for making awesome "dough" out of healthier ingredients like nuts and dates.
Inner Goddess Chocolate Truffles alone might be worth the price of admission!
8. Chopping Nuts
It's just one of those little things that's annoying to do on a cutting board.
I pop the nuts in, whir them around for a few seconds, and voila. I usually keep a jar of crushed almonds like this for topping recipes or using in salads. Perf!
9. Homemade Dressings
Like the dressing in this Chopped Thai Salad with Sesame Garlic Dressing. HELLOOOOOOOO.
I love the food processor for dressings because you don't have to cut up the garlic or the herbs at all. The food processor does ALL the work and you get a nice, smooth dressing! So many good dressing vibes.
10. Cutting Butter Into Flour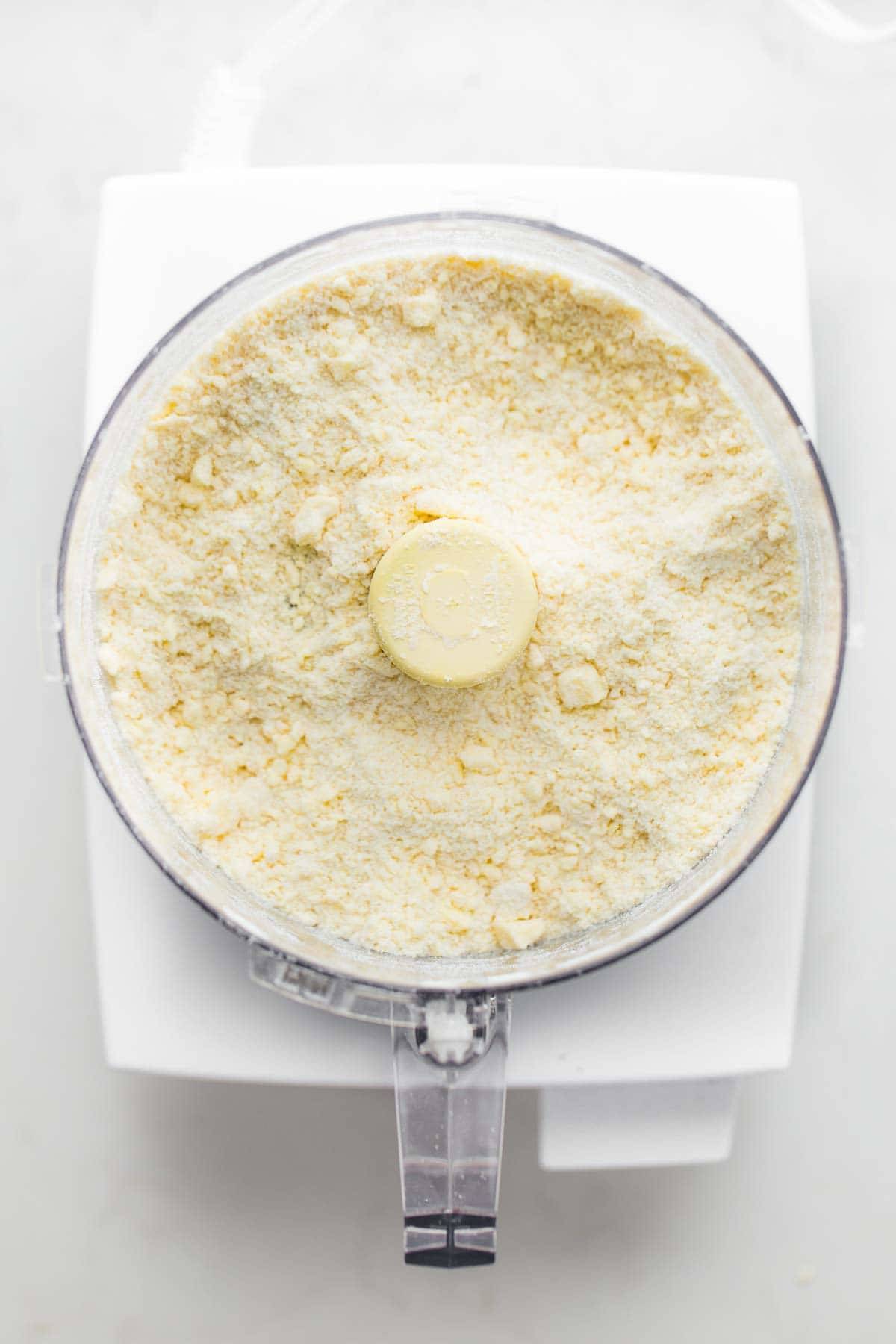 Okay, right now I'm in the midst of a sugar free 60 day thing, so I won't be making any bars or pie crusts or other wonderful things for a little while.
BUT. If you are needing to cut butter into flour to make a beautiful dough for any delicious reason, the food processor works beautifully for that. There is actually a separate blade that you are supposed to use for it – I think it's plastic rather than the sharp blades pictured here, but like I said before, I never change my blade because a) the regular one works for everything, and b) laziness.
11. Making Healthy Ice Cream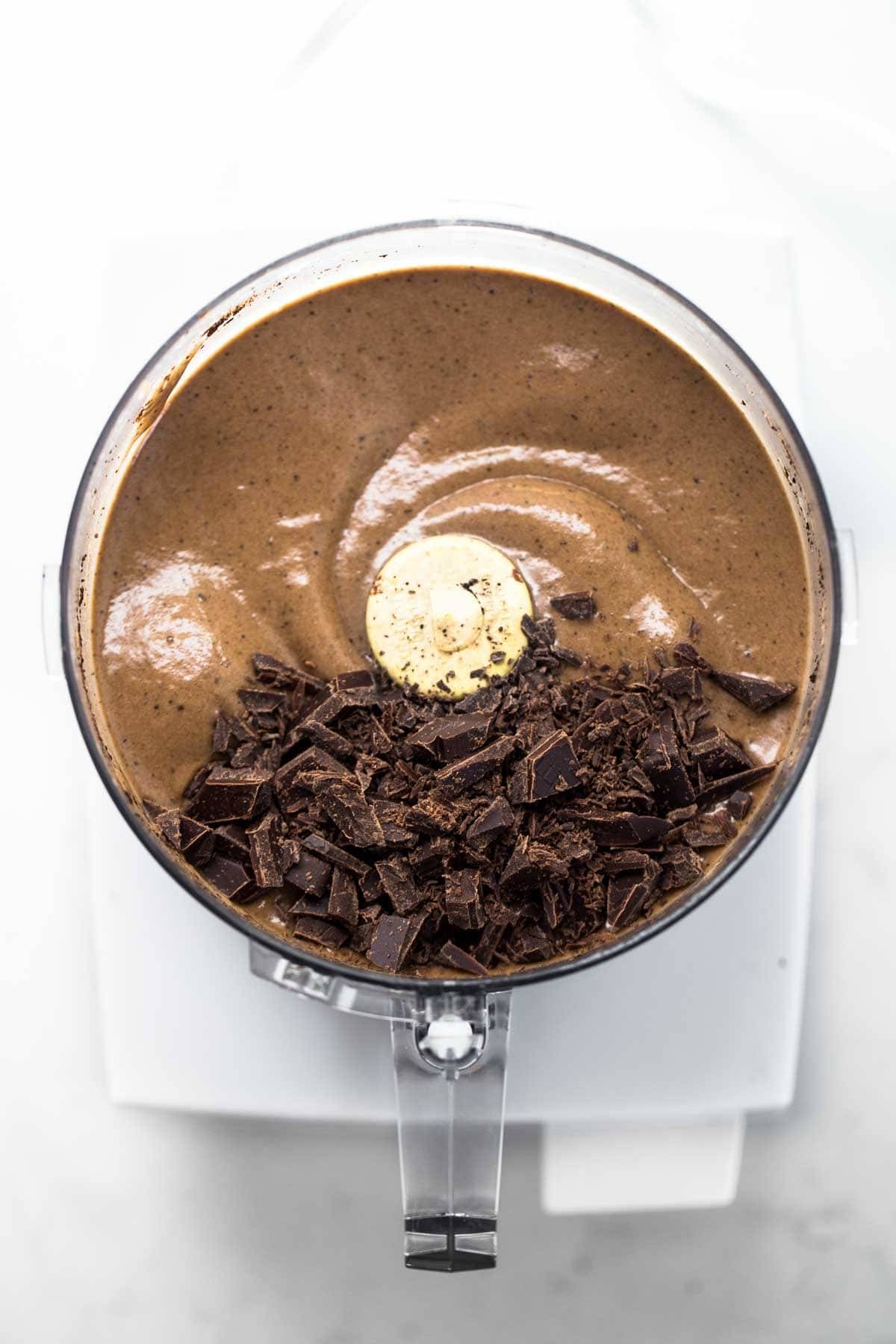 Ahh! So excited to share this recipe with you because CHOCOLATE, REFINED SUGAR FREE, GLOWY HEALTHY YUM. Go check it out!
Also, you must try this peanut butter banana soft serve ice cream – I've also been dying to try this with frozen fruit like mango, strawberries, etc.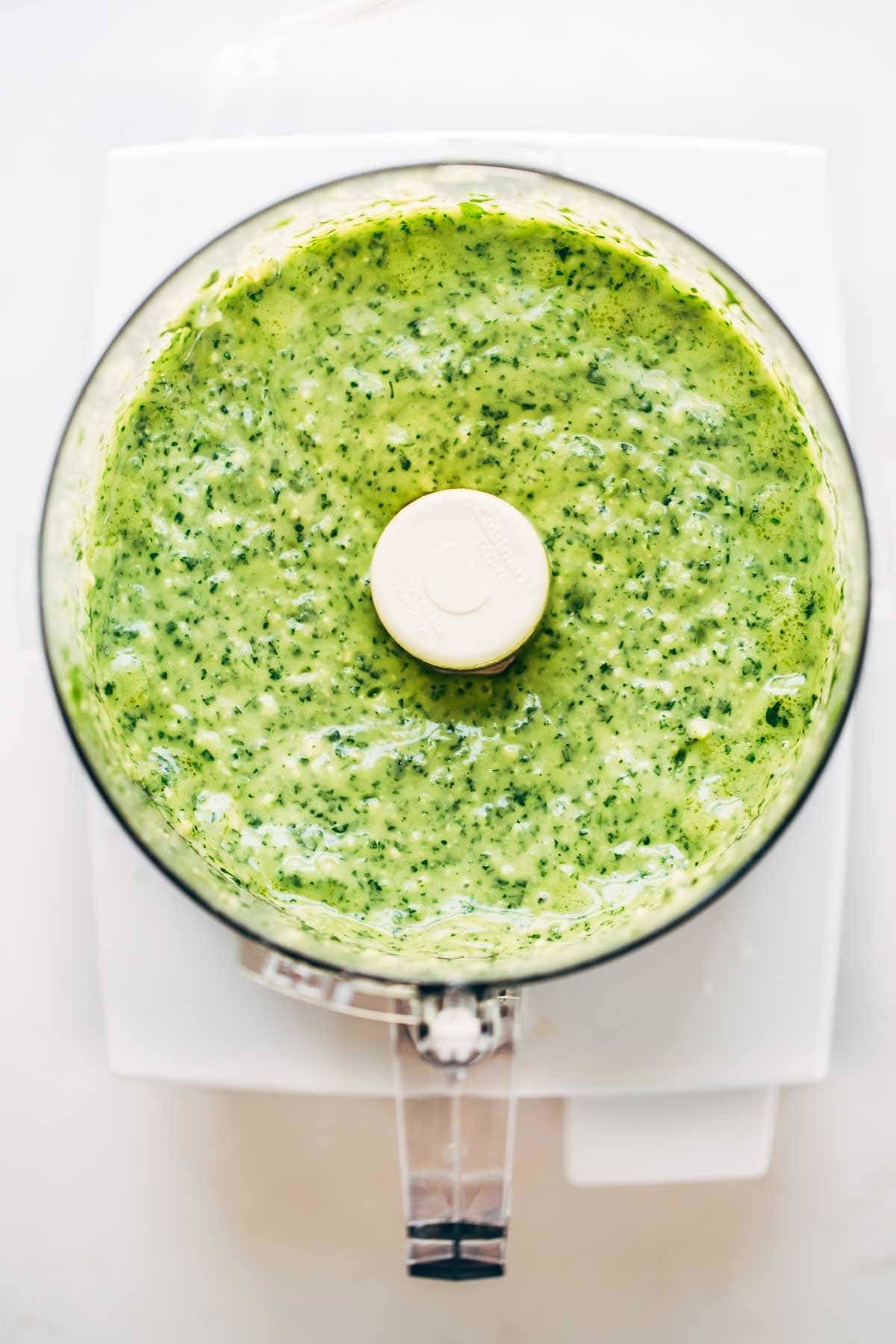 It's only appropriate that I'd end this post of 12 Magical Ways to Use a Food Processor with THE MAGIC GREEN SAUCE.
If you haven't tried it, what is life like for you? Is it sad?
If you're only going to make one thing from this post with your food processor or mini chopper or garage sale food-processor-like thing, make it this green sauce and just try not to put it on everything for the rest of your life, ever.
---
In my mind, these Something Besides a Recipe posts are always really quick and easy to throw together. But somehow, I feel like I just ran a marathon. THE BEST KIND OF MARATHON. I was made for this kind of work.
After all that…
I love you guys. ♡ And I love your creative minds. Let me know what else we could add to this list by leaving a comment!
And finally, I'd like to officially welcome you to the Food Processor Lovers' club. Whether you've got the KRUPS Mini Chopper or the Cuisinart Classic 7-Cup Food Processor or something in between, there are good times ahead.
Disclaimer: this post contains affiliate links for all the food processors I mentioned in my walk down Food Processor Memory Lane! I want you to have one so bad.
The post 12 Magical Ways To Use A Food Processor appeared first on Pinch of Yum.