13 Best Healthy Vegan Recipes
Roasted Cauliflower Burrito Bowls
Nothing fancy to see here – just a healthy, delicious, vegan burrito bowl combo featuring spicy roasted cauliflower, pico de gallo, creamy refried black beans, rice, corn, avocado, and a good lime drench.
cauliflower, black beans, tomatoes, corn, onion, avocado, cilantro
Back Pocket Stir Fry with Noodles
Back Pocket Stir Fry with Noodles – simplicity wins. Brown rice noodles with tofu and all kinds of colorful veggies for a quick and easy dinner!
brown rice noodles, tofu, veggies, chili paste, garlic
Red Pepper Cashew Pasta with Roasted Cauliflower
Red Pepper Cashew Pasta with Roasted Cauliflower. ♡ TOO GOOD TO EVEN BE TRUE. This sauce is a three-ingredient game-changer!
cauliflower, cashews, roasted red peppers, whole wheat pasta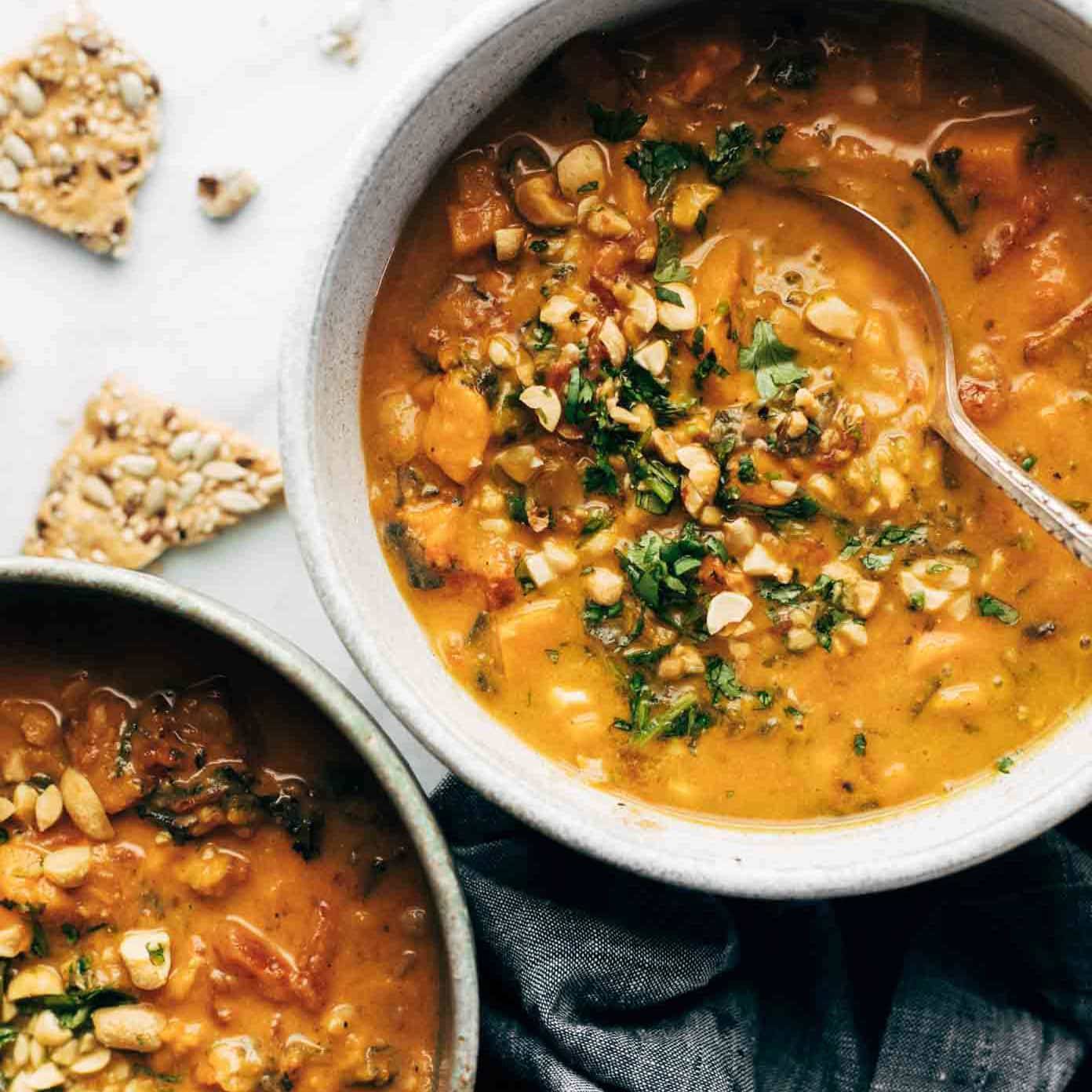 Spicy Peanut Soup with Sweet Potato + Kale
Okay, YUMMMM. Spicy Peanut Soup with Sweet Potatoes + Kale! Comforting and SUPER nutritious. Naturally vegan, gluten free, refined sugar free, ALL THE GOOD THINGS.
jalapeño, sweet potatoes, light coconut milk, peanuts, peanut butter, kale
5-Ingredient Green Curry
5-Ingredient Green Curry! packed with tons of veggies, an easy green curry sauce, and finished with golden raisins and cilantro.
tofu, sweet potatoes, green curry paste, coconut milk, broccoli florets
Super Clean Broccoli Salad with Creamy Almond Dressing
CLEAN Broccoli Salad – non-mayo-based vegan goodness! with purple cabbage, raisins, almonds, green onions, and almond butter dressing.
broccoli, purple cabbage, golden raisins, almonds, orange juice, almond butter
Dynamite Plant Power Sushi Bowls
Dynamite Sushi Bowls! Just like a dynamite roll, but easier and healthier with tofu, avocado, cucumber, ginger, brown rice, and spicy mayo.
tofu, rice, carrots, cucumbers, avocado, greens, pickled ginger, soy sauce
Summery Chipotle Corn Chowder
This Chipotle Corn Chowder is creamy, just a little spicy, and chock-full of summer vegetables, including corn, zucchini, and basil.
sweet corn kernels, zucchini, almond milk, chipotle peppers, fresh basil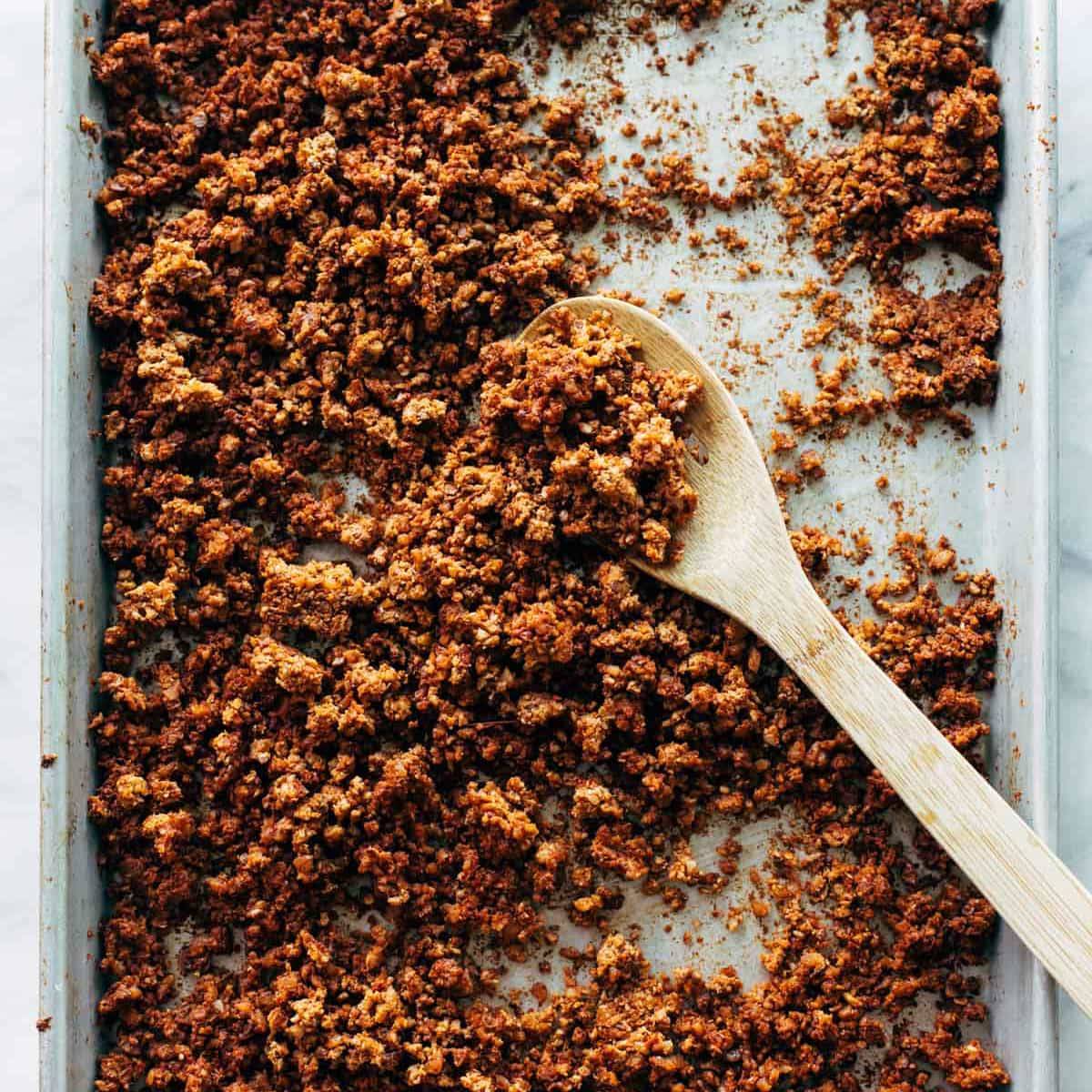 Cauliflower Walnut Taco Meat
This vegetarian taco meat is made with cauliflower, walnuts, and chipotle peppers. It's so easy: just mix and bake. Meatless miracle!
cauliflower florets, walnuts, chipotles in adobo sauce, chili powder, cumin
5 Minute Vegan "Yogurt"
This Creamy Dreamy Vegan "Yogurt" is the BEST! Made in five minutes with three ingredients and naturally sweetened.
tofu, peaches, cashews
Creamy Spinach Sweet Potato Noodles
with Cashew Sauce
Creamy Spinach and Sweet Potato Noodles with Cashew Sauce – easy to make, adaptable, gluten free, vegan. Divine and delicious!
sweet potatoes, spinach, basil, cashews, garlic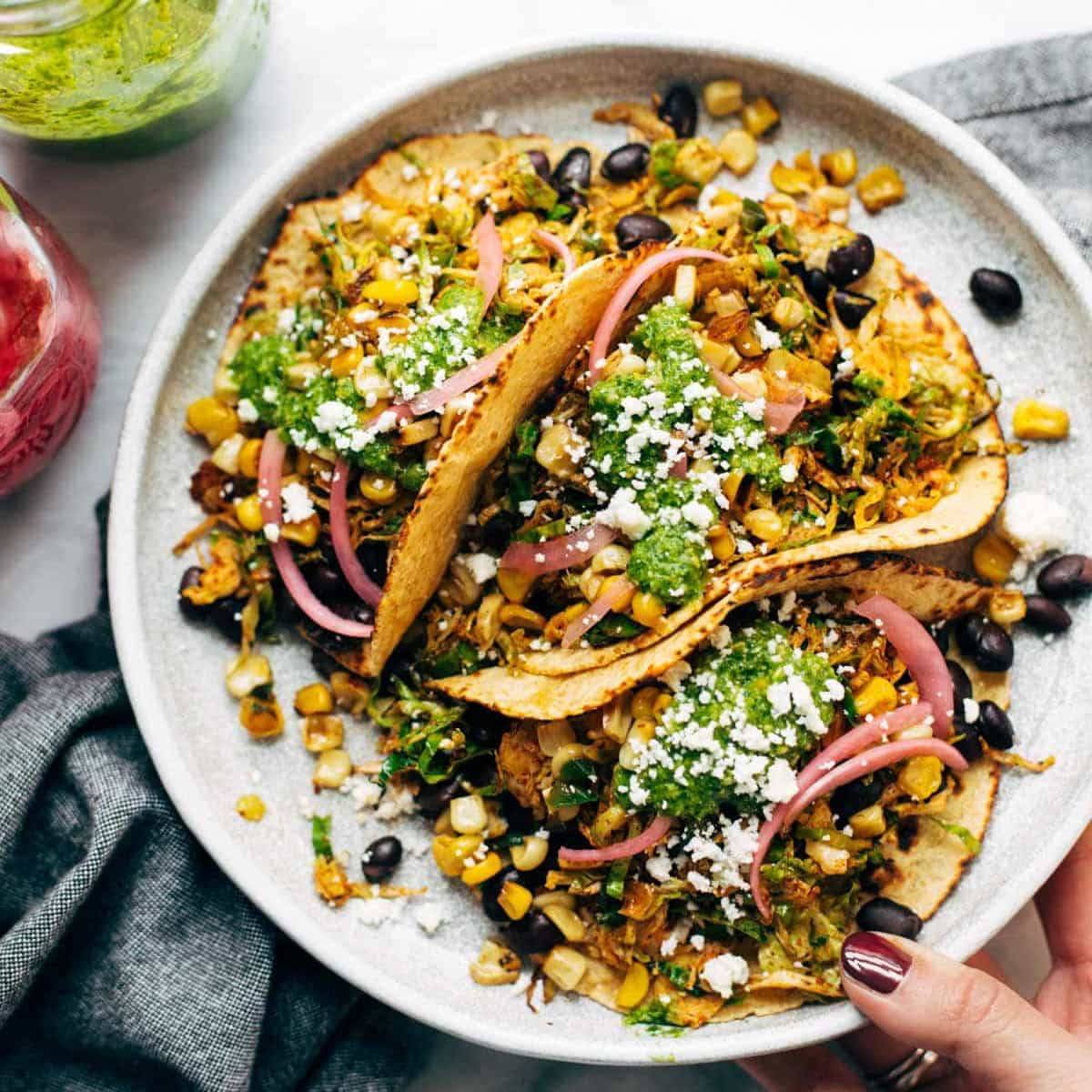 Brussels Sprouts Tacos
Savory sauteed shredded brussels sprouts tucked into charred tortillas with roasted corn, jalapeño, black bean, and cilantro chimichurri. WHOA. Yes. Inspired by the Chloe Flavor cookbook.
brussels sprouts, black beans, corn, jalapeño, cilantro, cashews, limes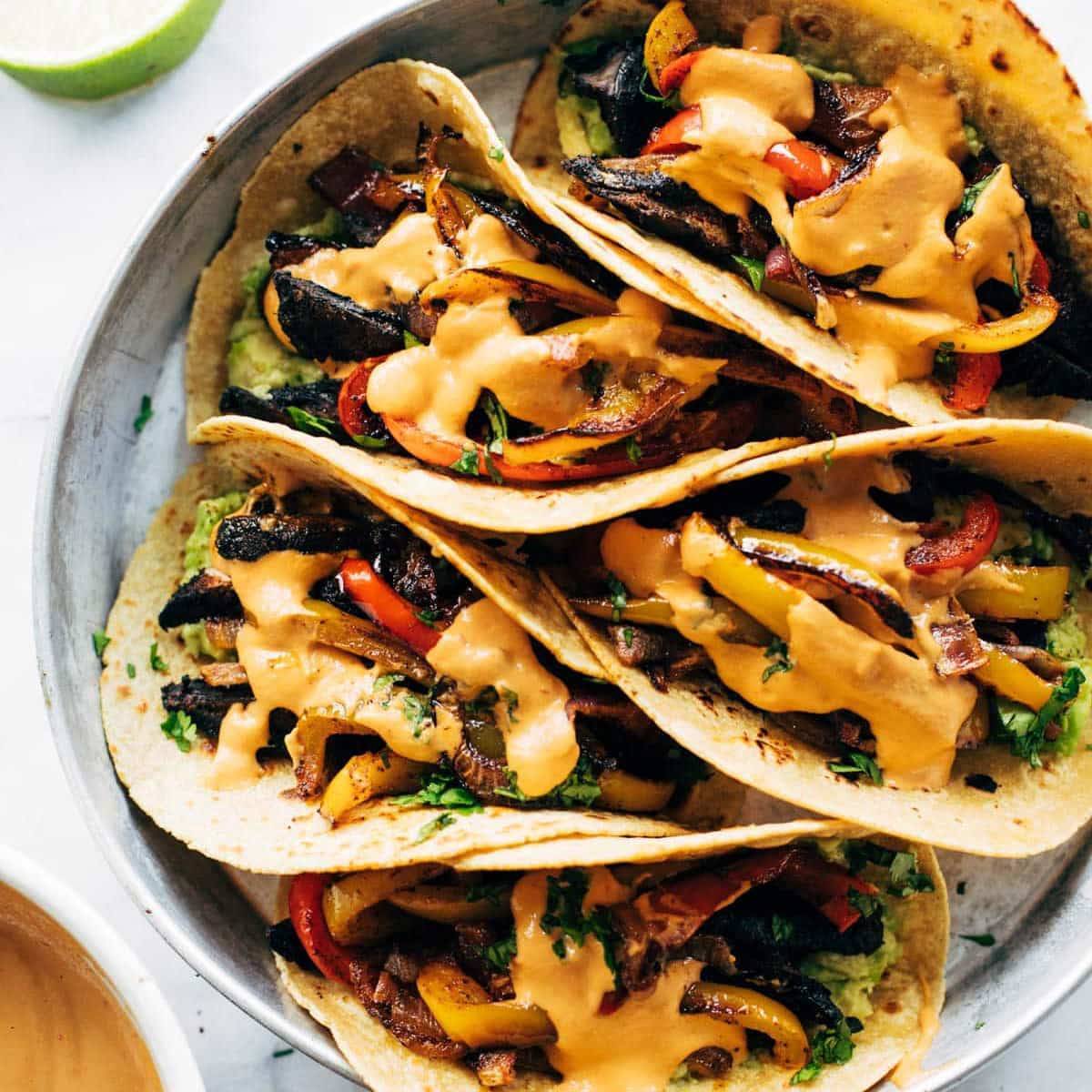 Vegan Sheet Pan Fajitas with Chipotle Queso
These Vegan Sheet Pan Fajitas are SO GOOD. Roasted peppers and onions, steak-like portobello mushrooms, some mashed avocado, and waterfall of spicy cashew queso.
portobello mushrooms, bell peppers, red onions, cashew, green chiles
One More Thing!
Looking for even more plant-based yum? Check out a list of all of our vegan recipes!
The post 13 Best Healthy Vegan Recipes appeared first on Pinch of Yum.