14 Creamy and Delicious Dairy-Free Recipes
Sticky Ginger Rice Bowls with Pickled Veg and Mango
It's a sweet-meets-spicy sauce situation, flavorful meatballs, pickled veg, and mango on top. The perfect (vegan) summery meal! 
meatless meatballs, soy sauce, ginger, mango, rice, carrots, cucumber
Instant Pot Chicken and Dumplings
The most comforting, delicious bowl of goodness. Chicken, veggies, pre-made biscuits, seasoning, and all of it made creamy by the humble potato. YUM!
chicken thighs, potato, mirepoix, peas, biscuits, poultry seasoning
Plantain and Pinto Stew with Aji Verde
Our new favorite warm and nutritious stew filled with pinto beans, plantains, tomatoes, kale, and lots of cozy spices. Top it with a swizzle of a spicy green sauce called aji verde and you're in flavor town.
plantains, pinto beans, kale, spices, jalapeño peppers, cilantro, lime, mayo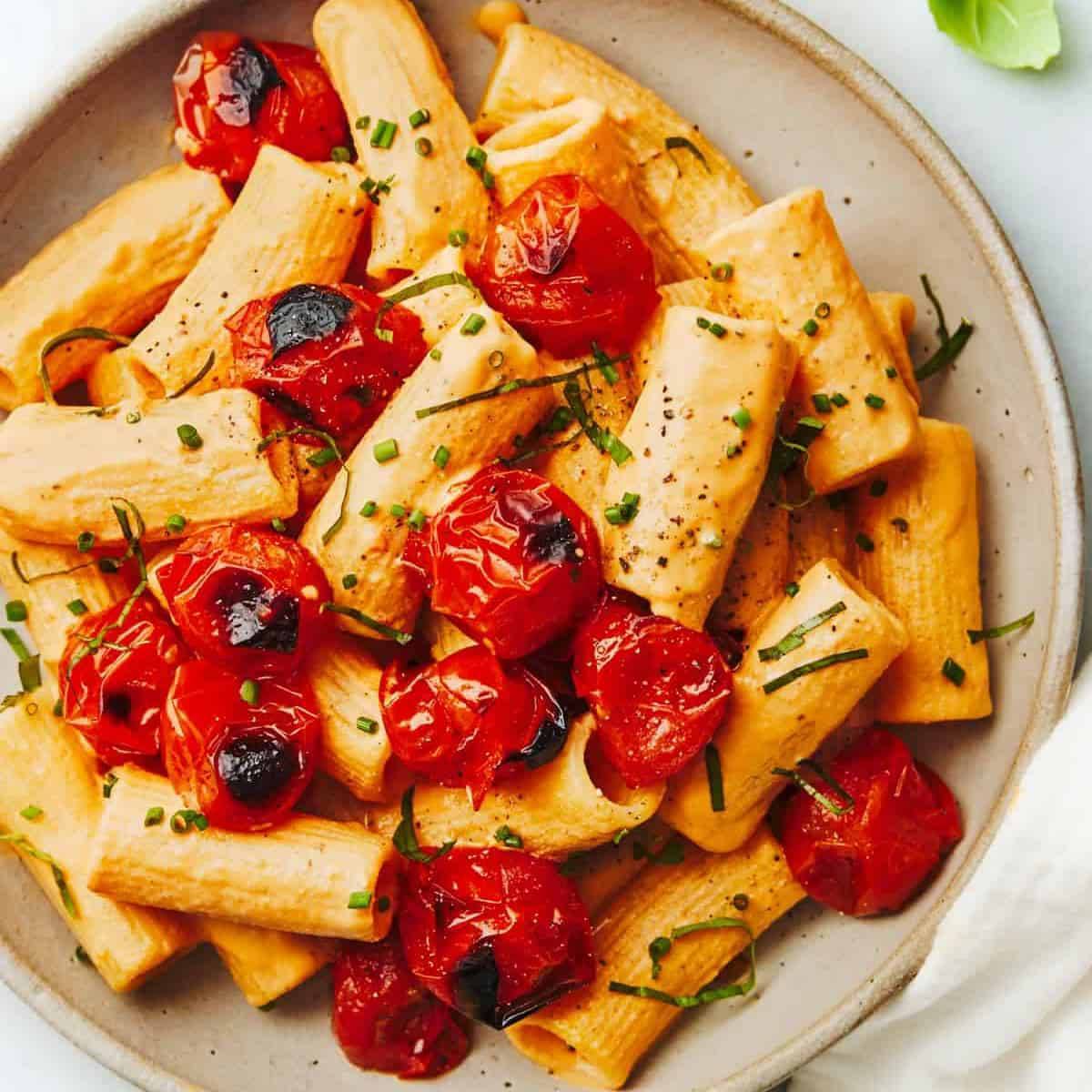 Creamy Red Pepper Pasta with Blistered Tomatoes
This is seriously delicious and seriously vegan! Perfectly chewy rigatoni, blistered juicy tomatoes, a creamy-but-cream-less roasted red pepper sauce, all sprinkled with fresh chives and basil.
rigatoni, cherry tomatoes, olive oil, roasted red pepper, garlic, cashews
Instant Pot Buffalo Chicken Tacos
Buffalo broiled chicken covered with a limey slaw and a smothering of homemade ranch, all tucked into a charred tortilla.
chicken thighs, buffalo sauce, mayo, dill, garlic, tortillas, spices
Roasted Cauliflower Hummus Bowls
These Roasted Cauliflower Hummus Bowls are LIFE-CHANGING. A bed of garlicky creamy hummus, piled high with spiced roasted cauliflower, and a speckling of fresh lemony tomatoes and herbs.
cauliflower, chickpeas, lemons, olive oil, fresh parsley, tomatoes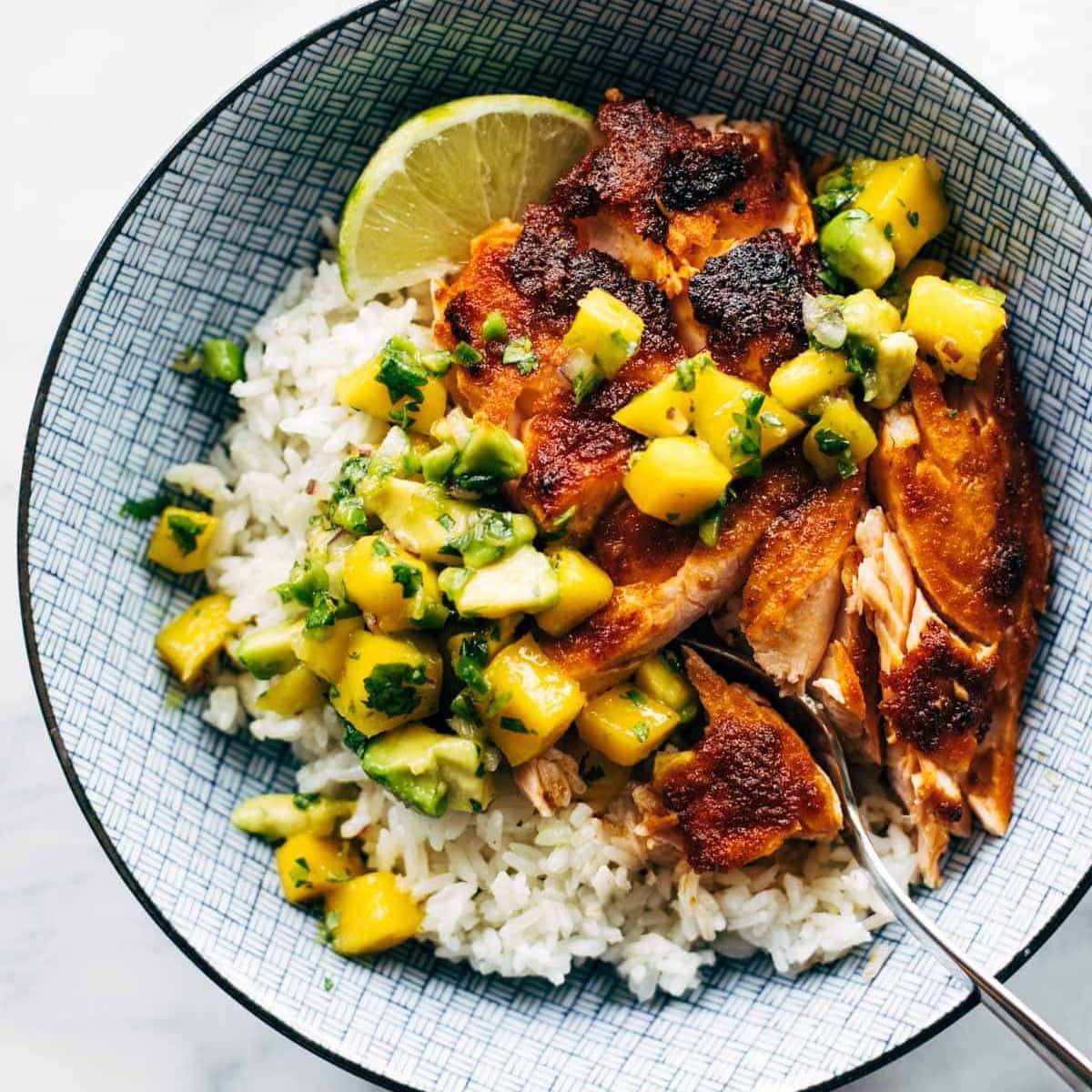 BBQ Salmon Bowls with Mango Avocado Salsa
An easy and impressive dinner with yummy smoky-sweet flavor and a zip of zesty homemade salsa to take it over the top. The BEST weeknight dinner.
salmon, brown sugar, smoked paprika, mangoes, avocado, jalapeño, lime
5 Ingredient Spicy Pork
A fancy-feeling dinner recipe that actually comes together in snap. Serve it in bowls, stir-fry it with some veggies, or add it to burritos!
pork tenderloin, soy sauce, hot chili paste, ginger, brown sugar
Brussels and Kale Caesar
Papery-thin shreds of brussels sprouts and chopped lacinato kale, tossed with a creamy, garlicky, avocado-based vegan caesar dressing, topped off with the most addicting cheezy garlic croutons.
brussels sprouts, lacinato kale, dijon mustard, lemon juice, caper brine, avocado
5 Ingredient Vegan Vodka Pasta
A creamy, tangy, luscious, and SUPER easy take on vodka pasta – and vegan!
rotini noodles, vodka, coconut milk, tomato paste
Lemon Chicken Soup with Orzo
Filling, fresh, and vibrant lemony chicken soup made creamy with NO CREAM and a secret ingredient!
carrots, onion, garlic, whole wheat orzo, cooked chicken, eggs, lemons, fresh spinach, fresh dill
Buffalo Cauliflower Tacos with Avocado Crema
These tacos are SO GOOD! Baked, not fried, and breaded in a two-ingredient batter. Crispy, tangy, fiery taco perfection.
cauliflower hot sauce, avocados, cabbage, garlic, sour cream, tortillas
Chopped Thai-Inspired Chicken Salad
This simple chopped Thai chicken salad has BIG flavors – peanut, lime, soy, chili, cilantro. Topped with a homemade peanut dressing! Healthy and fresh.
shredded chicken, cabbage, carrots, red serrano peppers, peanut butter, soy sauce, chili paste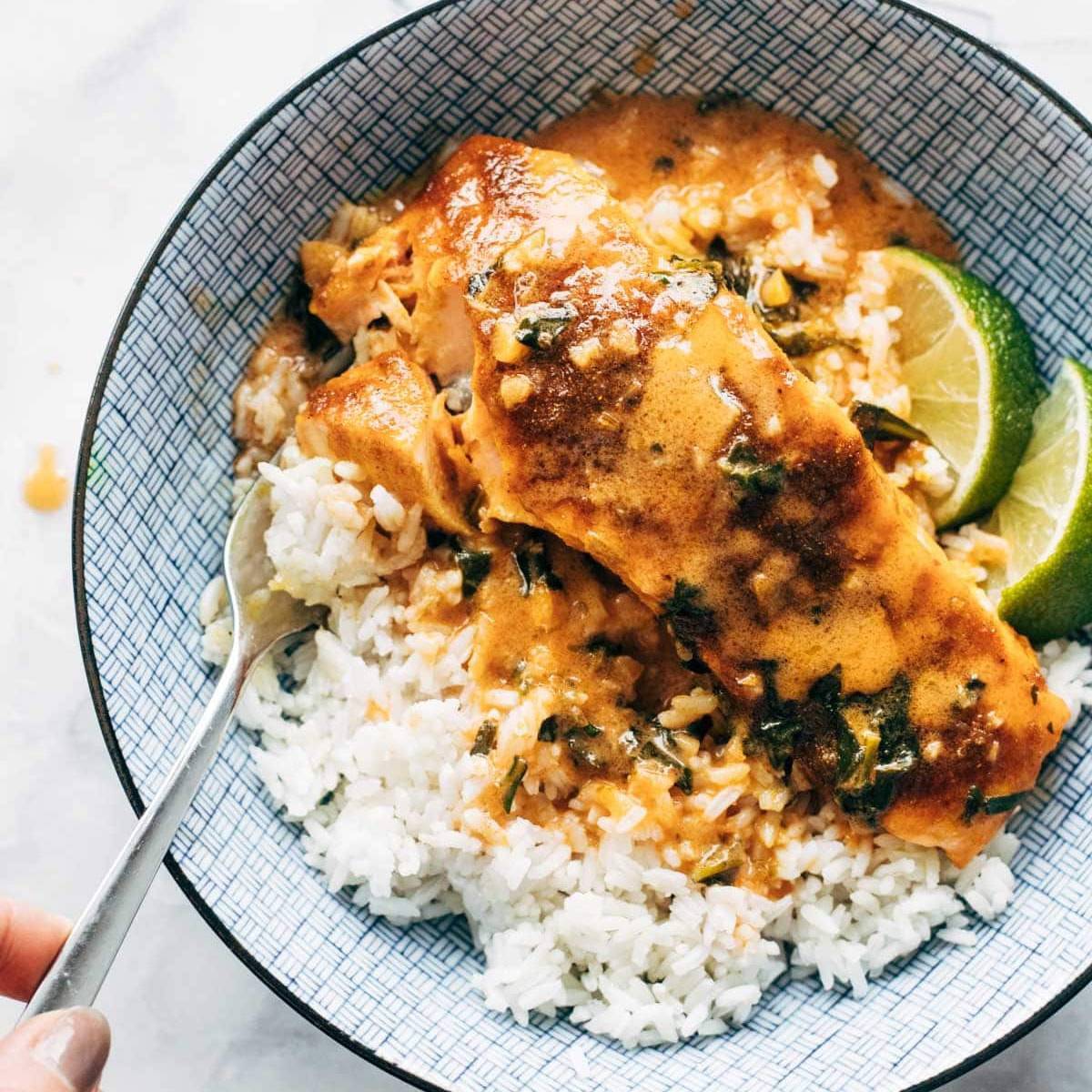 Coconut Curry Salmon
Broiled salmon with a salty-sweet spice rub, creamy coconut curry sauce, and steamy rice to soak it all up. YUM.
salmon, brown sugar, lemongrass paste, coconut milk, red curry paste, spinach
One More Thing!
Looking for even more lusciously dairy-free eats? Check out a list of all of our dairy-free recipes!
The post 14 Creamy and Delicious Dairy-Free Recipes appeared first on Pinch of Yum.