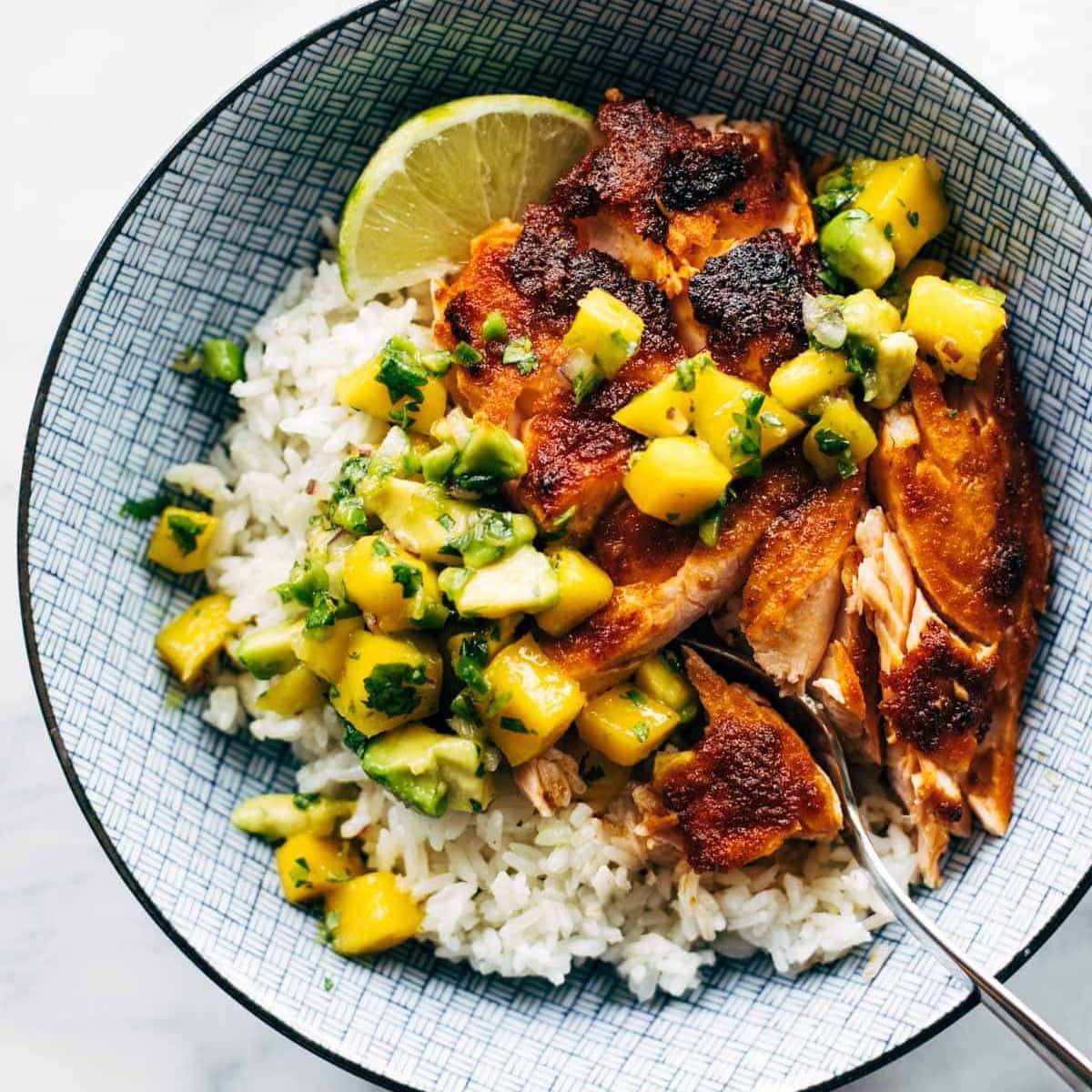 BBQ Salmon Bowls with Mango Avocado Salsa
An easy and impressive dinner with yummy smoky-sweet flavor and a zip of zesty homemade salsa to take it over the top. The BEST weeknight dinner.
salmon, brown sugar, smoked paprika, mangoes, avocado, jalapeño, lime
Avocado Kale Caesar Salad + Sweet Potato Fries
Kale, avocado, and crunchy seeds drenched in a quick creamy avocado caesar dressing. Toss some crispy sweet potato fries in are you are SET FOR LIFE.
kale, avocado, Parmesan cheese, mayonnaise, sweet potatoes
Simple Poached Egg and Avocado Toast
This Poached Egg and Avocado Toast recipe is so simple and so delicious! Real, healthy food never tasted so good. YUM!
eggs, whole grain bread, avocado, parmesan cheese, fresh herbs, heirloom tomatoes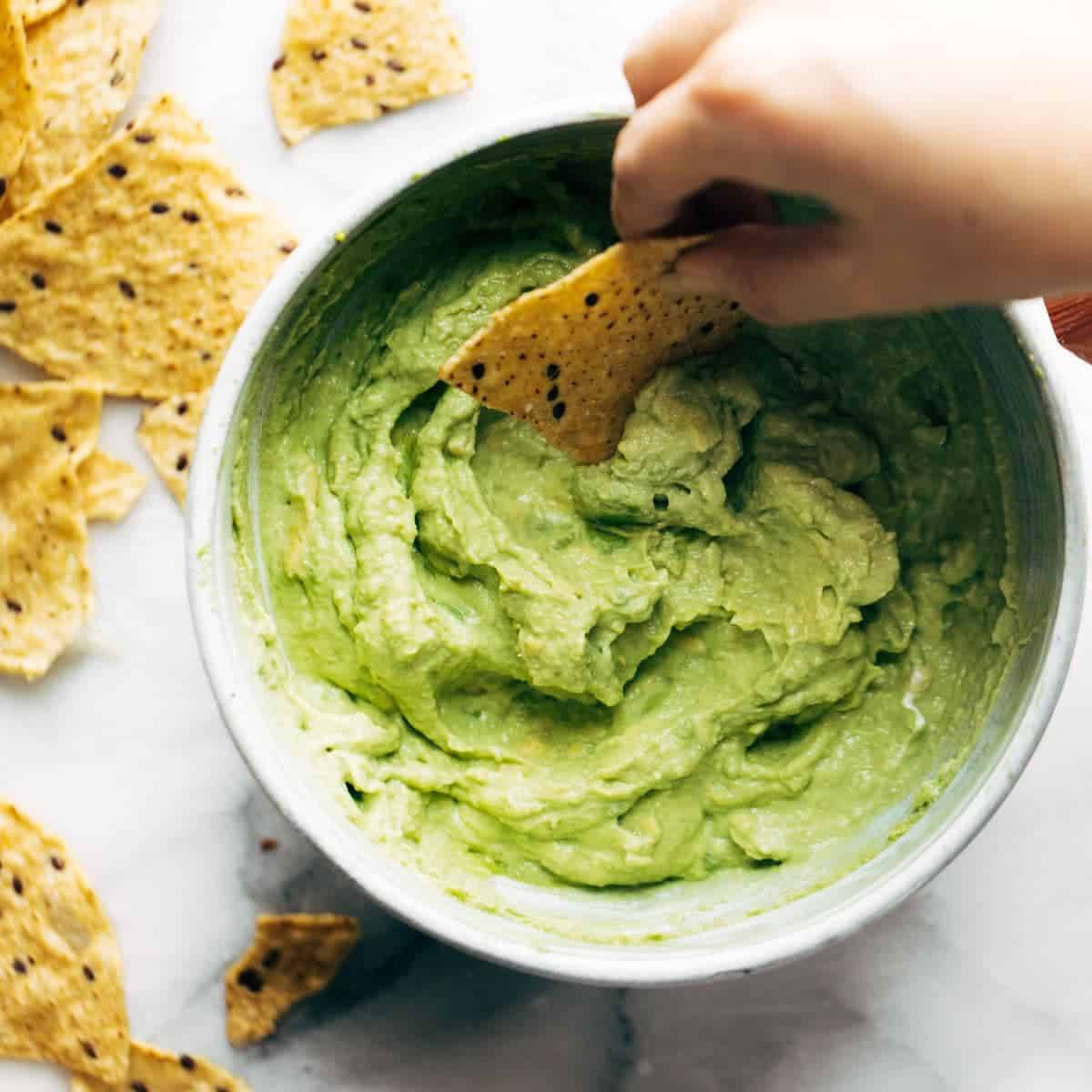 2-Minute Creamy Avocado Dip
Creamy Avocado Dip that comes together with less than five ingredients in two minutes flat! This is the BEST easy, healthy snack. Also a great spread for tacos.
avocado, Greek yogurt, lime juice
Buffalo Cauliflower Tacos with Avocado Crema
These tacos are SO GOOD! Baked, not fried, and breaded in a two-ingredient batter. Crispy, tangy, fiery taco perfection.
cauliflower hot sauce, avocados, cabbage, garlic, sour cream, tortillas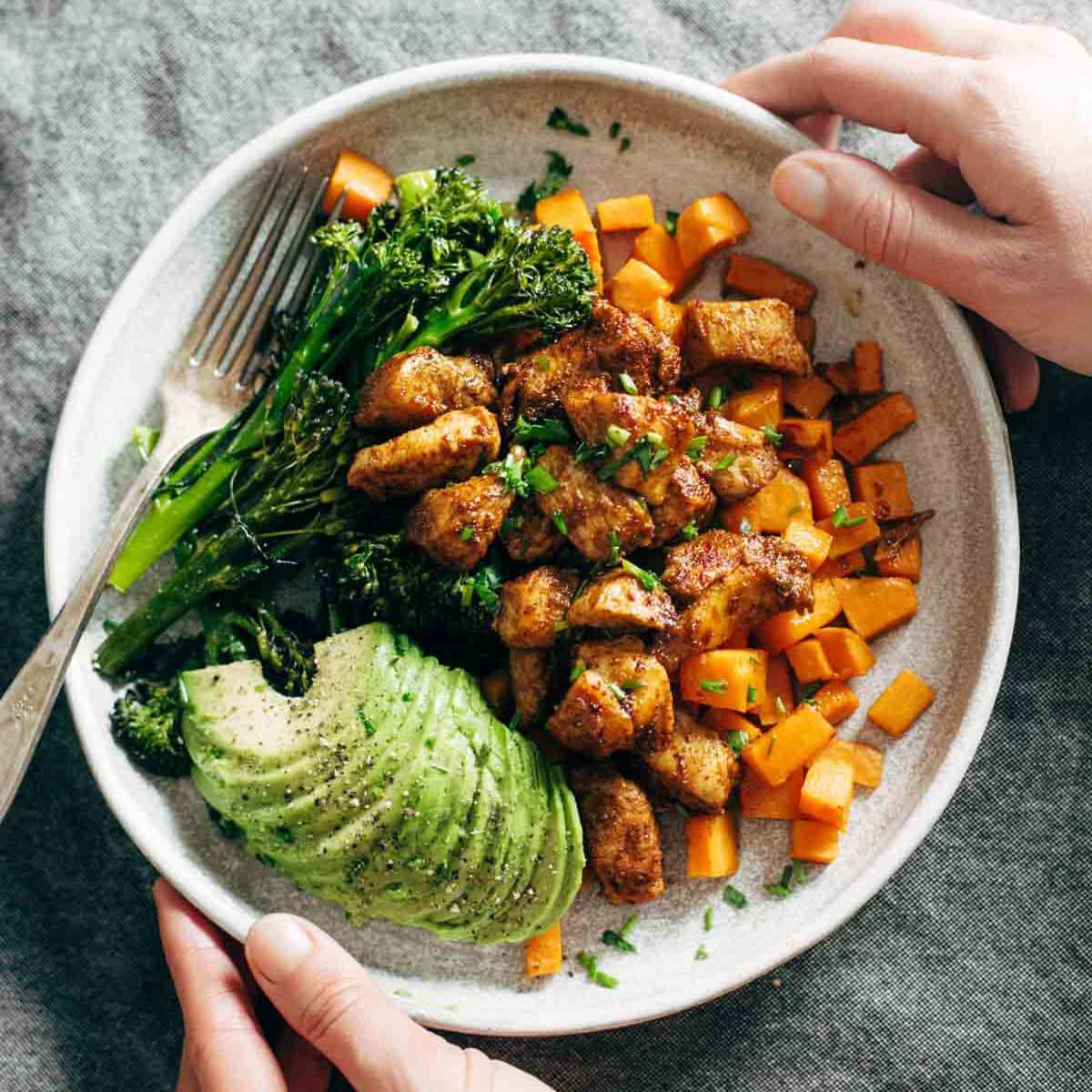 Spicy Chicken and Sweet Potato Meal Prep Magic Bowls
This is seriously magic! Three big sheet pans + 45 minutes = healthy meals for a week.
chicken breasts, spicy seasoning mix, sweet potatoes, broccoli
Burst Tomato and Zucchini Spaghetti with Avocado Sauce
Burst Tomato and Zucchini Spaghetti tossed with a simple, creamy, vegan avocado sauce. This healthy recipe is ready in 30 minutes!
zucchini, cherry tomatoes, avocado, flat leaf parsley, green onions, lemon
Spicy Southwestern Salad with Avocado Dressing
This healthy Spicy Southwestern Salad recipe has roasted sweet potatoes, black beans, corn, lettuce, and creamy avocado dressing!
romaine lettuce, sweet potatoes, black beans, corn, Greek yogurt, avocado
The Best Avocado Egg Salad
No mayo here! Just avocados, eggs, herbs, lemon juice, and salt. Especially good on an everything bagel. Just saying.
eggs, avocados, fresh dill, fresh parsley, lemon
Dynamite Plant Power Sushi Bowls
Dynamite Sushi Bowls! Just like a dynamite roll, but easier and healthier with tofu, avocado, cucumber, ginger, brown rice, and spicy mayo.
tofu, rice, carrots, cucumbers, avocado, greens, pickled ginger, soy sauce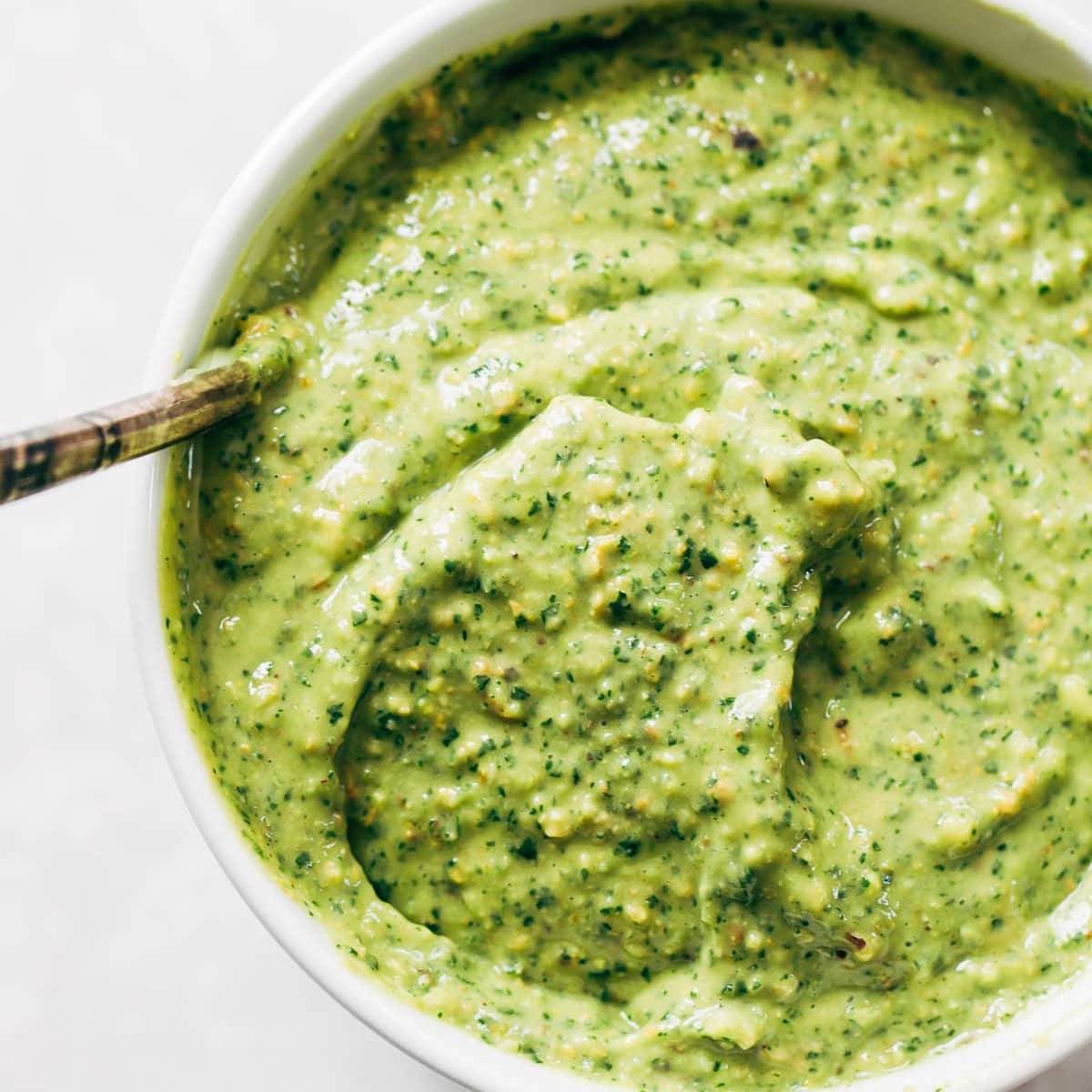 Magic Green Sauce
Our most popular sauce! Made with all green foods, whipped up in five minutes, and eaten with (literally) everything.
avocado, pistachios, jalapeño, herbs, lime
Super Quick Avocado Shrimp Salad
Avocado Shrimp Salad packed with chilled poached shrimp, fresh dill, creamy avocado, and a nice big lemon drench.
shrimp, avocado, lemon, fresh dill, cucumber
Roasted Veggie Pitas with Avocado Dip
Roasted Veggie Pitas with Avocado Dip – super adaptable to any veggies you have on hand – loaded with flavor, and ready in 30 minutes!
whole wheat pitas, chickpeas, garlic, avocado, chili powder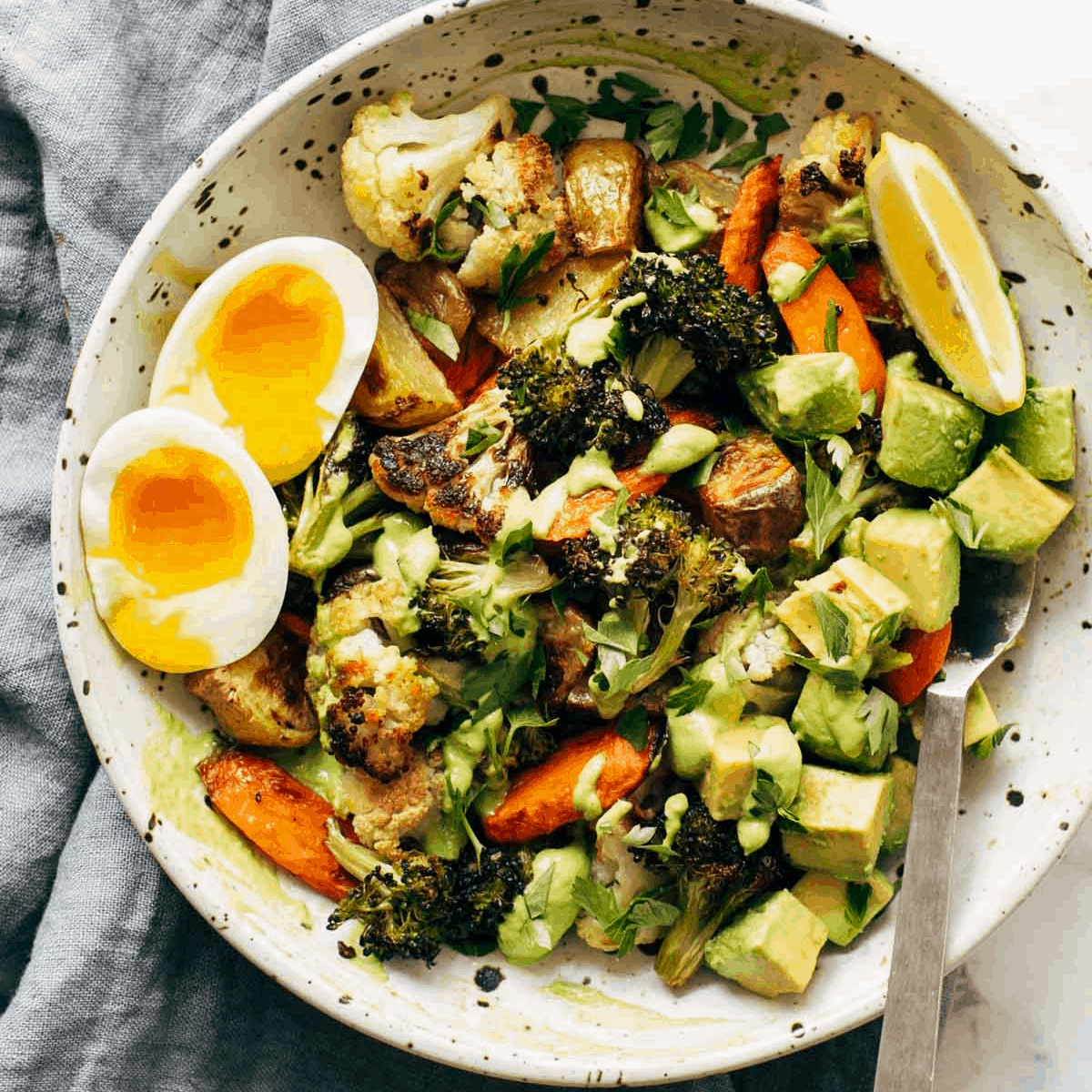 Roasted Vegetable Bowls with Green Tahini
Crispy tender roasted veggies, buttery avocado, all together in a bowl with a drizzle of green tahini sauce.
carrots, golden potatoes, broccoli, cauliflower, tahini, cilantro, avocado
One More Thing!
Looking for even more meals using this buttery green guy? Check out a list of all of our avocado recipes!
The post 14 Favorite Avocado Recipes appeared first on Pinch of Yum.