14 Go-To Easy Italian-Inspired Recipes
Ridiculous Baked Gnocchi with Vodka Sauce
Pillowy-tender gnocchi tossed with an easy five-ingredient vodka sauce, baked under a layer of mozzarella, parmesan, and basil.
gnocchi, mozzarella cheese, Parmesan cheese, vodka, heavy cream, tomato paste
Oven Risotto with Garlic Roasted Mushrooms and Arugula
The best easy risotto – made in the oven! Served up with some garlic roasted mushrooms and a lemony arugula salad.
arborio rice, Parmesan cheese, mushrooms, lemon, arugula
Life-Changing Crispy Fried Pizzas
Crispy fried pizzas that are light, airy, and the perfect combination of crispy/chewy. It is the ABSOLUTE BEST way to make amazing, restaurant-level pizza at home!
pizza dough, mozzarella cheese, tomato sauce, basil
Garlic Butter Capellini Pomodoro with Shrimp
Simple prep, easy ingredients, and super fresh and tasty with tomatoes and shrimp. Ready in 30 minutes!
shrimp, capellini pasta, cherry tomatoes, garlic, butter, fresh basil
Lemon Chicken Piccata with Grilled Bread
Chicken Piccata – you won't believe how easy this recipe is! Perfect with a green salad and grilled bread for soaking up all the extra sauce.
chicken breasts, butter, lemon, capers, parsley
20 Minute Healthy Chicken Parmesan
Healthy Chicken Parmesan that is crispy, cheesy, saucy, and served over zucchini noodles. So easy and extremely delicious!
chicken breasts, tomato sauce, zucchini, Parmesan cheese, breadcrumbs
Roasted Tomatoes with Goat Cheese Polenta
Fresh, juicy tomatoes, vibrant green spinach, and a creamy goat cheese polenta.
polenta, tomatoes, spinach, goat cheese, garlic
Instant Pot Chicken Cacciatore
Braised Italian chicken in saucy pasta-friendly form that is bright, acidic, rich, and savory. Just put everything in the Instant Pot and let it go!
chicken breasts, mushrooms, bell pepper, capers, butter, diced tomatoes, capellini
Instant Pot Italian Beef Sandwiches
Tender shredded beef, crusty buttered bread, melted provolone, salty tangy giardiniera, and some broth to dunk it all in. Just a few minutes to prep and totally hands-off to make!
beef chuck roast, dried basil, dried oregano, beef broth, giardiniera, hoagie rolls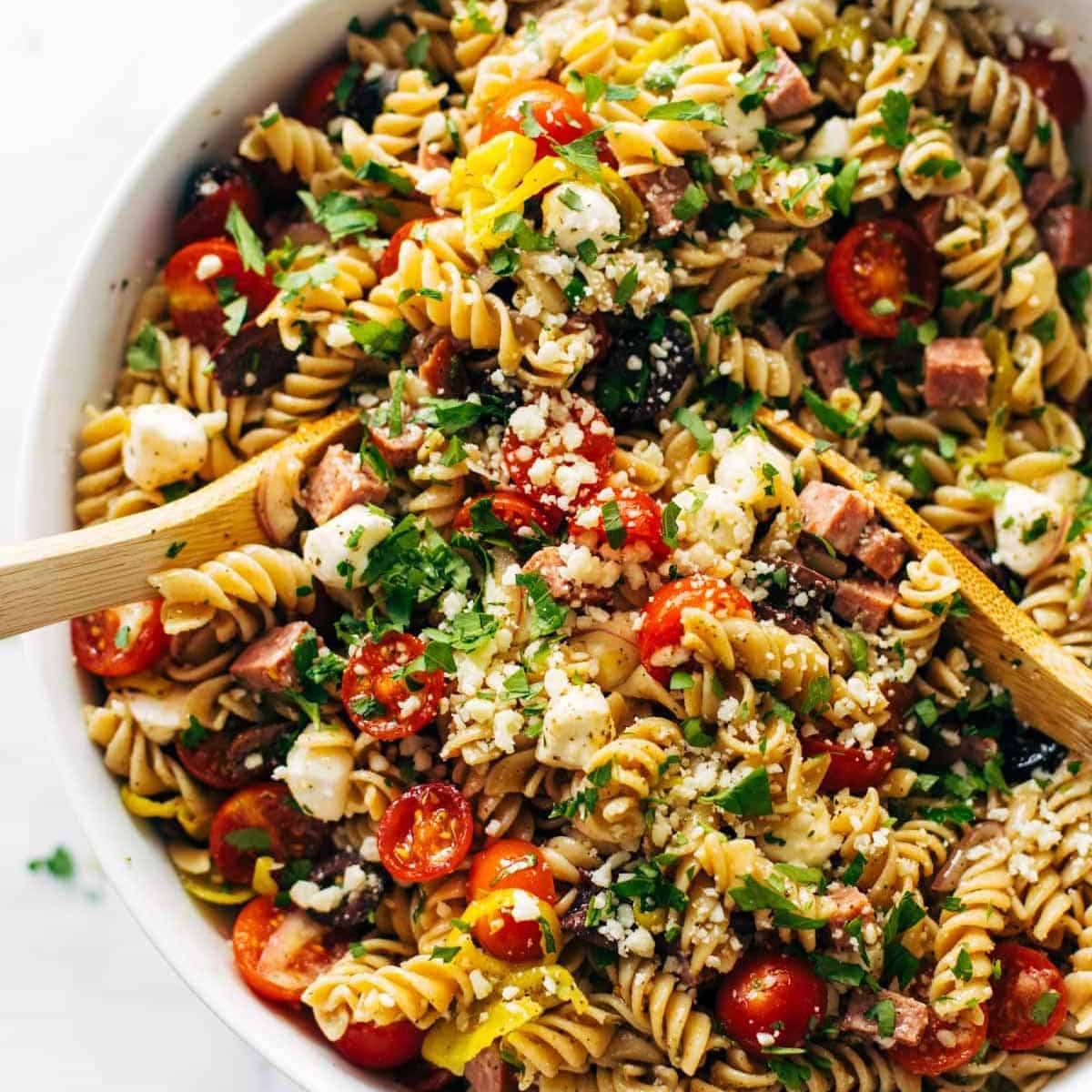 The Best Easy Italian Pasta Salad
Super easy Italian Pasta Salad – with pasta, tomatoes, fresh mozzarella, spicy salami, pepperoncini, olives, and easy Italian dressing. DANGEROUSLY GOOD.
pasta, summer sausage, cherry tomatoes, mozzarella cheese, olives, pepperoncini, Italian dressing
Homemade Gnocchi
Homemade Gnocchi! A step-by-step process to create the best fresh Italian at home. Serve it for dinner with sauces and toppings and you've got a party!
potatoes, flour, ricotta cheese, salt, egg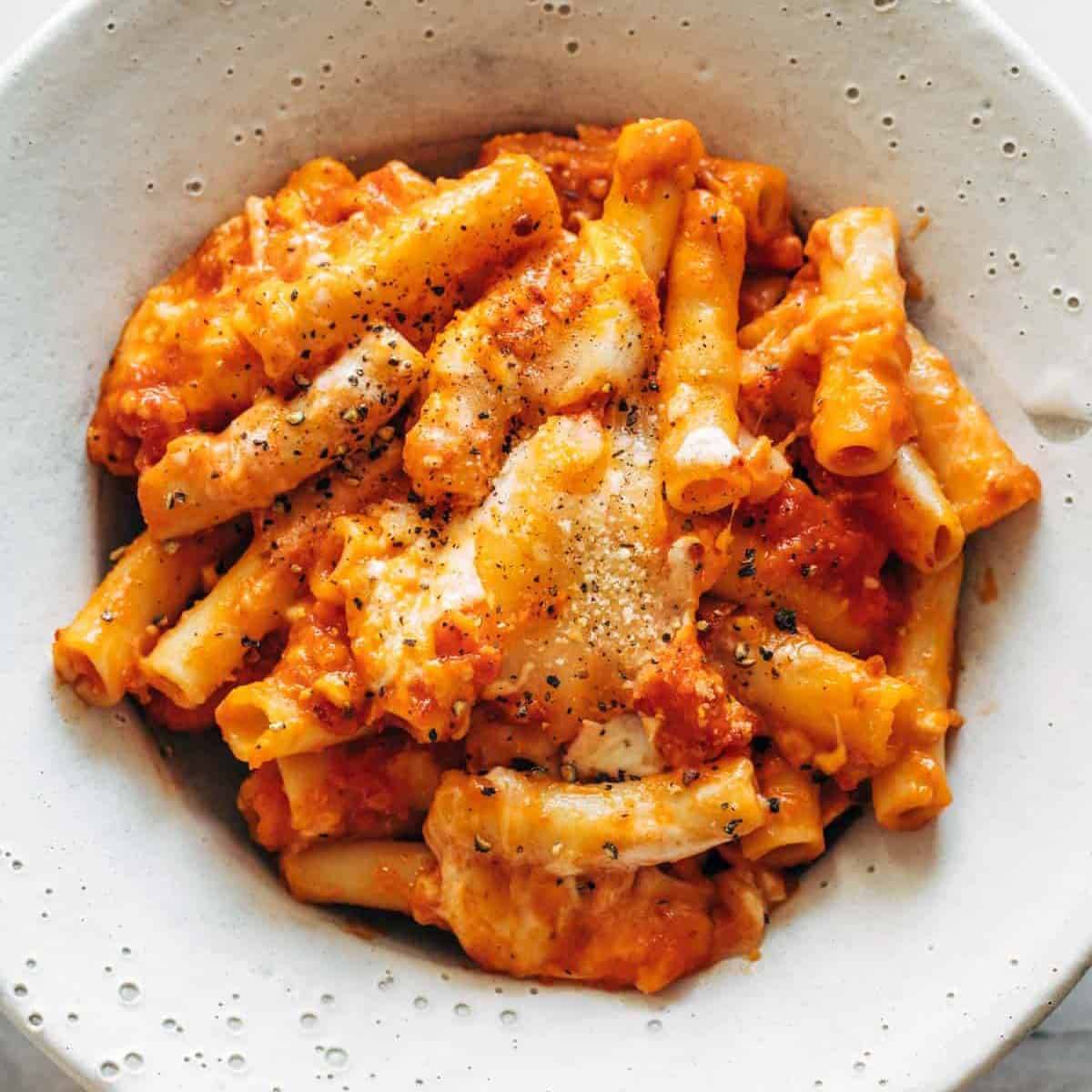 Three Cheese Baked Ziti
Three Cheese Baked Ziti that is bubbly and browned, extra creamy, extra saucy, and incredibly easy with NO RICOTTA! A baked pasta masterpiece.
ziti pasta, mascarpone cheese, mozzarella, provolone, crushed tomatoes, garlic, pancetta
Instant Pot Minestrone Soup
Instant Pot Minestrone! With tons of veggies, beans, pesto, tomato sauce, parsley, topped with Parmesan, served with bread. Veg-friendly, nutritious, easily made vegan.
carrots, celery, green cabbage, pesto, cannellini beans, bulgur
Super Easy One Pot Lasagna
This Super Easy One Pot Lasagna uses simple ingredients and can be made all in one pot! With ground beef, tomato sauce, and fresh Mozzarella cheese.
lasagna noodles, tomato sauce, mozzarella cheese, ground beef, bacon, carrots
One More Thing!
Looking for even more noodles to twirl? Check out a list of all of our pasta recipes!
The post 14 Go-To Easy Italian-Inspired Recipes appeared first on Pinch of Yum.