This recipe is sponsored by siggi's ♡
---
Sugar is weird, right?
You want it, and you love it, but you don't want it, and you maybe kind of avoid it, even though you like it, because too much makes you feel terrible. #complicated
I have found it so interesting to experiment with removing and reintroducing sugar into my life over these last few years. In January, I brought you guys along with me for Sugar Free January with a whole month of refined sugar free recipes. It was actually super delicious because I think we were all reminded that, shocker of all shockers, you can actually still eat really good food without sugar in your life! YES PLEASE! THIS IS AMAZING!
A lot of ice cream has happened in between January and now, so I guess we could say that this post is a gentle mid-year reminder to myself of everything that I felt so excited about after Sugar Free January.
Since Sugar Free January ended, I have definitely reintroduced sugar into my life. I eat oatmeal sweetened with brown sugar for breakfast almost every day, ice cream of all varieties is my summer anthem, and I have a popsicle or a glass of lemonade most nights after dinner. I'm not totally overdoing it, but I do think being pregnant is making me more susceptible than ever to REALLY LOVING sugar.
Every once in a while I have to really stop and think: is this what I want to be eating? Is there nutrition here? Is this making me feel better or worse? And that's kind of what brought me to this post.
I personally need a reminder of all the good foods that are out there that can serve as both a treat and a benefit to my body. Maybe you do, too.
Of course, the lowest sugar snacks you could find would be things that aren't sweet at all. Cheese, nuts, vegetables, that kind of thing. That's nice and everything, and I'm sure there are lots of lists out there with those kinds of ideas if that's what you're looking for, but sometimes I'm craving something sweeter, and no offense, but a pile of carrot sticks just isn't going to do it for me.
When I'm in that place of wanting a treat – an actual, non-carrot-stick, special-something treat – and also wanting to keep it pretty wholesome, I turn to these yummy and easy lower in sugar snacks (that conveniently kind of taste like dessert).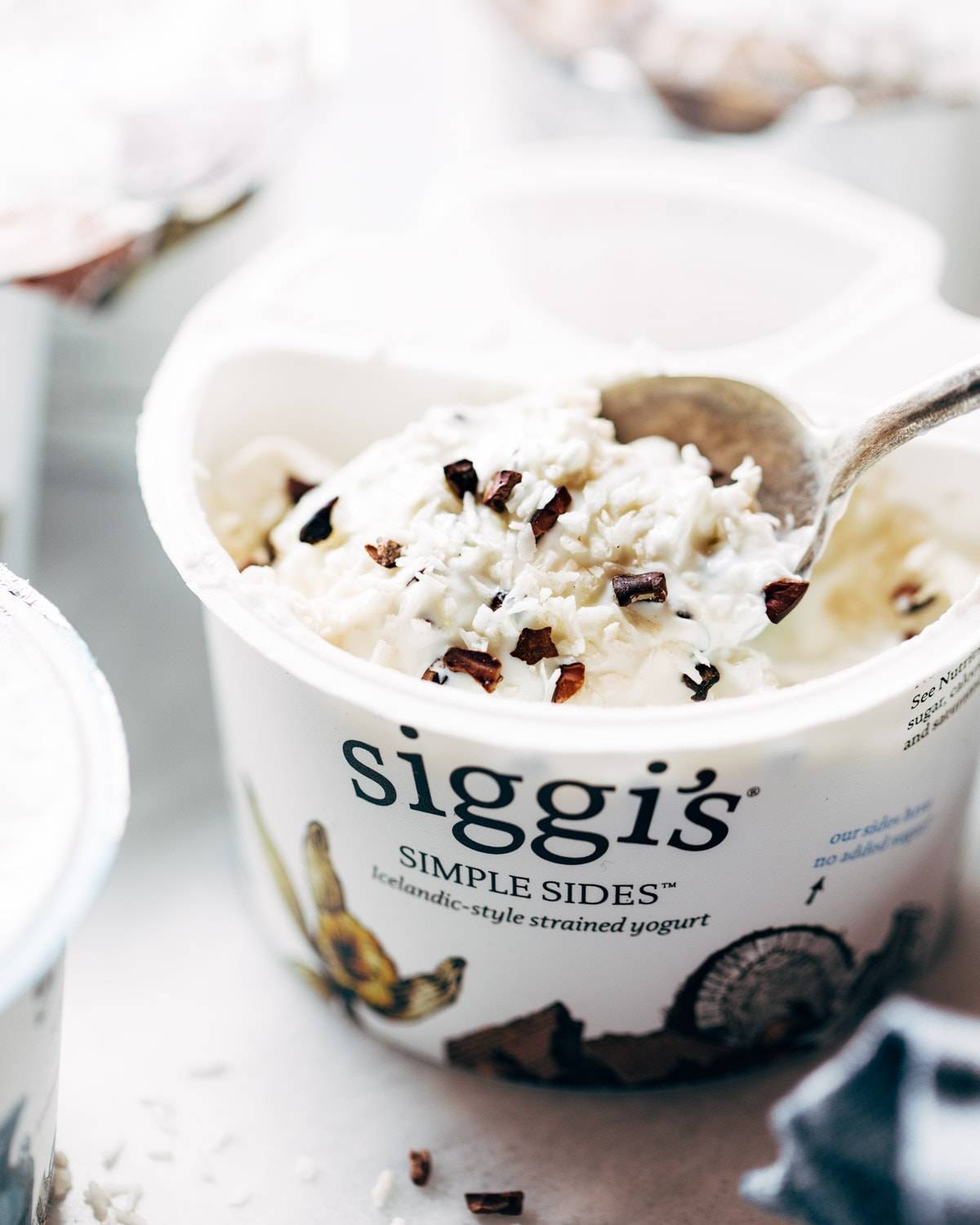 Here's the deal with these little snackers.
Simple ingredients, not a lot of sugar.
Crunchy/sweet toppings on the side, all of which are NO SUGAR ADDED! (because they are good things like figs and walnuts and cacao nibs and coconut. I SEE YOU FANCY.)
Excellent quality, super-creamy whole milk yogurt.
Perfect for low maintenance on-the-go snacking.
Comes in four yummy flavors: vanilla yogurt with almonds and dried cherries, vanilla yogurt with dried coconut and cacao nibs, honey yogurt with dried figs and walnuts, and plain yogurt with muesli and currants.
All packaged together in a convenient and recyclable little single-serve cup
I need crunch with my yogurt, as you might remember from my strawberry shortcake yogurt bowls earlier this summer (more on that in a minute), and these brand spanking new Simple Sides offerings make it easy to get the CRUNCH I'm looking for, plus the protein I need, plus the feels-like-dessert vibe, without all the extra sugar.
Personally, I'd recommend the cacao nibs and coconut with vanilla yogurt. Why have I never had cacao nibs before? I don't know, but those crunchy chocolate-like bits mixed with the naturally sweet coconut and creamy vanilla yogurt? Make that a yes. I have been eating these as breakfast, lunch, and dessert-like snack and my life is leveled up because of it.
WINNING. I love them. Thank you, siggi's.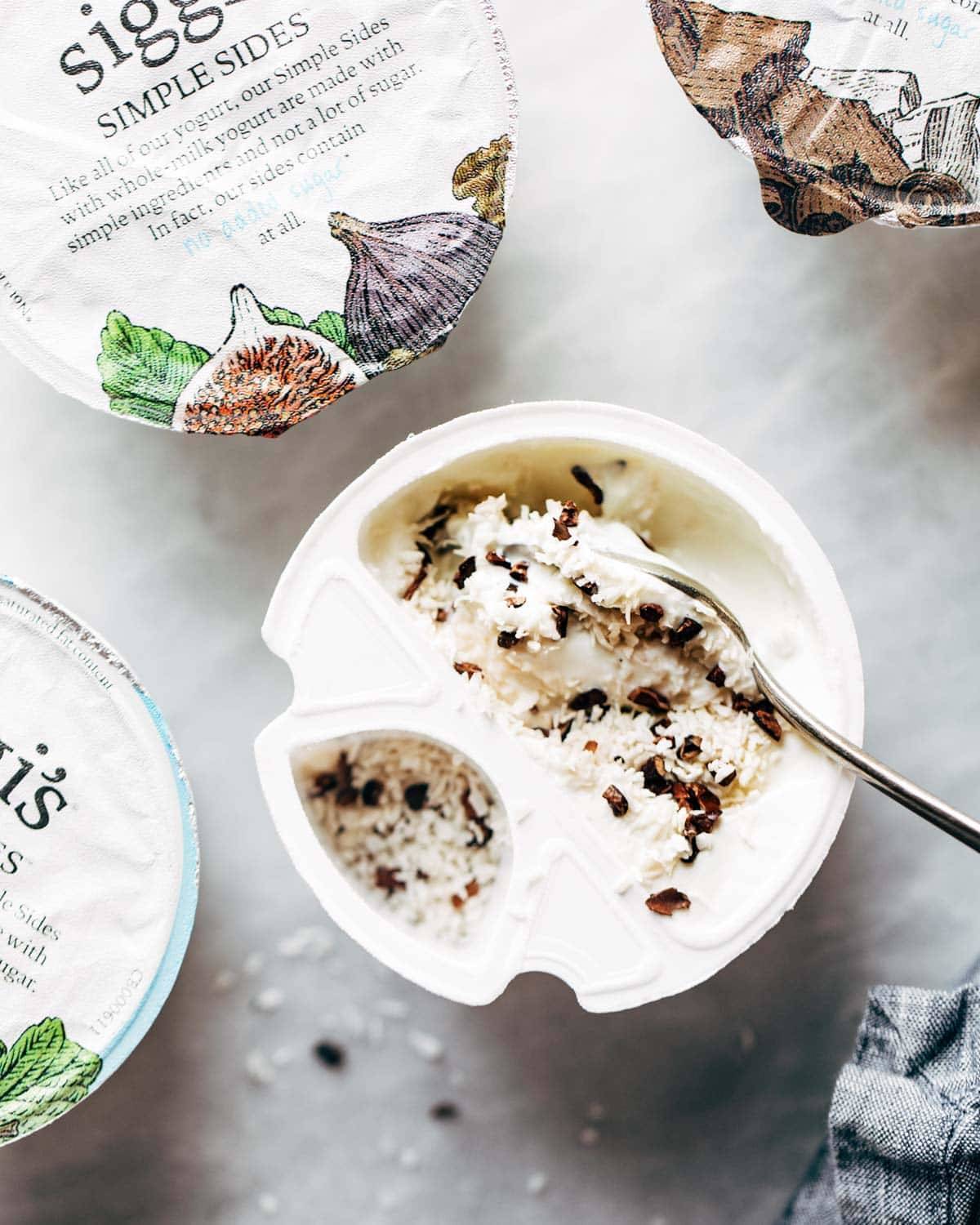 Not much to see here except COOKIE DOUGH THAT IS NUTRITIOUS.
Okay, it's not real cookie dough, but it kind of SEEMS like cookie dough, and it's made without dates. Because sometimes we need a break from dates.

Bananas and Peanut Butter Waffles
Yes, you are indulging your inner five-year-old self here.
This is one of my strange-but-favorite snacks right now: a toasted waffle, top with banana slices, drizzle with peanut butter and crumbles. Mwah.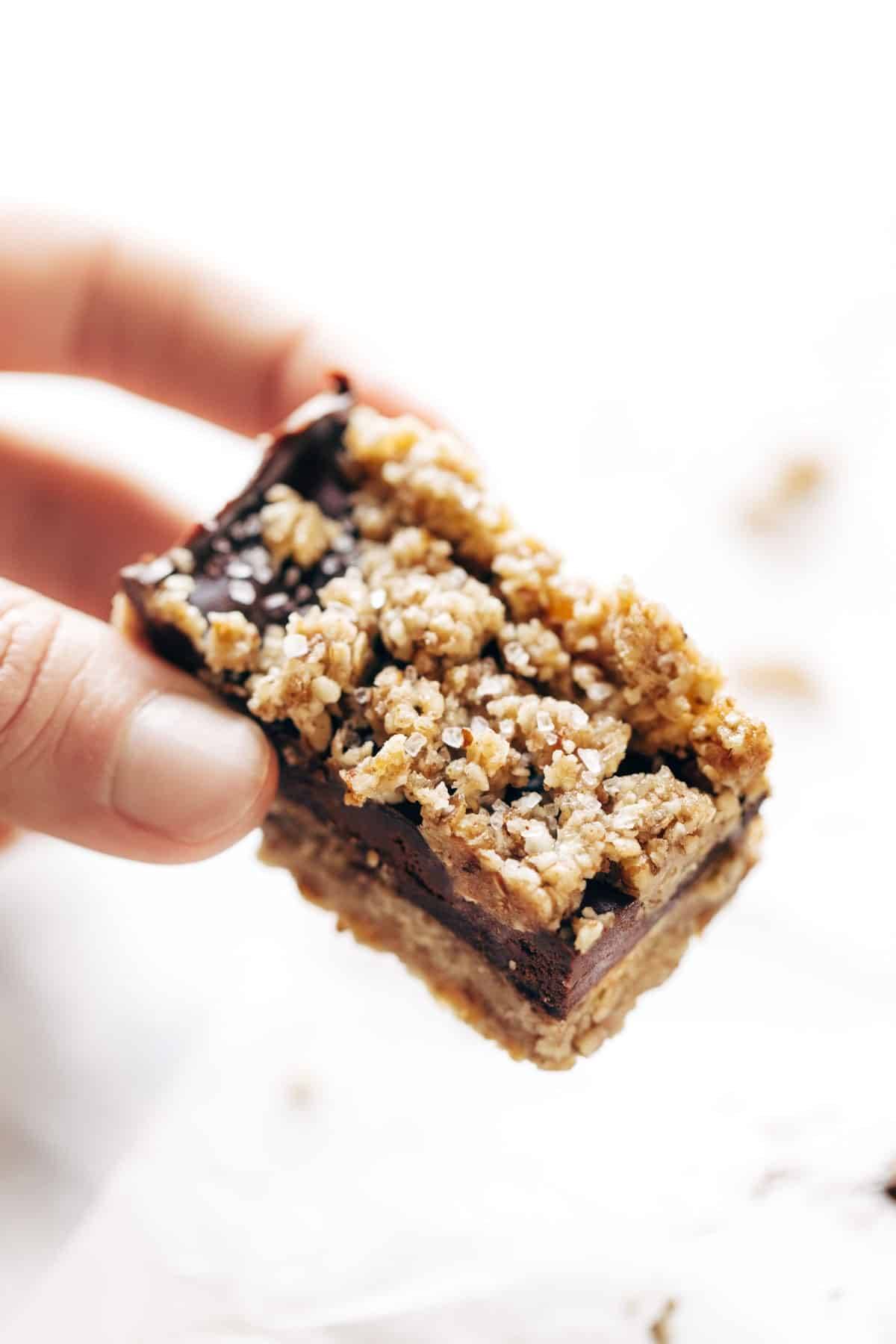 You should 100% make these, and YES I NEED TO SHOUT AT YOU RIGHT NOW BECAUSE THESE ARE SO GOOD.
Easy and salty-sweet and customizable in the sweet-level department. Oats, coconut oil, cocoa, that kind of thing.
I love these bars.

This is a great second breakfast situation.
It has a secret ingredient called frozen cauliflower and I know you don't believe me but it just works. It adds bulk and nutrition and creaminess without requiring you to use 500 pieces of fruit. Low on the sweetness scale, mega on the creamy/yummo scale.

Just ate this for second (third?) breakfast, no joke.
This is the perfect granola for fall, except kind of for all year round. Like the rest of these recipes, it is customizable in terms of how sweet you make it, plus you get some natural sweetness from the caramelization of the pumpkin and the nuts all hanging out in the oven for a while. It is perfect when made with real maple syrup – natural sweetness at its finest, folks.

Afternoon sugar bomb latte … OR … ultra creamy coffee made at home with lots of healthy fats and less sugar in about seven seconds?
If you haven't tried this, now is the time to make your move. Throw a handful of cashews in your blender with some coffee, basically. Add a pinch of salt and real maple syrup if you want to really live your best life.
ALSO THIS IS DELICIOUS WHEN MADE AS ICED COFFEE.
Click here for the Cashew Coffee recipe.

This recipe is an oldie! I made it in 2014 – the very first year we tried going refined sugar free for 60 days.
The sweetness in this recipe comes from – wait for it – NO SUGAR! just caramelizing the bananas to bring out some of the natural pizazz. It is made with whole wheat flour and it is a really nice wholesome snack when you are having a carb moment. I suggest a pat of melted butter or a drizzle of runny PB over the whole thing. Plus a cashew coffee. Those healthy fats are necessary.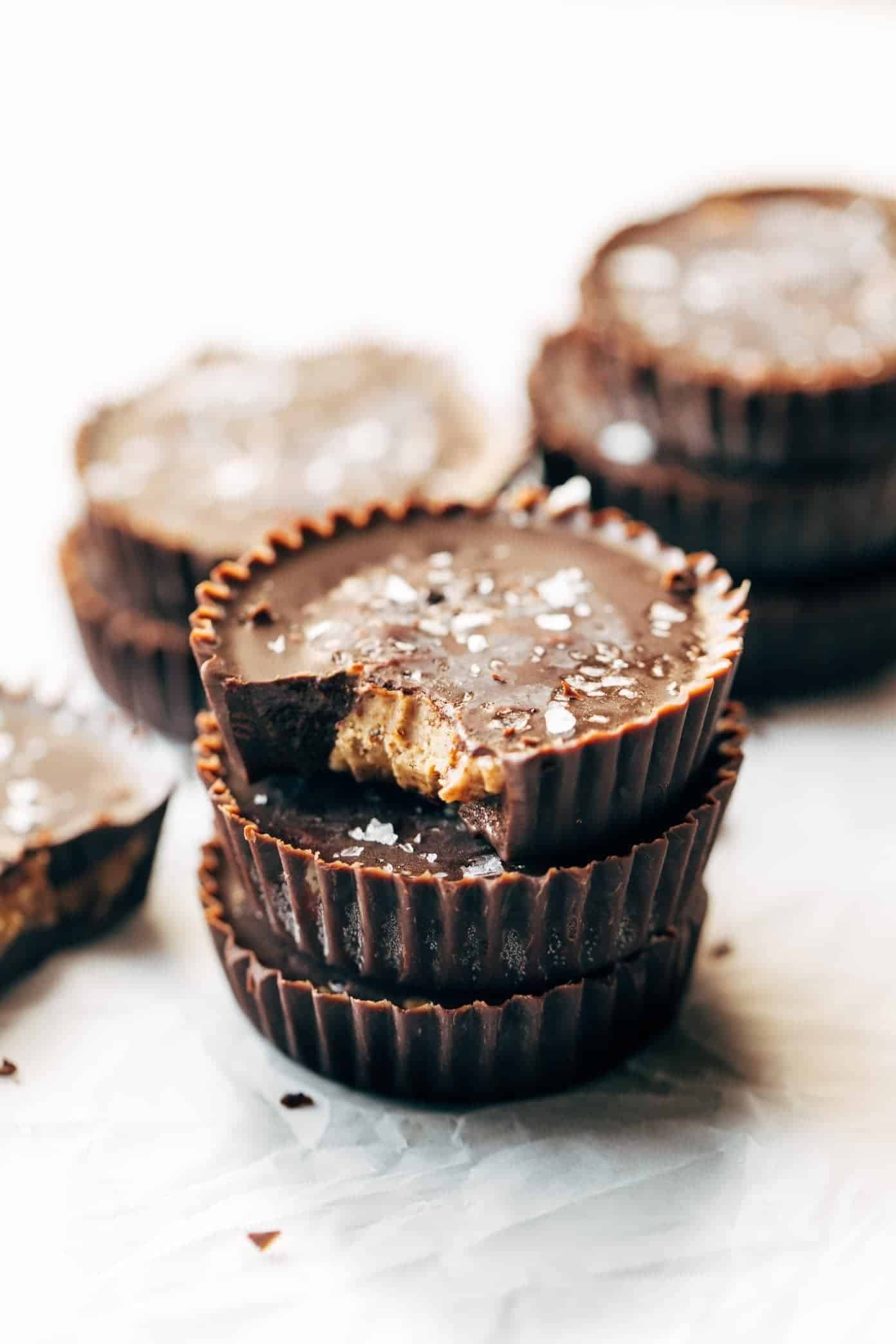 Don't even act like sometimes you don't need a peanut butter cup.
WE ALL DO.
These can be made with peanut butter or almond butter and you can control the sweetness to taste, since you're making that chocolate mix from scratch. I consider these an all-time-freezer-essential.

Vegan Caramel Sauce (with Apple Slices And All Other Fruit, Duh)
I don't know how this is a real thing, but it is.
Vegan caramel sauce, kids. It's ready in five seconds flat and it makes you want to eat fruit every day. Such a good alternative to the overly sweet store-bought caramel and fruit dips!

Do you know those super soft granola bars that we used to eat as kids that were, like, basically candy bars in disguise?
These are like those, but healthier and less sugar crazy. They are sweetened with honey which you can scale up or down depending on how much sweetness you want in your life. The oats and peanuts add bulk, and the crushed pretzels give you that essential salty-sweet dance. Most importantly: they start soft and stay soft. The only way I do granola bars.

Cottage Cheese and Peaches
Creamy goodness with my juicy beloveds? Yes, I will.
This is my essential snack/dessert of summer. Choose a higher fat cottage cheese, drizzle a little honey over the top, and you are probably at a five star restaurant right now.
For when you want to eat cookies for breakfast and have it be 100% appropriate and feel-good-in-your-body, because oats and bananas and blueberries and chocolate chips do, in fact, work together.
Who even knew.
Circling back to this siggi's beauty one more time, since it's like eating strawberry shortcake without eating strawberry shortcake.
Lightly macerated strawberries + a coconutty, buttery-tasting granola (basically shortcake, work with me here) and couple of generous thwaps of creamy, high protein, lower in sugar siggi's Vanilla Triple Cream yogurt. Simple ingredients, not a lot of sugar. OMG.
---
Would LOVE to hear from you guys on this! Mostly because I'm a food hog and I want to borrow your ideas and eat them for myself.
How do you treat yourself AND also keep the sugar beast under control?
Also – anyone already thinking about Sugar Free January again? 🤓 Meeeee!
---
Thank you to siggi's for sponsoring this post!
The post 14 Low Sugar Snacks That Actually Kind Of Taste Like Dessert appeared first on Pinch of Yum.