14 Swoon-Worthy Date Night Recipes
Slow Cooker Beef Ragu with Pappardelle
Ridiculously easy beef ragu – made in the slow cooker and served with pappardelle! Easy comfort food.
pappardelle pasta, flank steak, crushed tomatoes, garlic
Date Night Rigatoni with Sausage and Kale
AMAZING rigatoni with sausage, kale, tomato cream sauce, Parmesan, and red pepper flakes! Perfect for date night.
rigatoni, Italian sausage, fennel, Parmesan cheese, kale
Instant Pot Short Rib Ragu
Instant Pot Short Rib Ragu! Ready in an hour. AMAZING on gnocchi, pasta, polenta, rice, potatoes, and more.
short ribs, red wine, marinara sauce, onion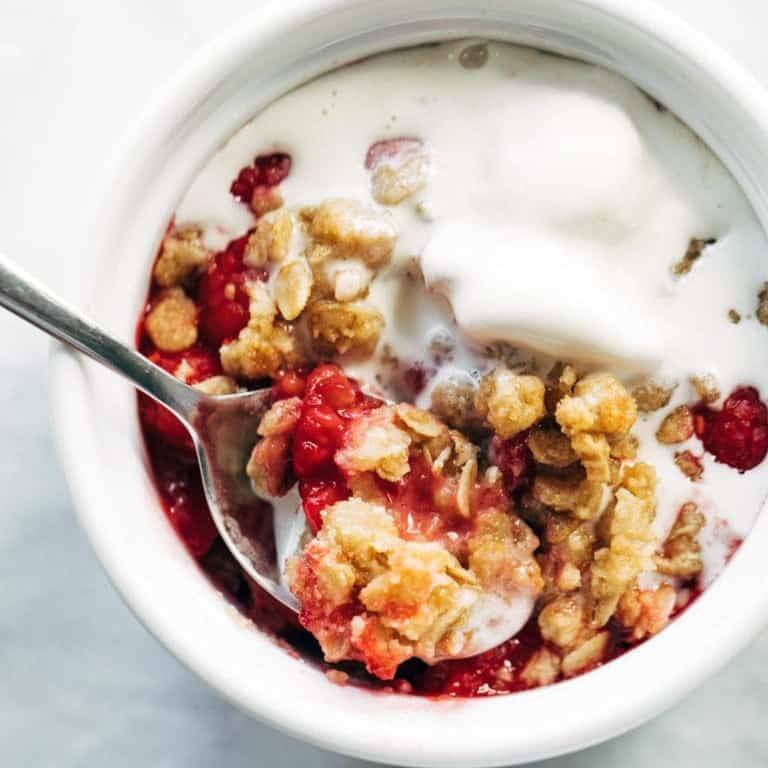 Two Person Raspberry Crumbles
The BEST easy dessert – for two! A layer of oat-brown-sugar crust, juicy, sticky, bubbly raspberries, and topped with a buttery crumble that's baked to perfection.
fresh berries, rolled oats, lemon juice, flour, brown sugar
Oven Risotto with Garlic Roasted Mushrooms and Arugula
The best easy risotto – made in the oven! Served up with some garlic roasted mushrooms and a lemony arugula salad. YUM!
arborio rice, Parmesan cheese, mushrooms, lemon, arugula
Date Night Mushroom Fettuccine
Date Night Mushroom Fettuccine that's elegant and luscious and FIVE INGREDIENT EASY.
fettuccine, Parmesan cheese, mushrooms, butter, garlic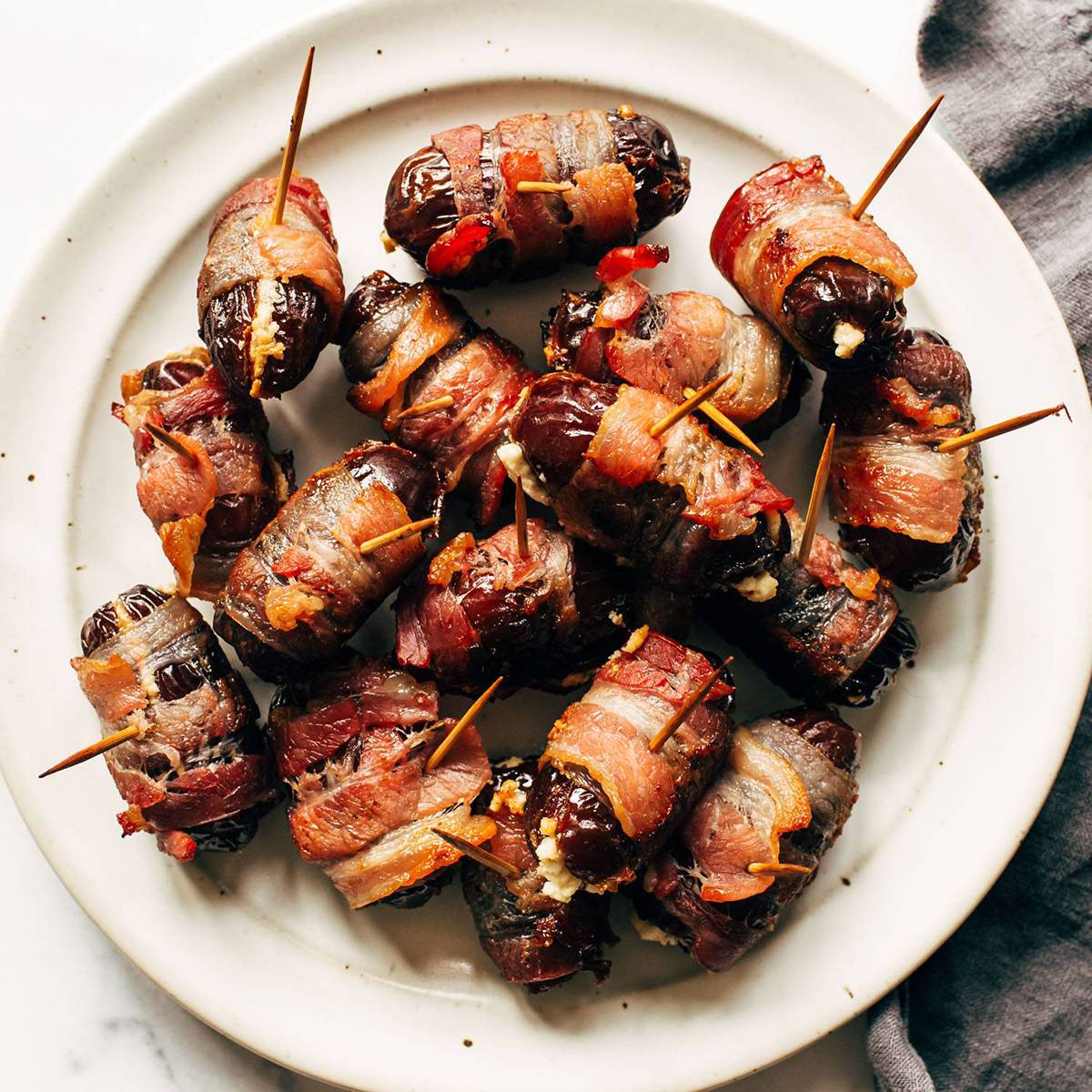 Bacon-Wrapped Dates with Goat Cheese
A simple 3-ingredient appetizer that will blow you away! Enjoy with a crowd of friends!
bacon, dates, goat cheese
Salted Caramel Brownies
Thick, dense, fudgy brownies stuffed with homemade salted caramel. HEAVEN.
unsweetened chocolate, sugar, heavy cream, flour, butter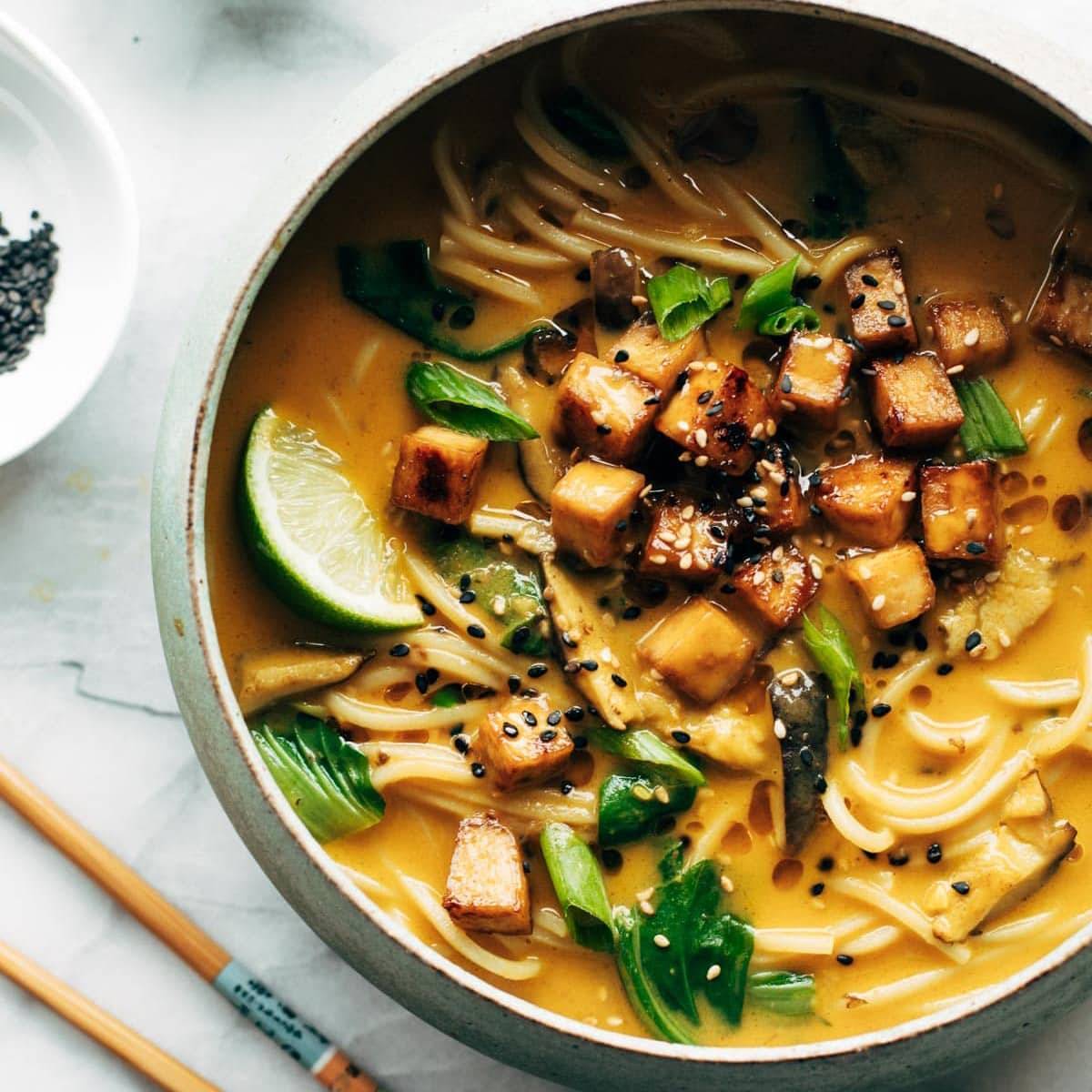 Coconut Curry Ramen
Coconut Curry Ramen with a creamy golden broth, pan-fried vegetables, cubes of golden brown tofu, and steamy delicious ramen noodles. Bonus: it's vegan!
tofu, shitake mushrooms, ramen noodles, bok choy, fresh ginger, coconut milk, lime juice
Grapefruit Mojitos For Two
The perfect recipe for two! Grapefruit juice, lime juice, honey, mint leaves, white rum, and sparkling water. Naturally sweet and pink!
grapefruits, rum, honey, limes, mint
Perfect Baked Salmon with Lentils and Lemon Herb Sauce
Super healthy, high protein, bakes all in one big easy dish. This stuff is SO DELICIOUS!
salmon, lentils, quinoa, lemon juice, green beans
Skillet Chicken with Bacon and White Wine Sauce
A simple crowd-pleasing recipe goes perfectly with warm bread and a green salad!
chicken thighs, bacon, white wine, shallots
Deep Dish Chocolate Chip Cookie with Caramel and Sea Salt
This Deep Dish Chocolate Chip Cookie is stuffed with a layer of gooey caramel and sprinkled with sea salt. Simple and over-the-top delicious.
chocolate chunks, caramel, flour, sugar, maple syrup, sea salt
Date Night Mushroom Pasta with Goat Cheese
Date Night Mushroom Pasta with Goat Cheese – swimming in a white wine, garlic, and cream sauce. Perfect for a date night in!
whole wheat pasta, goat cheese, heavy whipping cream, mushrooms, Parmesan cheese
One More Thing!
Looking for even more extra special dishes? Check out a list of all of our pasta recipes!
The post 14 Swoon-Worthy Date Night Recipes appeared first on Pinch of Yum.