15 Best Healthy Spring Recipes
Spring Detox Cauliflower Salad
An herby, fresh vegan power salad featuring cauliflower, apples, shallots, roasted spiced chickpeas, and a quick grainy mustard dressing.
cauliflower, chickpeas, shallot, apple, mint, avocados, grainy mustard
Raw Vegan Carrot Cake Bites
Raw Vegan Carrot Cake Bites that are chewy, cinnamony, cake-bally, and just the right amount of sweet. Perfect on-the-go snack for spring!
carrot, oats, almond butter, unsweetened coconut
Sheet Pan Chicken Tinga Bowls
These Chicken Tinga Bowls are the BEST! Made in just 15 minutes, all on a sheet pan. My favorite kind of meal prep!
chicken thighs, bell peppers, chipotle peppers in adobo sauce, fire-roasted tomatoes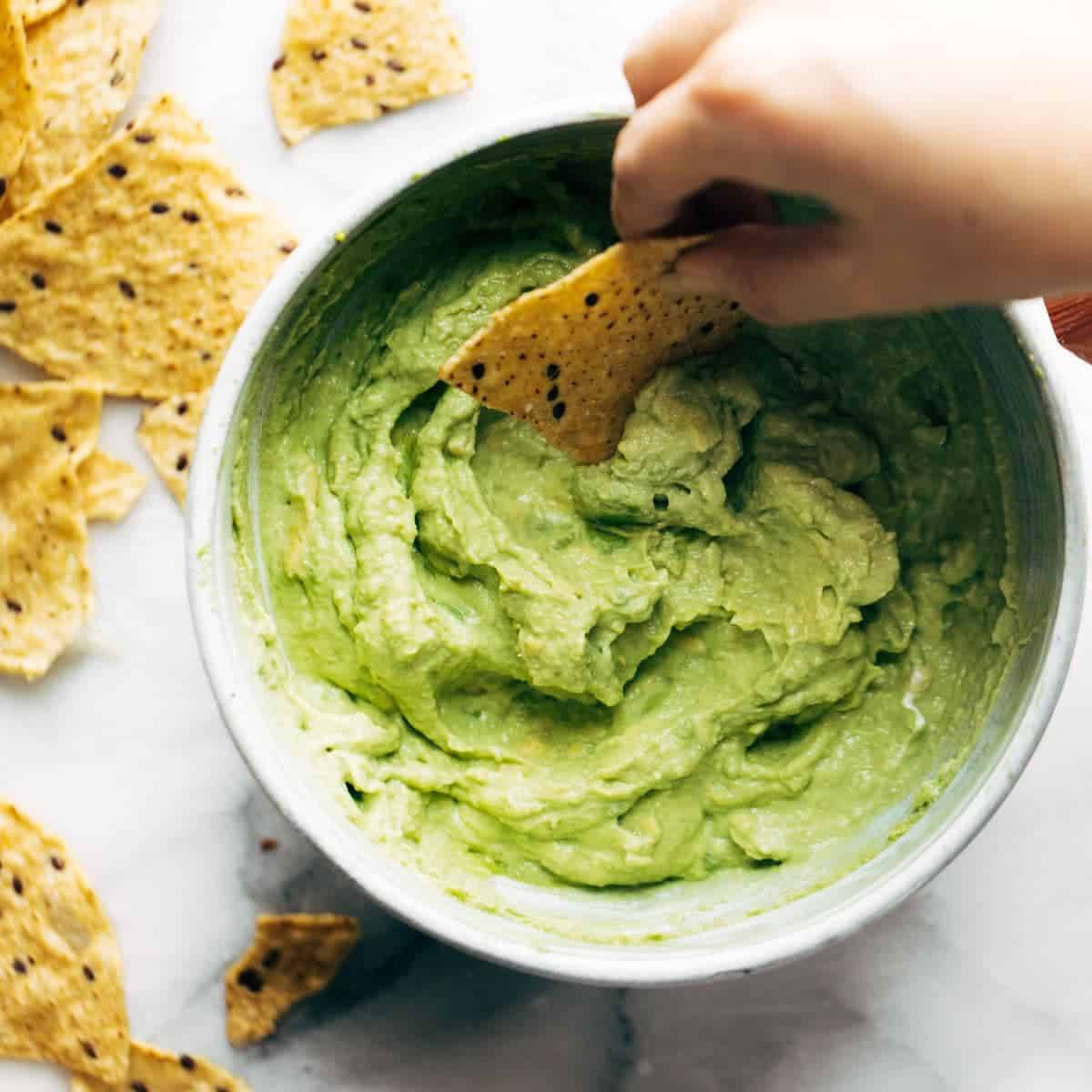 2-Minute Avocado Dip
Creamy Avocado Dip that comes together with less than five ingredients in two minutes flat! This is the BEST easy, healthy snack. Also a great spread for tacos.
avocado, Greek yogurt, lime, garlic powder
Kimchi Fried Rice
Kimchi Fried Rice FTW! Cauliflower rice, frozen peas and carrots, fresh garlic and ginger, soy sauce, chili paste, a forkful of kimchi, and finished with a runny yolk waterfall. A new kind of comfort food.
cauliflower rice, frozen peas and carrots, kimchi, eggs, chili paste
Brussels and Kale Caesar
Brussels & Kale Caesar! Papery-thin shreds of brussels sprouts and chopped lacinato kale, tossed with a creamy, garlicky, avocado-based vegan caesar dressing, topped off with the most addicting cheezy garlic croutons.
brussels sprouts, lacinato kale, dijon mustard, lemon juice, caper brine, avocado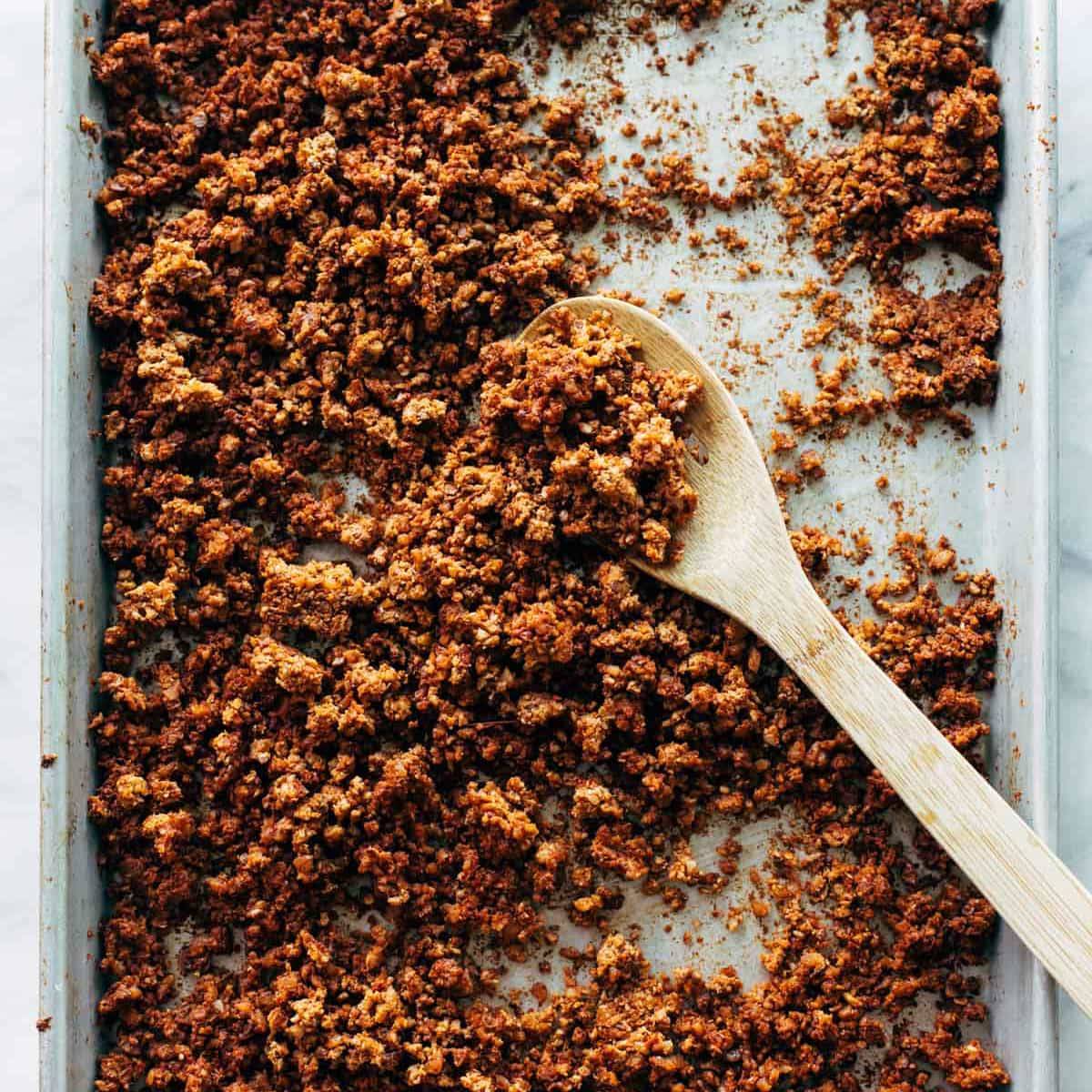 Cauliflower Walnut Vegetarian Taco Meat
This vegetarian taco meat is made with cauliflower, walnuts, and chipotle peppers. It's so easy: just mix and bake. Meatless miracle!
cauliflower florets, walnuts, chipotles in adobo sauce, chili powder, cumin
Peanut Noodle Salad
This peanut noodle salad is made with veggies, chicken, brown rice noodles, and an easy homemade dressing. My favorite salad ever!
brown rice noodles, chicken, baby kale, carrots, bell peppers, cilantro, green onions, soy sauce
5 Minute Vegan Yogurt
This Creamy Dreamy Vegan "Yogurt" is the BEST! Made in five minutes with three ingredients and naturally sweetened.
tofu, peaches, cashews
Goddess Curry Chicken Salad
This Curry Chicken Salad is super clean and SO delicious. Loaded with spiced chicken, golden raisins, pistachios, herbs, and Greek yogurt + olive oil as a stand-in for mayo.
chicken, curry powder, golden raisins, pistachios, honey, Greek yogurt
Spring Roll Bowls with Sweet Garlic Lime Sauce
Spring Roll Bowls – basil, mint, rice noodles, fish sauce, brown sugar, lime juice, and whatever other protein and veggies you have on hand! Easy to make meatless!
rice noodles, basil, mint, garlic, carrots, bell peppers, fish sauce, avocado, lime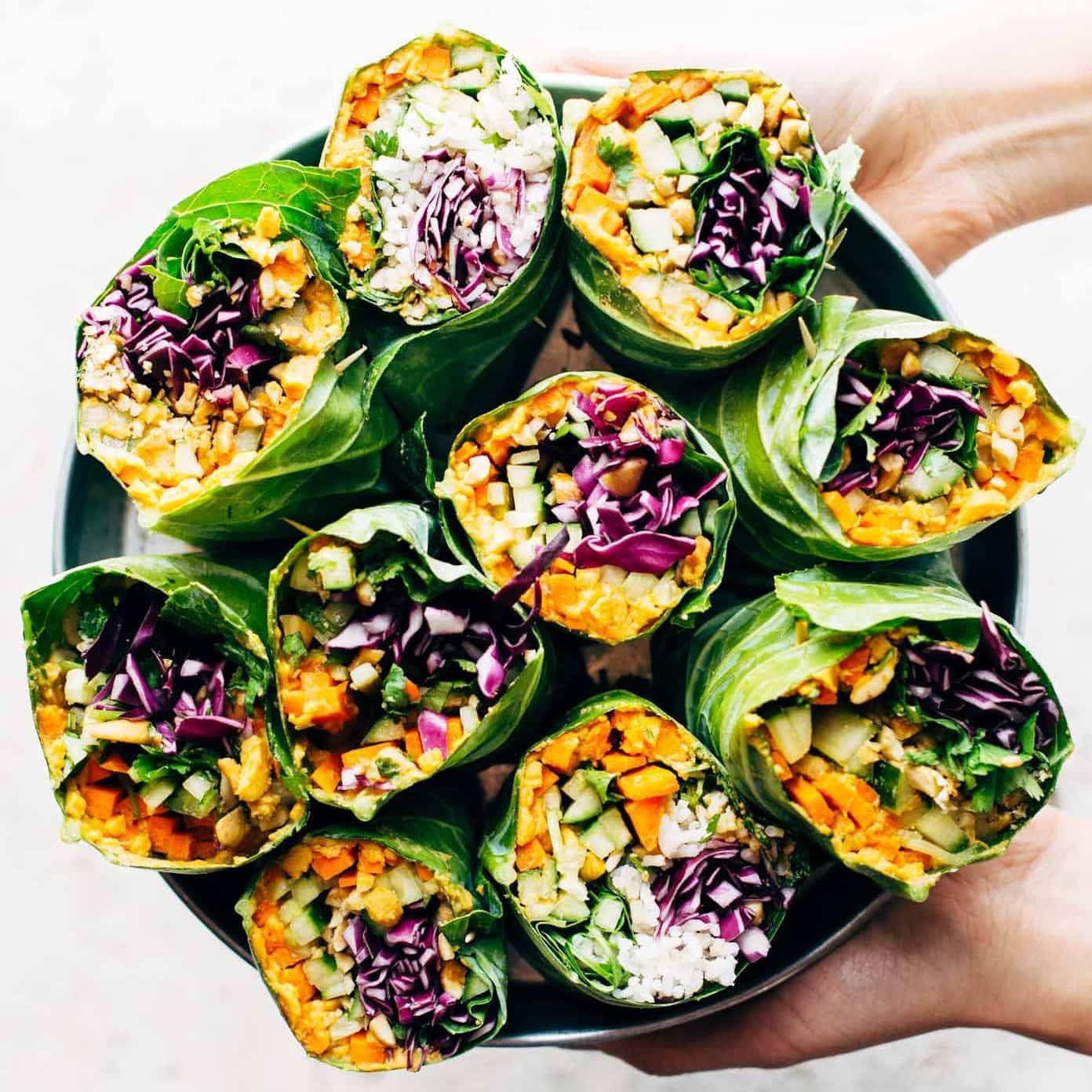 Detox Rainbow Roll-Ups with Peanut Sauce
Detox Rainbow Roll-Ups – with curry hummus and veggies in a collard leaf, dunked in peanut sauce! Most beautiful healthy desk lunch!
carrots, cucumbers, red cabbage, curry hummus, collard greens, peanut butter, soy sauce
Dynamite Plant Power Sushi Bowls
Dynamite Sushi Bowls! Just like a dynamite roll, but easier and healthier with tofu, avocado, cucumber, ginger, brown rice, and spicy mayo.
tofu, rice, carrots, cucumbers, avocado, greens, pickled ginger, soy sauce
The Best Green Smoothie
The best basic, smooth, creamy green smoothie. So easy – just blend peaches, mango, kale, almond milk, and ginger. Honey or cinnamon if you want, too!
mango chunks, peach slices, kale, almond milk, fresh ginger, cinnamon
Spicy Peanut Soba Noodle Salad
Spicy Peanut Soba Noodle Salad featuring red peppers, cabbage, chicken, soba noodles, and a quick homemade spicy peanut sauce. Salads don't get much yummier than this.
soba noodles, chicken, purple cabbage, red bell pepper, peanut butter
One More Thing!
Looking for even more bright and fresh foods? Check out a list of all of our spring recipes!
The post 15 Best Healthy Spring Recipes appeared first on Pinch of Yum.