15 Easy Mexican-Inspired Recipes
Healthy Chipotle Sweet Potato Skins
These healthy chipotle sweet potato skins are stuffed with a chipotle-sweet potato filling, black beans, corn, and topped with cheese.
sweet potatoes, corn, black beans, chipotle peppers in adobo sauce, cream cheese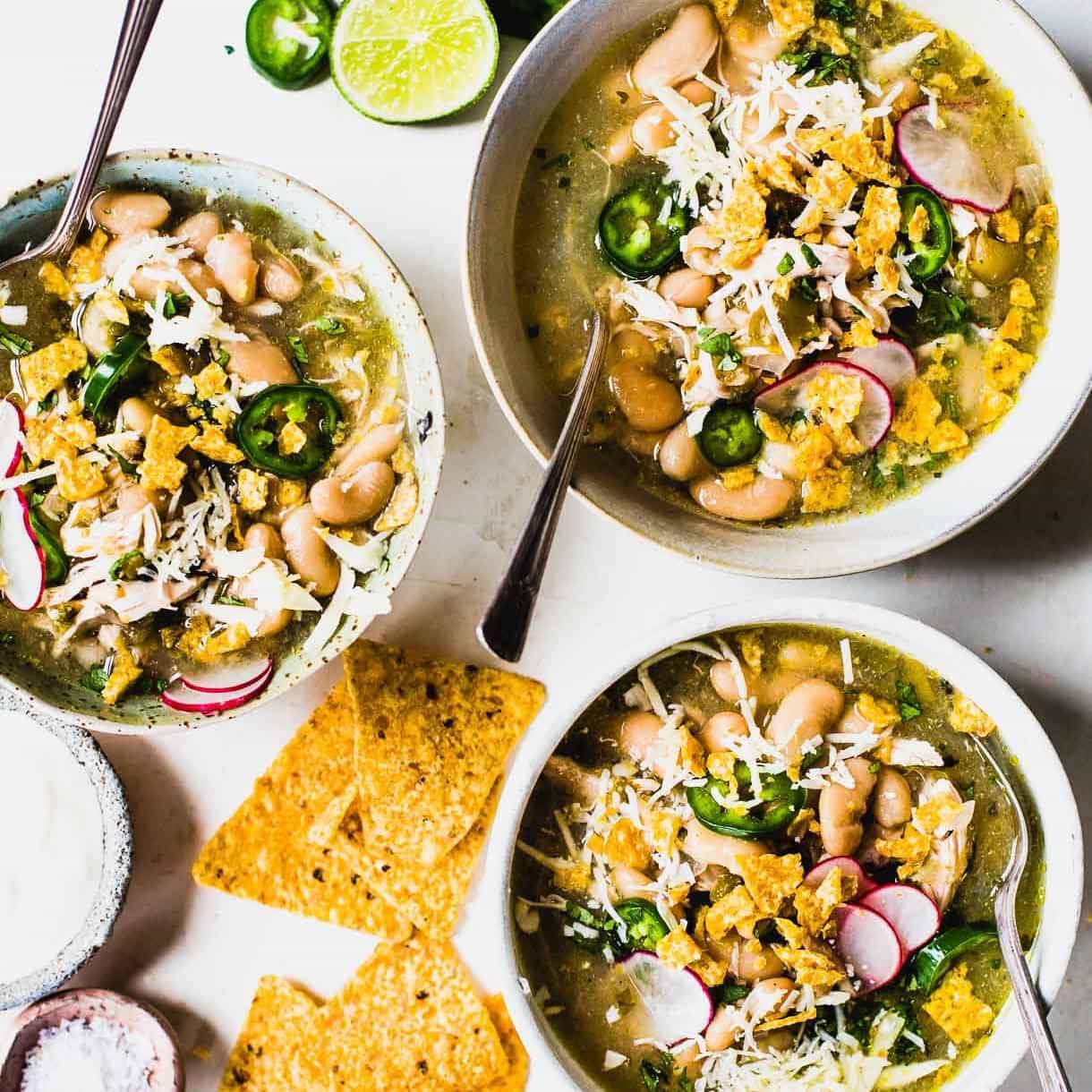 Jalapeño Lime Chicken Soup
This simple and healthy Jalapeño Lime Chicken Soup has white beans, salsa verde, and a hit of fresh jalapeño and lime juice. So yummy!
jalapeños, red onions, chicken breasts, white beans, salsa verde, limes
Easy Veggie Enchiladas
Saucy, cheesy, filling, cozy, and packed with any roasted veggies you want. Super versatile and easy to make!
broccoli, sweet potatoes, red bell pepper, black beans, corn tortillas, enchilada sauce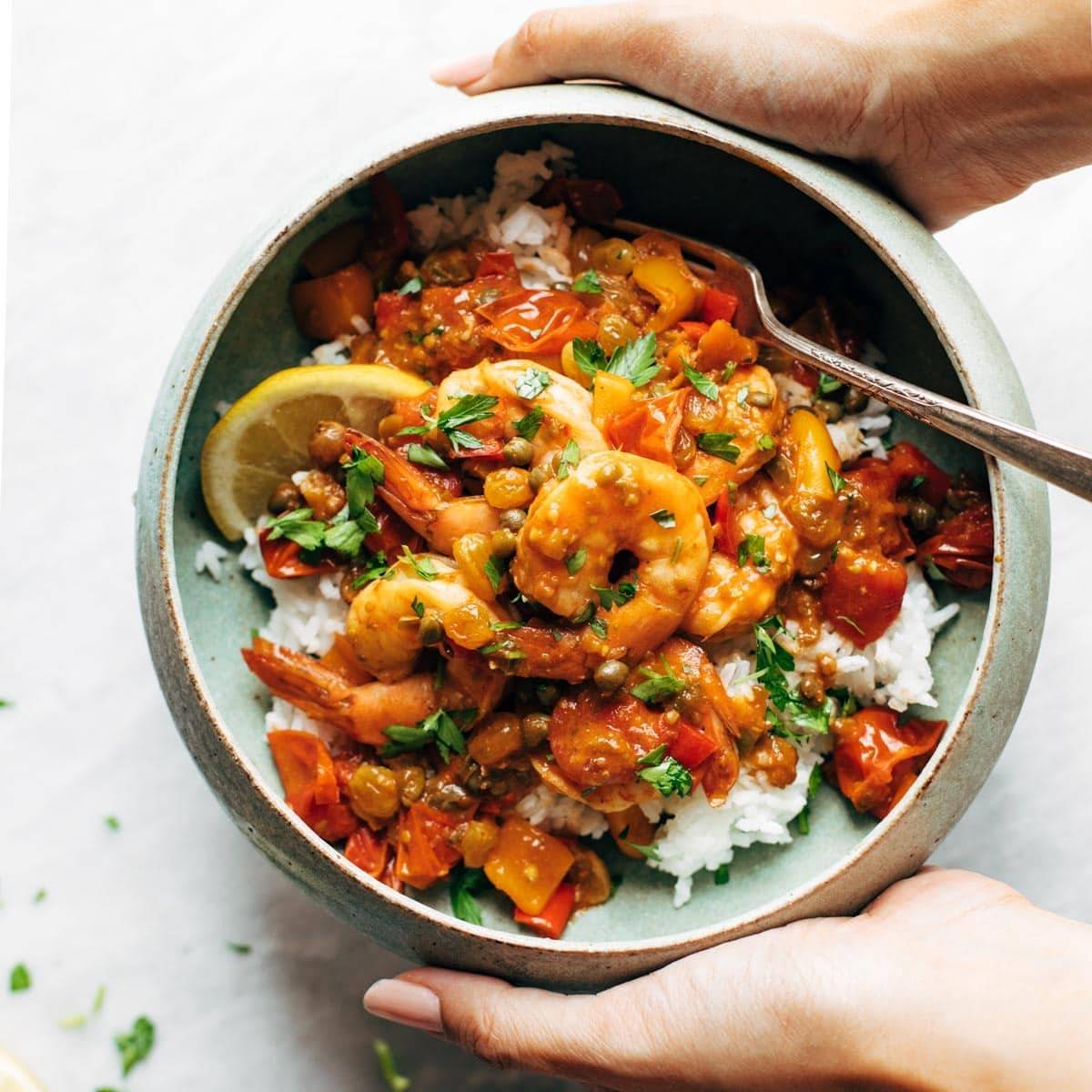 Spicy Shrimp Veracruz
One of our favorite shrimp recipes! Juicy shrimp in a pepper / tomato spicy, briny sauce served over rice. SO GOOD.
shrimp, mini peppers, cherry tomatoes, pickled jalapeños, capers, golden raisins
Easy Mexican Chicken Quinoa Casserole
This Mexican Chicken Quinoa Casserole is piled high with blistered peppers, salsa-ified quinoa, black beans, spicy chicken, and Pepperjack cheese.
chicken breasts, quinoa, black beans, bell peppers, shredded cheese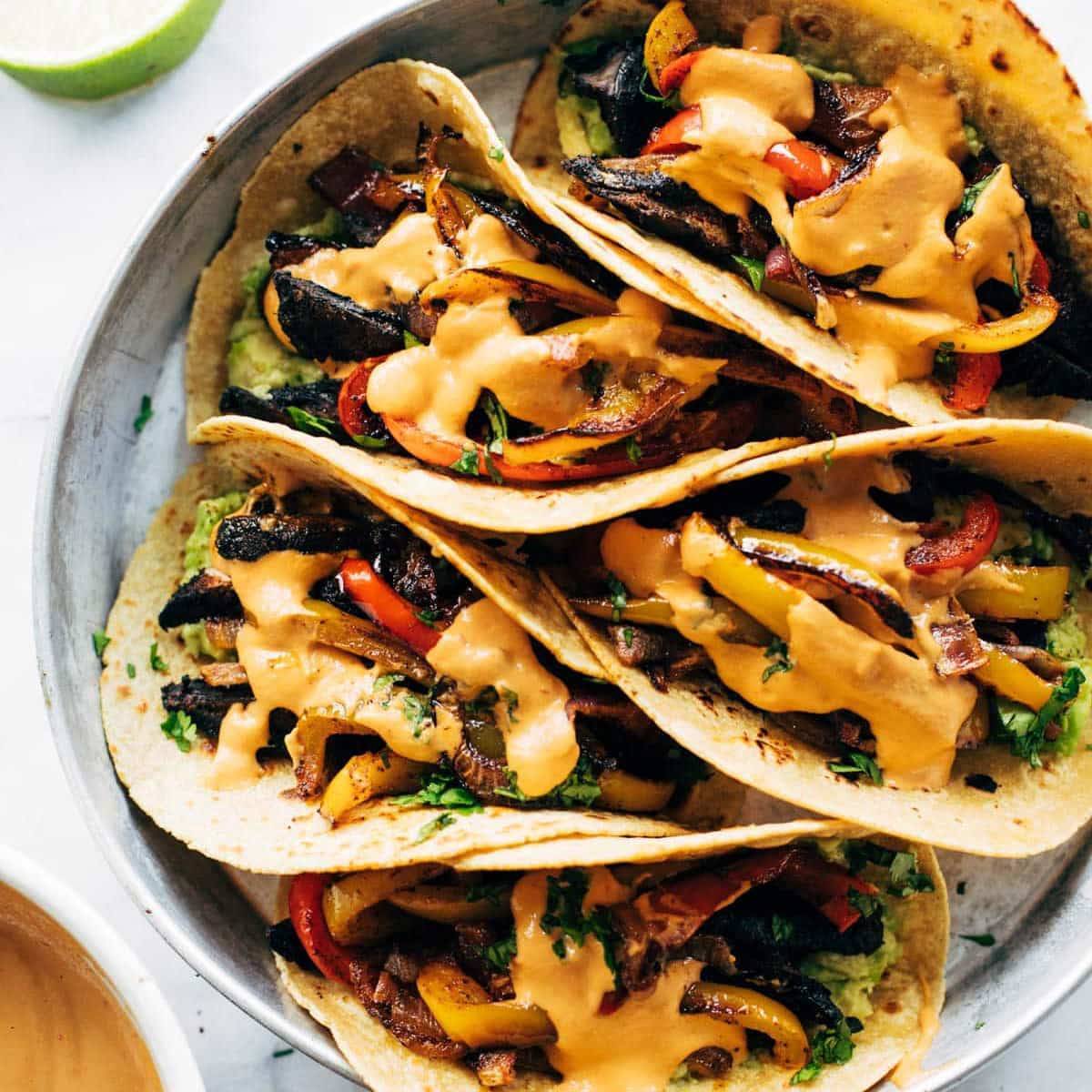 Vegan Sheet Pan Fajitas with Chipotle Queso
These Vegan Sheet Pan Fajitas are SO GOOD. Roasted peppers and onions, steak-like portobello mushrooms, some mashed avocado, and a waterfall of spicy cashew queso.
portobello mushrooms, bell peppers, red onions, cashew, green chiles
Roasted Cauliflower Burrito Bowls
A healthy, delicious, vegan burrito bowl combo featuring spicy roasted cauliflower, pico de gallo, creamy refried black beans, rice, corn, avocado, and a good lime drench.
cauliflower, black beans, tomatoes, corn, onion, avocado, cilantro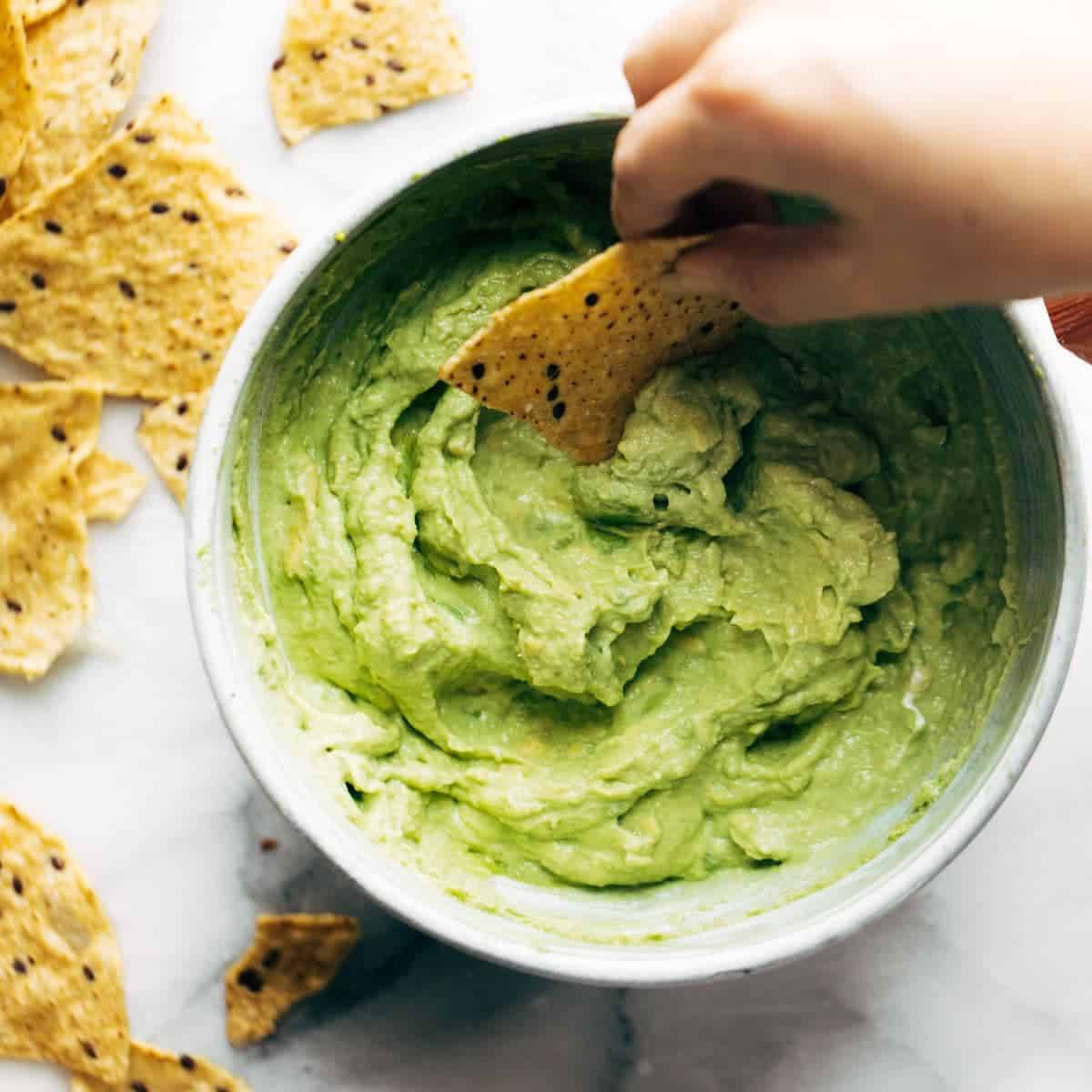 2-Minute Creamy Avocado Dip
Creamy Avocado Dip that comes together with less than five ingredients in two minutes flat! This is the BEST easy, healthy snack. Also a great spread for tacos.
avocado, Greek yogurt, lime juice
The Best Chicken Tinga Tacos
The only chicken tinga tacos recipe you will ever need! Spicy, saucy, simple, and so fresh.
chicken, fire-roasted tomatoes, chipotle peppers in adobo sauce, garlic, corn tortillas
Crunchwrap Supreme
Just like the Crunchwrap Supreme from Taco Bell – layers of taco meat, pepper jack queso, tostada, lettuce, tomato, sour cream, salsa, and hot sauce. SO YUM.
ground beef, taco seasoning, tortillas, lettuce, tomato, sour cream, salsa
Spicy Chicken Meal Prep with Rice and Beans
Spicy chicken with rice and beans + a yummy cilantro sauce = healthy meal prep to last you all week!
chicken breasts, rice, salsa, chili powder, black beans, cumin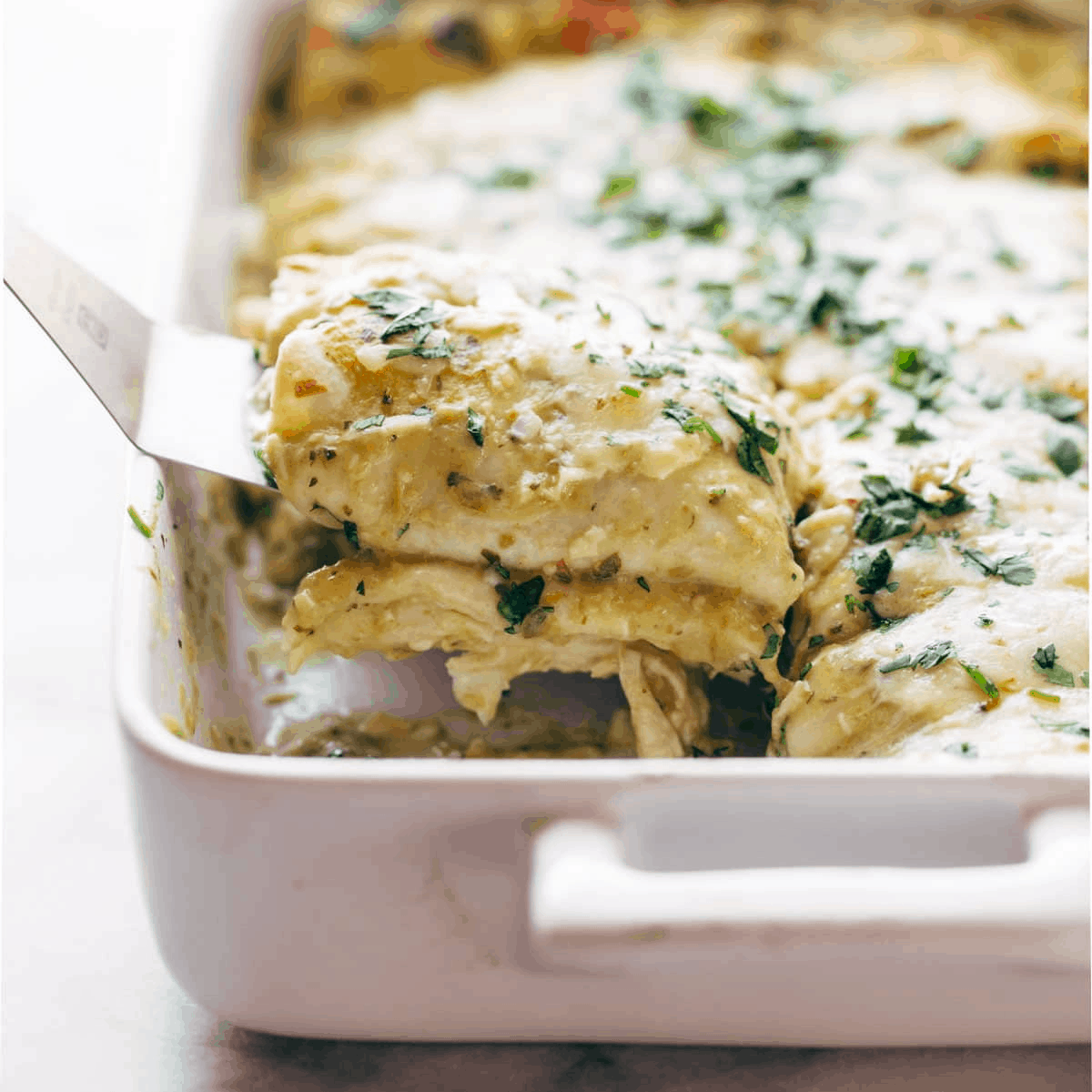 Simple Enchiladas Verdes
Enchiladas Verdes, with a simple homemade roasted tomatillo sauce that will make your tastebuds rock out. Plus chicken and cheese and tortillas. Super yum.
chicken, shredded cheese, tomatillos, sour cream, jalapeños
Elote Queso
A grill + app favorite all bubbled up in one skillet. Creamy melty queso, charred roasted corn, fresh jalapeño and garlic, and some cilantro and chili powder. YUM.
corn, queso fresco, garlic, jalapeño, cilantro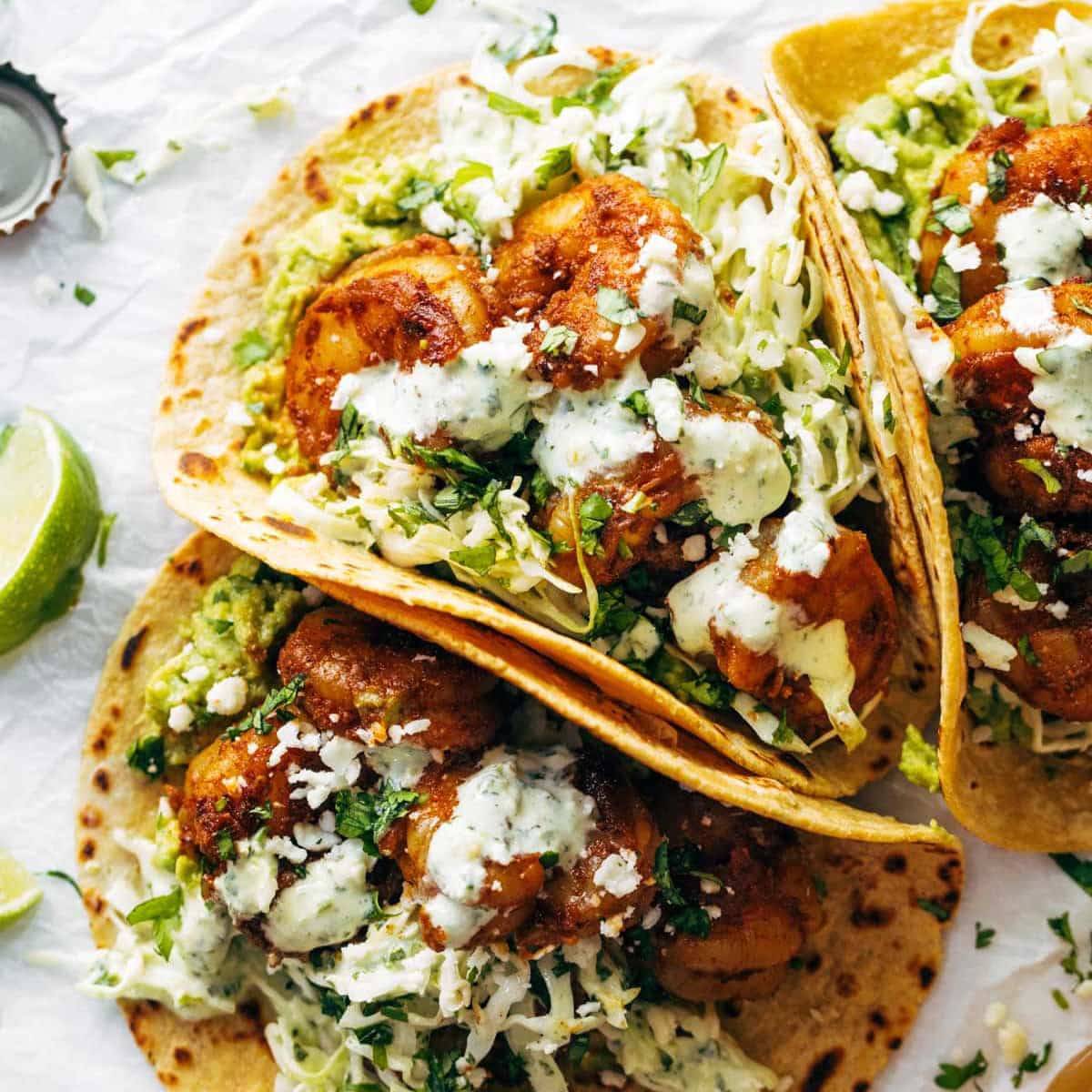 Spicy Shrimp Tacos with Garlic Cilantro Lime Slaw
Spicy Shrimp Tacos with Garlic Cilantro Lime Slaw – ready in about 30 minutes and loaded with flavor and texture. SO YUM!
shrimp, cabbage, chili powder, sour cream, cumin, limes, tortillas
Migas
Eggs scrambled with crispy tortillas, garlic, jalapeño, and melted cheese served with black beans and avocado. Quick, easy, and SO DELICIOUS. Breakfast, lunch, dinner, or brunch!
eggs, corn tortillas, pepper jack cheese, jalapeño, garlic, black beans
One More Thing!
Looking for even more flavorful tacos? Check out a list of all of our taco recipes!
The post 15 Easy Mexican-Inspired Recipes appeared first on Pinch of Yum.