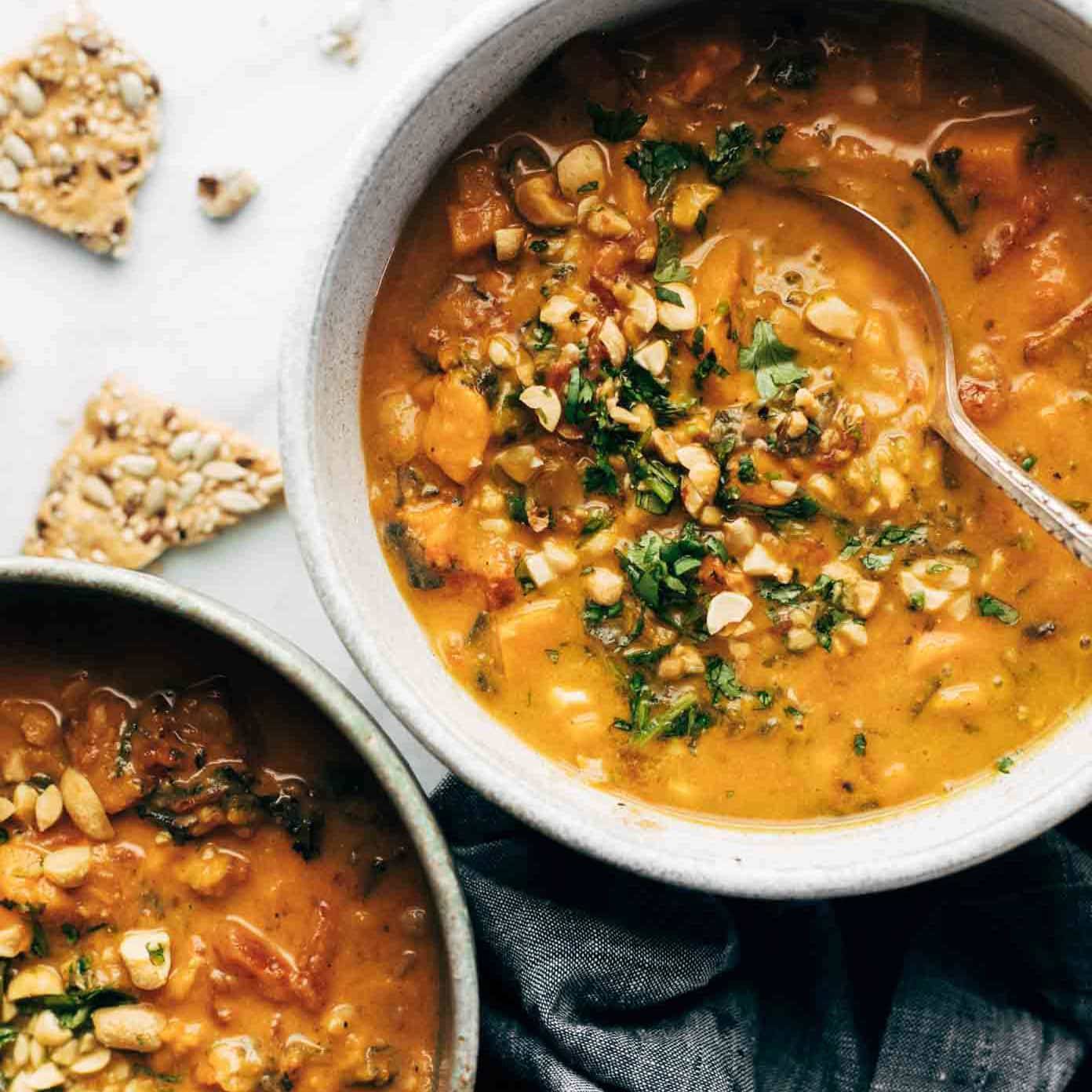 Spicy Peanut Soup with Sweet Potato + Kale
Comforting and SUPER nutritious. Naturally vegan, gluten free, refined sugar free, ALL THE GOOD THINGS.
jalapeño, sweet potatoes, light coconut milk, peanuts, peanut butter, kale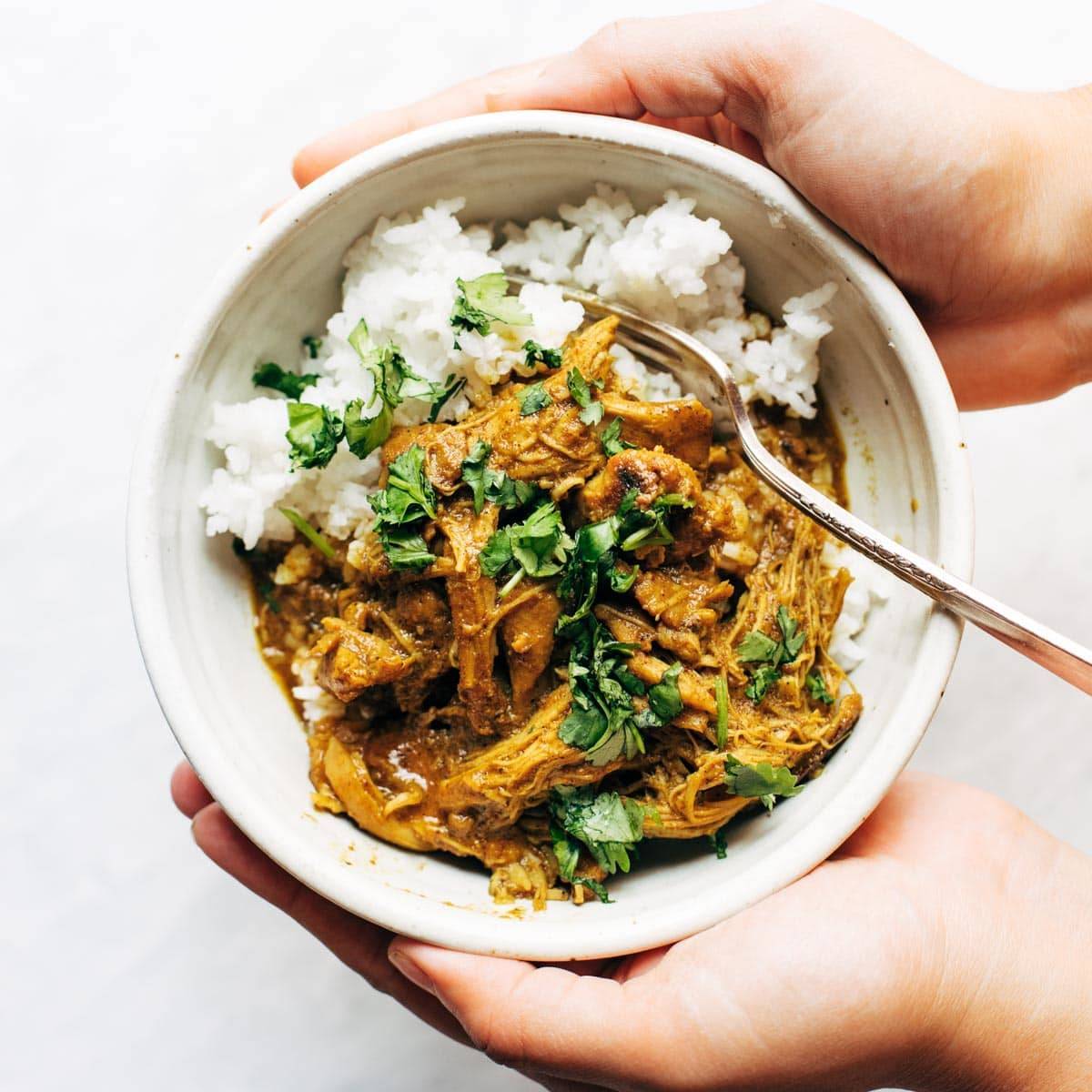 Instant Pot Coconut Tandoori-Inspired Chicken
Coconut Tandoori-Inspired Chicken made with rich spices and creamy coconut milk. EXTREMELY EASY and so, so yummy.
chicken thighs, spices, honey, coconut milk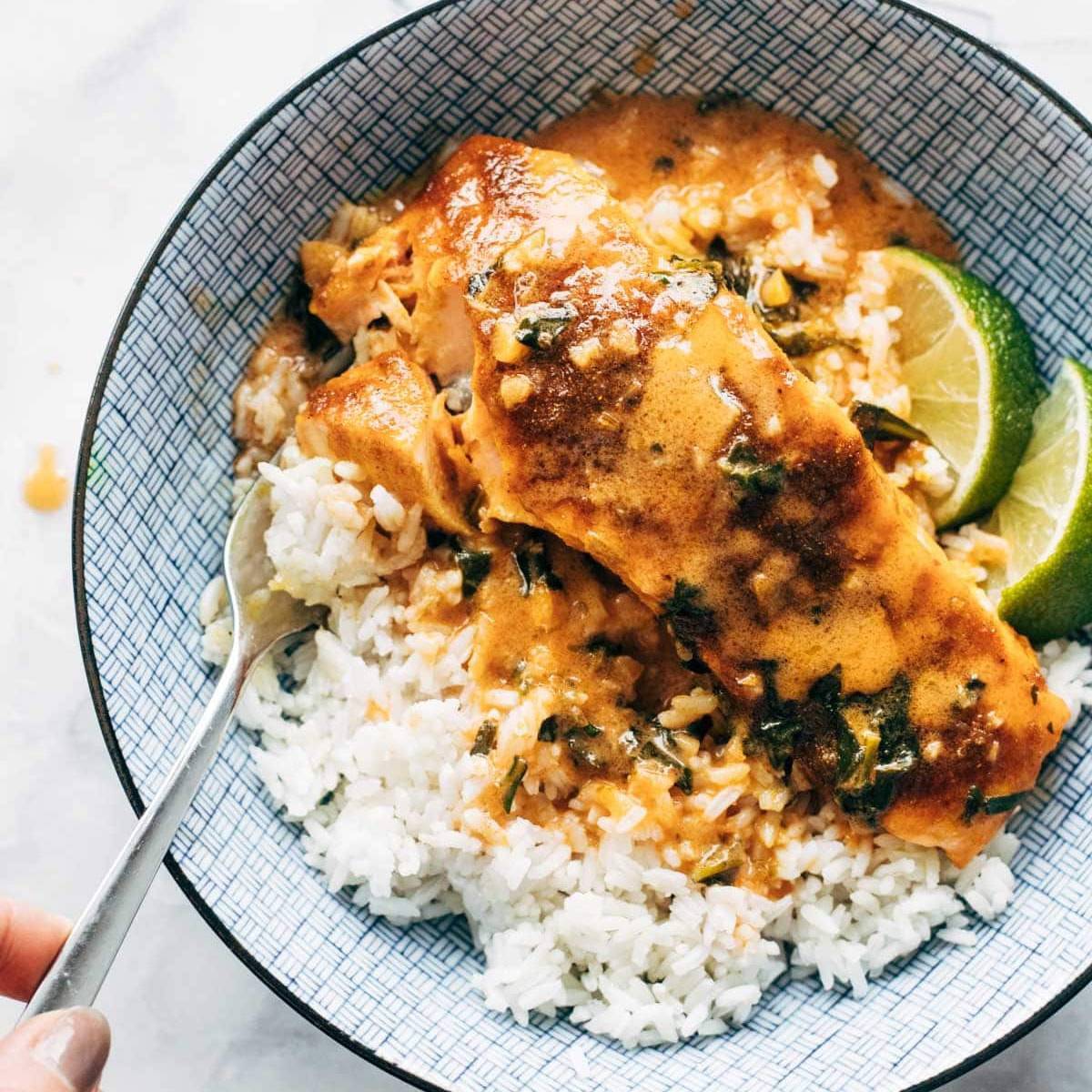 Coconut Curry Salmon
Broiled salmon with a salty-sweet spice rub, creamy coconut curry sauce, and steamy rice to soak it all up. YUM.
salmon, brown sugar, lemongrass paste, coconut milk, red curry paste, spinach
Spicy Instant Pot Carrot Soup
Curry-like spicy carrot soup made with 7 easy ingredients – in the Instant Pot if you want. Extremely smooth and velvety, and bonus: it's super healthy.
carrots, coconut milk, peanut butter, red curry paste
Smoky Red Lentil Soup with Spinach
Ultra creamy and totally vegan! Packed to the brim with veggies, red lentils, coconut milk, and lots of spices, it's a total win for the coziest months of the year! 
red lentils, coconut milk, carrots, celery, spinach, lemon, spices
Curry Hummus
Smooth, creamy, and perfect for a healthy snack or in a wrap for an awesome lunch. gluten & dairy free. YUM.
chickpeas, coconut milk, curry powder, red curry paste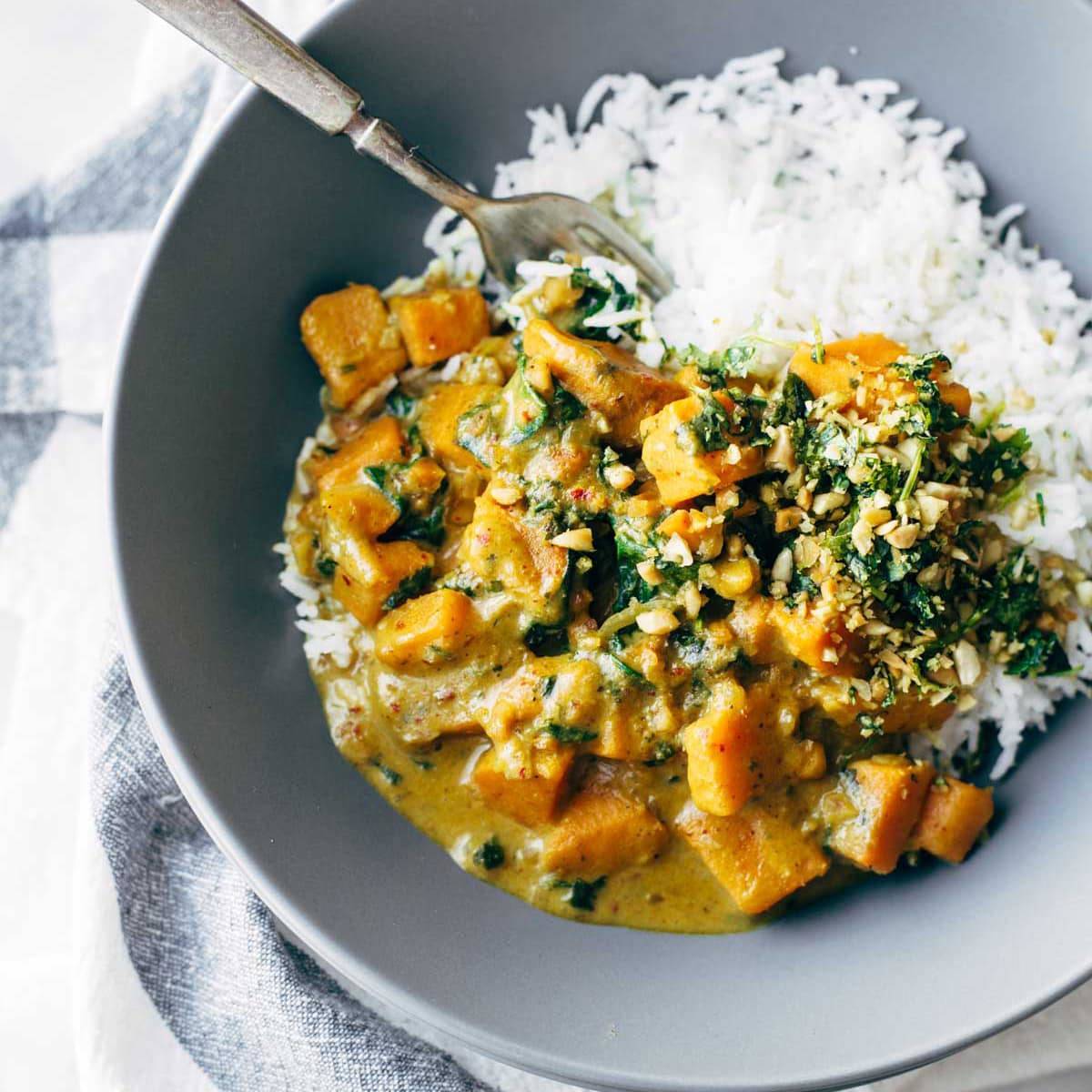 Creamy Thai Sweet Potato Curry
This curry is packed with nutrition! Our favorite easy, healthy, winter comfort food recipe.
sweet potatoes, spinach, curry paste, coconut milk, peanuts, cilantro
Pineapple Pork with Coconut Rice
Sticky-sweet pork, juicy pineapple, fresh herbs, jalapeño, and crispy onions all served over a bed of fluffy coconut rice. SO GOOD!
pork tenderloin, rice, pineapple, teriyaki sauce, coconut milk
5 Ingredient Vegan Vodka Pasta
A creamy, tangy, luscious, and SUPER easy take on vodka pasta – and vegan!
rotini noodles, vodka, coconut milk, tomato paste
5 Ingredient Green Curry
Packed with tons of veggies, an easy green curry sauce, and finished with golden raisins and cilantro.
tofu, sweet potatoes, green curry paste, coconut milk, broccoli florets
Coconut Lime Grilled Chicken and Rice
Grilled marinated chicken, fluffy rice, and excessive handfuls of mint and cilantro, finished off with a generous drizzling of big and flavorful creamy coconut lime sauce.
chicken thighs, rice, limes, coconut milk, lemongrass paste, fresh herbs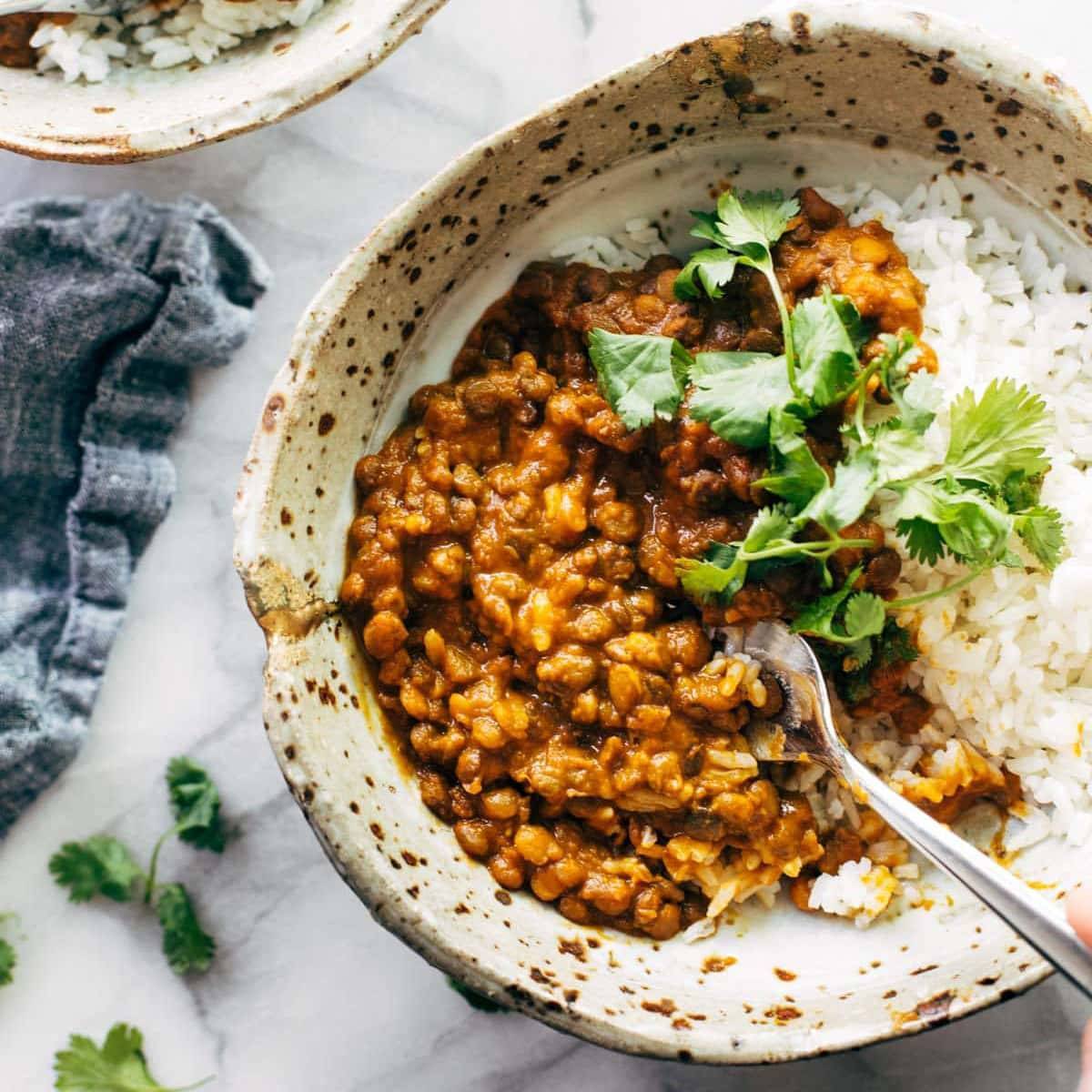 Instant Pot Red Curry Lentils
Creamy, spicy, delicious red curry lentils, made in the Instant Pot. This is the BEST easy, filling, healthy dinner!
brown lentils, red curry paste, ginger, garam masala, coconut milk, tomato sauce
Red Curry Noodles
Lots of fresh veggies, seared tofu, slurpable noodles, and a saucy coconut red curry sauce. Stovetop to table in 30 minutes flat!
rice noodles tofu, red curry paste, coconut milk, stir fry vegetables
Thai Coconut Soup with Tofu and Rice
A savory coconut creamy broth, swirls of chili oil floating on top, beautiful veg and cubes of flavor-soaked tofu, and a pile of steamy rice at your service.
tofu, coconut milk, lemongrass, red chili paste, red bell pepper, garlic, ginger, lime
Life-Changing 30 Minute Masala Sauce
A completely vegan masala sauce made with fresh ingredients! Perfect for veggie or chicken tikka masala.
onions, garlic, coconut milk, almonds, cilantro, spices
One More Thing!
Looking for even more creamy cream-free yum? Check out a list of all of our dairy-free recipes!
The post 15 Luscious Coconut Milk Recipes appeared first on Pinch of Yum.