Hel-lo-lo-mein! This 15-minute wonder is absolutely my new go-to for a quick Asian noodle stir fry. Lo Mein FTW!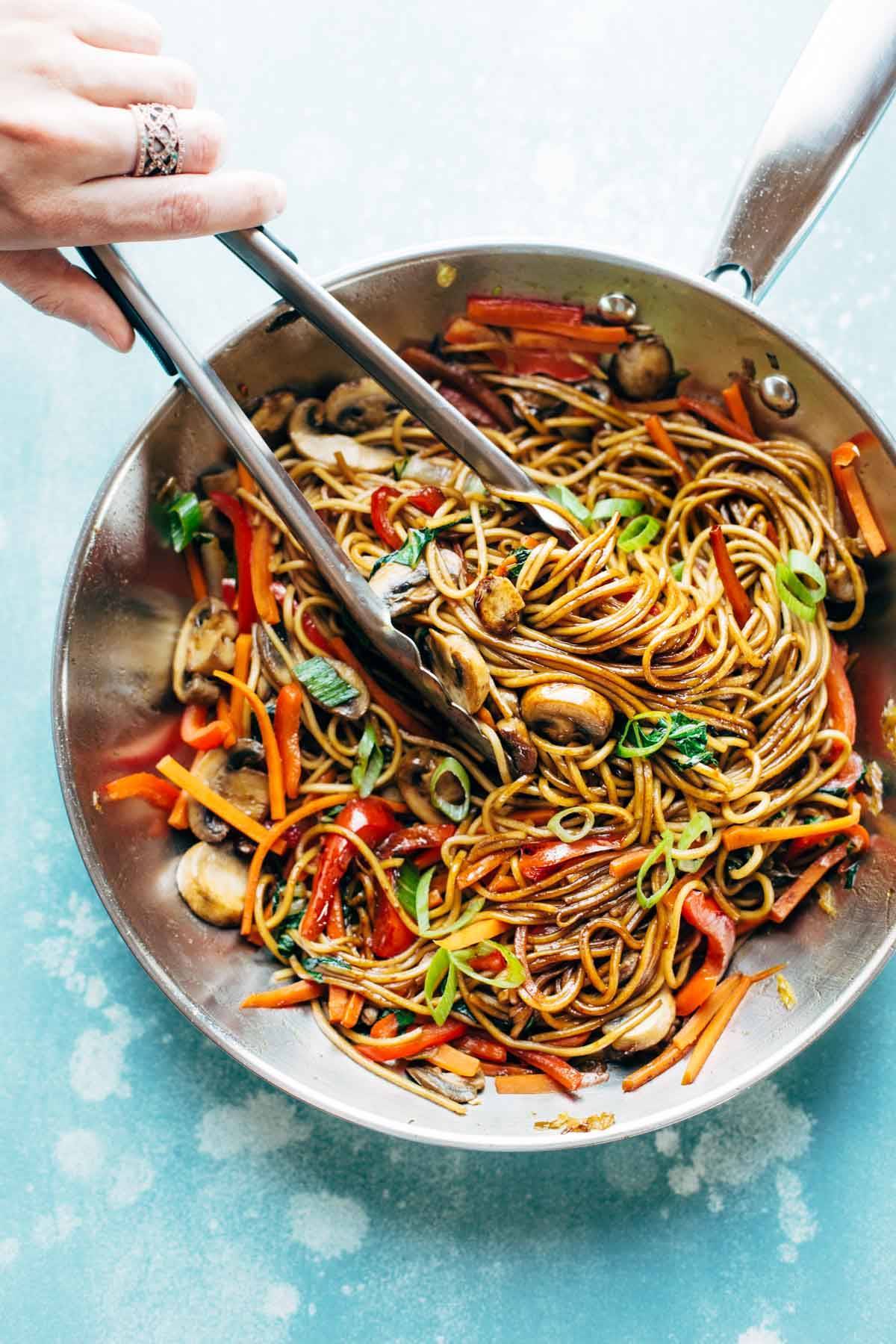 This post contains referral links for products we love. Pinch of Yum earns a small commission on these links at no cost to you, and the links will always be marked with an asterisk. We ♡ honesty!
---
Please tell me you guys eat, love, and are generally familiar with Lo Mein.
Maybe you are a Panda Buffet regular and you not only know Lo Mein, but the people at Panda know YOU when you walk in the door and they waste no time piling high your little plastic tray with scoop after scoop of those stir fried noodles while you watch a little protectively from the other side of the glass, because couldn't they have given you a bigger scoop like they did last time? come on puhleeeease.
or maybe you mostly know Lo Mein from your growing up days because good news, kids! mom and dad are ordering Chinese takeout tonight (yasssss) and little pre-teen you is most definitely going to eat your weight in salty Asian noodles and then revisit it in the fridge, cold, right before bed, amiright?
Or maybe you've never had Lo Mein and you're giving the rest of us all the look right now. I hear you, sitting high up there, saying that you would never eat cold takeout noodles right before bed. There is judgement in your heart. You think you're not into this whole stir fried noodles and vegetables thing. In which case:
It's time for you to get Lo Mein in your life, friends. This is your big day. We've all been waiting for you. Welcome to your Lo Mein intervention!
Honestly, WHO EVEN KNEW how easy it could be to make Lo Mein at home? And as a follow up to those of you who did already know, WHY DIDN'T YOU EVEN TELL ME?
---
In This Post: What You Need To Know About Lo Mein
---
Prefer To Watch Instead Of Read?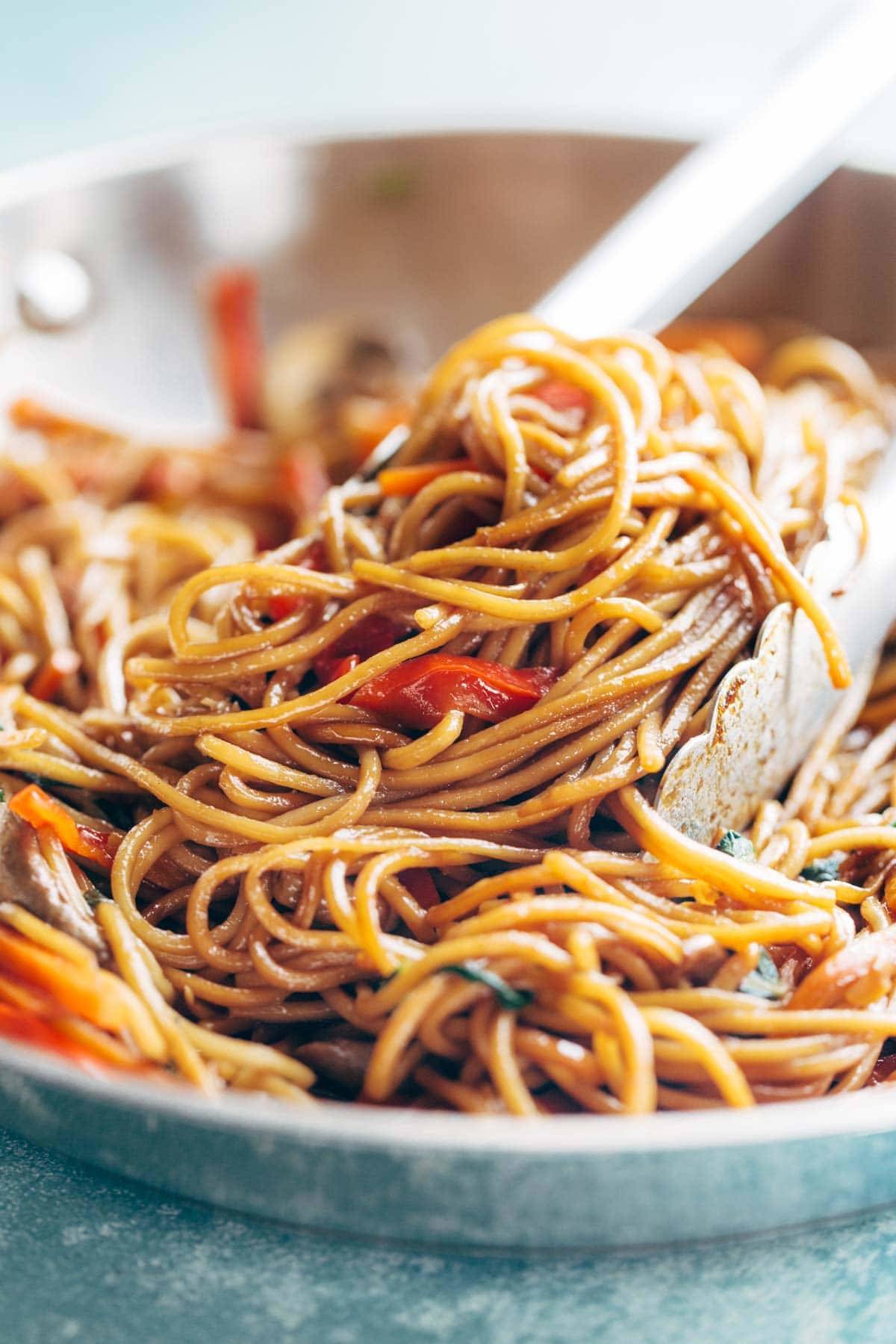 Yes, You Can Make Homemade Lo Mein!
Until two weeks ago, I always just assumed that this was some kind of lengthy process involving mysteriously delicious ingredients that I wouldn't have in my standard Midwestern kitchen, and plus, did you know that you can get a platter of Lo Mein large enough to feed the neighborhood for just $6.50 at the Panda Buffet? So why would we even do this at home? I'm serious – let's go.
Except hold the phone for just a sec.
Making Lo Mein is not a lengthy process – it's going to come together in ONE PAN in something like 15 minutes, start to finish. JOY of JOYS. I seriously had no idea when I set out to learn about all things Lo Mein that it would be such a gem of a quick + easy recipe, and not in the way where you're skimping on anything. Just by nature, it is that simple.
Lo Mein doesn't require fancy or unusual ingredients. Like, at all. A quality soy sauce and sesame oil combo is basically it. That's your Lo Mein magic right there. For real – just one bottle of good soy sauce and you're in Lo Mein business. I mean, almost everyone, no matter what their cooking level is, has a bottle of soy sauce in their fridge, right? or at the very least, a few PACKETS of soy sauce from leftover takeout? You know I see you out there.
And finally, Lo Mein is awesome as takeout, but it's more awesome as a mostly-healthy takeout at home dish that can simultaneously clean out the fridge by using up any and all veggies and proteins that a person could ever want in their silky stir-fried noodles. The happiness I feel for this concept… like wows. You do not even know. Recipe scrappiness fulfills a piece of my soul.
How To Make This Lo Mein
We're talking three easy steps for perfection:
Shake up your sauce.
Cook your noodles
Toss it all together with your extras (veg, protein, green onions) in a hot skillet or wok.
You can use almost any vegetables and/or protein.
Ideas: bell pepper, carrots, spinach, baby bok choy, mushrooms, snow peas, onions, cabbage, broccoli. // Chicken, shrimp, eggs, beef (like flank steak), pork, tofu.
Game on.
Lo Mein: Frequently Asked Questions
What kind of noodles do you recommend?
These ones here* are perfect!
Are lo mein noodles gluten-free?
Traditional lo mein noodles are made with wheat, so they are not gluten free. Feel free to sub in rice noodles or your favorite GF spaghetti noodles to make this gluten-free!
Why did you use two different types of soy sauce?
It adds more depth and flavor to the dish – especially the dark soy sauce*. Highly recommend using both if you can find them. If not, regular soy sauce* can always work.
What is mirin?
Mirin is a type of rice wine. It adds a sweeter flavor, which is a really wonderful contrast to the saltiness from the soy sauce here.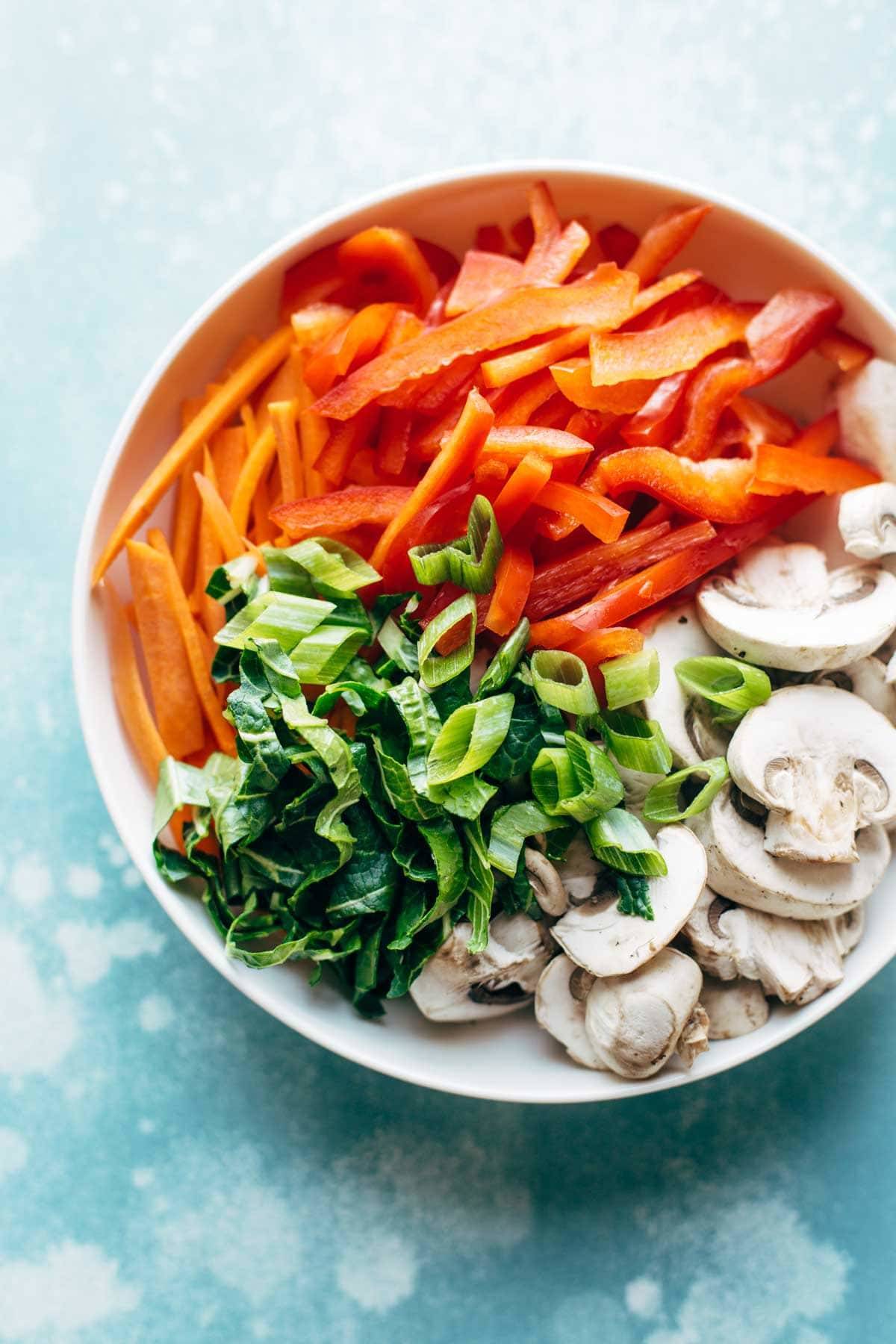 What Goes In This Easy Lo Mein Sauce
The sauce.
You need a good soy sauce, and I HIGHLY recommend the 2-types-of-soy-sauce trick. It's not really a trick as much as it is a tiny thing that makes a big difference. It's probably more likely that you have light or low sodium soy sauce in your fridge, but tip alert: dark soy sauce is so rich in umami flavor and it takes this Lo Mein "sauce" situation to a whole new level.
Because the quality of soy sauce is important here (I mean, it's one of literally THREE ingredients that will make the sauce for your stir fried noodles), I did not use soy sauce packets from leftover takeout.
I used this light soy sauce* // dark soy sauce* combo. .
Shake that up in a jar with a quick hit of sesame oil and a pinch of sugar. annnnd DONE.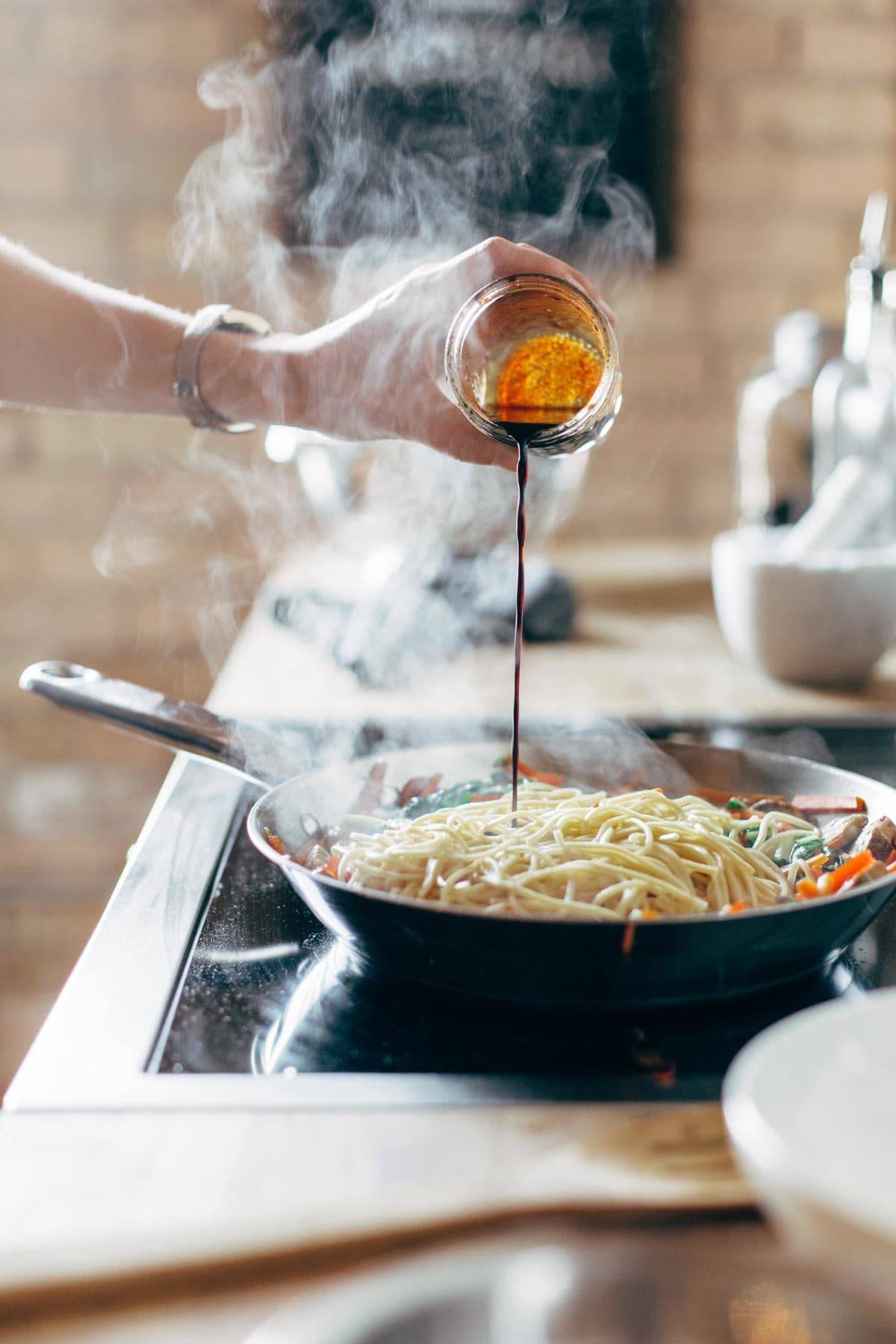 Let's Talk About Lo Mein Noodles
Then there's the noodles.
You could use fresh Lo Mein noodles if you can find it fresh or frozen at your grocery store. I could not find it at any of my regular places, so in its place I have used either dry ramen if you can find it (as long as you're hitting up Amazon for the soy sauce, grab a box of this ramen*, too) and/or just regular spaghetti.
…Is that blasphemy to Lo Mein? to use spaghetti?
I don't know, I'm thinking we both care more about practicality than total and complete authenticity.
Go on and do what you need to do.
If you're gluten-free, you can use rice noodles or your favorite gluten-free spaghetti noodle.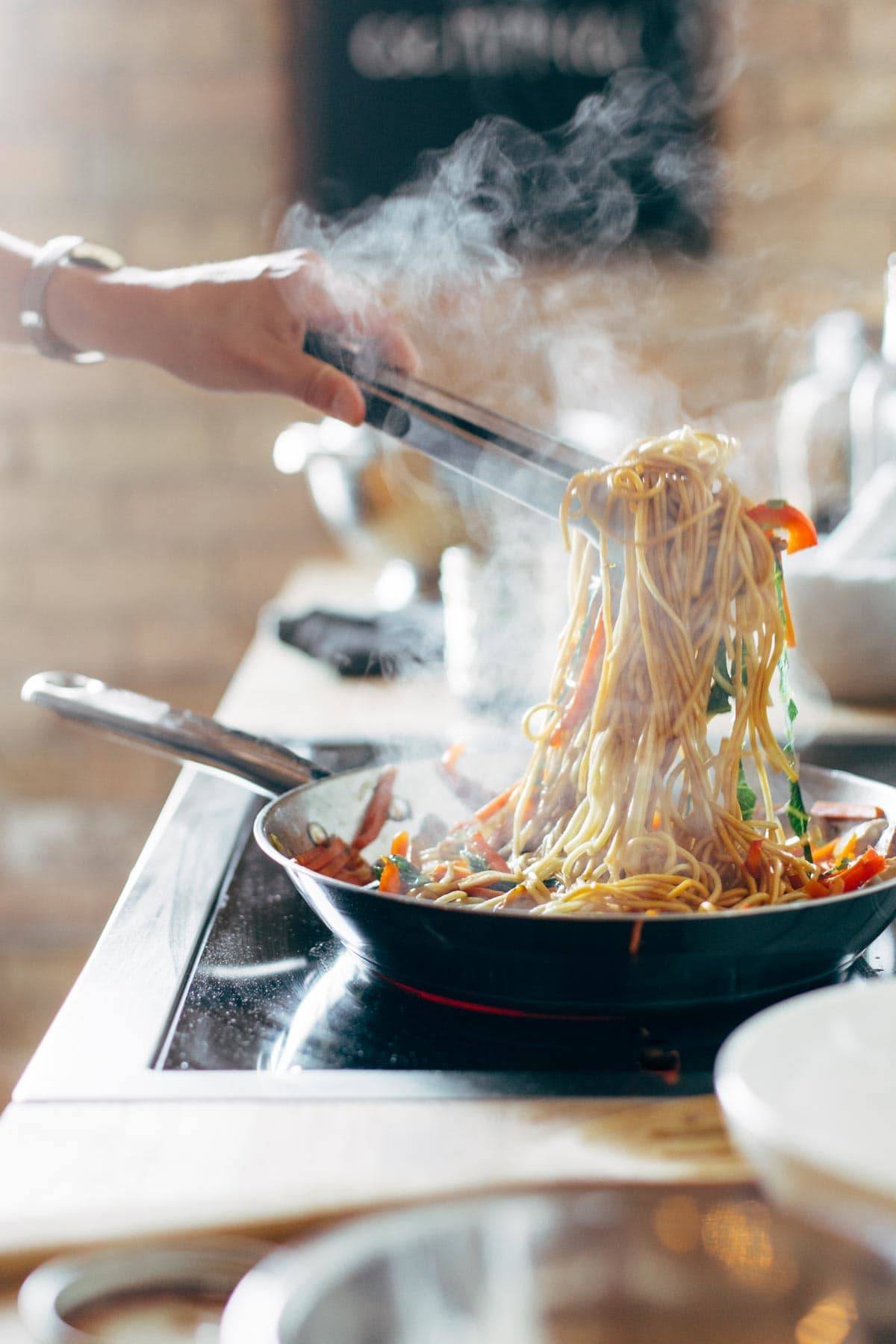 And in a quick flash of the pan, with the sauce and the noodles and the veggies all partying it up in there, we've reached the tippy top of the Lo Mein journey. The part where you wind those silky noodles up on a fork with a few pieces of caramelized pan-fried veggies and treat yourself right.
Easy Homemade Lo Mein, comin in hot!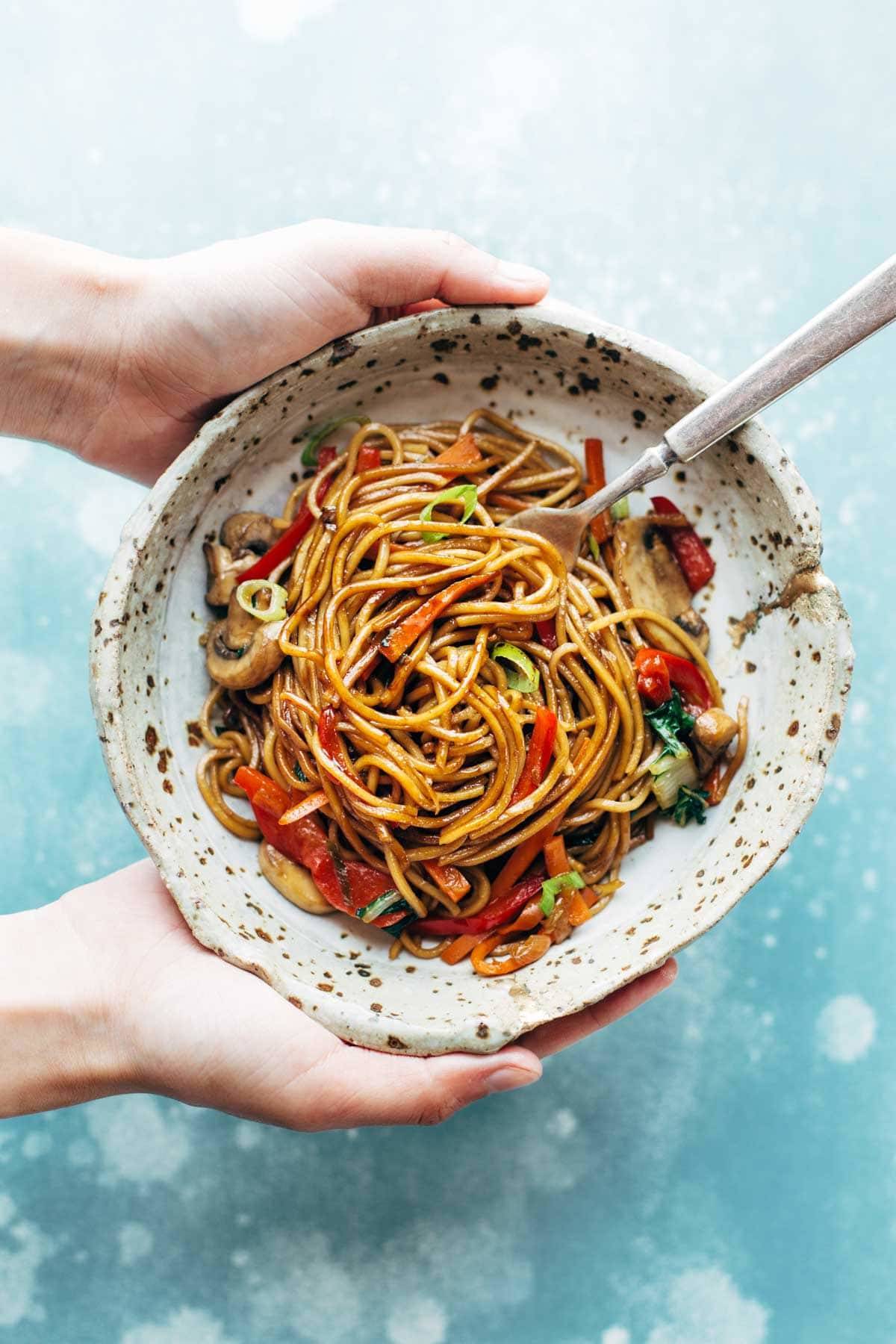 Print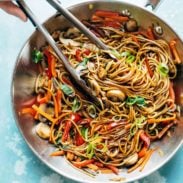 15 Minute Lo Mein
---
Description
15 Minute Lo Mein! Made with just soy sauce, sesame oil, a pinch of sugar, ramen noodles or spaghetti noodles, and any veggies or protein you like. SO YUMMY!
---
Sauce:
2 tablespoons

dark soy sauce (sub regular soy sauce if needed) (Affiliate link)

1 tablespoon

light soy sauce (sub regular soy sauce if needed) (Affiliate link)

3 tablespoons

oyster sauce

1 teaspoon

sesame oil

1 teaspoon

sugar

1

clove of garlic, grated (optional)
Lo Mein:
4

–

6

ounces

uncooked ramen noodles (Affiliate link)

1 tablespoon

sesame oil

3

green onions, chopped (separate green parts from white parts – you'll use both separately)

2

–

3

cups

julienne cut or chopped vegetables like carrots, red peppers, cabbage, bok choy, mushrooms, or broccoli

1

–

2

tablespoons mirin
---
Sauce: Shake all the sauce ingredients together in a jar.

Noodles: Cook the noodles according to package directions. Drain and set aside.

Lo Mein: Heat the sesame oil in a large wok or skillet. Add the green onions (white parts) and vegetables to the hot pan. Stir fry until fork-tender, about 5 minutes. Add the mirin to loosen the browned bits up off the bottom of the pan. Add the cooked noodles and about half of the sauce – toss around in the hot pan to combine. Add more sauce if needed (I usually gauge the amount of sauce I want by the color of the noodles – you want a medium brown color, not too light, not too dark). Serve topped with remaining green onions!

Equipment
The equipment section may contain affiliate links to products we know and love.
Notes
If you want to add a protein, stir fry it first, before the vegetables, then remove from heat while you cook the vegetables. Add back into the pan at the end with the noodles.
Prep Time:

5 minutes

Cook Time:

15 minutes

Category:

Dinner

Method:

Stovetop

Cuisine:

Asian
Keywords: lo mein, noodle stir fry, at-home takeout, vegetarian stir fry, vegan stir fry
Recipe Card powered by
More Delicious Noodle Recipes
---
Time To Show You Off!
Tag @pinchofyum on Instagram for a chance to be featured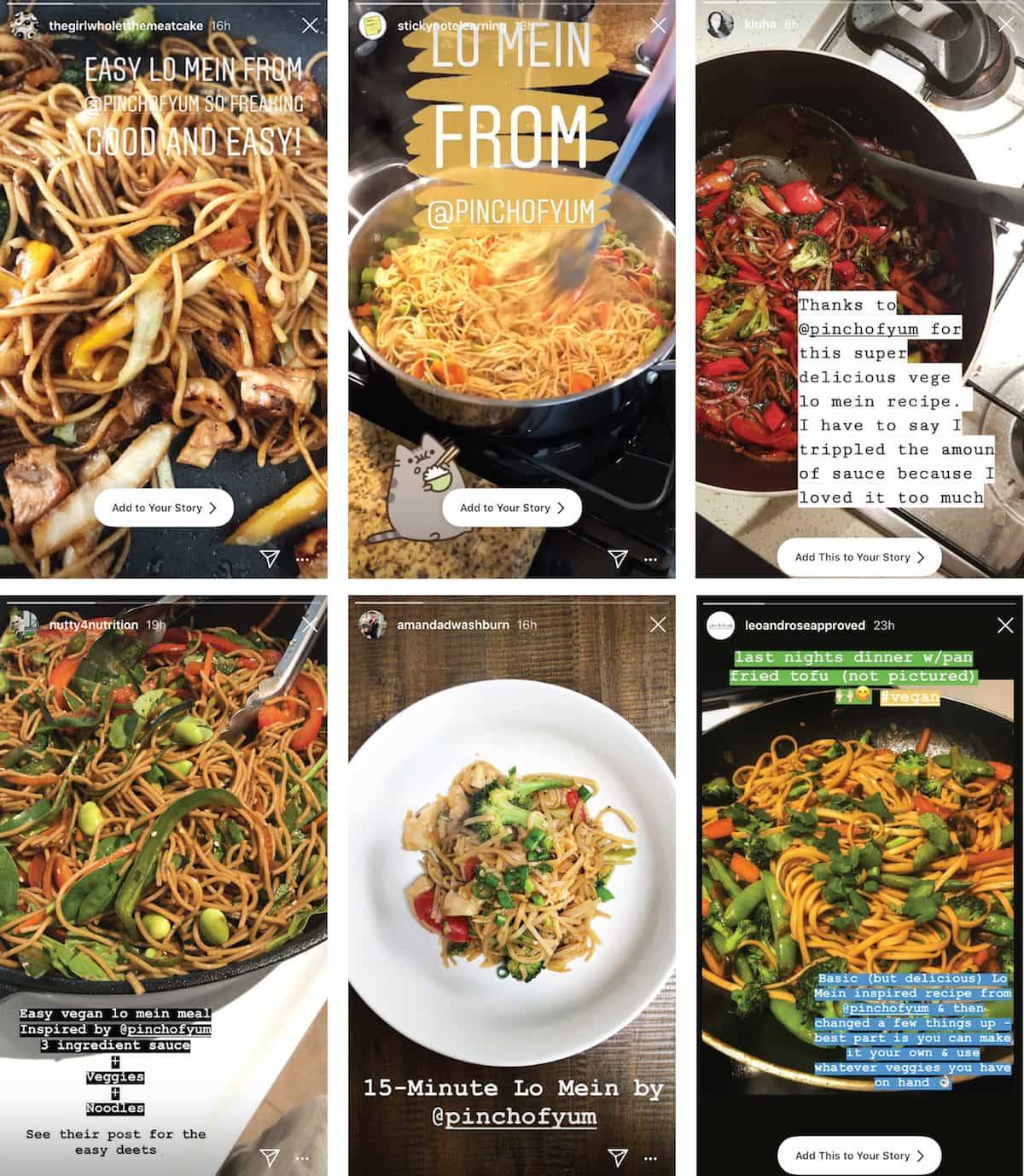 ---
One More Thing!
This recipe is part of our simple slurpable noodles page. Check it out!
The post 15 Minute Lo Mein appeared first on Pinch of Yum.