Good morning!
And I really mean GOOD MORNING, because mornings are a lot better when they include any one of these must-try healthy breakfast recipes.
Spring is the time when my body starts to say: enough oatmeal already. It's been cold forrrrever which means I've been eating oatmeal forrrrever which means oatmeal has taken over my life. But enough is enough.
I am SO ready for summery-feeling breakfasts that feature real foods and keep me really full all morning, like poached eggs with avocado and fresh tomato salad or almond oat crepes stuffed with bananas and drizzled with nut butter and maybe a tiny bit of Nutella.
My Favorite Healthy Breakfasts – Ready, Set, Go!
#1) SIMPLE POACHED EGG AND AVOCADO TOAST: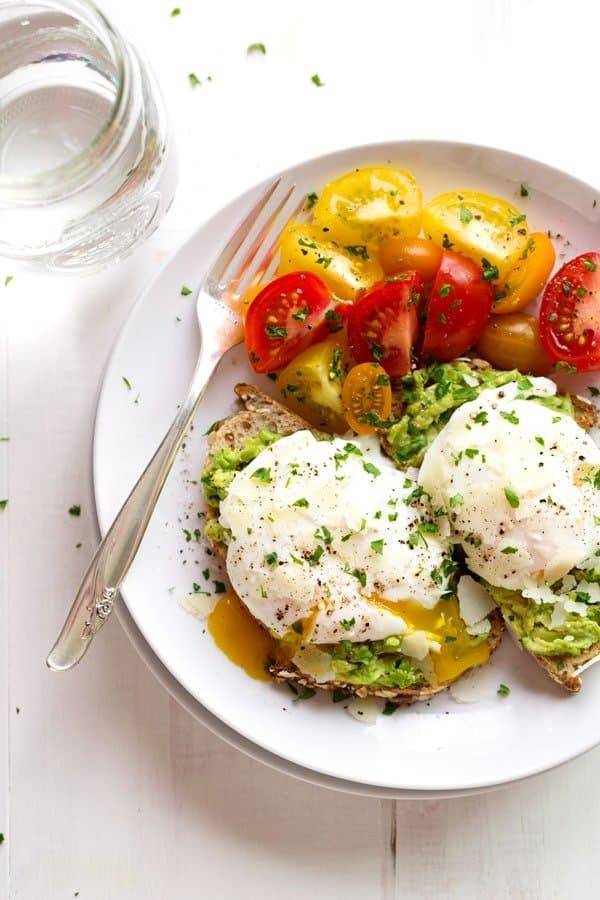 Who knew that poaching eggs was so easy? The simplicity in this breakfast makes it an irresistible morning staple – especially in the summer with those fresh tomatoes. Ahhhhyes.
#2) INNER GODDESS RASPBERRY BREAKFAST BOWLS: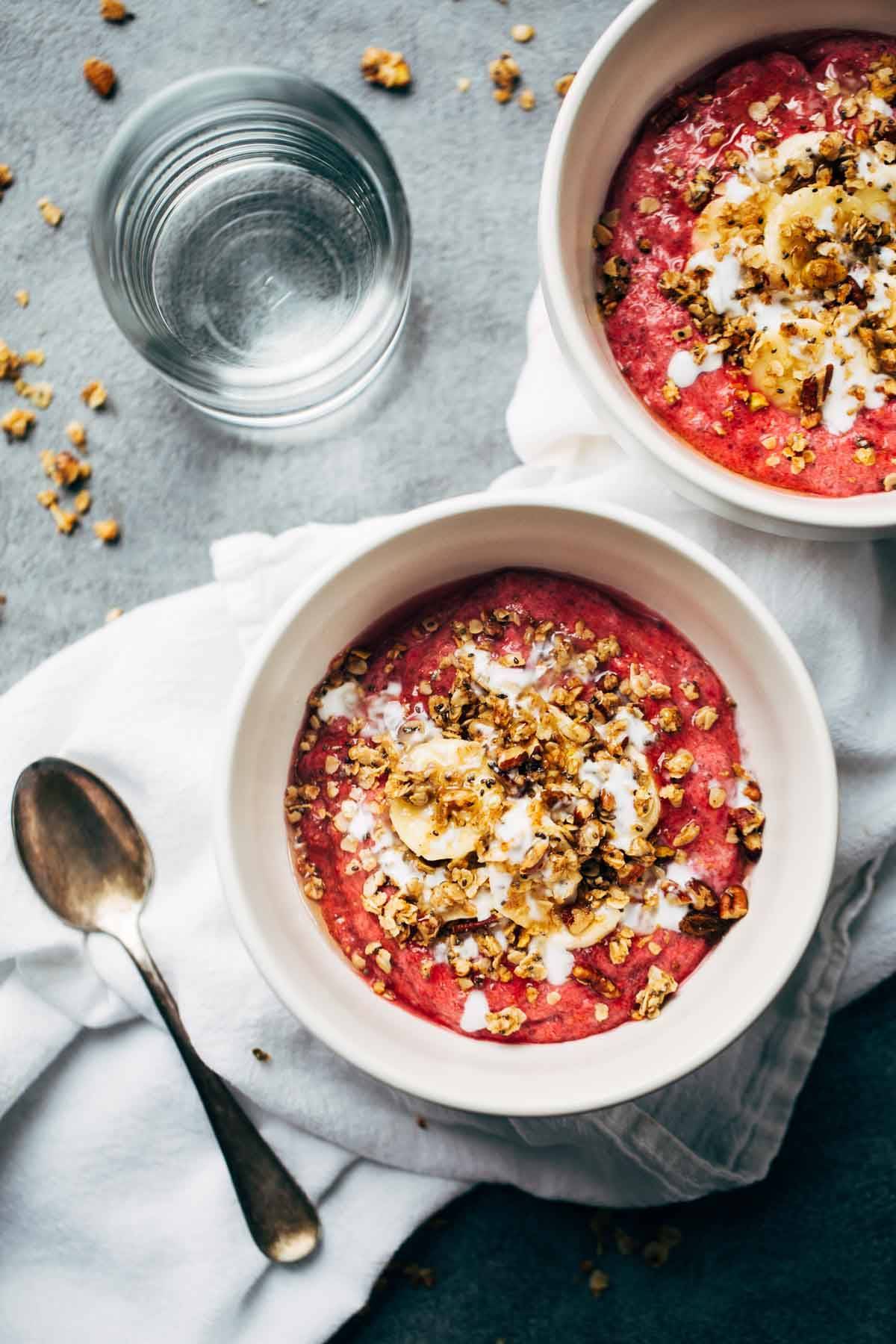 This gorgeous breakfast bowl is quick, easy, and convenient. It keeps in little jars in the fridge for super healthy breakfast on the go! Made from wholesome ingredients and bright red raspberries so it's filling and naturally sweet.
#3) HAM AND SAUSAGE HASH BROWN EGG BAKE:
Sometimes I, like, reeeeally love breakfast meats. Like sausage and bacon and ham, oh my. Here's one protein and flavor loaded breakfast for your breakfast table – this would be perfect for using up that Easter ham!
#4) CARAMALIZED BANANA OAT MUFFINS:
Hooray! Everything you want in a muffin is right here. No refined sugar and lots of healthy grains, oats, and bananas in these golden muffins.
#5) CINNAMON WHOLE GRAIN POWER PANCAKES: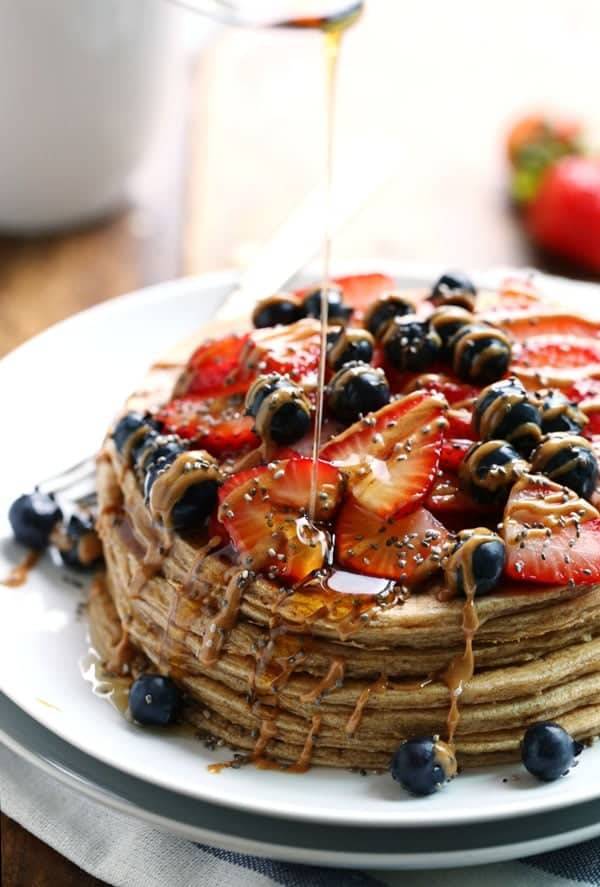 These pancakes are the only thing my best friend can get her 2-year-old to eat for breakfast. And me too. MINE MINE MINE.
Top this stack with your favorite fruit and you'll have one powerful pancake breakfast!
#6) REFINED SUGAR-FREE COCONUT OIL GRANOLA:
I could munch on this granola all day every day. Err, wait, I already do. Serve it with fruit, yogurt, or milk and have a yummy and filling granola breakfast.
#7) GOAT CHEESE SCRAMBLED EGGS WITH PESTO VEGGIES:
This coming from the girl who doesn't like scrambled eggs. But goat cheese is magic, I tell you. When you're looking for something savory and loaded with veggies for breakfast, this is the one.
And then I got fancy for breakfast! Made from almond flour and oat flour – so wholesome and good (and drizzled with Nutella).
#9) SIMPLE COCONUT GREEN SMOOTHIE:
Green smoothies are the answer to all my vegetable woes. This one is my current obsession – frozen peaches, coconut Bai5, spinach, and flax. Mmmm.
#10) SIX INGREDIENT SAUSAGE POTATO PIE:
A filling and savory breakfast pie loaded with shredded potatoes, kale, sausage, and baked in a yummy egg and cheese blanket. So simple – only 6 ingredients, you guys. WE CAN DO THIS.
#11) HIGH PROTEIN CARROT CAKE WAFFLES WITH MAPLE CREAM CHEESE GLAZE BY VEGGIE & THE BEAST
This is probably the sweetest way I can think of to eat root veggies. But there are the carrots! And a little maple cream cheese glaze? Like, I can't even talk about that because ♡♡♡.
#12) FRIED EGGS WITH BULGAR AND SPINACH BY A COUPLE COOKS
I love dressing up a plate of fried eggs with healthy and whole ingredients.
#13) COCONUT BANANA OATS BOWL WITH CRUNCHY BLACK SESAME SEED QUINOA CEREAL + MANGO BY HALF BAKED HARVEST
Okay, am I the only one who notices the chocolate drizzled on top? hiiiiiii lover. The texture and crunch in this breakfast bowl makes it a whole food breakfast treat.
#14) FARRO BREAKFAST BOWL WITH TUMERIC + SCALLION SCRAMBLED CHICKPEAS BY THE FIRST MESS
The turmeric. The chickpeas. I am crushing on this delicious vegan and whole-grain rich breakfast big time.
#15) VEGGIE BREAKFAST TACOS BY COOKIE + KATE
If you've ever wanted tacos for breakfast, first of all, you are my food spirit twin, and secondly, THIS is your recipe.
BONUS: WHOLE WHEAT BLUEBERRY MUFFINS
Blueberry Muffins made with wholesome whole wheat, frozen wild blueberries, and honey. Fresh out of the oven with a glass of milk and a strong Americano? HEAVEN.
The post 15 Must-Try Healthy Breakfast Recipes appeared first on Pinch of Yum.