15 of Our Best Sugar Free Recipes
Instant Pot Cauliflower Curry
Tender cauliflower, butternut squash, and red lentils cooked in a coconut-creamy red curry sauce and poured over a mini-mountain of steamy rice. YUM.
cauliflower, squash, red lentils, red curry paste, coconut milk
Golden Soup
Cozy, bright, and healing with power-foods like turmeric, cauliflower, and cashews. Topped with crispy chickpeas. Super creamy and SO GOOD.
cauliflower, cashews, turmeric, lemon juice
Spicy Sofritas Tofu
Spicy Sofritas Tofu, like homemade Chipotle! Think spicy peppers, garlic, tomatoes, and fresh cilantro in a flavorful simmer sauce for your tofu.
tofu, poblano pepper, chipotle peppers in adobo sauce
Summer Chipotle Chicken Cobb Salad with Cilantro Vinaigrette
This juicy salad tastes like summer! With chipotle chicken, sweet corn, avocado, cilantro vinaigrette, bacon crumbles, and fresh strawberries for a pop of sweetness. 
chicken breasts, bacon, strawberries, corn on the cob, avocados, chipotle chiles in adobo sauce, cilantro
Roasted Cauliflower Burrito Bowls
Nothing fancy to see here – just a healthy, delicious, vegan burrito bowl combo featuring spicy roasted cauliflower, pico de gallo, creamy refried black beans, rice, corn, avocado, and a good lime drench.
cauliflower, black beans, tomatoes, corn, onion, avocado, cilantro
Super Quick Avocado Shrimp Salad
Avocado Shrimp Salad packed with chilled poached shrimp, fresh dill, creamy avocado, and a nice big lemon drench.
shrimp, avocado, lemon, fresh dill, cucumber
Yummy Salmon Burgers with Slaw
These salmon burgers are THE YUMMIEST! and made with just five ingredients. The best for a quick + easy high protein lunch or dinner.
salmon, breadcrumbs, green cabbage, Greek yogurt, fresh herbs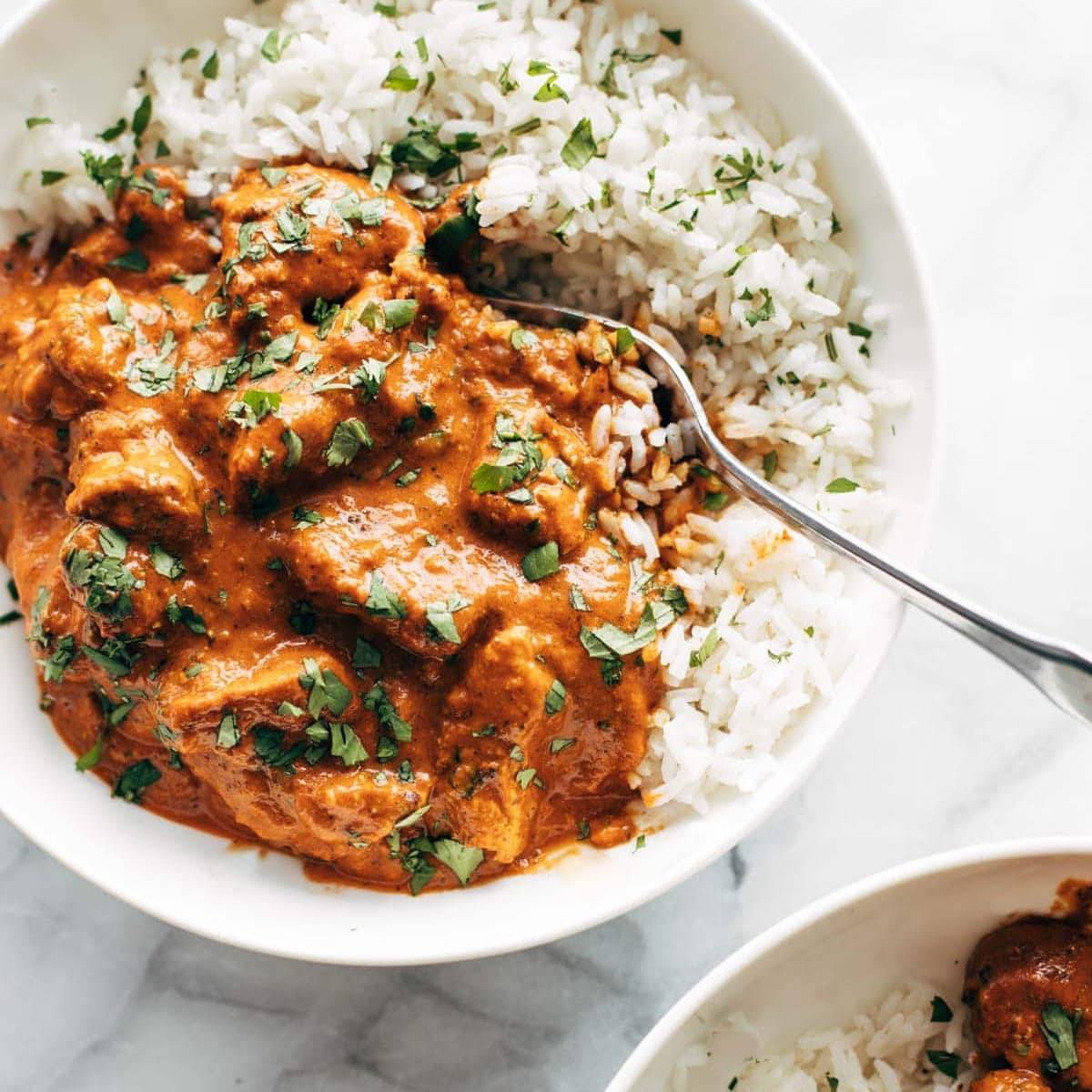 Chicken Tikka Masala
Creamy, perfectly spicy Chicken Tikka Masala, and ready in 30 minutes! You won't believe how easy it is.
chicken breasts, masala paste, plain yogurt, tomato puree, heavy cream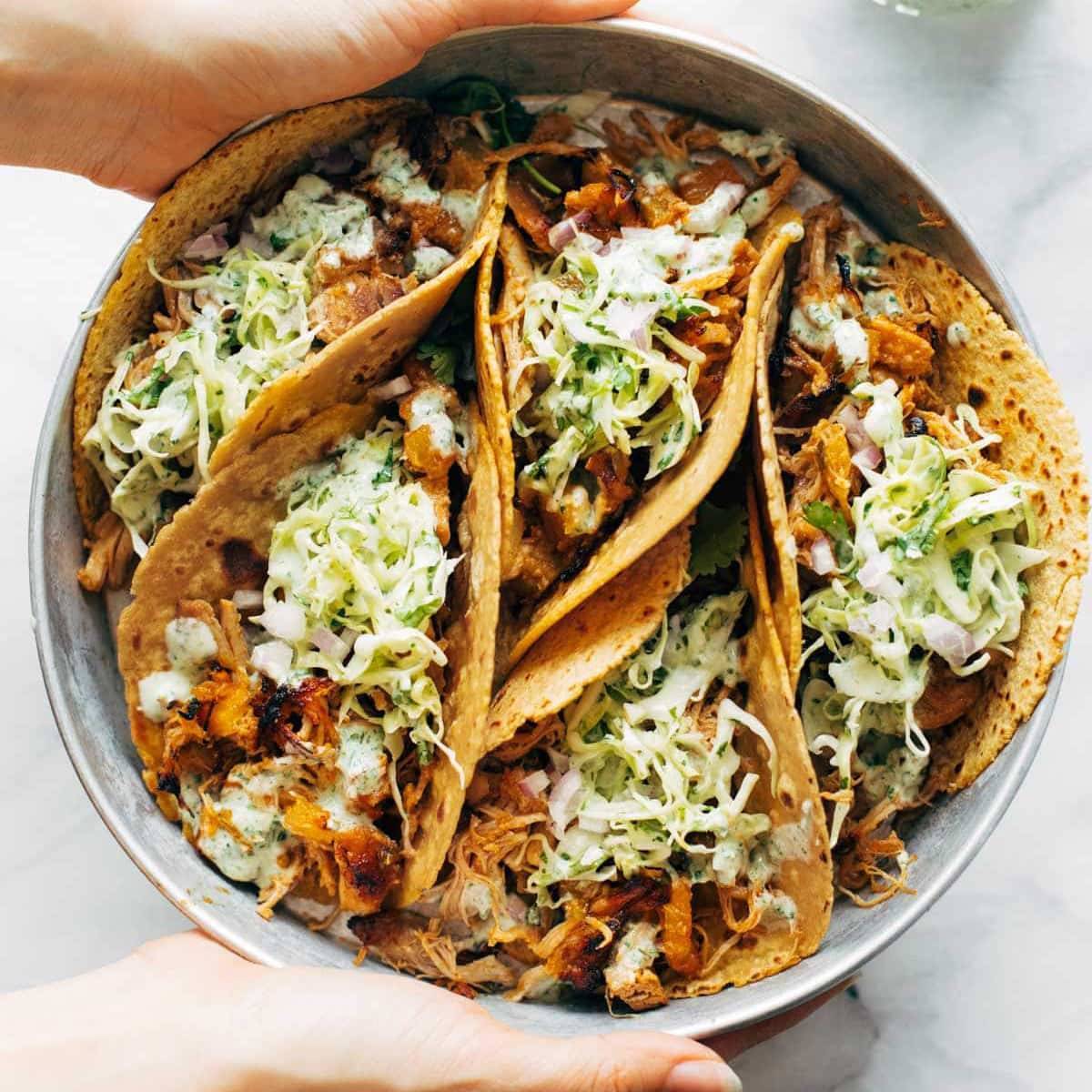 Instant Pot Hawaiian Chicken Tacos with Jalapeño Ranch Slaw
Juicy pineapple and spiced chicken crisped under the broiler, tucked into tortillas, and rolled up with creamy jalapeño ranch slaw.
chicken thighs, pineapple, jalapeño, sriracha, mayonnaise, fresh herbs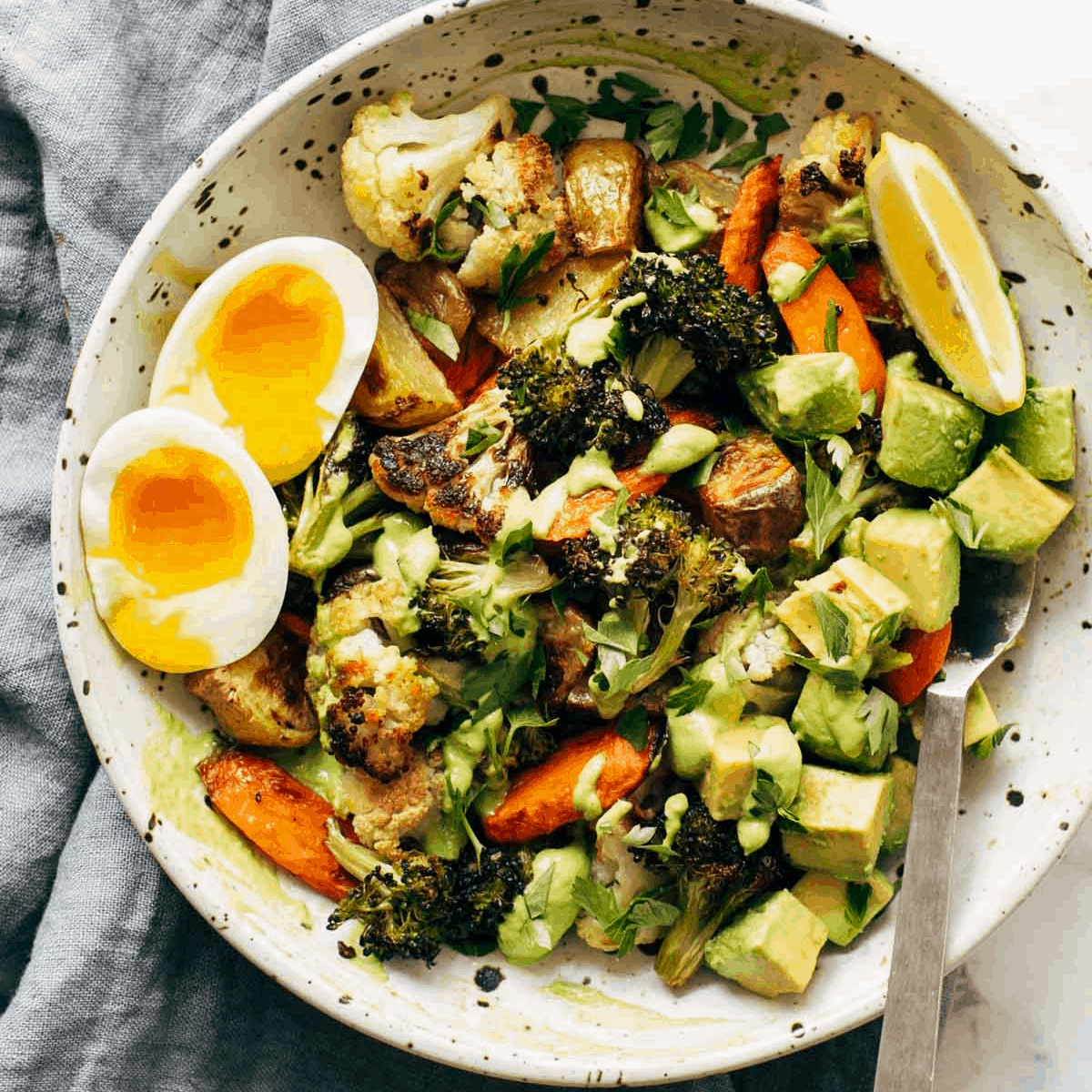 Roasted Vegetable Bowls with Green Tahini
Roasted Vegetable Bowls! Crispy tender roasted veggies, buttery avocado, all together in a bowl with a drizzle of green tahini sauce.
carrots, golden potatoes, broccoli, cauliflower, tahini, cilantro
Red Pepper Cashew Pasta with Roasted Cauliflower
Red Pepper Cashew Pasta with Roasted Cauliflower. TOO GOOD TO EVEN BE TRUE. This sauce is a three-ingredient game-changer!
cauliflower, cashews, roasted red peppers, whole wheat pasta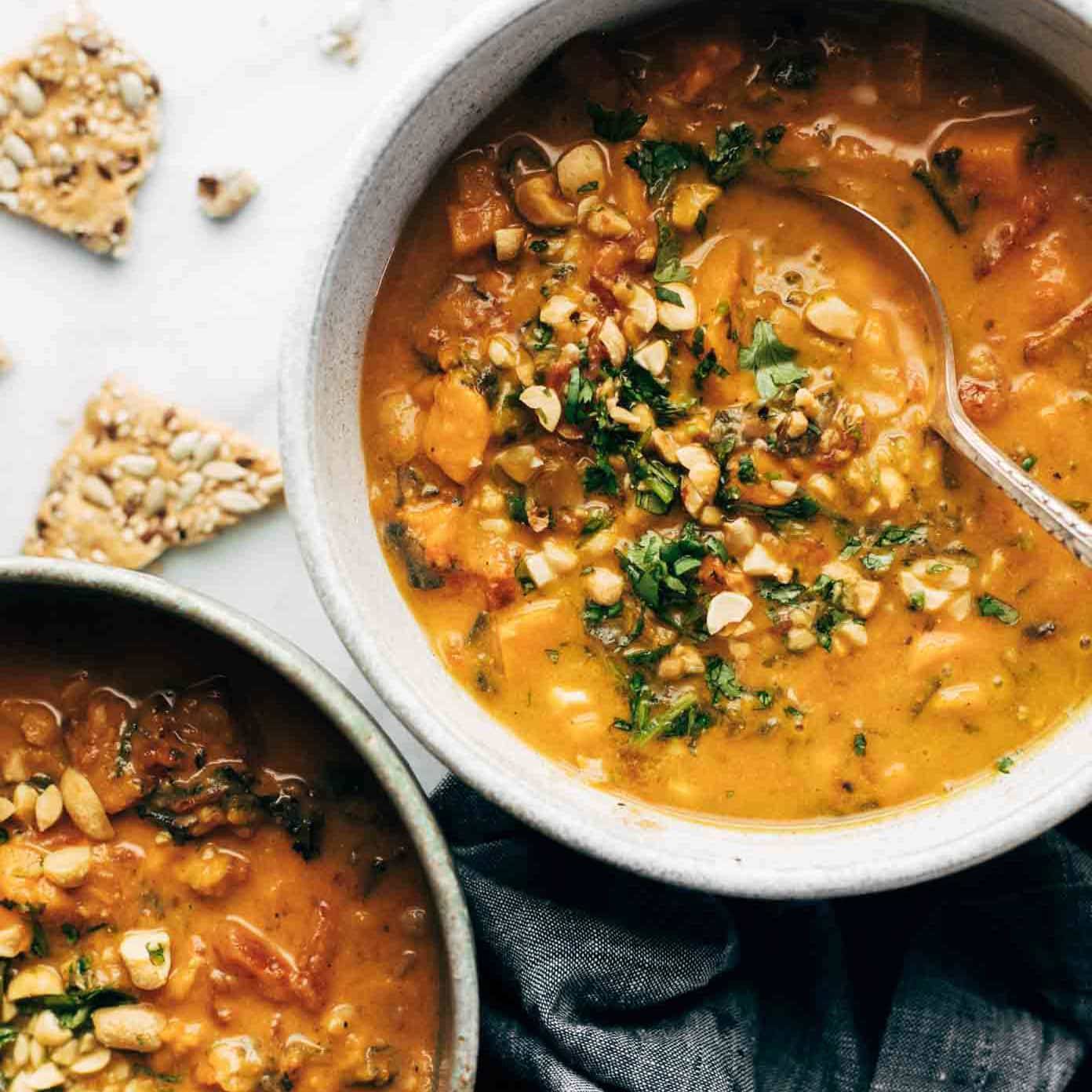 Spicy Peanut Soup with Sweet Potato + Kale
Comforting and SUPER nutritious. Naturally vegan, gluten free, refined sugar free, ALL THE GOOD THINGS.
jalapeño, sweet potatoes, light coconut milk, peanuts, peanut butter, kale
Quick and Easy Spiced Chickpea Bowl
Spiced Chickpea Bowl: clean eating meets comfort food!
chickpeas, onion, garlic, fire-roasted diced tomatoes, cucumbers, mint
Avocado Kale Caesar Salad + Sweet Potato Fries
Kale, avocado, and crunchy seeds drenched in a quick creamy avocado caesar dressing. Toss some crispy sweet potato fries in are you are SET FOR LIFE.
kale, avocado, Parmesan cheese, mayonnaise, sweet potatoes
Simple Mushroom Penne with Walnut Pesto
Simple Mushroom Penne with Walnut Pesto – made with easy ingredients like Parmesan cheese, whole wheat penne, mushrooms, garlic, and butter. 
penne pasta, butter, mushrooms, Parmesan cheese, basil
One More Thing!
Looking for even more big flavor recipes without refined sugar? Check out a list of all of our sugar-free recipes!
The post 15 of Our Best Sugar Free Recipes appeared first on Pinch of Yum.