15 Peak Season Fresh Tomato Recipes
Roasted Tomato Puttanesca
The easiest Roasted Tomato Puttanesca with all the silky, all the briney, and all the zippy summer freshness. Roast up your veggies on a sheet pan, blend into a sauce, and toss it with your noodles. Hello dinner!
spaghetti, cherry tomatoes, mushrooms, capers, butter, onion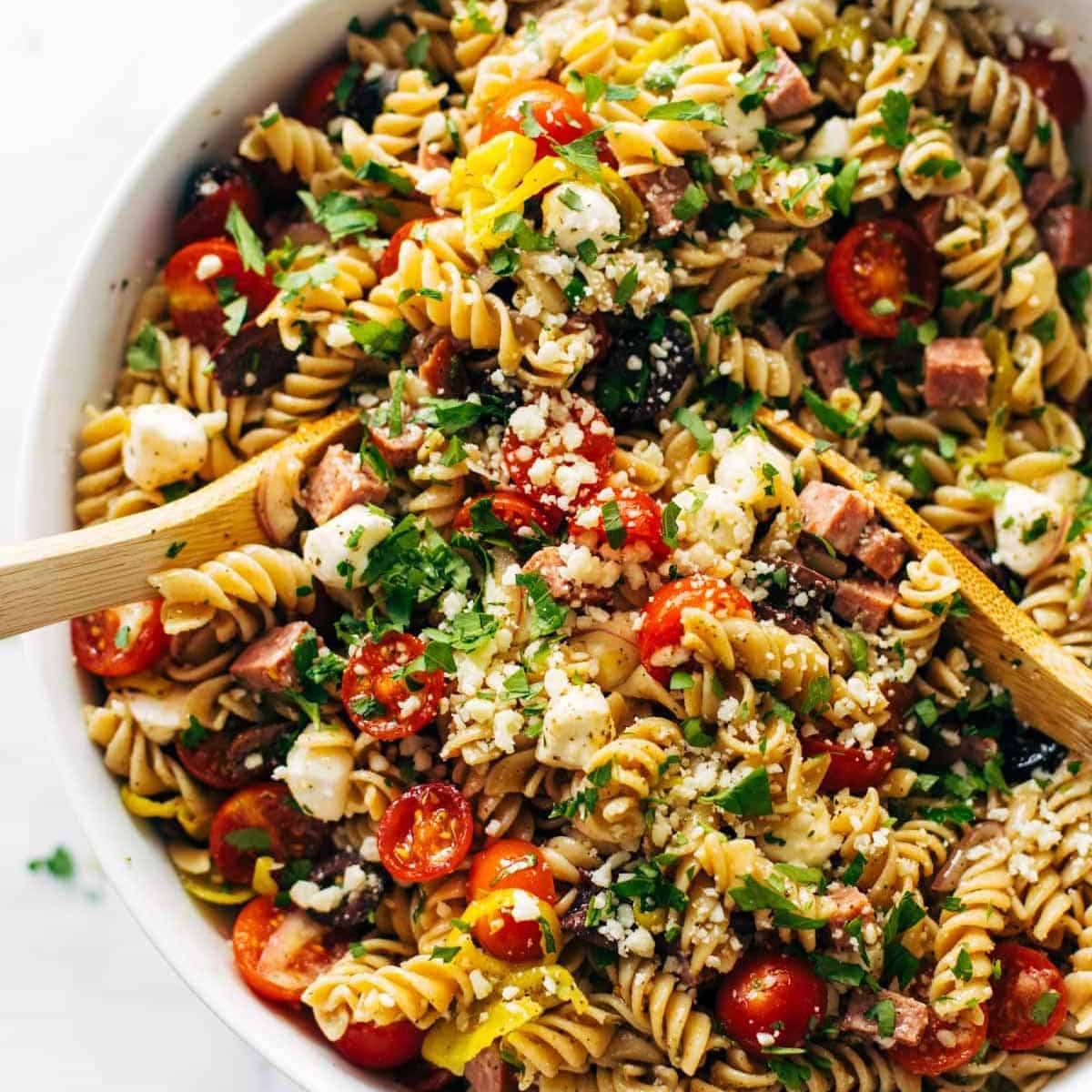 The Best Easy Italian Pasta Salad
Super easy Italian Pasta Salad – with pasta, tomatoes, fresh mozzarella, spicy salami, pepperoncini, olives, and easy Italian dressing. DANGEROUSLY GOOD.
pasta, summer sausage, cherry tomatoes, mozzarella cheese, olives, pepperoncini, Italian dressing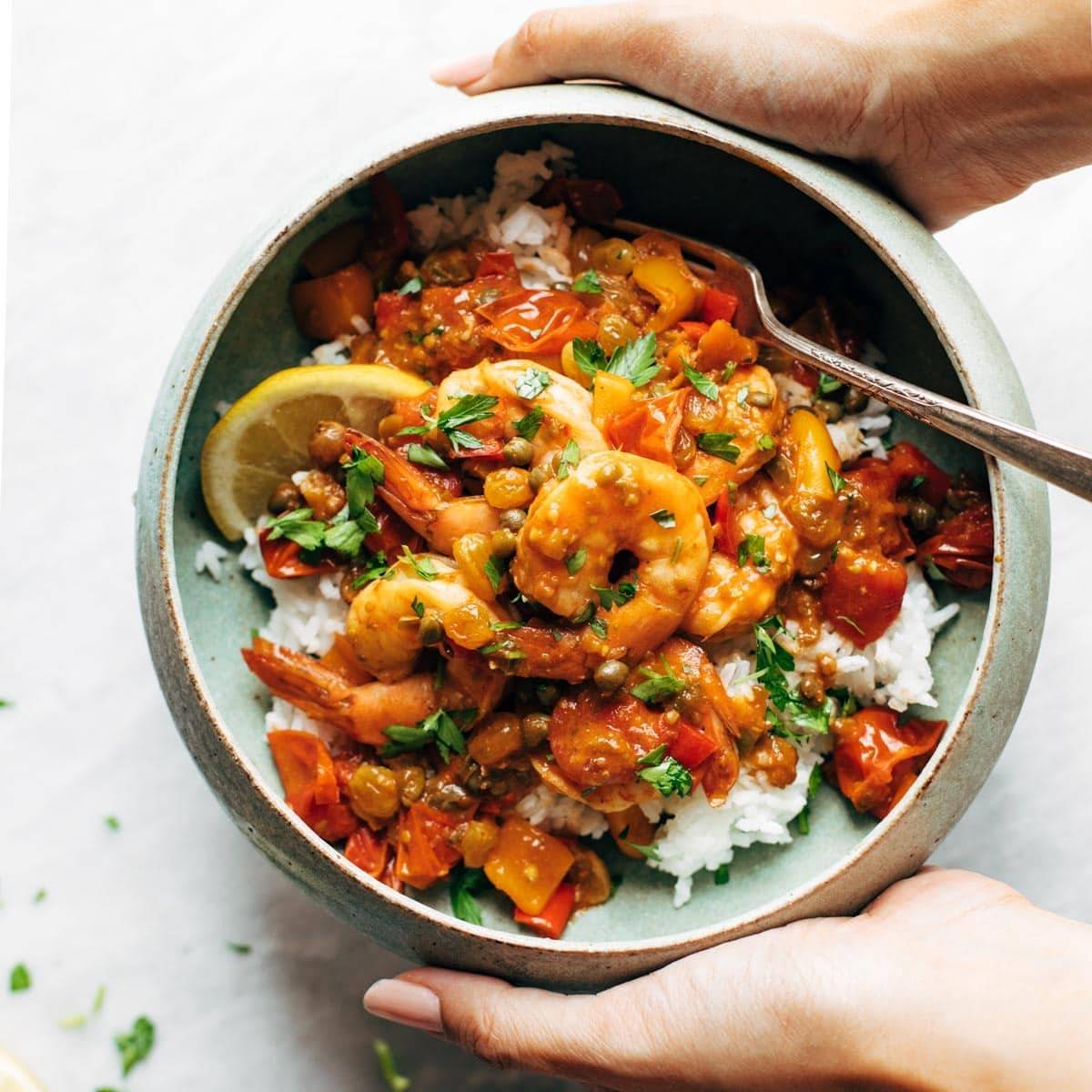 Spicy Shrimp Veracruz
One of our favorite shrimp recipes! Juicy shrimp in a pepper / tomato spicy, briny sauce served over rice. SO GOOD.
shrimp, mini peppers, cherry tomatoes, pickled jalapeños, capers, golden raisins
Green Goddess Quinoa Summer Salad
Simple, healthy, and extremely adaptable to whatever veggies you have on hand! My family LOVES this recipe.
quinoa, spinach, cherry tomatoes, magic green sauce
Loaded Caprese Grilled Cheese
This Caprese Grilled Cheese is loaded with basil pesto, a thick and chunky garlic butter tomato sauce, and fresh mozzarella cheese, all on grilled sourdough bread. The perfect taste of summer.
mozzarella cheese, sourdough bread, butter, pesto, tomatoes
The La Chop
The LA Chop! The best crunchy rainbow salad with all the flavors, colors, and textures of summer. All tossed with a punchy lemon vinaigrette!
lettuce, cherry tomatoes, mozzarella, salami, pepperoncini, red onion, chickpeas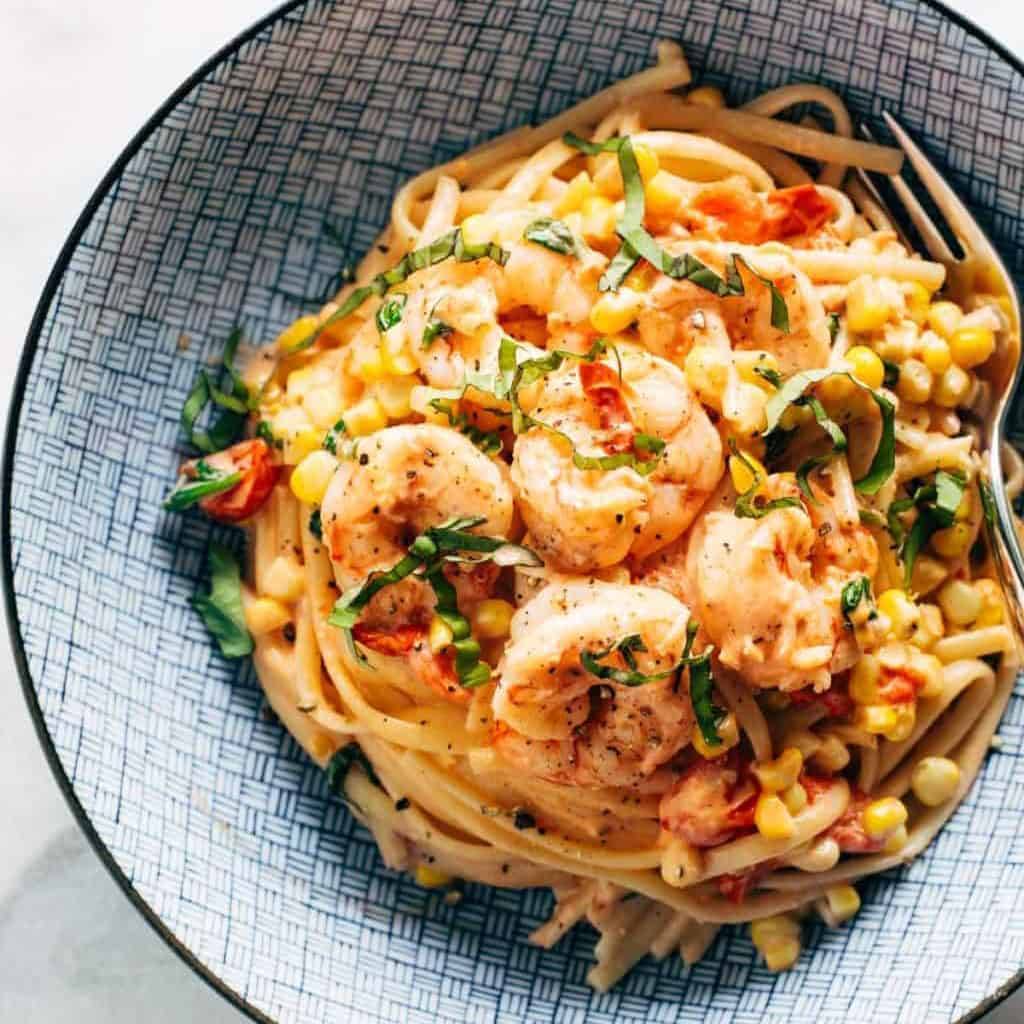 Creamy Shrimp Pasta with Corn and Tomatoes
A seriously delicious fresh summer pasta. Creamy, silky noodles, garlicky shrimp, and a punch of fresh corn, cherry tomatoes, and basil.
shrimp, linguine, cherry tomatoes, heavy cream, corn, spinach
Roasted Cauliflower Hummus Bowls
These Roasted Cauliflower Hummus Bowls are LIFE-CHANGING. A bed of garlicky creamy hummus, piled high with spiced roasted cauliflower, and a speckling of fresh lemony tomatoes and herbs.
cauliflower, chickpeas, lemons, olive oil, fresh parsley, tomatoes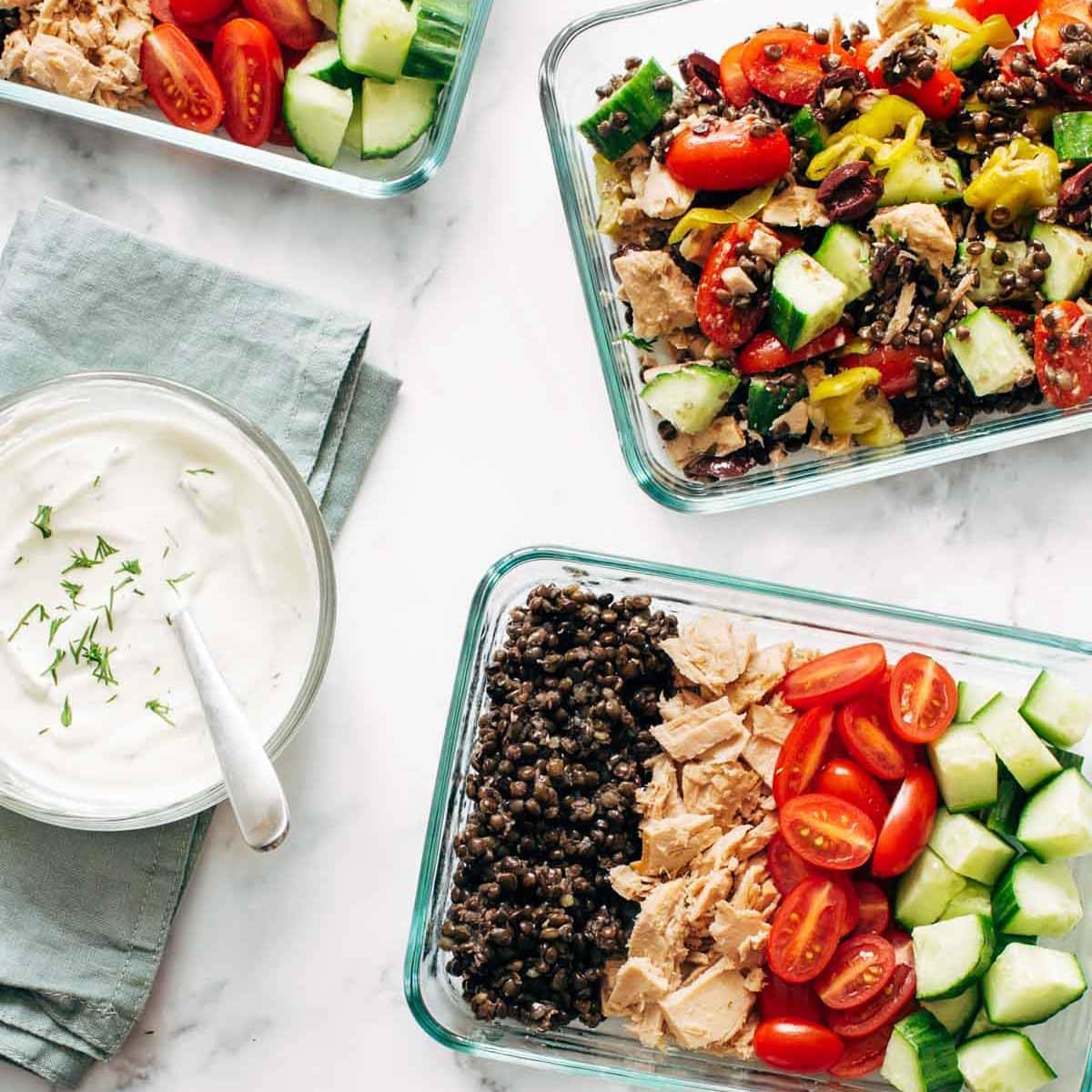 Lentil Greek Salad with Dill Sauce
Meal Prep Lentil Greek Salad! Lentils, tomatoes, cucumbers, pepperoncini, kalamatas, and a big dollop of homemade fresh dill yogurt sauce. YUM.
lentils, tuna, cherry tomatoes, cucumber, Greek yogurt, fresh dill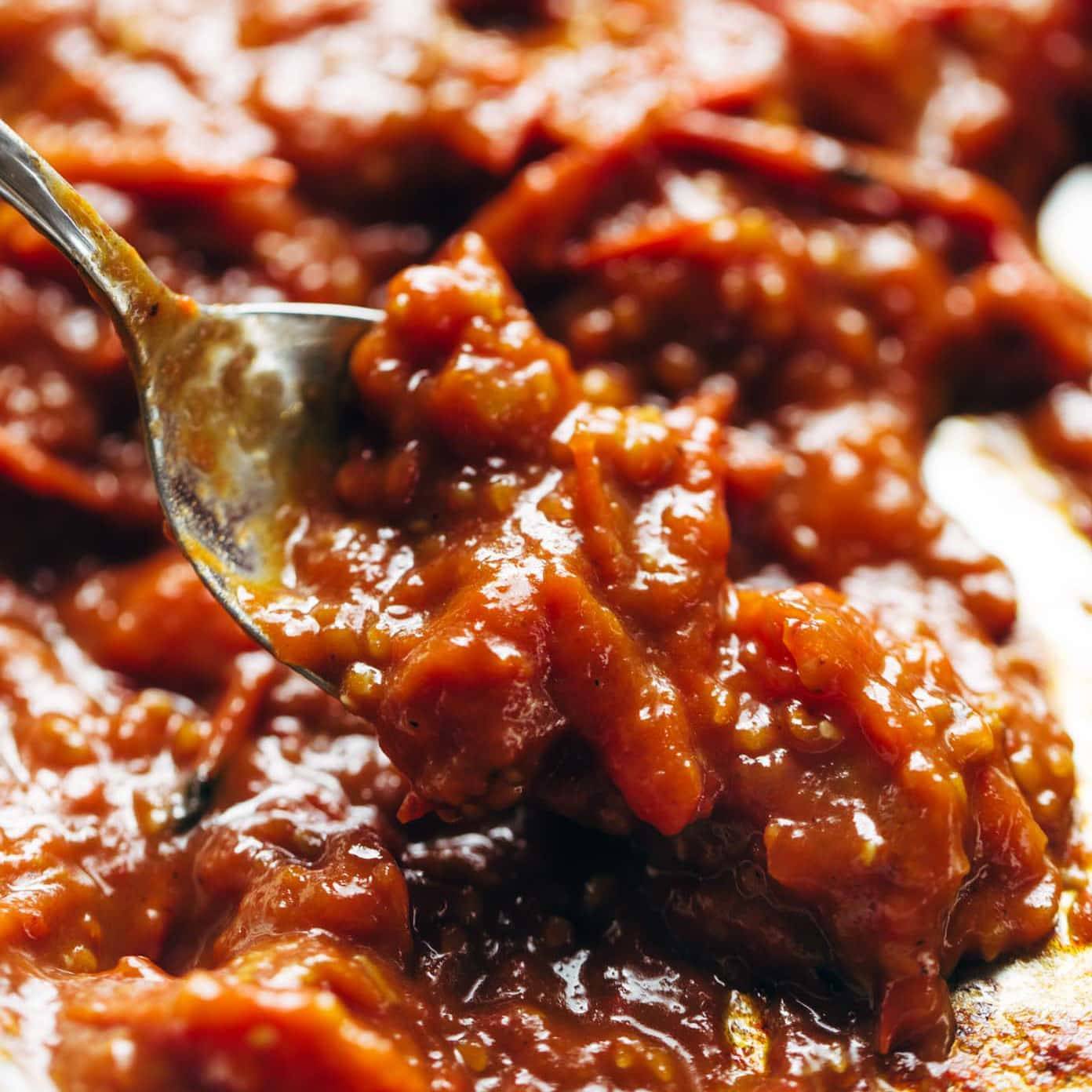 Basic Garlic Butter Tomato Sauce
Creamy Tomato Risotto with Pan Fried Basic Garlic Butter Tomato sauce made with cherry tomatoes, garlic, balsamic, and butter. SO simple, good on everything.
tomatoes, garlic, balsamic vinegar, butter
Sunshine Lentil Bowls with Garlic Olive Oil Dressing
Sunshine Lentil Bowls featuring garden produce like green beans, tomatoes, herbs, roasty potatoes, soft scrambled eggs with goat cheese, and lentils!
lentils, potatoes, green beans, tomatoes, dill, eggs, goat cheese
5-Minute Romesco Sauce
The easiest romesco sauce! Ready in 5 minutes and perfect for serving with grilled chicken, vegetables, crispy potatoes, eggs, and more. 
roasted red peppers, tomatoes, almonds, parsley, garlic, lemon juice
Garlic Butter Capellini Pomodoro with Shrimp
Simple prep, easy ingredients, and super fresh and tasty. Ready in 30 minutes!
shrimp, capellini pasta, cherry tomatoes, garlic, butter, fresh basil
Burst Tomato and Zucchini Spaghetti with Avocado Sauce
Burst Tomato and Zucchini Spaghetti tossed with a simple, creamy, vegan avocado sauce. This healthy recipe is ready in 30 minutes!
zucchini, cherry tomatoes, avocado, flat leaf parsley, green onions, lemon
Summer Bliss Bowls with Sweet Potato Fritters and Jalapeño Ranch
A favorite summer bowl! And you will not BELIEVE how easy the 5 ingredients fritters are!
sweet potato, brown rice, spinach, tomatoes, corn, dill, jalapeño ranch
One More Thing!
Looking for even more ways to use juicy tomatoes? Check out a list of all of our tomato recipes!
The post 15 Peak Season Fresh Tomato Recipes appeared first on Pinch of Yum.