Corn, Avocado, and Quinoa Salad with Marinated Tomatoes
Already a bright, nutty, summer special with fresh sweet corn, buttery avocado, salty cotija and fresh herbs. But we've gotta tell ya, those marinated tomatoes on top? WOWOWOW. What a star.
quinoa, corn, marinated tomatoes, avocados
Goddess Curry Chicken Salad
Hey, we're not telling you what to pack for lunch except YES WE ARE PLEASE PACK THIS CLEAN PERFECT CRISP MAYO-FREE CURRY CHICKEN SALAD. The chicken is beautiful, the texture is dreamy, the crunch is just what everyone needs.
chicken, curry powder, golden raisins, pistachios, honey, Greek yogurt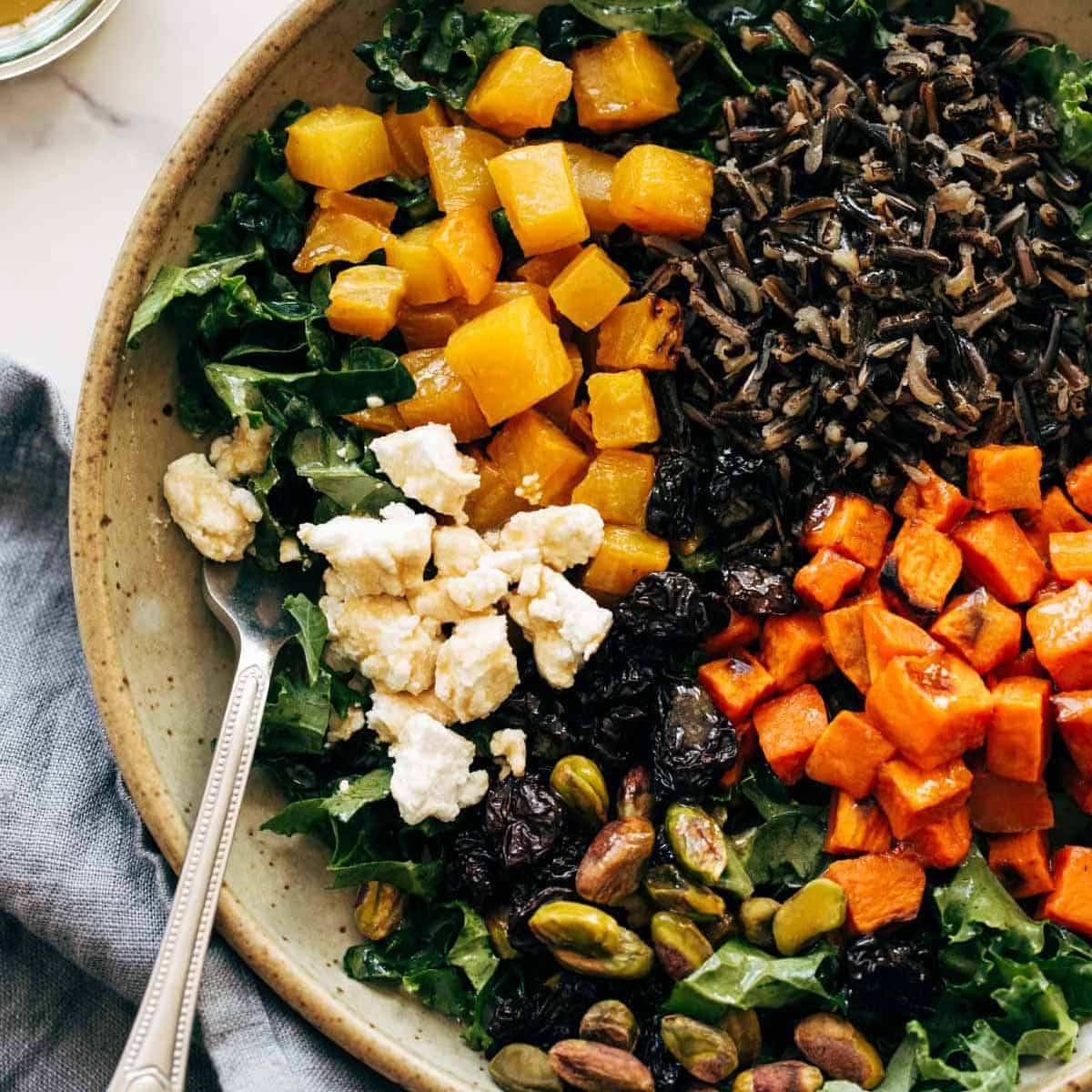 Winter Grain Bowl with Balsamic Dressing
Love a super versatile colorful bowl that feels salady and wintery all at once, is super easy to meal prep, nutrition packed and totally delicious hot or cold? Great, yes, us too.
beets, sweet potatoes, wild rice, kale, pistachios, goat cheese, balsamic vinegar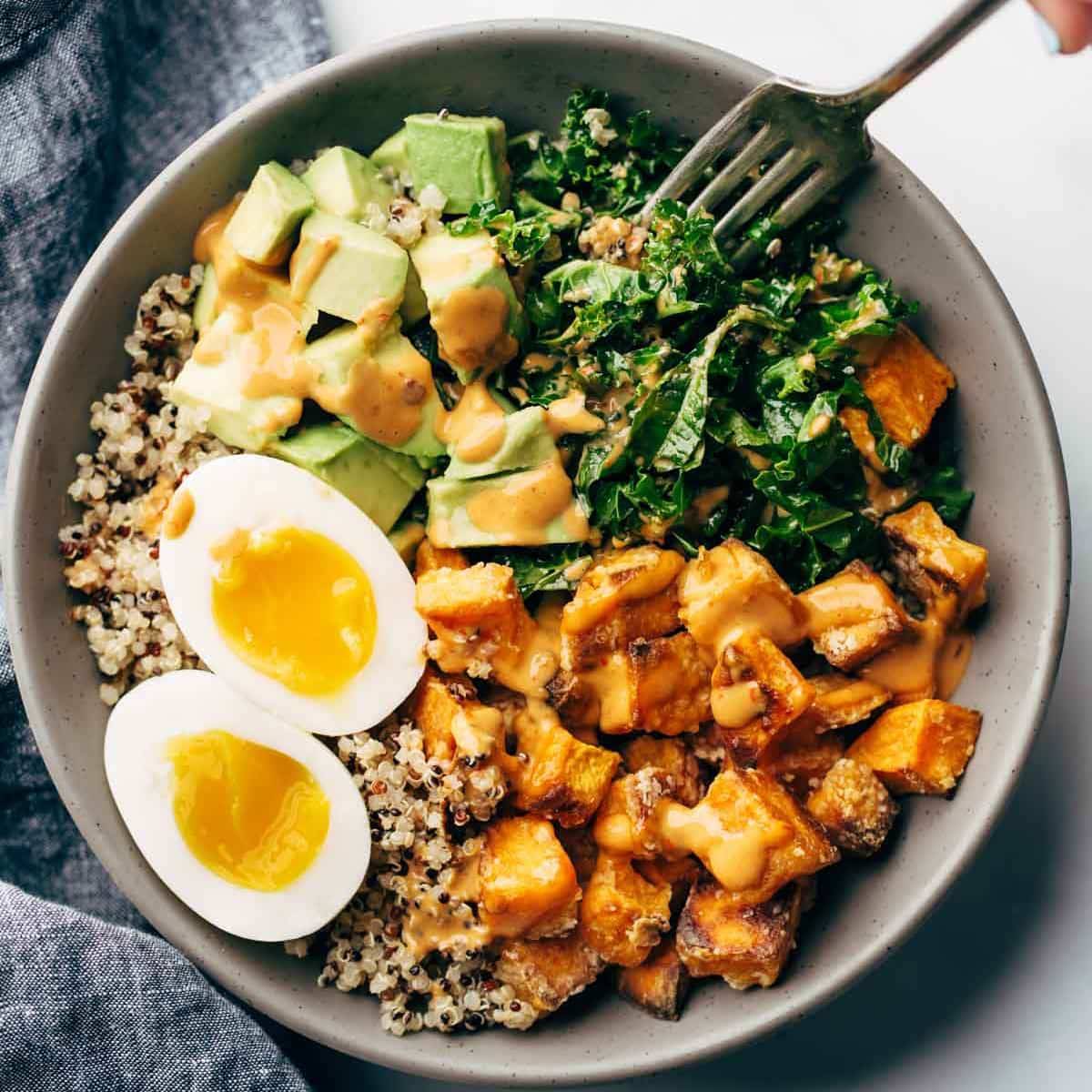 Chipotle Tahini Bowls
A super versatile clean-your-fridge-out bowl option, BUT if we can convince you to include toasty-crisp sweet potatoes, kale, avocado and a perfect soft-boiled egg, you would not be mad! Just make sure it's all swirling in that vegan chipotle tahini sauce.
sweet potatoes, kale, tahini, chipotles in adobo sauce, avocado, eggs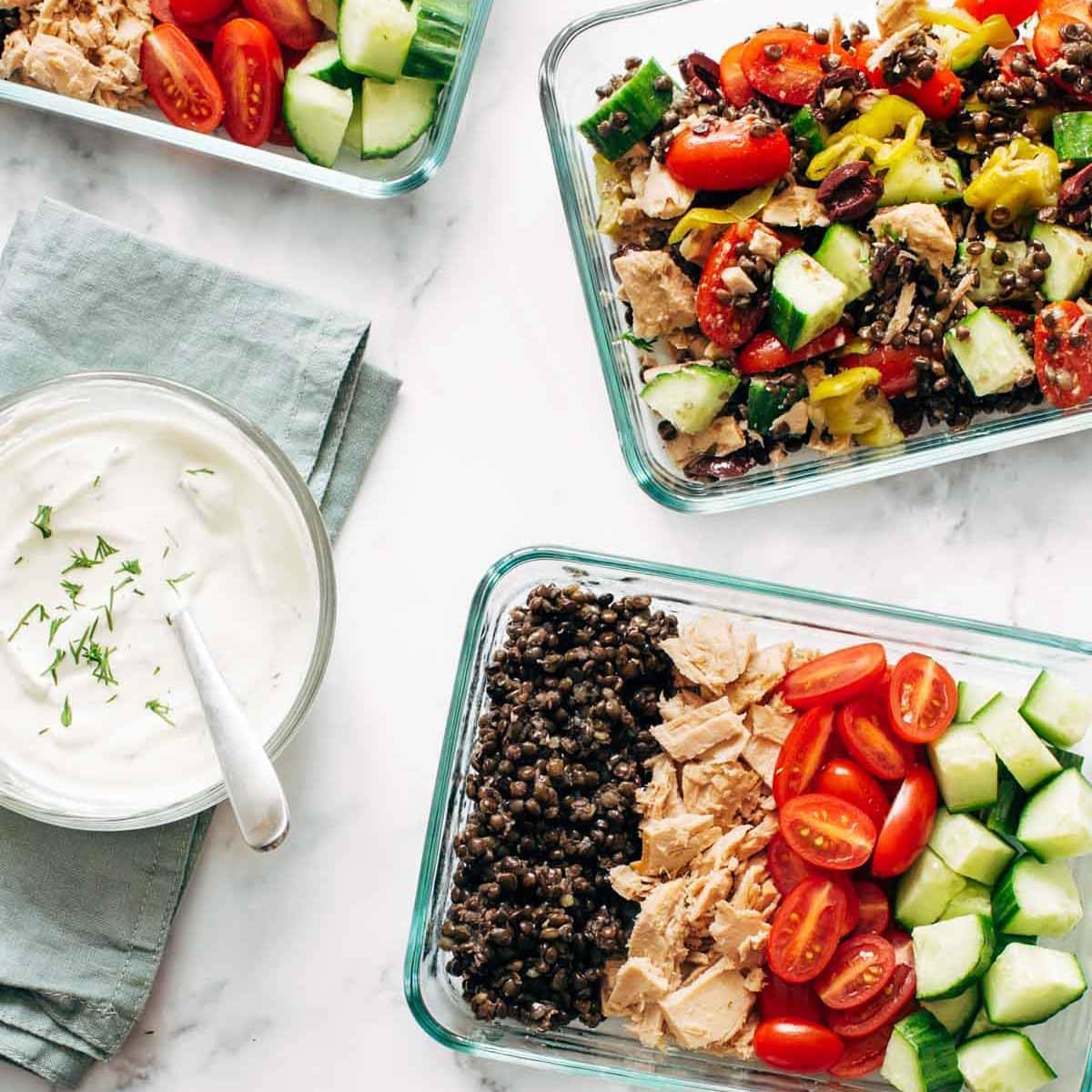 Lentil Greek Salad with Dill Sauce
With its bright cherry tomatoes, fresh cukes and velvety black lentils, it's the real belle of the lunch ball. And we haven't even mentioned that homemade fresh dill yogurt sauce yet.
lentils, tuna, cherry tomatoes, cucumber, Greek yogurt, fresh dill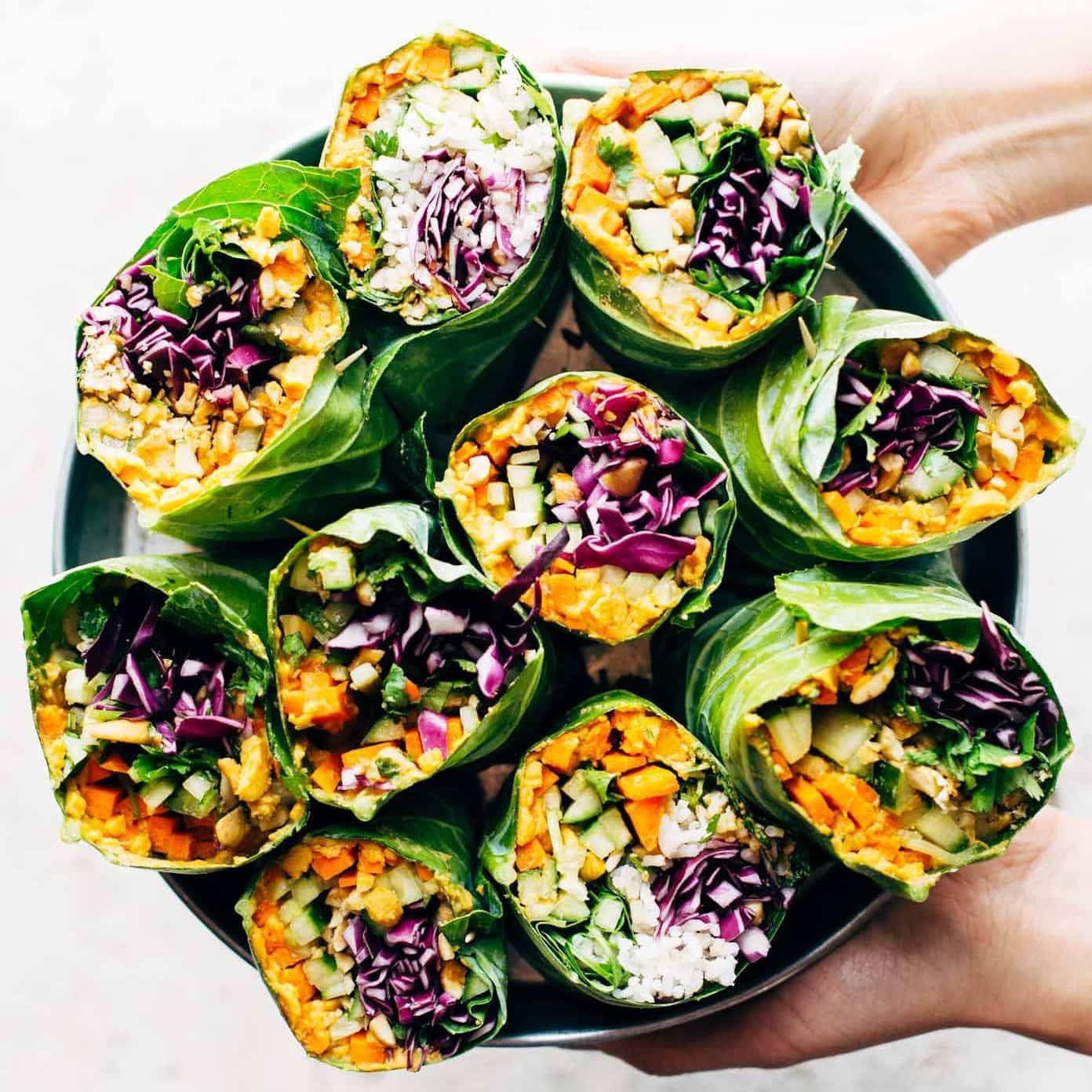 Detox Rainbow Roll-Ups with Peanut Sauce
This nutritional powerhouse is packed with carrots, curry hummus, red cabbage and dark leafy greens for color, crunch and general yumminess. And then, you know, dip it in some amazing peanut sauce because dreams *can* come true.
carrots, cucumbers, red cabbage, curry hummus, collard greens, peanut butter, soy sauce
Spring Roll Bowls with Sweet Garlic Lime Sauce
We've made fresh spring rolls in fork and bowl form! Pile those noodles sky high with fresh veg, a protein if you like and then soak them in sweet lime garlic dreamsauce and an aggressive amount of herbs.
rice noodles, basil, mint, garlic, carrots, bell peppers, fish sauce, avocado, lime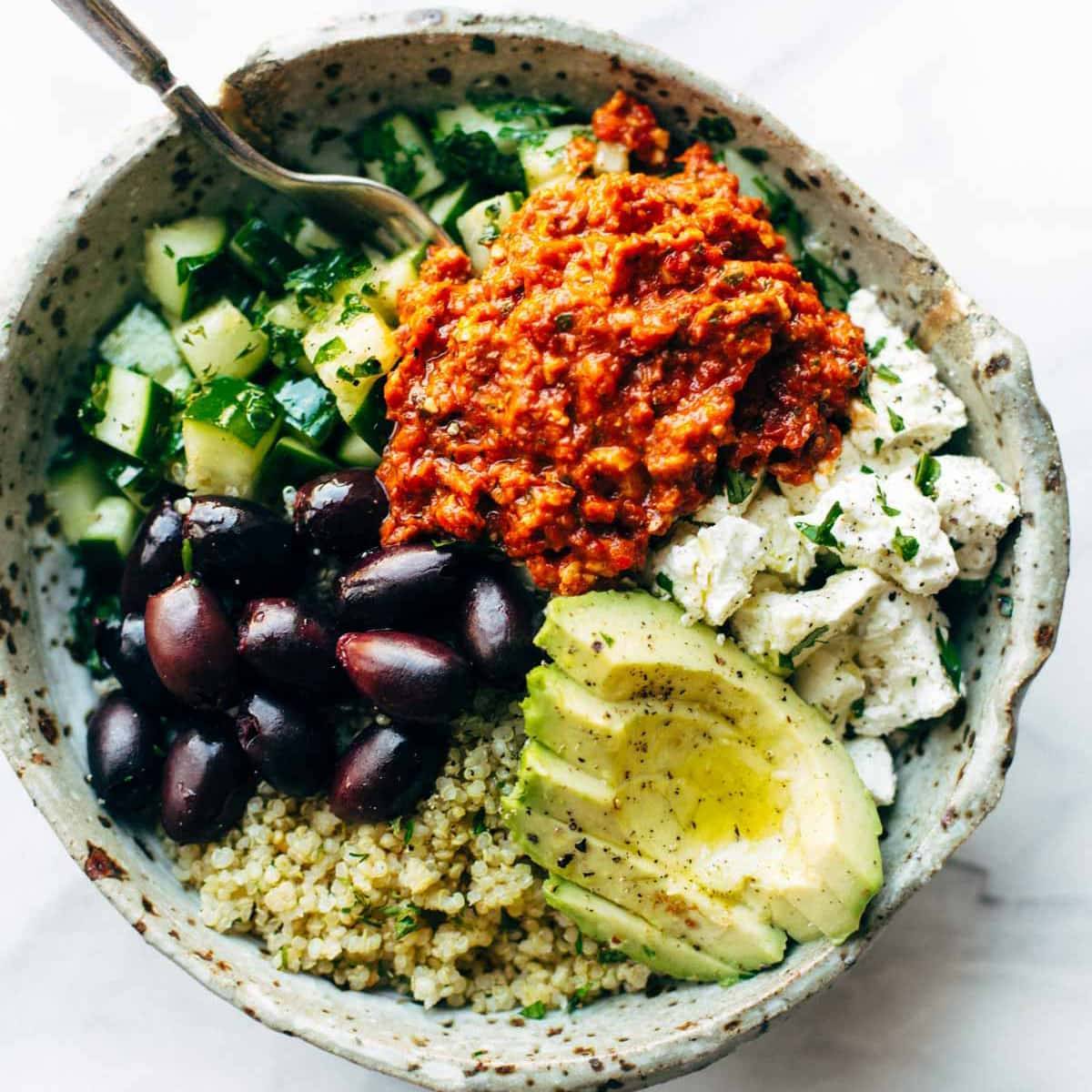 Mediterranean Quinoa Bowls
with Roasted Red Pepper Sauce
Bright, fresh, acidic and salty — solid dating profile but even better bowl! Kalamatas, feta, cucumber and red onion, along with spinach or kale and a pitch perfect roasted red pepper sauce.
quinoa, roasted red peppers, cucumbers, feta cheese, kalamata olives, pepperoncini, red onion
Sesame Noodle Bowls
Sauce made with a simple jar-shake? Noodles done in 2 minutes?! Could end meal prep there but brown up some chicken and send in the veg parade and you'll be doing a little pre-lunch cheer every day this week. Delicious cold so no microwave needed.
stir fry noodles, chicken, edamame, cucumbers, sesame paste, soy sauce
Lemon Herb Pasta Salad with Marinated Chickpeas
Delicious doesn't have to be complicated. Perfectly squishy pasta coated in a silky olive oil/lemon juice blend tossed up with some marinated chickpeas full of garlic and herbs. Minimal effort, maximum taste.
pasta, lemon, chickpeas, fresh herbs, Parmesan cheese
The La Chop
Ready your chopping spirit, whip up a quick lemon vinaigrette and then come lunch, you can just crunch away on this colorful, fresh, punchy, healthy-but-not-too-healthy (life motto), actual full-meal salad.
lettuce, cherry tomatoes, mozzarella, salami, pepperoncini, red onion, chickpeas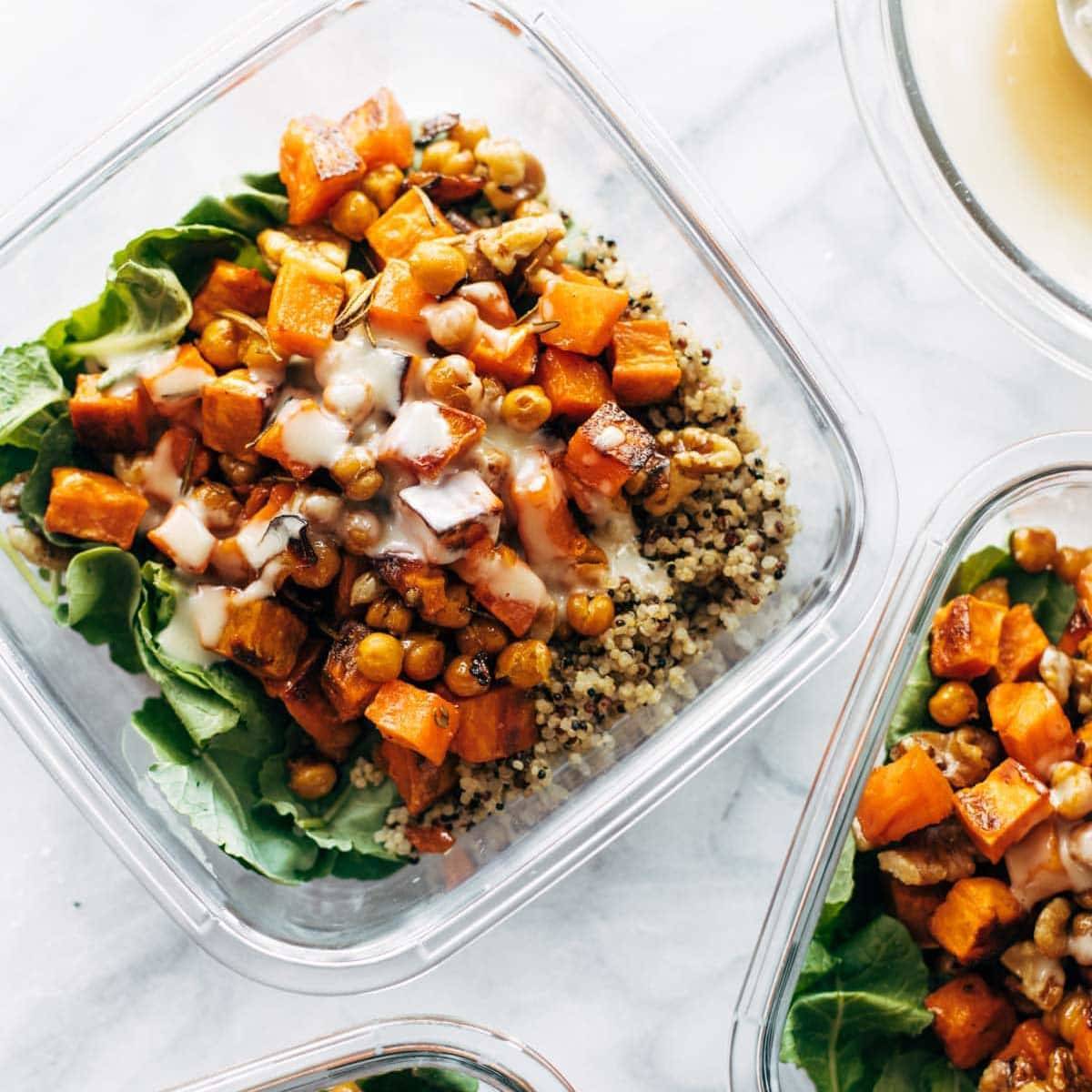 Quinoa Sweet Potato Salad
Back to school still means fall and this is fall in a bowl. Roasted sweet potatoes, caramelizy onions, toasty maple walnuts and crisped chickpeas, fragrant with fresh rosemary. Feels warm, still great cold.
quinoa, sweet potatoes, shallots, walnuts, chickpeas
Chopped Thai Chicken Salad
She's a textural dream, full of surprising zippy punchy flavors (thank you papaya or under-ripe mangoes!) and tossed with just about the best peanut dressing you ever did chomp.
chicken, cabbage, carrots, serrano peppers, peanut butter, chili paste, soy sauce
Super Quick Avocado Shrimp Salad
Hard not to love a super easy fast, throw it all in one bowl, fresh healthy delicious lunch situation. Especially when it involves chilled poached shrimp, creamy avocado, fresh dill, and a nice big lemon drench. HEART EYES.
shrimp, avocado, lemon, fresh dill, cucumber
Spicy Peanut Soba Noodle Salad
Sure, yes, a salad…but it's noodle-based so no need to get sad! This ol'girl has got you – spicy, saucy, peanutty and most important, noodle-y! Perfect no heat-up lunch.
soba noodles, chicken, purple cabbage, red bell pepper, peanut butter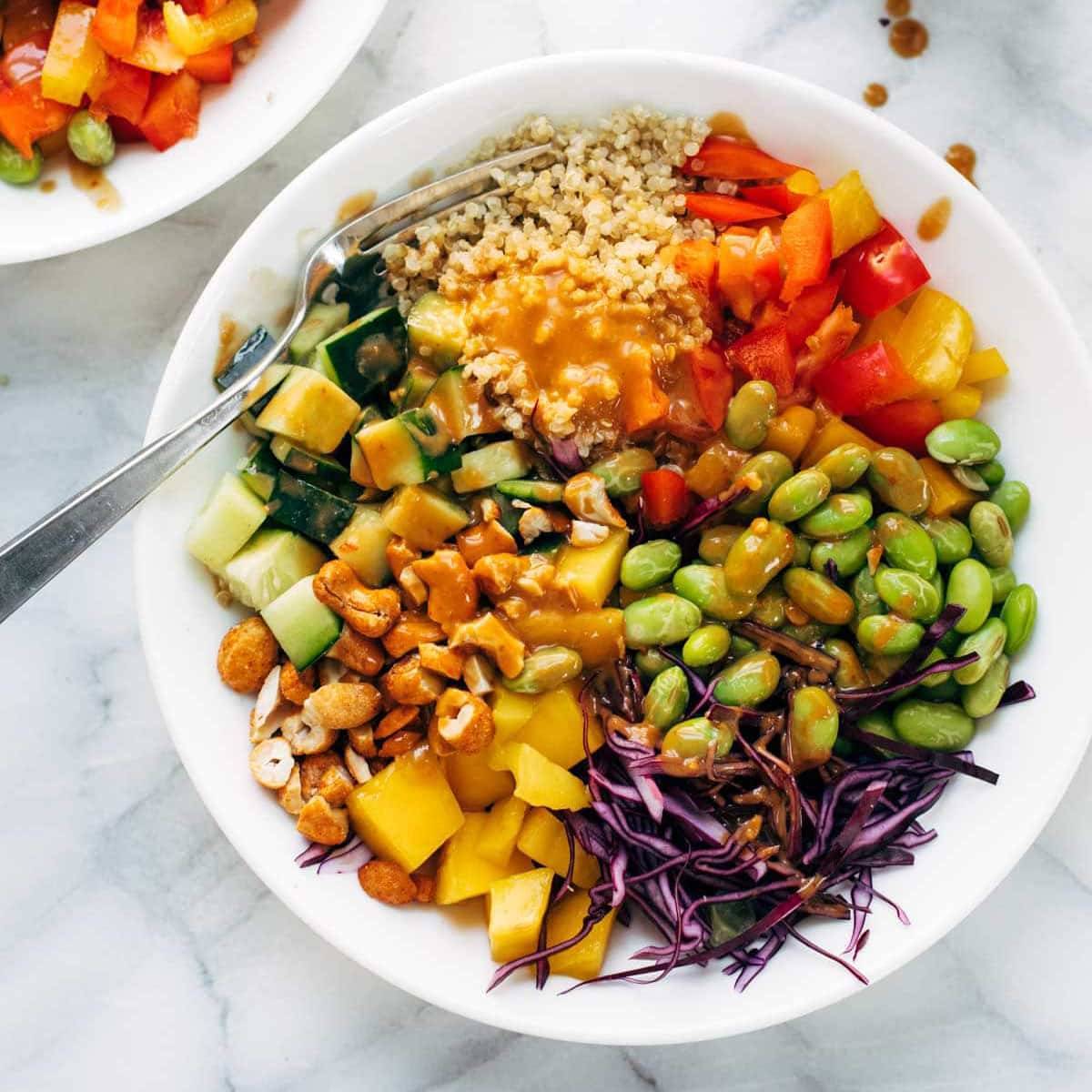 Quinoa Crunch Salad with Peanut Dressing
There's crunch, there's sweet, there's spice, there's creamy peanut dressing and chili-lime cashews (whaaat?! Thank you tiny treasures!). Get this bright rainbow boost in your lunch rotation, asap.
edamame, quinoa, cucumber, bell peppers, mangoes, carrots, purple cabbage, cashews, peanut butter, chili paste
The post 16 Back-to-School Recipes for the Weirdness of 2020 appeared first on Pinch of Yum.