16 Flavorful 30 Minute Meals
Crispy Chicken Tikka Bowls with Mint Sauce
Crispy bits of chicken tenders, crispy cucumbers, and briny pickled onions, all on a bed of fluffy quinoa with a swoop of cool mint sauce on top. You absolutely cannot go wrong with these bowls.
chicken tenders, tikka masala sauce, cucumbers, mint, mayo, pickled red onions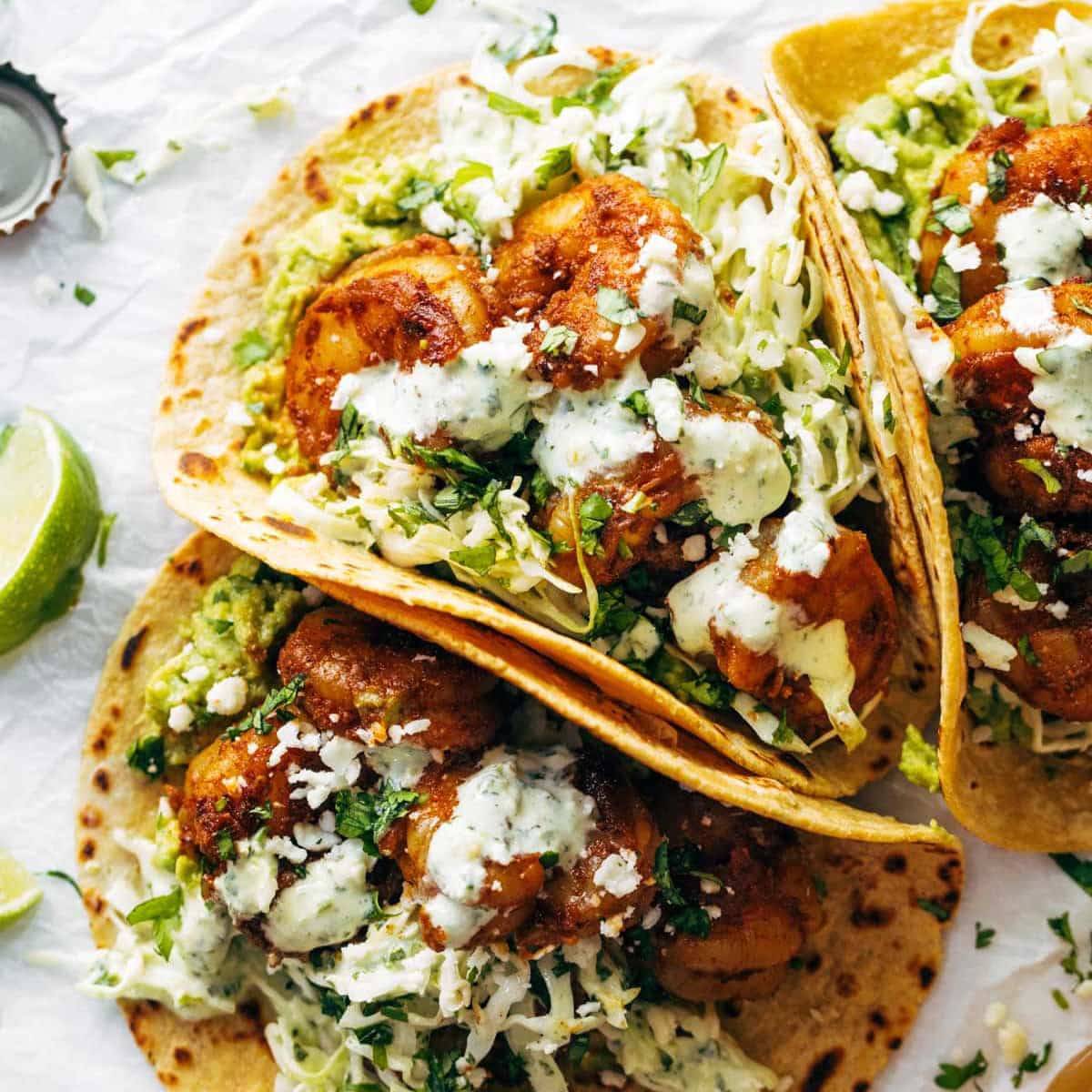 Spicy Shrimp Tacos with Garlic Cilantro Lime Slaw
The BEST shrimp tacos – ready in about 30 minutes and loaded with flavor and texture. SO YUM!
shrimp, cabbage, chili powder, sour cream, cumin, limes, tortillas
Creamy Garlic Sun-Dried Tomato Pasta
You are thisclose to enjoying delicious noodles! Garlicky spirali noodles and tender sun-dried tomatoes in a creamy, luscious sauce with a heavy dusting of Parmesan cheese.
spirali pasta, sun-dried tomatoes, white wine, heavy cream, garlic, Parmesan cheese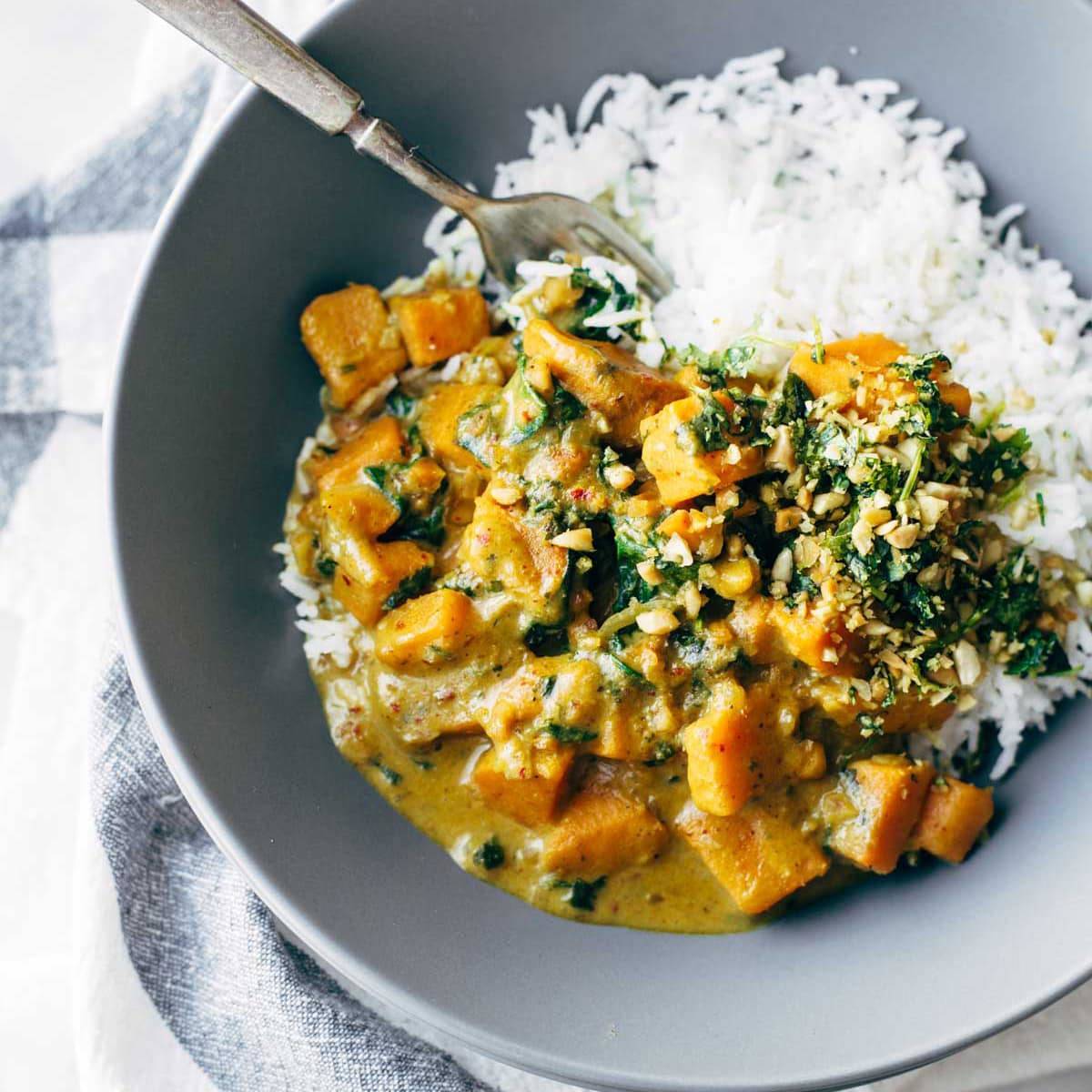 Creamy Thai Sweet Potato Curry
Our favorite easy, healthy, winter comfort food recipe that's packed with yummy, feel-good ingredients and nutrition.
sweet potatoes, spinach, curry paste, coconut milk, peanuts, cilantro
Red Curry Noodles
Lots of fresh veggies, seared tofu, slurpable noodles, and a saucy coconut red curry sauce. Stovetop to table in 30 minutes flat!
rice noodles tofu, red curry paste, coconut milk, stir fry vegetables
Instant Pot Coconut Tandoori-Inspired Chicken
Coconut Tandoori-Inspired Chicken made with rich spices and creamy coconut milk. EXTREMELY EASY and so, so yummy.
chicken thighs, spices, honey, coconut milk
Couscous Summer Salad
Spiced couscous, juicy nectarines, crunchy cucumber, avocado, chickpeas, cherries, sweet corn, and mint. It's sunshine in a bowl!
couscous, dried cherries, chickpeas, corn, cucumber, nectarines, avocado, spinach
Instant Pot Chicken Cacciatore
Braised Italian chicken in saucy pasta-friendly form that is bright, acidic, rich, and savory. Just put everything in the Instant Pot and let it go!
chicken breasts, mushrooms, bell pepper, capers, butter, diced tomatoes, capellini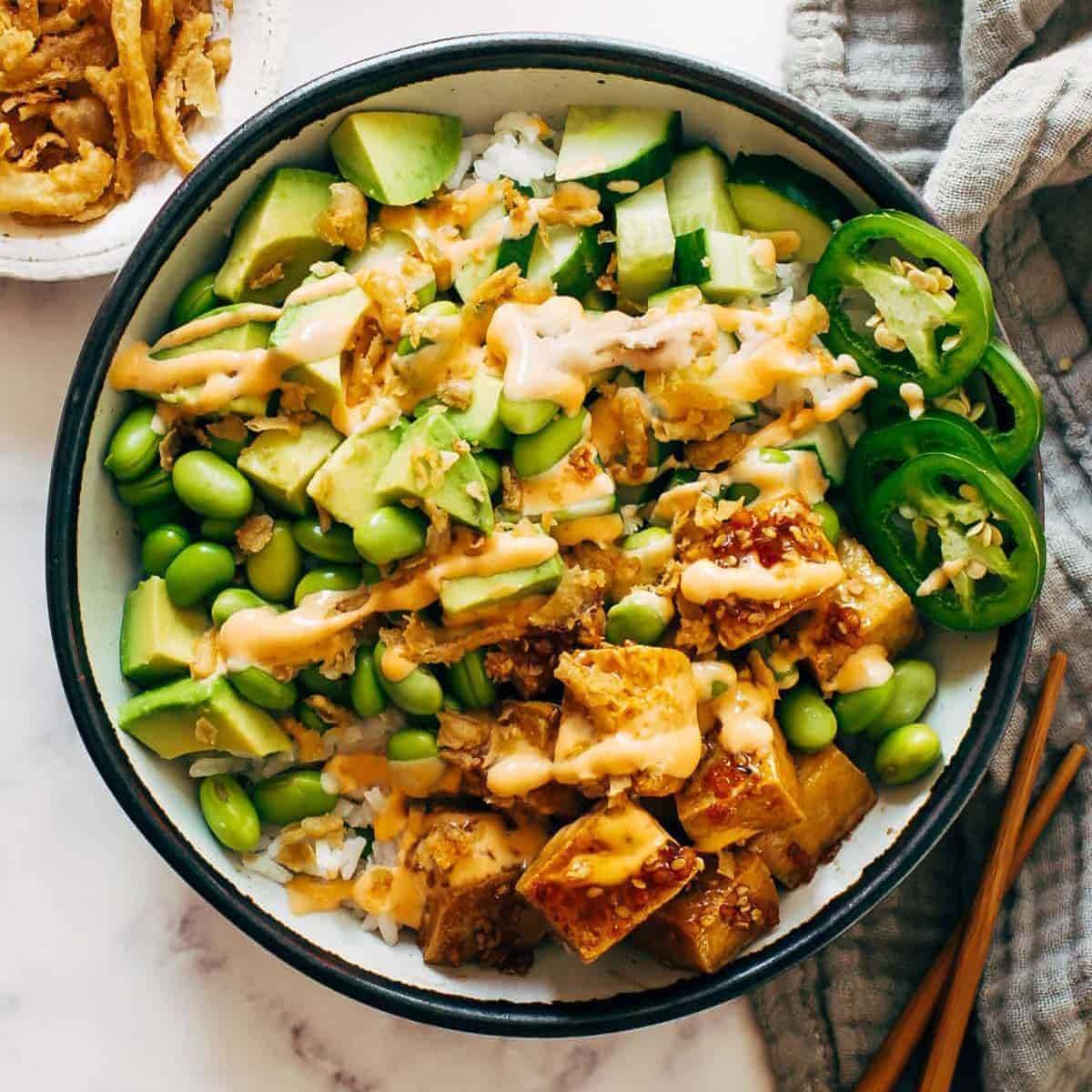 Crunchy Roll Bowls
A block of tofu, nicely browned in teriyaki sauce, served on a bed of sticky rice with edamame, cucumber, avocado, jalapeño, and a handful of crushed-up crunchy onions, buried under a thick drizzle of extra teriyaki and spicy mayo. 
tofu, rice, edamame, cucumber, avocado, jalapeño, fried onions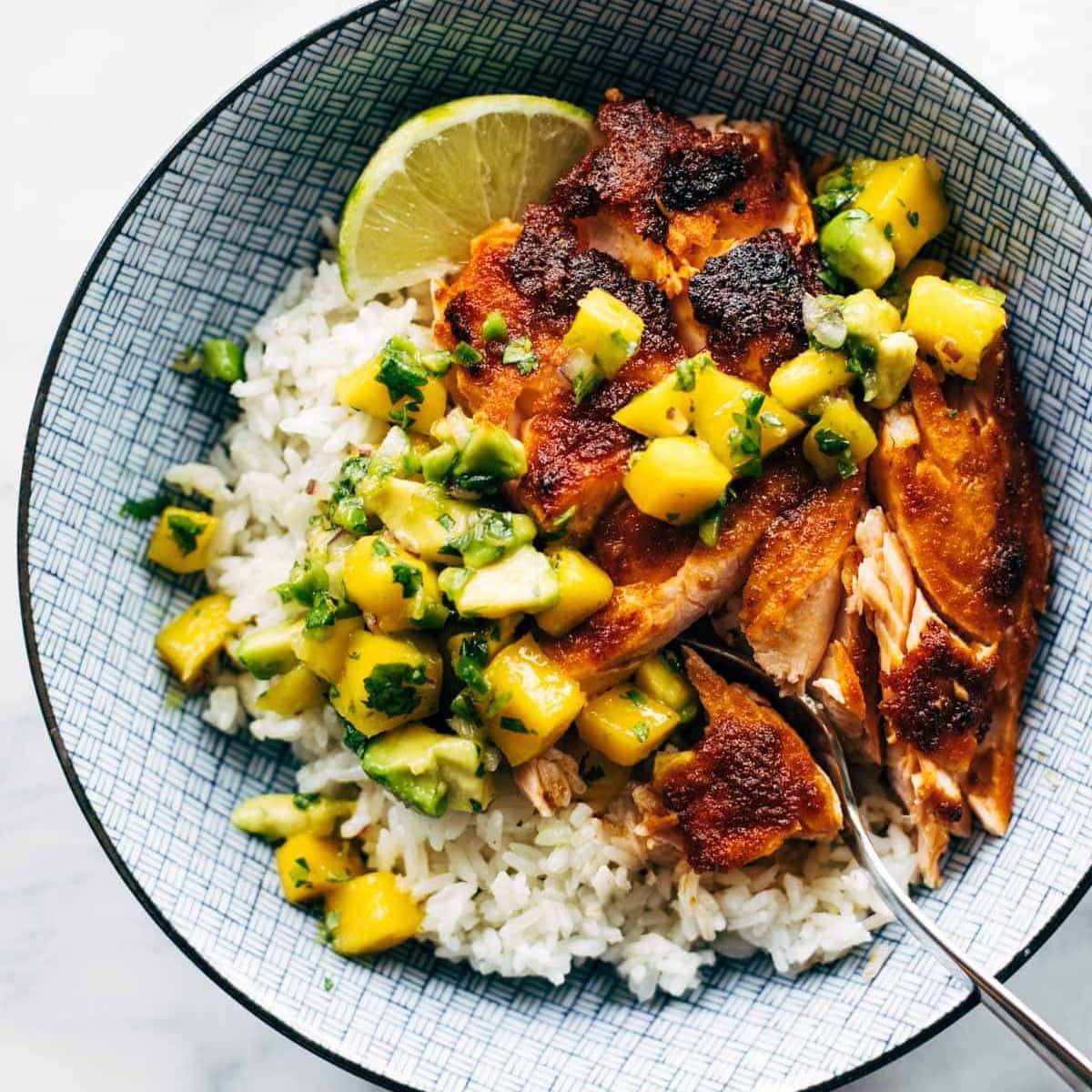 BBQ Salmon Bowls with Mango Avocado Salsa
An easy and impressive dinner with yummy smoky-sweet flavor and a zip of zesty homemade salsa to take it over the top. The BEST weeknight dinner.
salmon, brown sugar, smoked paprika, mangoes, avocado, jalapeño, lime
Harissa Chickpeas with Whipped Feta
Perfectly spicy/saucy/tomato-y chickpeas smothered in creamy, garlicky whipped feta and served with naan, lemons, and cucumbers. Your next weeknight wonder!
chickpeas, canned tomatoes, feta, harissa paste, garlic, lemon juice
Sheet Pan Shrimp and Cauli Rice
The easiest sheet pan dinner! Shrimp, peas, cauliflower rice, seasonings, and Rosso pesto sauce all come together on one pan for a delicious springy meal. 
shrimp, cauliflower rice, Rosso pesto sauce, peas, cream
Pineapple Pork with Coconut Rice
Sticky-sweet pork, juicy pineapple, fresh herbs, jalapeño, and crispy onions all served over a bed of fluffy coconut rice. SO GOOD!
pork tenderloin, rice, pineapple, teriyaki sauce, coconut milk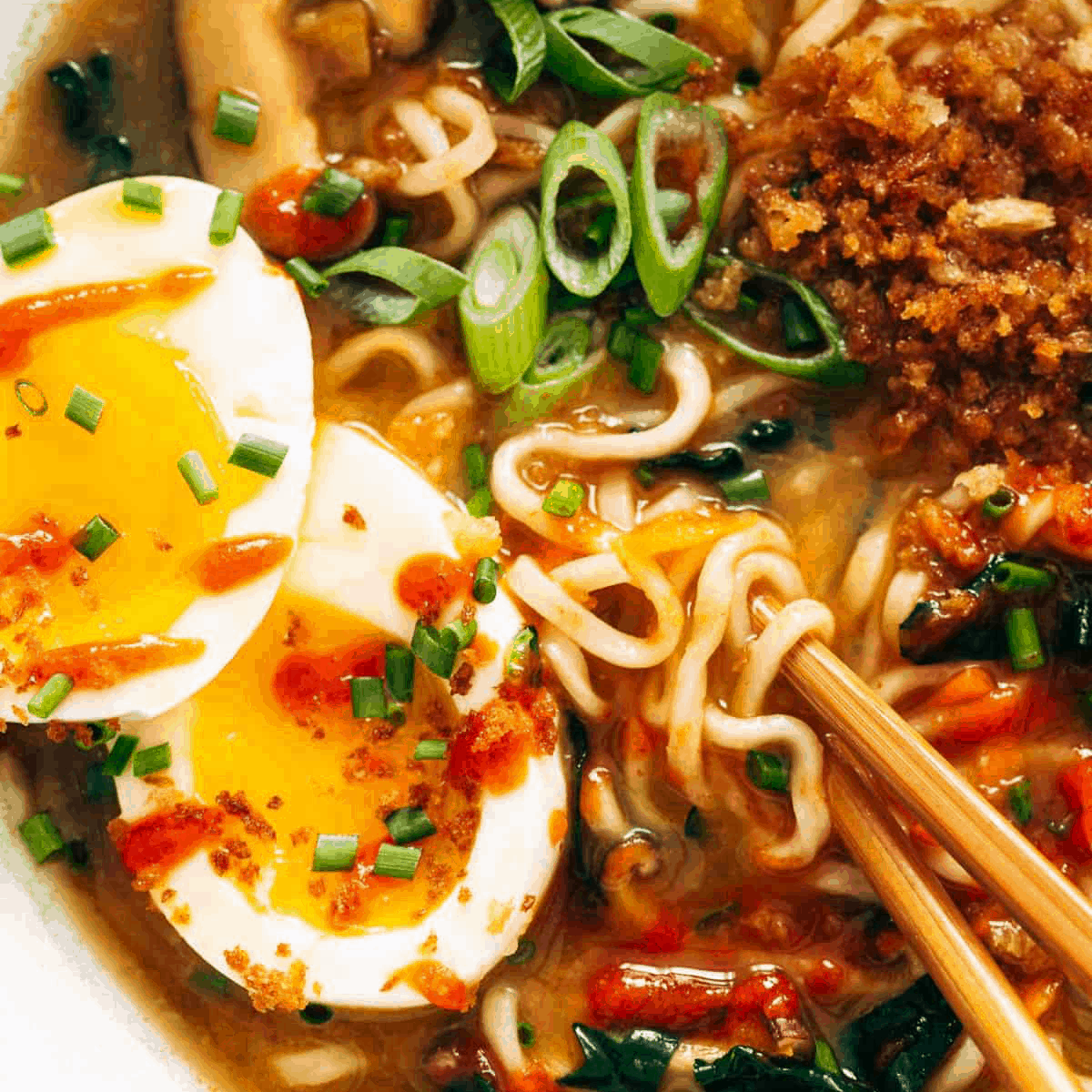 Quick Homemade Ramen
Take the usual ramen up a notch with this quick homemade ramen. Fresh veggies and herbs make this extra delicious, healthy, and cozy!
ramen noodles, shitake mushrooms, kale, carrots, garlic, ginger
Sesame Beef and Broccoli
Full of protein, green broccoli goodness, and sticky-sweet garlic and ginger flavor. Perfect at-home takeout!
flank steak, garlic, ginger, broccoli, soy sauce, sambal oelek
Crispy Black Bean Tacos with Cilantro Lime Sauce
These vegetarian tacos have a deliciously satisfying black bean filling with fresh salsa and seasonings all tucked into a golden crispy tortilla and served alongside a cool and creamy cilantro lime sauce. YUM!
black beans, tortillas, salsa, taco seasoning, cilantro, green onions, limes, sour cream
The post 16 Flavorful 30 Minute Meals appeared first on Pinch of Yum.