Surprise!
Just popping in on Saturday to share with you a little collection of healthy holiday treat recipes. Say what?  It's true. Since doing the sugar free thing for a full 60 days earlier this year, I am looking at the cookie eating season a little differently this year.
Not to say I'm not eating cookies. Christmas for me is sort of inseparable from cookies and fun treats. You saw my cookie baking day with my mom and sisters, right? We had a blast and I made lots of cookies with lots of chocolate and almond bark and it was as it should have been. No regrets! Also, per the seasonal requirements, I have a standing 4pm date with peanut butter blossoms throughout the month of December.
But. But but but. In general, we're still trying to have less sugar, more whole grains, and all that stuff that made us feel good during our 60 days of super healthful, sugar free eating.
That being said, here's a quick and dirty list of 9 healthy holiday treats that ARE 100% NORMAL AND DELICIOUS. Can I get an amen? These are normal things with no secret weird ingredients (well, dates? do those count?) and these treats can help you celebrate the season of treats while still keeping your feel-good glow about you.
---
Nothing better than cuddling up with crunchy, chocolate-y, cranberry biscotti + Christmas morning coffee. These pretty treats have less sugar, whole wheat, and the cranberries + dark chocolate will give you a little antioxidant boost.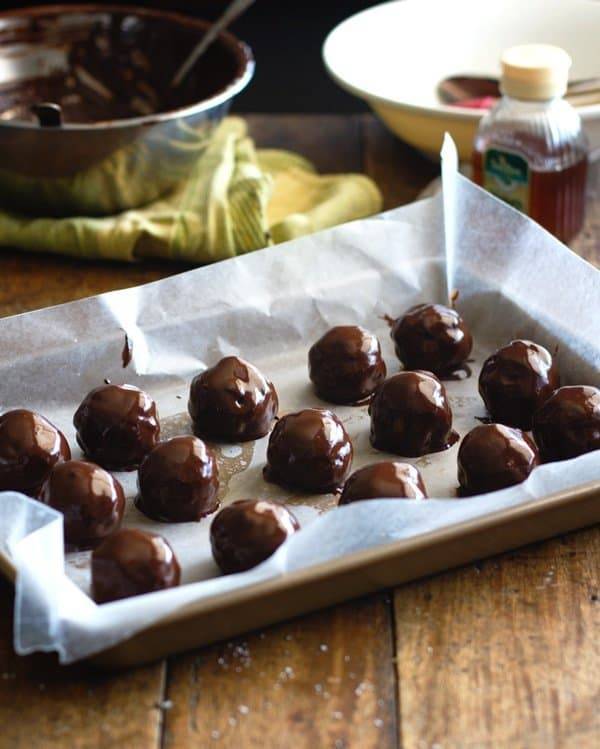 Basically like eating a happy little snowball. Plus they're dipped in dark chocolate, so… yeah.
Inside that peanut butter bomb is a healthy cookie-dough-esque mix with 3 main ingredients: peanuts, peanut butter, and dates. This is basically a protein snack that tastes like dessert.
#4: HEALTHY GINGERBREAD MUFFINS
Just, if nothing else, do this one for the good house smells.
#5: HEALTHY DARK CHOCOLATE SEA SALT BARS
Snackable, giftable, dessertable. You might as well make a thousand of these. Healthy Dark Chocolate Sea Salt Bars for everyone!
#6: PEANUT BUTTER COOKIE DOUGH BITES
 This is an oldie – the picture might be a dead giveaway – but it has stood the test of time! Swap your regular peanut butter blossoms for these cuties. No sugar added and lots of the peanut butter taste we NEEEEEED.
Fancy and fruity! Top these off with winter fruit and fun colors – think pomegranate seeds, mint leaves, orange slices, or grapefruit to be extra holiday-happy.
#8: INNER GODDESS CHOCOLATE TRUFFLES
Every thing about these truffles is a win. They're healthy, fun to make, and sort of adorable. They're made with dates and five other healthy ingredients, like a boss.
#9 FIVE MINUTE SINGLE SERVING APPLE CRISP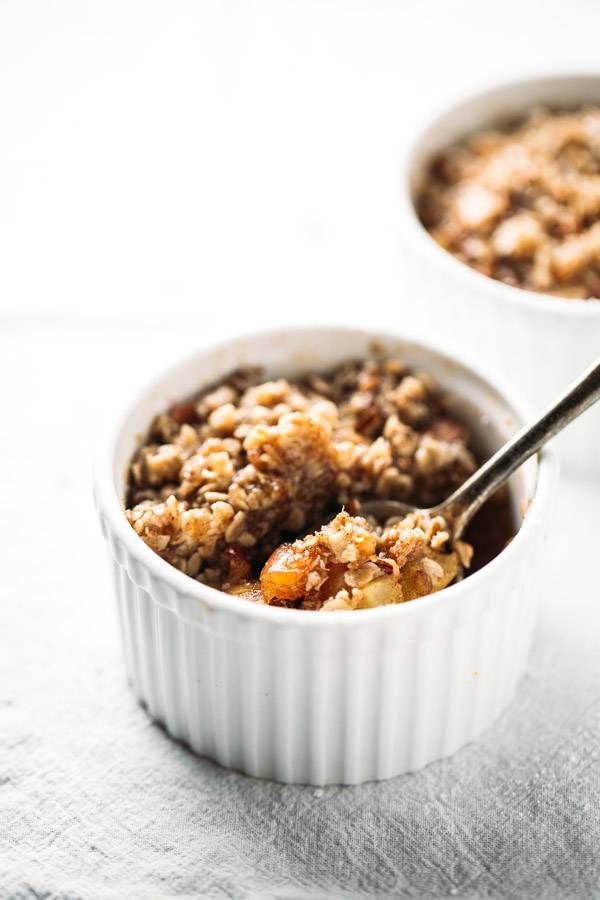 Apple crisp can be enjoyed anytime the temperature falls below 60. This one you don't even have to share.
The post 9 Healthy Holiday Treats appeared first on Pinch of Yum.