No, I mean it. Amazingly. Wholesome.
BANANA BREAD MUFFINS. 5 Ingredients.
It's not officially 2017 yet, but as soon as Christmas was done, my brain immediately went into the healthy, energized, refresh and reset zone that always comes with a new year. We've got a new baby coming, we've got some blog changes in the works, and we've got a healthy body (or two) (or three!) to get back in business with lots of new, really good, nutritious, I-will-actually-make-it practical food. Gosh, I get so excited about that combination.
Probably good that I have a little blog space to nerd out with that for a hot second.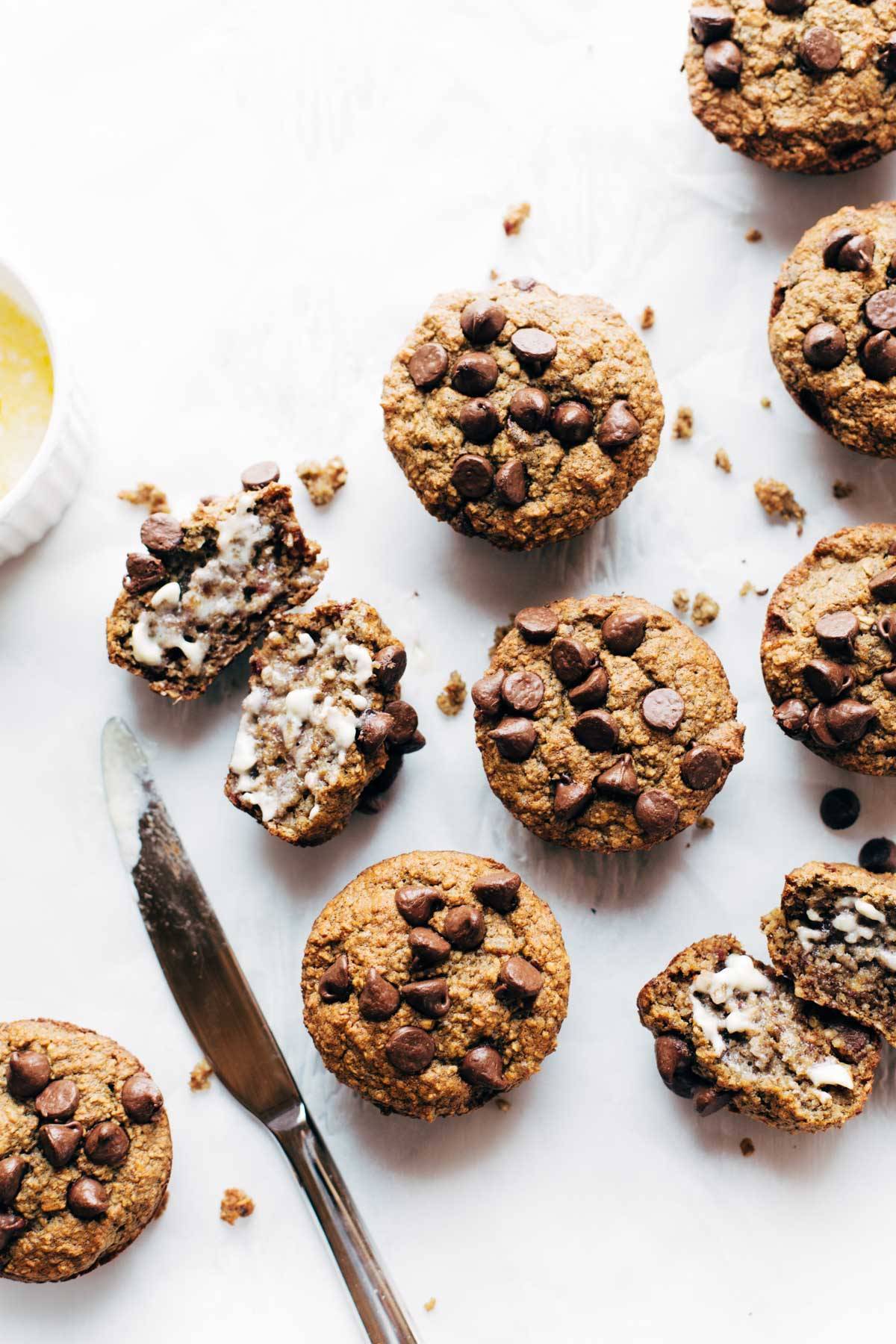 And speaking of having a hot second.
These muffins embody everything that this week has been asking of me:
NUTRITIOUS: You know that time post-holiday where your body is happy and full on cookies… and also begging to be fed with real food outside the main categories of sugar, frosting, and hot cocoa? Hi. I am you and you are me. These banana bread muffins are those real food things because they happen to be amazingly wholesome – shout out to oats / bananas / eggs / dates for keeping our bellies full and our bodies glowing.
EASY: Is it just me or is that sleepy post-holiday nap addiction still dominating your vibe? My favorite activity of all time since December 25th has become NAPPING. Which is why this = 5 INGREDIENTS. You could memorize this the first time you make it.
NOT A SALAD: I don't know, it feels kind of soon to bust out allllll the healthy eating stops. Don't you think we should eat comfort food and stay in our slippers and jammies for a few more days? Yeah, me too. I'll be right over. These banana bread muffins are ideal for that confusing time between Christmas and New Year's Eve where you are very seriously thinking about the fresh-start-new-you mindset but you are still very much embracing the fact that the holidays ARE NOT OVER YET.
You can, in fact, have the best of both worlds right here. Banana Bread Muffins FTW.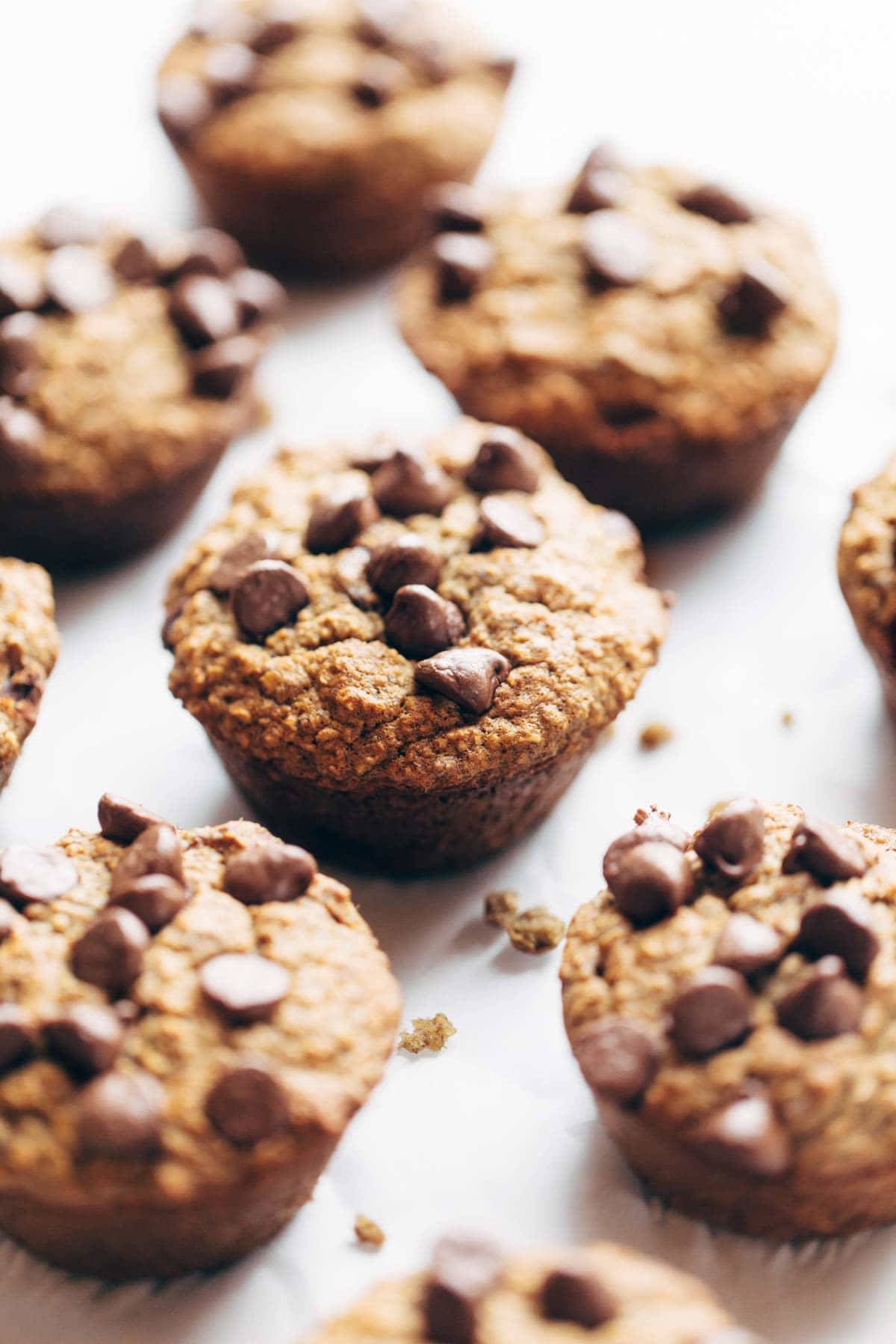 When it comes to toppings or add-ins, there is no pressure to use chocolate chips. Admittedly, that sort of cancels out the No Refined Sugar thing. But admittedly, it IS very delicious.
These little muffs have NO major fat source in them, which is super awesome and I was definitely skeptical of whether or not they could actually pull it off and TASTE GOOD, but I really do love them. They sort of remind me of a soft, yummy bran muffin, which a) I love, and b) I love to slather with butter.
Okay, okay, if you're kind of hesitating about the butter on top, no worries – these are great as-is, pinkie promise. Also, a healthier fat alternative might be found in that jar of coconut oil or the super heavenly nut butter that's been hiding out in your pantry. ️ It was just a suggestion.
Print
Amazingly Wholesome 5 Ingredient Banana Bread Muffins
---
Description
Banana Bread Muffins – made with just 5 wholesome ingredients! no refined sugar, naturally gluten free, and SO yummy!
---
2 cups

oats

3

bananas

2

eggs

3/4 cup

pitted whole dates

1 teaspoon

baking soda
not necessary, but I usually toss in a pinch of salt and cinnamon if I have them around
not necessary, but chocolate chips are
---
Instructions
Preheat oven to 350 degrees.
Grease a muffin tin.
Mix all ingredients in a blender or food processor until smooth.
Pour batter into muffin tin (you should have enough for 10-12 standard size muffins). Top with chocolate chips if you want.
Bake for 15-20 minutes. Store in the fridge for up to 3 days.
Notes
We used Dole whole pitted dates which are very soft, similar to medjool dates. Medjool dates also work in this recipe. If you need to soften the dates a bit, just soak in some warm water before putting the blender. This is especially helpful if you have a less-than-awesome blender.
Prep Time:

10 mins

Cook Time:

20 mins

Category:

Breakfast

Cuisine:

American
Keywords: banana bread muffins, healthy banana bread muffins, healthy banana muffins
Recipe Card powered by
You guys, I've got an exciting series of recipes coming up for January and I can't wait to share them with you! Just in case you aren't already, NOW IS THE TIME to follow on Instagram because 1) we will be doing easy-to-follow videos of all our healthy January recipes, and 2) we will be doing an Instagram giveaway series with the healthy January recipes! I love 2017 already. ♡
Happy, healthy, wholesome mid-holiday week to all of you lovers!
---
One More Thing!
This recipe is part of our collection of best healthy breakfast recipes. Check it out!
The post Amazingly Wholesome 5 Ingredient Banana Bread Muffins appeared first on Pinch of Yum.