Hey everybody! Bjork here. I'm known as "Lindsay's husband" 'round these parts.
A fun fact to start things off: Today's post marks one year since Lindsay and I first started to experiment with creating an income from her blog. The August total from that first income report was $21.97! Kind of unbelievable. You can check out that first post here.
My hope for these monthly reports is that you will learn at least one thing that will help your blog grow.
First, the numbers.
The Breakdown:
Grand Total

: $4,102.16
If you're interested in learning more about some of the ways that you can monetize a food blog, we encourage you to download this free ebook, "16 Ways to Monetize Your Food Blog," from our sister site, Food Blogger Pro!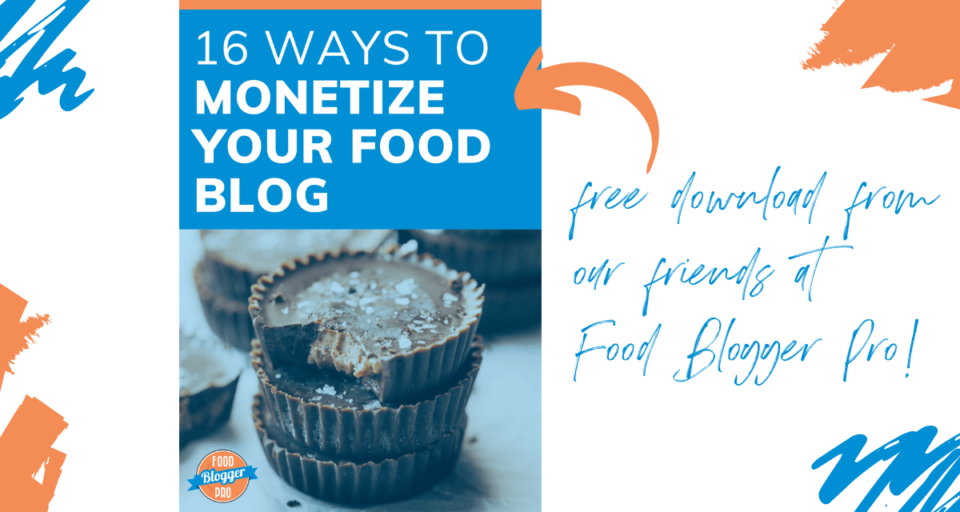 A few notes on the income report above.
The BlogHer income is higher than usually as we experimented with some different types of sponsored ads. We were both a bit hesitant, but we liked the brand (Odwalla), so we decided to give it a try just to see what it was like. As a reader of Pinch of Yum, I'm curious what your thoughts are on sponsored posts. We'd love to have you share in the comments section below.
Also, you'll notice a new item in the list called BuySellAds. BuySellAds is an advertising marketplace. After getting accepted you can list an ad space on your site and advertisers can purchase the ad spot at the price you set. You can check out Pinch of Yum's BuySellAds page if you're curious as to what it looks like.
Speaking of advertising…
We've put together what I think to be the best advertising setup we've had so far on Pinch of Yum. Here's a video of how we have the advertising setup right now. The video includes information on how we are backfilling the BlogHer and BuySellAds ad spots.
Traffic
Here are the screenshots of the Pinch of Yum Google Analytics for the month of August.
Tips and Takeaways
Google Analytics
Next time you're checking Google Analytics look at the Browser and OS category. This will show you the most popular browsers that people are using to view your blog.
Every browser will render your blog a little bit differently (color, size, spacing…), so be sure to always check to see what your most recent post looks like for the top used browsers. As you can see, the most popular browser for Pinch of Yum readers is Safari. Although I personally use Chrome, I do my best to use Safari occasional to check and make sure that everything looks okay.
Clean Pinning
On the majority of Pinch of Yum posts we include this little "Pin It" button that I created:
This button is a little bit different than the button at the end of a post because it allows the reader to pick which image they want to pin. The only problem was that whenever it was clicked every single image on the page was showing up as an option to pin.
The solution?
This code: nopin = "nopin"
If you ever have an image that you don't want be pinned, for instance, something in your sidebar, then just add the above code to your image's HTML code. Here's a quick video showing you how to do that.
Google Authorship Image
Have you setup your Google Authorship Image yet? If you haven't, I'd suggest doing so.
I don't really have any hard evidence on this one, but I'd bet a freshly picked mango that people are more likely to click on a link that has someone's face associated with it.
Here's an example from when I googled Smores Bars:
I'm not sure who Amanda is, but I would imagine that seeing her picture underneath the link would make my subconscious brain a little bit more likely to click her link.
Here's the easy step-by-step, with a video I found that does a decent job of showing you what each step looks like.
Open a Google+ account (if you haven't already).
In Google+, add your blog URL in the "contributes to" section.
Install the Google+ Author plugin (or one like it).
In the WordPress backend, add your Google+ URL.
Thanks!
Each month I have a list of about 300 things that I want to share with you. Even when I cut my list down and only post about a few things, it can start to get wordy! Thanks for reading all the way through – I hope you found it interesting and maybe even helpful.
If you have any questions, feel free to leave them in the comments or shoot me an email – bjork (at) pinchofyum (dot) com.
The post August Income Report – $4,102.16 appeared first on Pinch of Yum.