Affiliate links will always be marked with an asterisk! ♡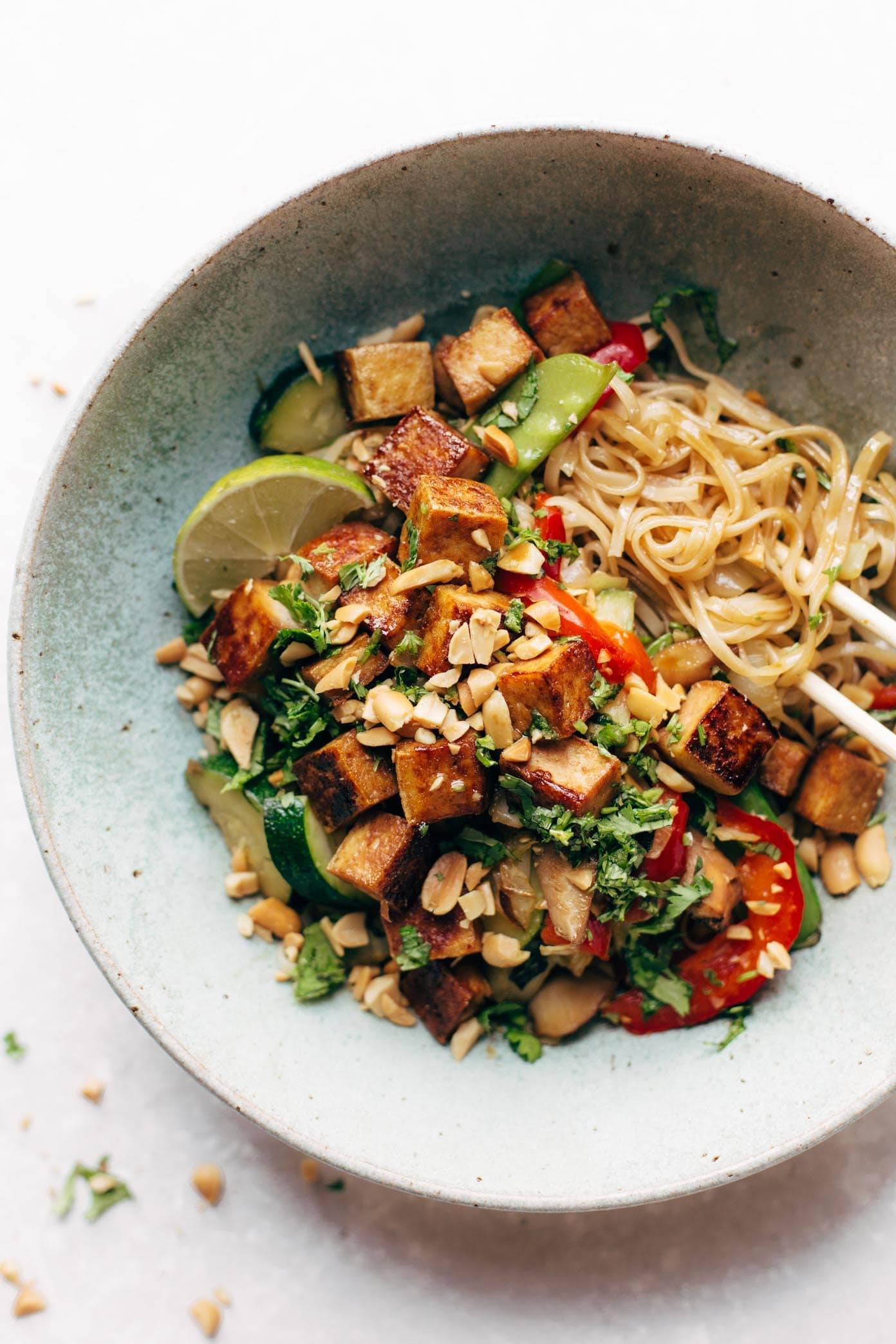 Oh, nothing to see here, just a basic, non-fancy, back-pocket noodle stir fry that will make your Monday (Tuesday Wednesday Thursday) night dinners a little more happy.
Can you even believe we are coming to the end of summer?
I can't. If I were still teaching (common refrain of my life) I would be in my last week of "free summer time," which means probably starting to shop for some classroom materials and stress-dream about the start of the new school year. Which means I would also be panicking about meal prep again.
How To Make Our Stir Fry (1 MIN):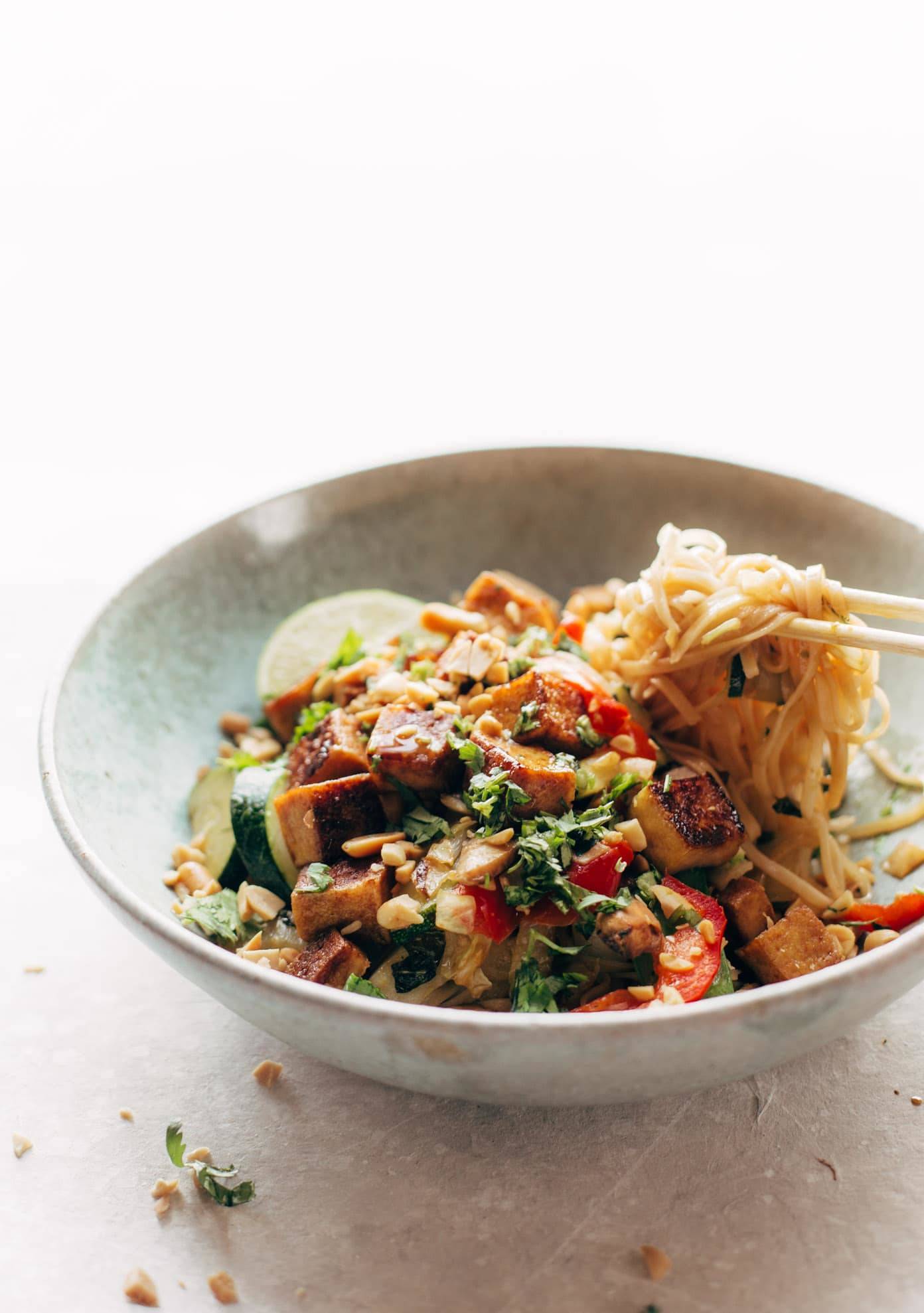 Blame it on any combination of summer vacations, a three-month-long-eating-out-binge (honestly I have a food blog but I LOVE EATING OUT. There. I said it.), and all-around laziness, but Bjork and I have sort of drifted away from our normal meal prep routine as we've settled into summer.
I am not super sad to see the transition into fall because 1) fall is my absolute favorite food season, and 2) I am sort of anxious to get back into a routine.
Maybe it's the colder, darker Minnesota fall days that start to drive us back into a more consistent work mode, or maybe it's just that, as a former teacher, the school calendar is forever ingrained into my view of the world and I can't not view September as a time to trade spontaneous brats and burgers and ice cream for some semblance or organized, responsible eating again. But regardless: as we near the end of August, meal prep would be a welcome thing in our lives again.
'Specially if it includes tons of fresh veggies which I don't have to chop myself, THANK U WHOLE FOODS. Did you know you can buy a fresh stir fry mix already chopped? And my mom told me that at some grocery stores you can pay to have them chop your produce before you pick it up? What what whaaaat?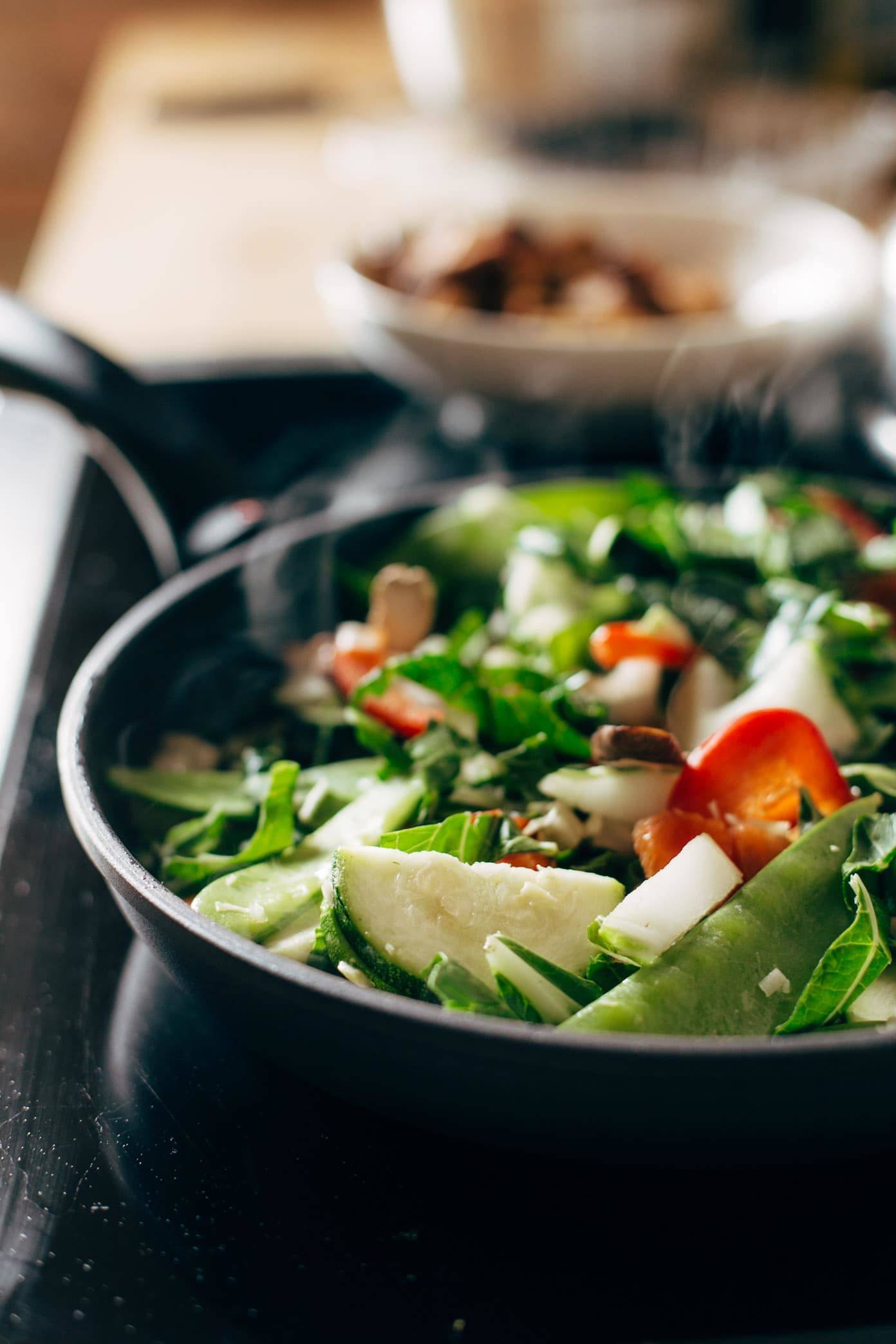 For me, the pre-chopped veggies were an important element in making this approachable for the here and now. I mean, I AM excited for the fall organization and everything, but girlfriend, it is still August. Don't rob me of my pre-chopped veggies just yet.
There are several things I love about this stir fry.
You shake up the sauce in a jar. Couldn't be easier.
You can keep almost all ingredients in your pantry all the time.
You can adjust based on what you have on hand. No tofu? Switch for chicken. And so on and so forth.
NOODLES. I love a good veg-and-rice stir fry, but I ***LOVE**** a good noodle stir fry. Notice the difference there? Give me the noodles.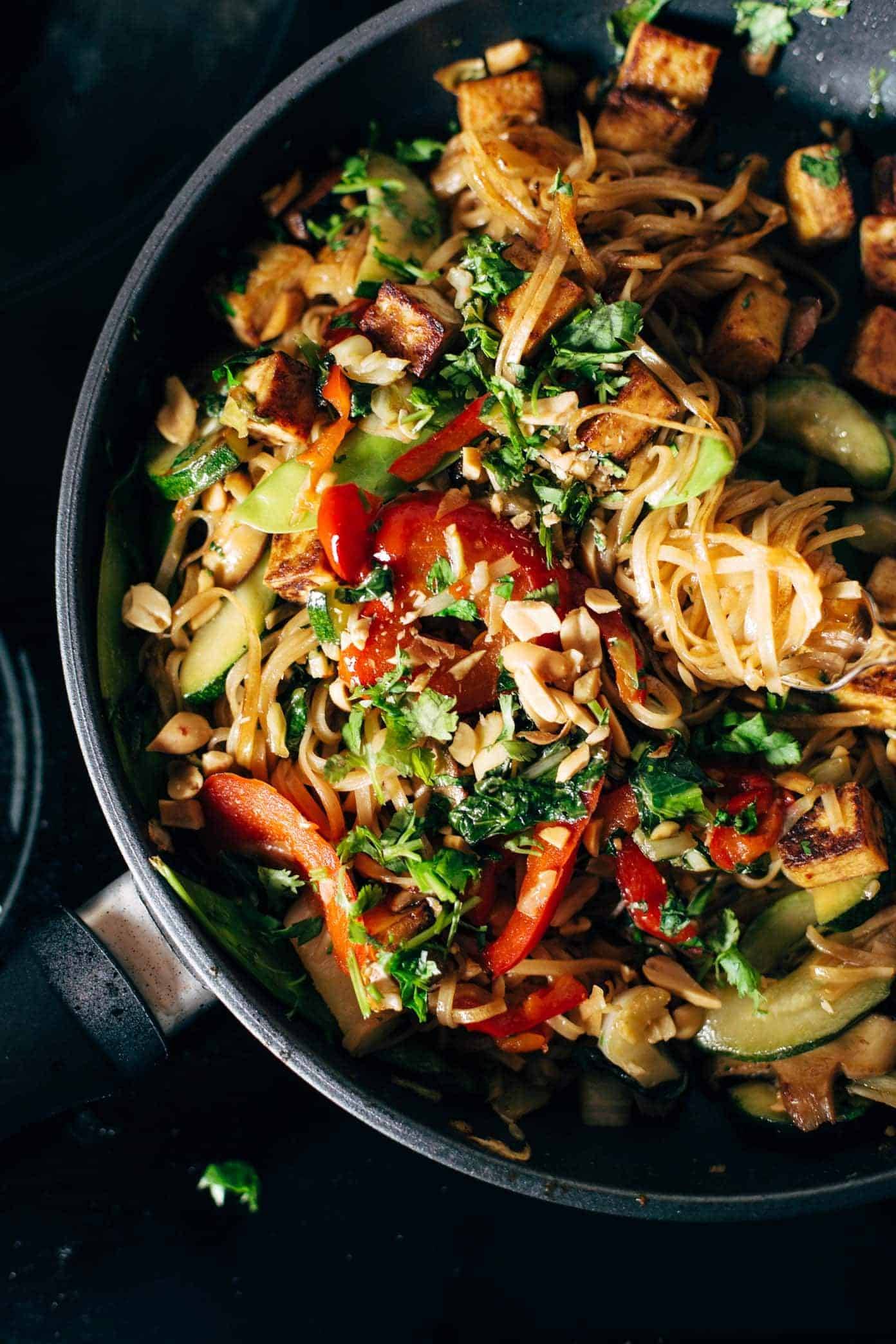 As lovers of Pad Thai, naturally, we are topping this with peanuts, cilantro, and lime. May or may not make sense, but it tastes fresh and happy and yum.
Save it, memorize it, tuck it in your back pocket. And then go noodle crazy on a Monday night, I dare you.
Print
Back Pocket Stir Fry with Noodles
---
Author:

Lindsay
Total Time:

40 minutes

Yield:

4 servings
Description
Back Pocket Stir Fry with Noodles – simplicity wins. Brown rice noodles with tofu and all kinds of colorful veggies for a quick and easy dinner! vegan, vegetarian.
---
Stir Fry Basics:
7 ounces

brown rice noodles

1

14 oz package tofu

1 tablespoon

olive oil for sautéing

3

–

4

cup chopped vegetables (I used a pre-chopped fresh stir fry mix)

2

cloves minced garlic
peanuts, cilantro, and lime for serving
Shake-in-a-Jar Stir Fry Sauce:
1/4 cup

soy sauce (or tamari for a gluten-free option)

2

–

3

tablespoons brown sugar or honey

1/4 cup

water

2

–

3

tablespoons white vinegar, to taste

1 teaspoon

chili paste, to taste
---
Instructions
SAUCE: Shake all sauce ingredients together until smooth.
NOODLES: Soak rice noodles in a bowl of warm water.
TOFU: Press tofu with paper towels to remove water. Cut tofu into cubes. In a nonstick skillet over medium high heat, fry tofu with a little olive oil until golden brown. Add a little sauce to get a nice browned crust. Transfer to a bowl and set aside.
VEGGIES: In the same pan, add veggies and garlic and another swish of oil. Stir fry over medium high heat until tender-crisp.
ASSEMBLE: Drain the noodles. Add them to the pan with the veggies. Add about half the sauce and stir-fry until thoroughly mixed. Add tofu. Top with peanuts, cilantro, and lime.
Notes
The tofu takes a while to crisp up, so be patient! I think I sautéed mine for about 15 minutes to get a nice crispy exterior. Check out this post for more tofu deets.
My vegetable mix included red peppers, mushrooms, zucchini, bok choy, and pea pods. Broccoli would also be yummy.
You might have a little more sauce than you need… which makes it easy to fry up more noodles and veggies next time! It should keep fine in the fridge for a week or two. I used about half my sauce for the recipe as written, and nutrition information includes only half of the sauce.
Prep Time:

15 minutes

Cook Time:

25 minutes

Category:

Dinner

Cuisine:

Asian-Inspired
Keywords: stir fry with noodles, noodle stir fry, tofu stir fry
Recipe Card powered by
---
One More Thing!
This recipe is part of our best healthy vegan recipes page. Check it out!
The post Back Pocket Stir Fry with Noodles appeared first on Pinch of Yum.