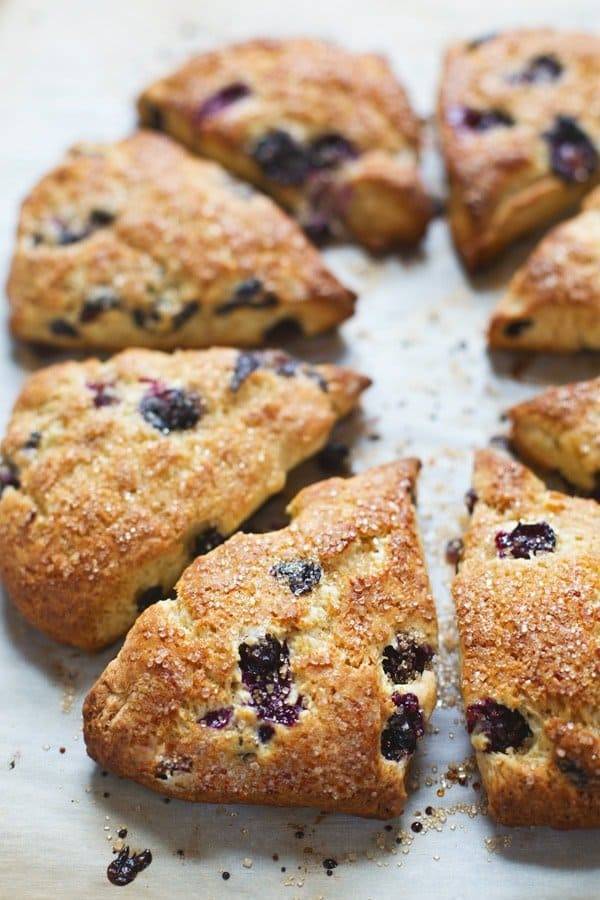 Valentine's Day is killing me.
Let me rephrase that: Valentine's Day on Pinterest is killing me.
This year I'm either going to hand-sew and individually stuff a bag full of heart shaped tea bags, or leave hearts made of flour all over the yard that lead into my bouquet of heart shaped cake pops, or die right now just thinking about how bad I am at crafty and cutesy.
I think I'm just more of a sconey girl.
Blueberry scones can be Valentiney, too, right? Because blueberries are definitely romantic, and if there ever was a food that screams LOVE ME, it's that crunchy sugar on top. I mean, the whole idea is like breakfast in bed but with 87 scones instead of Real Breakfast. Move over, eggs; I've always been on the fence with you anyways.
And since these are sort of cutesy (emphasis on the sort of) scones, maybe my scones breakfast in bed can be served on a pink plate and I'll even throw in a heart-printed paper napkin in there that I think I still have left over from 1999. Dare I even get my hopes up that we possibly have an old cracked Valentine's day mug for breakfast in bed lattes somewhere in the basement?
Yes, this is coming together well.
Since last year, I've started doing more and more meal recipes and less and less baking for the blog. Itsa kinda weirda. Because I love baking – if I was left to my own devices I would probably drown myself in a bowl of chocolate chip cookie dough. Specifically, THIS chocolate chip cookie dough.
But I had this moment last week where I needed baking. Not wanted. N-e-e-d-e-d. I needed scones baked with fat juicy blueberries, studded with sparkly turbinado sugar and coated with a golden brown exterior and heavenly texture in my mouth. Warm. Dipped in milk. Crumbling between my fingers. Making me feel like it's okay to wear sweatpants for three more hours.
The moment lasted for a few days, actually, during which time school was canceled so I got myself well-acquainted with the technique of making yummy scones that look like the one they sell at the bakery across the street which is on my mind 23 out of 24 hours of the day and that happens to be located right next to my new gym. WHY DO THEY DO THAT. The cruelty.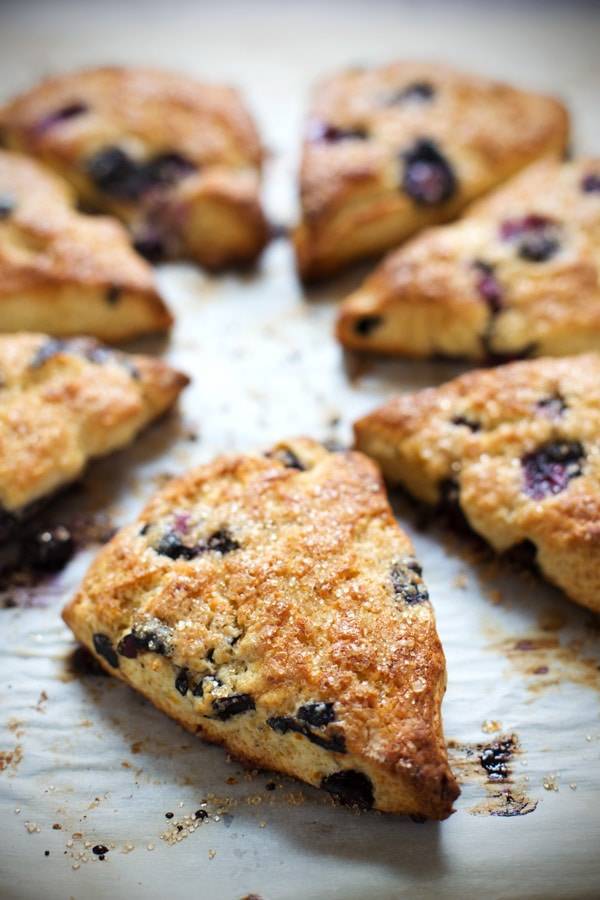 In the learning process, I found out that it is not even possible to eat overeat scones. Ever. I also found that brushing heavy cream over the tops pre-baking, like I showed you in one of those other pictures, is a MUST DO kinda thing. Thanks to Le Petit Brioche for the life-changing idea. One more thing: to be bakery-esque, you should pull them apart on the baking sheet. I ended up with a few melted-together scone cakes before I realized that truth.
And then, the sugar. But if I talk about that again it might be overkill, and then you wouldn't want to replace your Valentine's Day craftings with these. Which would mean no one would send these to me for Valentine's Day. I'm stopping now.
Scone + coffee + me = .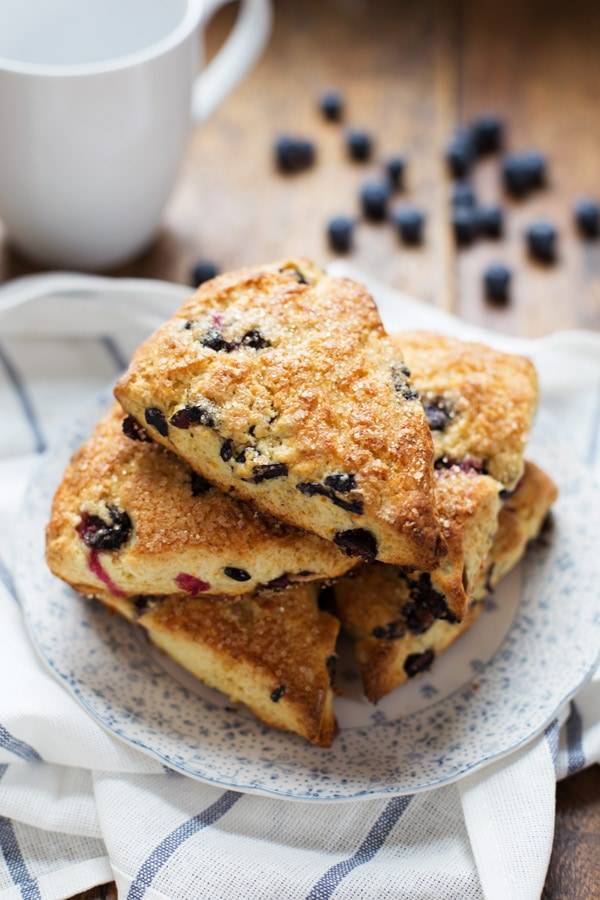 Print
Bakery Style Blueberry Scones
---
Description
Blueberry Scones that taste fresh from the bakery! Juicy blueberries, crunchy turbinado sugar, and perfect browned for breakfast or brunch.
---
2 cups

all-purpose flour

1/2 cup

sugar

1 tablespoon

baking powder (yes, TABLEspoon)

1/2 teaspoon

salt

1 tablespoon

grated orange zest

1/2 cup

cold salted butter, cut into very small cubes

1

large egg

1/2 cup

cold heavy cream

1 cup

blueberries, fresh
a few tablespoons of additional heavy cream for brushing the tops
turbinado sugar for sprinkling the tops
---
Instructions
Preheat the oven to 400 degrees. Stir the flour, sugar, baking powder, salt, and orange zest in the bowl of a stand mixer (or just a mixing bowl). Add the butter. Mix ingredients with an electric mixer until fine crumbs form.
With the mixer on low speed, add the egg and heavy cream in a slow stream. Mix until a thick, stiff dough forms. Add the blueberries and mix until the blueberries are just incorporated into the dough. If some of them break, that's okay – you'll get those pretty juice drips down the side.
Flour your hands. Remove the dough from the mixing bowl and place on a floured work surface. Roll into a rectangle, about 1 inch thick. Cut into 8 triangles; pull the triangles apart from each other and brush with heavy cream. Sprinkle with turbinado sugar. Bake for 18-20 minutes or until golden brown and firm to the touch. Sprinkle again with turbinado sugar for extra texture. Enjoy warm; store leftovers in an airtight container for 1-2 days.
Notes
Parchment paper helps prevent burning on the bottom. For lighter scones, be sure to keep the butter as cold as possible throughout the process. Stick the dough in the fridge for a few minutes if it's getting too warm and soft.
Prep Time:

20 mins

Cook Time:

20 mins

Category:

Breakfast

Cuisine:

American
Keywords: blueberry scone, scone recipe, berry scone, homemade scone recipe
Recipe Card powered by
The post Bakery Style Blueberry Scones appeared first on Pinch of Yum.