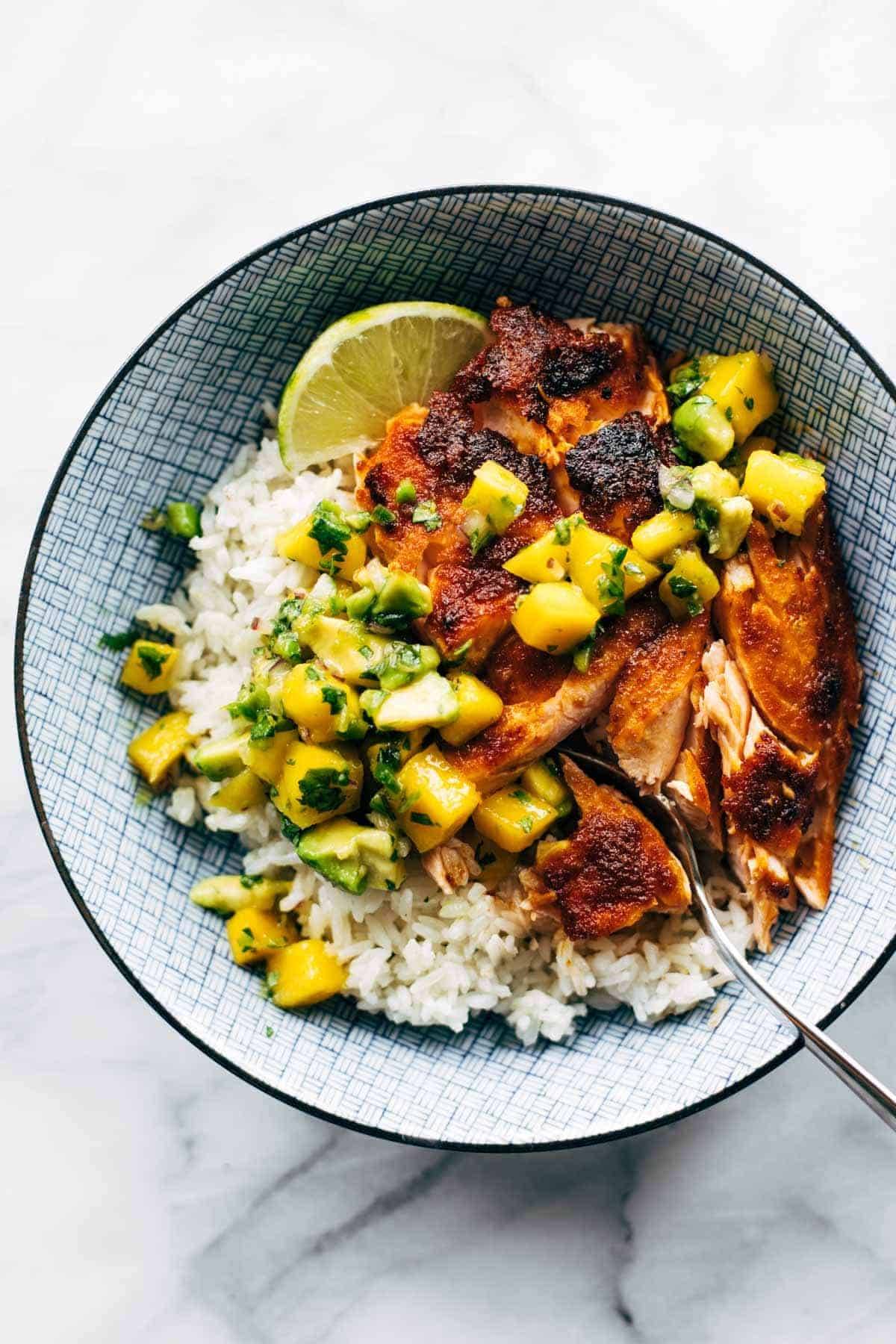 Affiliate links are marked with an asterisk! ♡
---
Salmon lovers, salmon skeptics… gather round, all of you.
This is not your ordinary salmon. It is salmon that's been given a delicious and aggressive treatment of sweet and smoky spices, which then gets broiled (fast! easy!) which results in a lightly crunchy outer layer, which conveniently mixes-and-matches with that buttery, silky, lime-zesty, sweet and juicy mango avocado salsa. It's equal parts super pretty and not fancy, which is why we just pile a scoop of each on hot steamy rice and don't get too precious about it. This is the bowl life.
You might be saying, nah, I don't really like salmon, and honestly I can respect that because salmon is salmon sometimes.
But also: you haven't had this salmon yet. You are about to be changed. Seriously. I would just like to say, it's an honor and a privilege to be a part of your conversion experience.
First Stop – Mango Salsa:
This takes about ten minutes. It's just a chop and mix situation.
Bring your self-control because otherwise this will be gone before the salmon hits the table.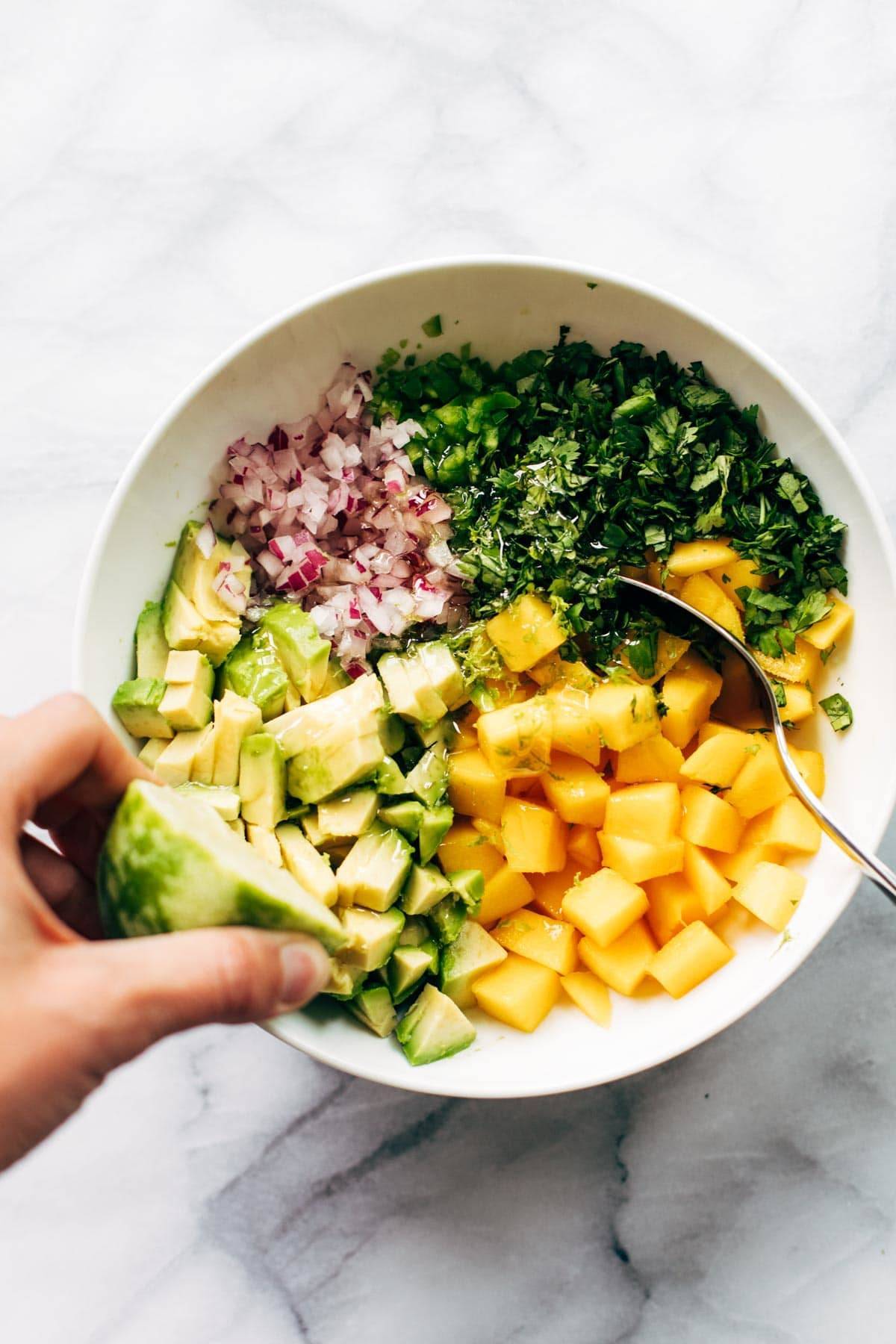 Here Comes The BBQ Salmon:
Salmon. Spice rub.
Broil.
Done.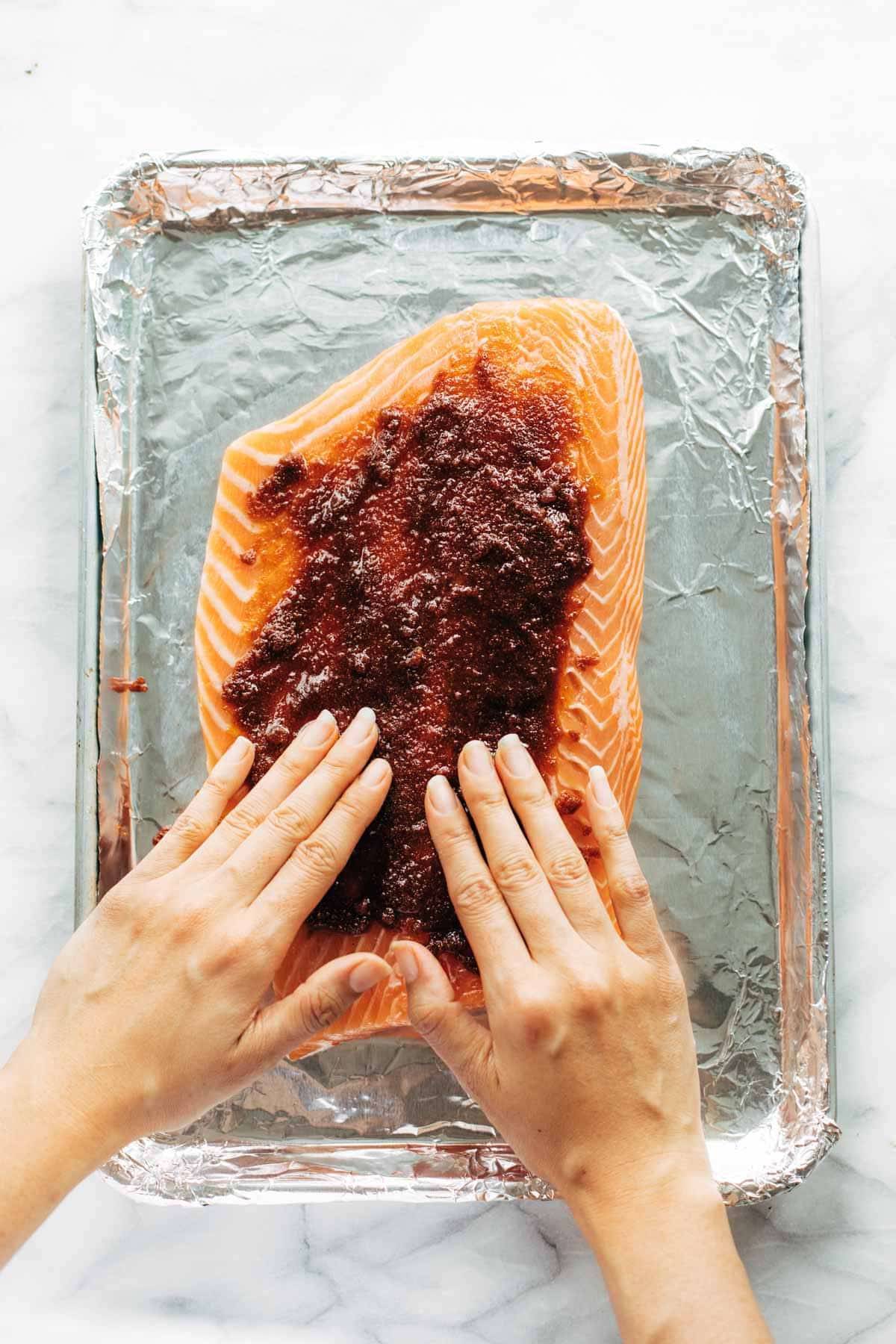 20 Minutes Later – BBQ Salmon Bowls!
And that's all.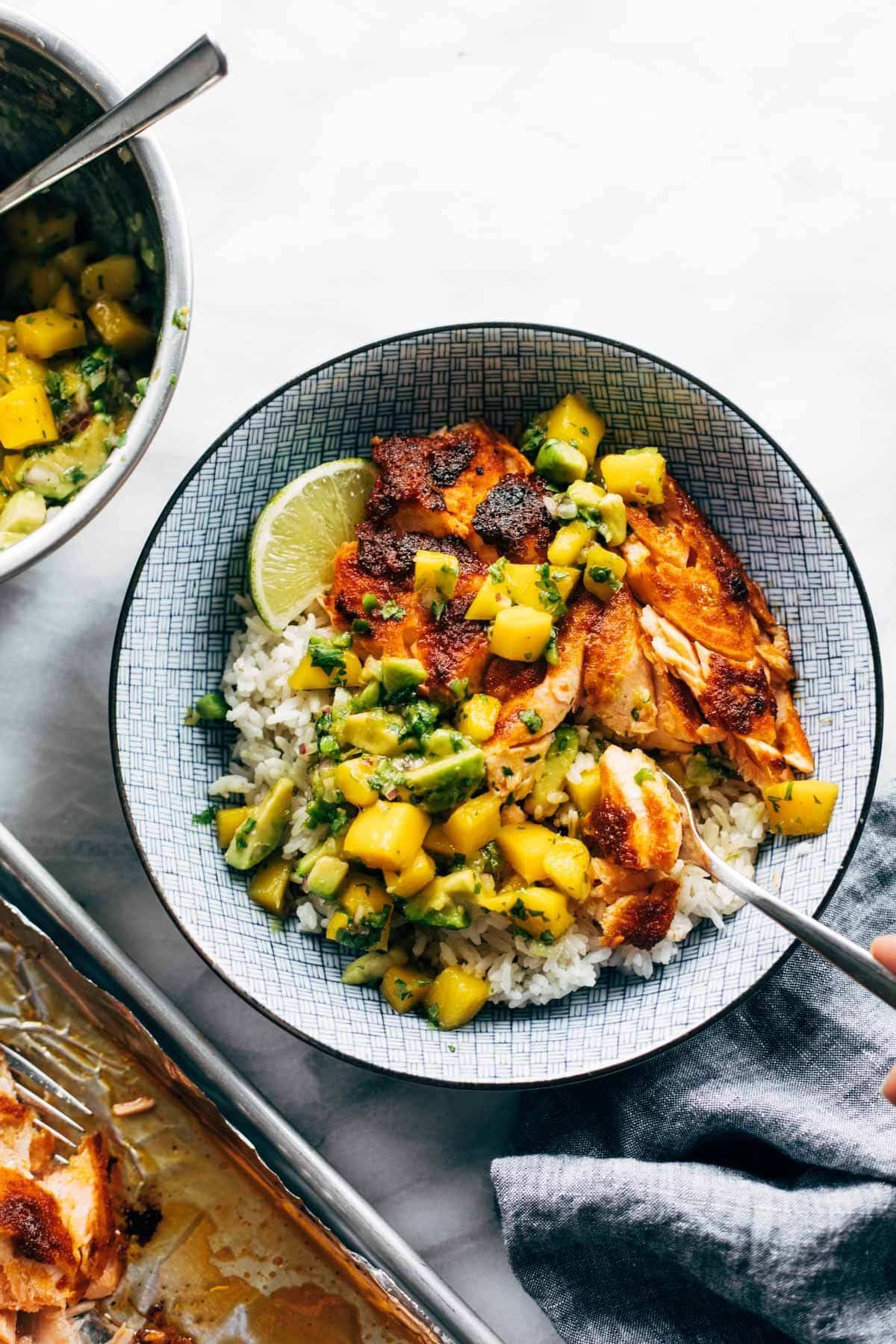 Could you add other veggies and things to the bowl OKAY YES of course you could. That's the whole point of bowls!
But even if this was all you had, it would be more than enough.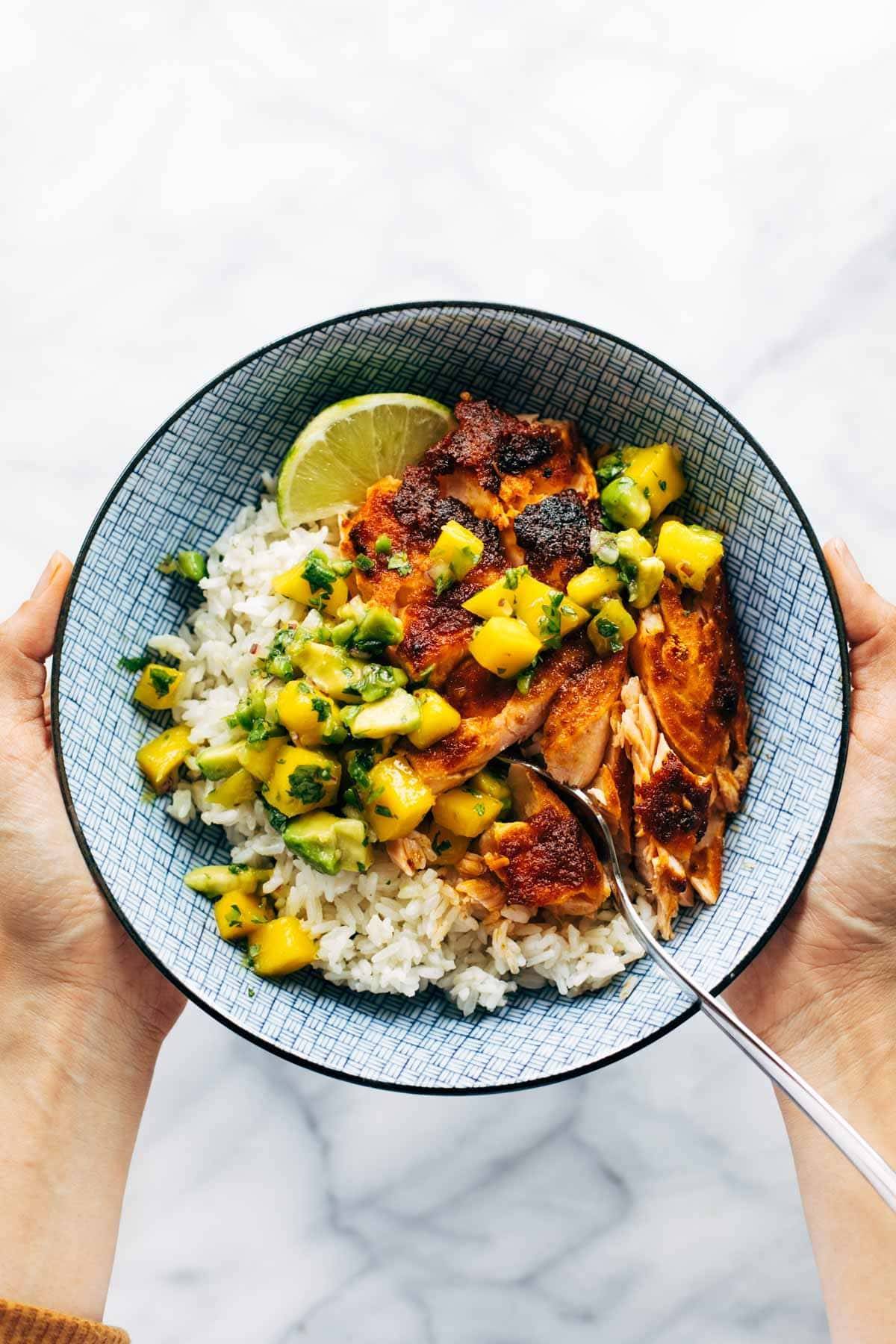 May your rice be hot, your salmon be smokey, sweet, and just-right flakey, and your mango salsa be extra sweet and limey! ♡
I got this recipe from my friend Jessica's cookbook (The Pretty Dish*) and I adjusted just slightly based on what I had in the kitchen already, and wowza. Salty, sweet, ultra fresh, and buttery without butter. Credit to the queen!
Watch How To Make Our BBQ Salmon Bowls:
Interested in all the wonderful ways to make salmon? Check out our how-to guide for cooking salmon!
Print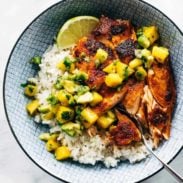 BBQ Salmon Bowls with Mango Avocado Salsa
---
Author:

Lindsay
Total Time:

25 minutes

Yield:

2-4 (depends on how much salmon you use)
Description
BBQ Salmon Bowls with Mango Avocado Salsa! An easy and impressive dinner with yummy smoky-sweet flavor and a zip of zesty homemade salsa to take it over the top. The BEST weeknight dinner.
---
Salmon:
1

–

2

lbs. fresh salmon

2 tablespoons

brown sugar

2 teaspoons

smoked paprika

2 teaspoons

onion powder

1 teaspoon

garlic powder

1/2 teaspoon

chili powder

1/2 teaspoon

kosher salt (more for a larger filet)

2 tablespoons

olive oil
Mango Avocado Salsa:
2

mangoes, diced

1

avocado, diced

1/4 cup

minced cilantro

1/4 cup

minced red onion
minced jalapeño (optional, to taste)
a drizzle of honey
a squeeze of lime juice + a little lime zest
salt to taste
For serving:
---
Instructions
Mango salsa: Toss all ingredients in a bowl to combine. Taste, adjust, try not to eat the whole bowl.
Get the oven ready: Preheat the oven to 475 degrees. Line a baking sheet with foil. Alternatively, you can set it to 500 degrees on the broil setting for medium rare with a yummy crispy top – the risk here is that you have to watch closely so it doesn't burn the sugar. If taking this route, make sure one of the oven racks is close-ish to the top, about 6 inches or so.
Salmon: Mix the spices and the olive oil to make a paste. Place the salmon skin side down on the baking sheet. Rub the paste liberally over the top part of the salmon. Bake for 6-12 minutes depending on the thickness of your salmon and your desired doneness. See notes if you're not sure.
Bowl it up: Pile up some rice, pull off some of salmon, and spoon that mango avocado salsa over the whole thing. Add a lime squeezer for good measure. IT'S SO GOOD.
Notes
How to tell when the salmon is done: "Salmon will change from translucent (red or raw) to opaque (pink) as it cooks. After 6-8 minutes of cooking, check for doneness, by taking a sharp knife to peek into the thickest part. If the meat is beginning to flake, but still has a little translucency in the middle, it is done." (Thank you Heidi!) I know this is the proper way to cook salmon, but I am also slightly paranoid about food safety, so the salmon we cook at home has almost no translucency when done. If the rare center freaks you out, don't worry – it's still very, very delicious when cooked all the way through (just don't let it get WAY overcooked or it will be dry and sad).
How much salmon to use: I don't really care for leftover salmon, so I usually opt for a smaller filet – something like 1 – 1/2 lbs. so that we can eat it once or twice without a lot of leftovers. A 2 lb. filet will serve 4-6 people easily, especially when combined with rice, mango avocado salsa, etc.
Do you use fresh or frozen mangoes: Fresh is the most delicious. But frozen chunks can also work! Just let them thaw out on the counter and then give them a little extra knife treatment so they're good for salsa-size.
What else does this salmon go with: You can also add any other vegetables you like to build out your bowls (totally optional). I used some of my leftover Korean BBQ style cauliflower in there and it was SO yummy. I've also added roasted vegetables like mushrooms and asparagus. 
Prep Time:

15 minutes

Cook Time:

10 minutes

Category:

Dinner

Method:

Bake

Cuisine:

BBQ
Keywords: bbq salmon bowls, mango avocado salsa, salmon with salsa
Recipe Card powered by
---
Time To Show You Off!
Tag @pinchofyum on Instagram for a chance to be featured
---
One More Thing!
This recipe is part of our favorite avocado recipes page. Check it out!
The post BBQ Salmon Bowls with Mango Avocado Salsa appeared first on Pinch of Yum.