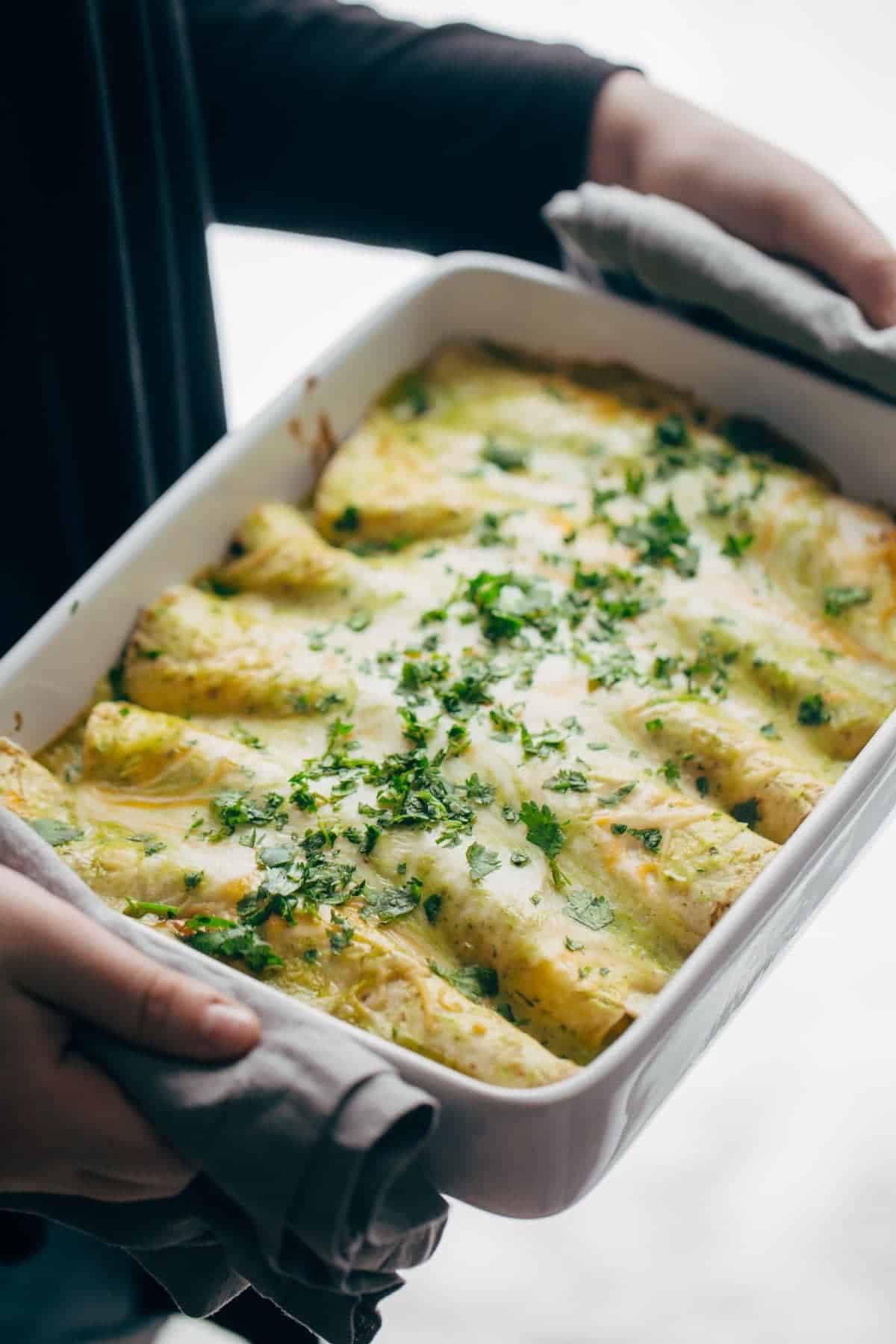 First the sauce, now the breakfast enchilada finale.
Friends, these are BREAKFAST ENCHILADAS. Wait tho let me say that again: break-fast-en-chi-la-das. That you are going to make in your own house and then devour as breakfast (and lunch and dinner and midnight snack) for the foreseeable days ahead. That are going to make you either a breakfast hero to yourself or a breakfast hero to the world's luckiest souls who get to share this pan of cheesy goodness with you.
Things are looking real good, guys. Reeeeal good.
Breakfast Enchilada Details:
These breakfast enchiladas are loaded with…
soft-scrambled eggs (yes I AM a full blown egg snob and yes they MUST be soft-scrambled)
chili potatoes,
spicy ground turkey,
and melty cheese.
Additional fire roasted tomatoes? Mushrooms? BACON? Be my guest. You fill those breakfast enchiladas up to your enchilada-loving heart's delight.
Once you figure out your filling, things are about to be wrapped up in a nice snug tortilla hug and blessed with that Creamy Spinach and Roasted Poblano Sauce that we just got done adoring.
How do I even express my love? How?
This combo of flavors + my hungry tastebuds + everyone's favorite meal of the day… it's magical.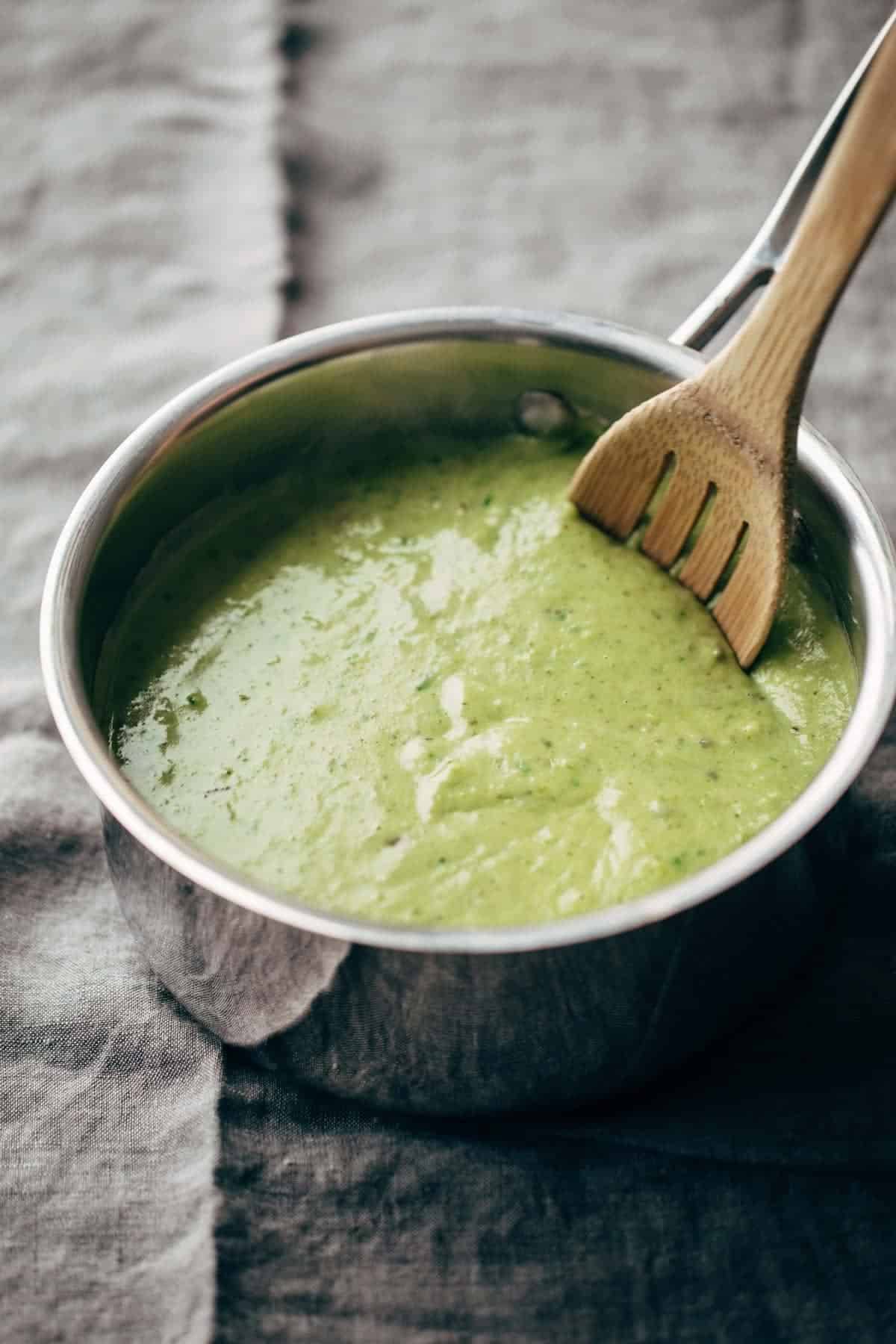 On a more personal note  I'm headed off today for a girls' weekend getaway!
Last year for our first-ever girls' weekend getaway, we went to Aspen, CO for a lattes / fall hikes / hot tubbing kind of vibe. It was EVERYTHING. In the way that you come home from a weekend of straight hang outs and talking and FUN, are semi-depressed for a week, and then immediately start planning your next getaway.
In this phase of life, scheduling something means we are working around babies (um, do blog babies count?) and pregnancies and feeding schedules, but we made it work! And so this year – on this very day – we are headed to Scottsdale, AZ for more of a sun / spa / pool kind of situation.
And while Scottsdale might be feeling more like a spring day than the hot and steamy tropics right now, luckily I am of the variety of people who feels that any temperature over 60 degrees justifies pool time, so bring it on, Scottsdale. Bring. It. On.
I'll be vacation-snapping the weekend away (-> pinchofyum), so please tell me you have Snapchat. PLZZZ.
Just thinking about this now -> making a pan of these breakfast enchiladas and tucking them away in the freezer would not be a bad strategy for dealing with the post-vacation blues that I know will follow this weekend. I think I might be on to something here.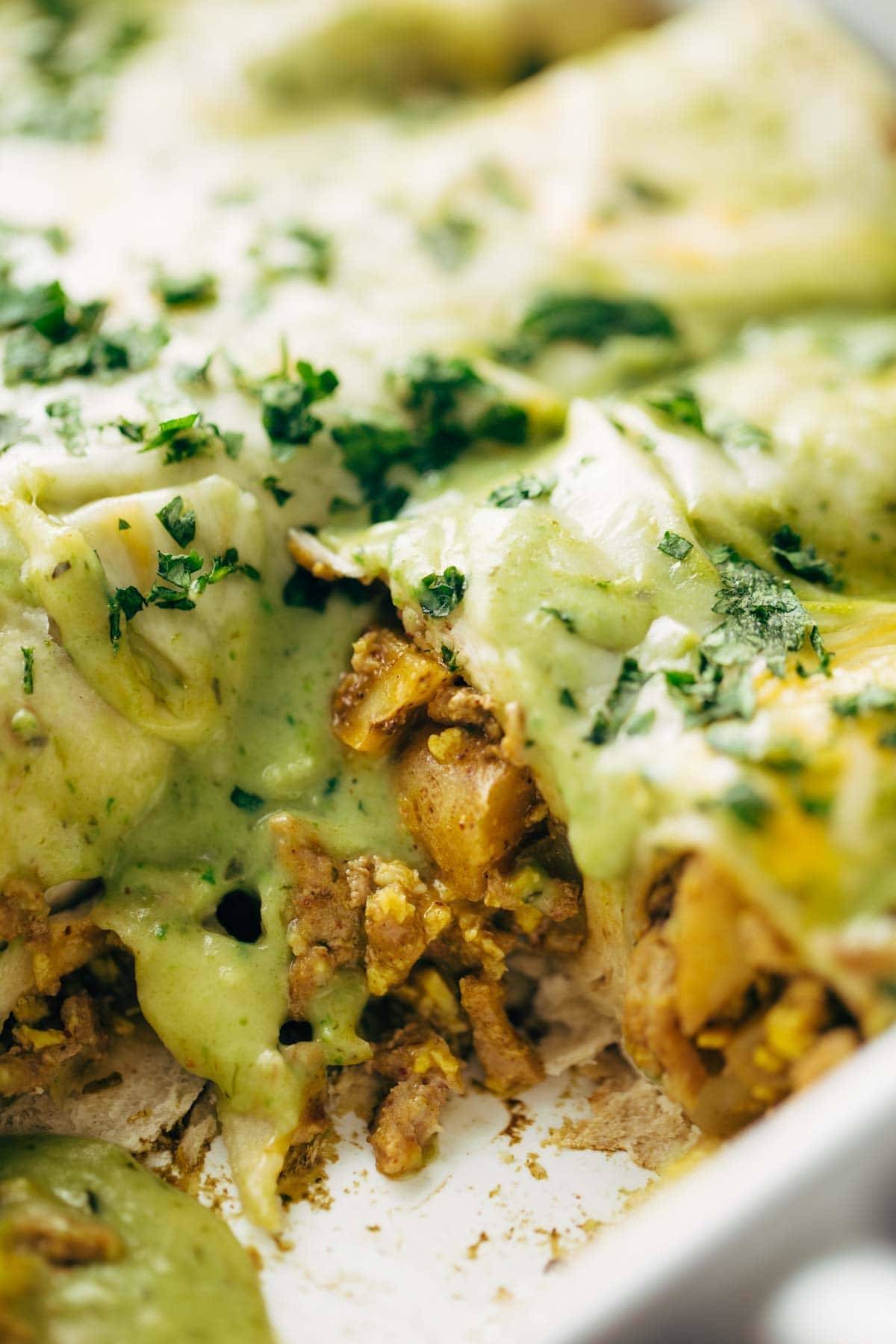 Bjork and I made this twice and both times we ate it for breakfast, lunch, and dinner for, like, two days straight before it was all gone. I SO looked forward to eating the leftovers every day – and we need that kind of positivity in our lives during the month of February, don't we?
Go go go. Breakfast Enchilada power to you!
Check Out Our Video For How To Make Breakfast Enchiladas:
*Note: video above uses the tomatillo sauce from this recipe.
Print
Breakfast Enchiladas with Roasted Poblano Sauce
---
Author:

Pinch of Yum
Total Time:

45 minutes

Yield:

9-12 enchiladas depending on tortilla size
Description
Breakfast Enchiladas – with scrambled eggs, chili potatoes, spicy turkey, cheese, and a homemade roasted poblano sauce. SUPER yummy! Love this recipe for breakfast, brunch, or brinner.
---
1 tablespoon

olive oil

1/2

lb. potatoes, peeled and diced

1 tablespoon

EACH chili powder and cumin

1 teaspoon

salt, divided

1

lb. ground turkey

5

eggs, beaten

1 1/2 cups

Mexican style cheese
3-4 cups poblano sauce (slightly thinned out)

9

–

12

large corn or flour tortillas
---
Instructions
POTATOES: Heat a large skillet to medium high heat. Add the olive oil, potatoes, and half of the spices and salt; saute until golden brown and tender-crisp. Transfer to a bowl and set aside.
TURKEY: In the same pan, add the turkey and half of the spices and salt. Break apart into small pieces until fully cooked. Transfer to a bowl and set aside.
EGGS: In the same pan, with the heat tuned to low, add the eggs and push around gently in the pan until barely scrambled. Add the potatoes, turkey, half the cheese, and 1/2 cup of the poblano sauce to the pan with the eggs. Stir to combine.
ASSEMBLY: Preheat the oven to 350 degrees. Grease a 9×13 pan and spread a thin layer of poblano sauce over the bottom. Fill each tortilla with the egg/turkey/potato mixture and roll up; place seam side down in the baking dish. Cover with remaining poblano sauce and cheese.
BAKING: Bake for 20 minutes until bubbly and hot. Serve immediately (but this also makes great leftovers).
Notes
I had to use two pans to hold all 10 enchiladas. My 9×13 only held about 6 because of the size of tortillas we were using.
The tortillas absorb a lot while they bake, and they can get a little dry and stiff if not coated in sauce. So one little hack is to set aside a little bit of sauce and mix it with water to create a very thin sauce that you can coat each tortilla with before rolling.
Prep Time:

15 mins

Cook Time:

30 mins

Category:

Breakfast

Cuisine:

Mexican
Keywords: breakfast enchiladas, roasted pobano sauce, egg enchiladas
Recipe Card powered by
Note: Nutrition label is for the filling only. Tortillas vary greatly, so I left that out. The sauce has its own nutrition label, so you'll have to add the filling (listed here) + sauce + tortilla to get a full nutritional count.
---
One More Thing!
This recipe is part of our collection of easy brunch recipes. Check it out!
The post Breakfast Enchiladas with Roasted Poblano Sauce appeared first on Pinch of Yum.