This recipe is sponsored by DeLallo
---
Do you know what's never not delicious? Even in the heat of summer?
Noodles. ♡
And if you should find yourself, sometime in the next week or so, making a rustic garlicky burst-tomato cream sauce speckled with fresh summer sweet corn and CSA zucchini, tossing it with some hot pappardelle, and making a perfect little bed where you can place a piece of juicy pan-fried chicken only to top it all with Parmesan and basil… well, then, this summer is looking good for you.
And the reality of my life right now is that I literally just ate this, like, moments ago, and now I'm looking at it and I want to eat it again. ♡ Ugh. THE POWER OF PASTA. Love and respect.
This DeLallo pappardelle egg pasta is a summer favorite of mine – I mean, yes, also a favorite in every other season, but I like pappardelle for its ability to hold up tender little chunks of super fresh summer produce with its flat, wide shape. And pappardelle can be hard to find, which is why this is an essential to add to your next DeLallo order so you just have it on hand always. Along with the spirali. And the shellbows. Motto for 2021: fun pasta shapes make life better.
I also find cream sauces to work so deliciously with pappardelle, and this egg pasta in particular, because it gives the sauce what it needs for the appropriate balance of silky, slippery, sticky clingy-ness. Find someone who loves you the way this sauce holds on to this pasta. Is that how that works?
The cream sauce here, though – it's not overly heavy, in my opinion. It's just enough to hold it all together and give you the little bit of extra-luscious something that makes you try it and say, actually, yes, I think I do need 100 more bites of this. (And you do.)
Summer produce is here for us and everyone said AMEN!
I love a good meal that's a… full meal, like one where you don't have to make a vegetable side to go with it, you know what I mean? So the more the merrier in terms of summer veggies here. I used the tomatoes to make the sauce, and then included sweet corn and zucchini as my extra veg add-ins, and had chicken for my protein, but all of those are swappable for whatever you have or whatever you like.
The best recipes are the ones where you can say, this is how I did it and now YOU DO YOU! And that's what I'm saying here.
Go into the world and make this pasta your own.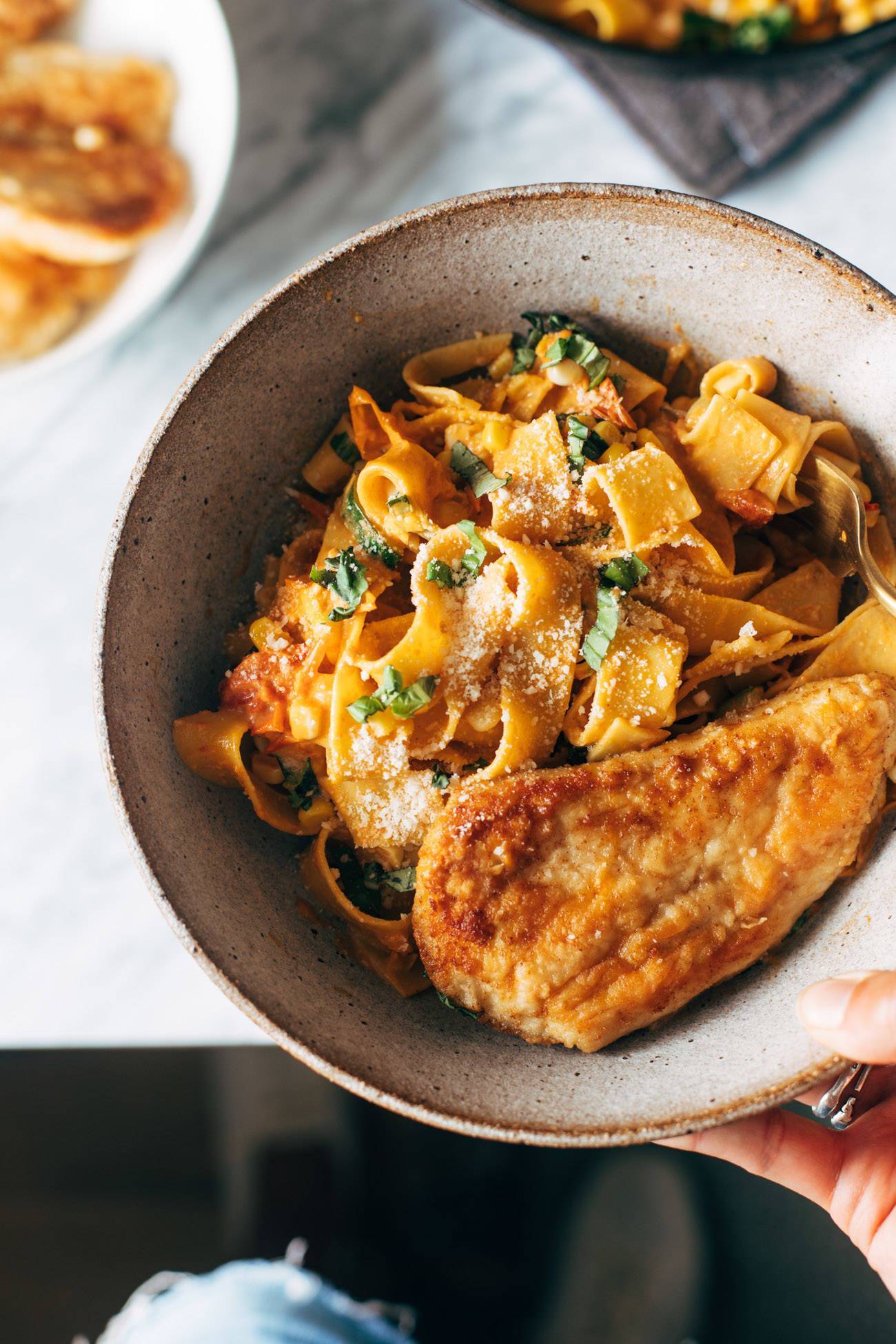 Prefer To Watch Instead Of Read?
Burst Tomato Pappardelle: FAQs
Looks delicious! Can I use chicken thighs here?
Absolutely! Just make sure to pound them out a bit so they can cook quickly.
Can this be made vegetarian?
Of course! Just leave out the pan-fried chicken.
I don't have one of the veggies listed on hand. Can I use other veggies here?
Please, please, please! This pasta is begging to be customized to be whatever you want. Peas? Sure! Mushrooms? Yum!
Print
Burst Tomato Pappardelle with Zucchini, Sweet Corn, and Pan-Fried Chicken
---
Author:

Lindsay
Total Time:

45 minutes

Yield:

4 mega servings
Description
Meet your next fave summertime pasta! Egg pappardelle tossed in a luscious cream sauce with fresh, bursty summer veg and the best crispy pan-fried chicken. Here we goooo! 
---
For the Chicken:
1

lb

. boneless skinless chicken breasts, cut thin or pounded a bit so they cook quicker and more evenly

1/2

cup

flour in a bowl with plenty of salt and pepper

1 tablespoon

DeLallo Private Reserve Extra Virgin Olive Oil

1

–

2

tablespoons butter
For the Pasta and Sauce:
1

package DeLallo Egg Pappardelle

1

–

2

cups

cherry tomatoes

1

–

2

cup

sweet corn, cut off the cob (about 2 ears)

1

–

2

cups

zucchini half-moons (about 1 small zucchini)

2

cloves minced garlic
juice of

1

lemon
salt to taste

1/2

cup

heavy cream
Parmesan and/or basil for topping
---
Pasta: Cook the pasta according to package directions. Toss with oil and set aside.

Pan fry the chicken: Coat each chicken breast in flour mixture; shake off excess. Heat the olive oil in a large skillet over medium high heat. Add the butter after the oil heats up to prevent burning it. Add chicken pieces and cook for a few minutes on each side until golden brown and cooked through. Remove chicken and keep warm.

Make the sauce: Add your cherry tomatoes into the chicken pan – leaving all the oil and extra browned bits so the tomatoes can pick up all that flavor. Cook the tomatoes until they are soft and burst under the gentle pressure of the back of a wooden spoon. Break the tomatoes to release their juices and make a thick sauce.

Add the veggies: Add the corn and zucchini; sauté for a few minutes until the zucchini is softened. Stir in the garlic for your last minute of sautéing, just long enough to make your kitchen smell amazing. Add lemon juice, cream, and season with salt and pepper.

Put it together: Add pasta and toss gently to bring it all together. Serve topped with Parmesan, basil, and a nice piece of golden brown chicken.

Prep Time:

15 minutes

Cook Time:

30 minutes

Category:

Pasta

Method:

Pan-fry

Cuisine:

Italian-Inspired
Keywords: pan-fried chicken, pappardelle, pasta and chicken
Recipe Card powered by
Thank you to DeLallo for sponsoring this post!
Lots Of Summer Pastas To Love
---
One More Thing!
This recipe is part of our collection of incredible corn recipes. Check it out!
The post Burst Tomato Pappardelle with Zucchini, Sweet Corn, and Pan-Fried Chicken appeared first on Pinch of Yum.