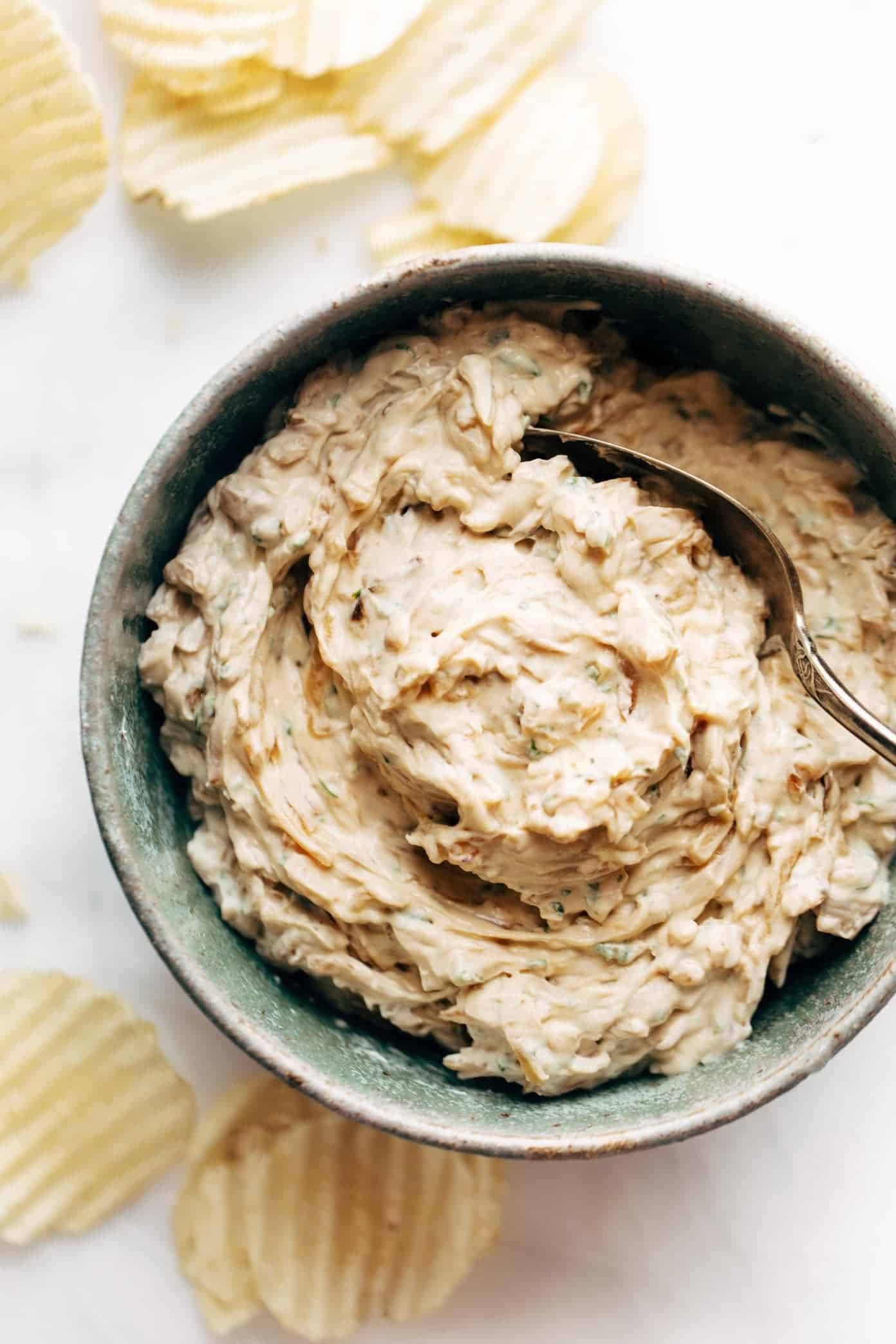 Can you guys learn to love this caramelized onion dip even if it is not a) healthy, or b) particularly beautiful?
Can you look past outward appearances to the soul of the caramelized onion dip which is, above all else, extremely luscious, totally delicious, and wonderful to share with friends? Can you envision a future for this caramelized onion dip that includes appetizers, burgers, sandwich spreads, and maybe even a little something to help you get extra with your eggs?
I knew you could. I knew you had that in you.
How To Make Caramelized Onion Dip
Step 1: Cut a few onions.
Step 2: Caramelize those onions in a pan.
Step 3: Mix them up with everything else in a bowl and EAT.
The caramelization here is obviously key, and as with most of life, wine helps, but water can also soften things up for you if you'd rather not with the wine. What matters most here is TIME. They just need time. A good nonstick pan, a knob of butter, some gentle heat, and lots of patient time. We are looking for that deep golden brown color – my rule of thumb is that once I think they look pretty good, I give them another ten minutes just to be safe, and I'm always glad I did. We want deep, dark, sweet, soft, and fragrant.
After that, things get pretty basic: cream cheese, sour cream, a dash of this and a sprinkle of that… boom.
Grab a chip and DIVE TO THE BOTTOM OF THAT GOLD MINE.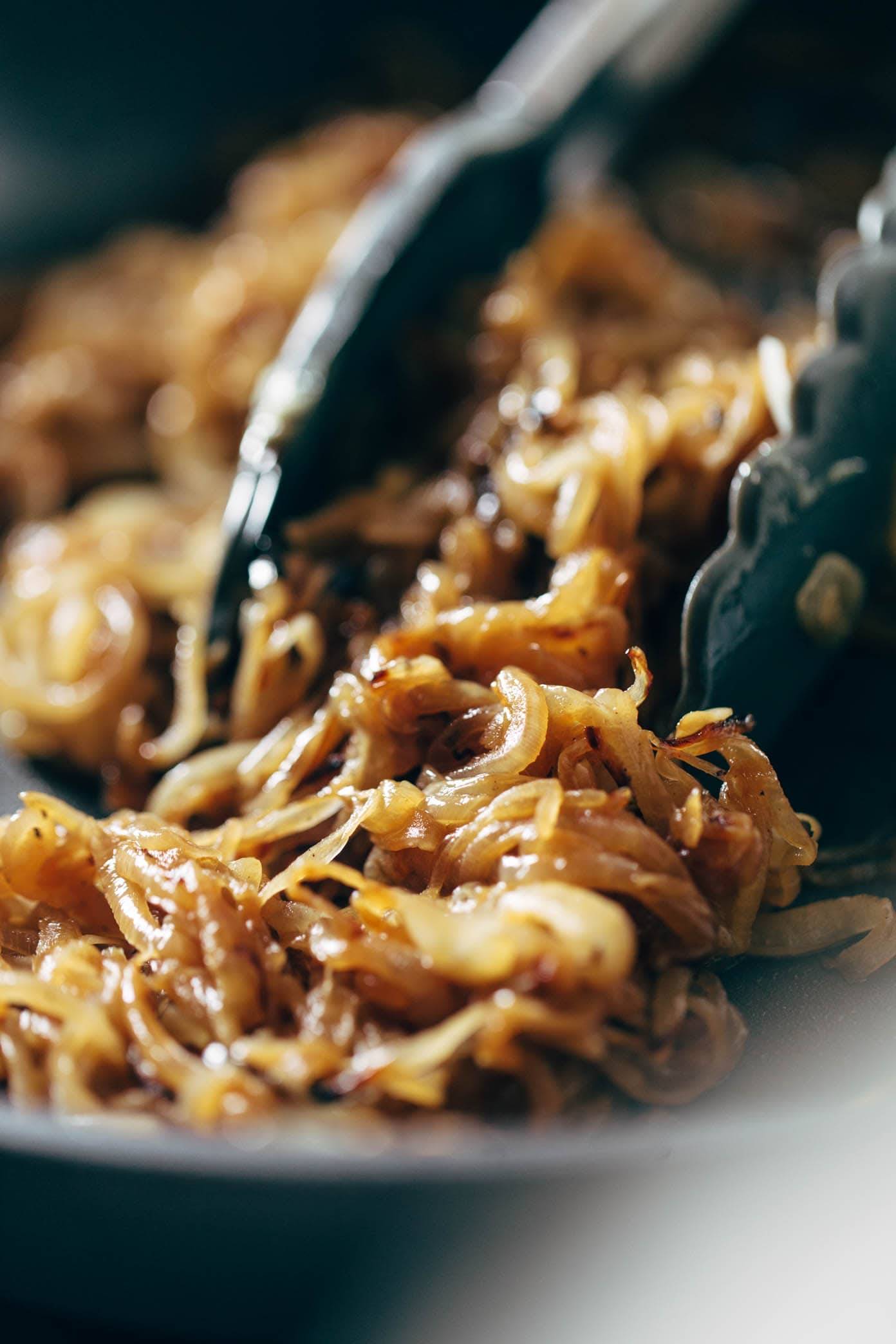 Let's Talk About Caramelizing Onions
Okay, so this is where you'll spend approximately 90% of your time in this recipe. Caramelized onions take some time but they are WORTH IT. Oh so worth it.
Slow and low is the long game here – we don't want those onions to burn, but we do want that delicious golden-brown caramelized goodness. Caramelized onions can take up to 30-40 minutes, so please please please be patient here.
And how do you know when your onions are *officially* caramelized? They'll be golden brown, very soft, and sticky/ jammy.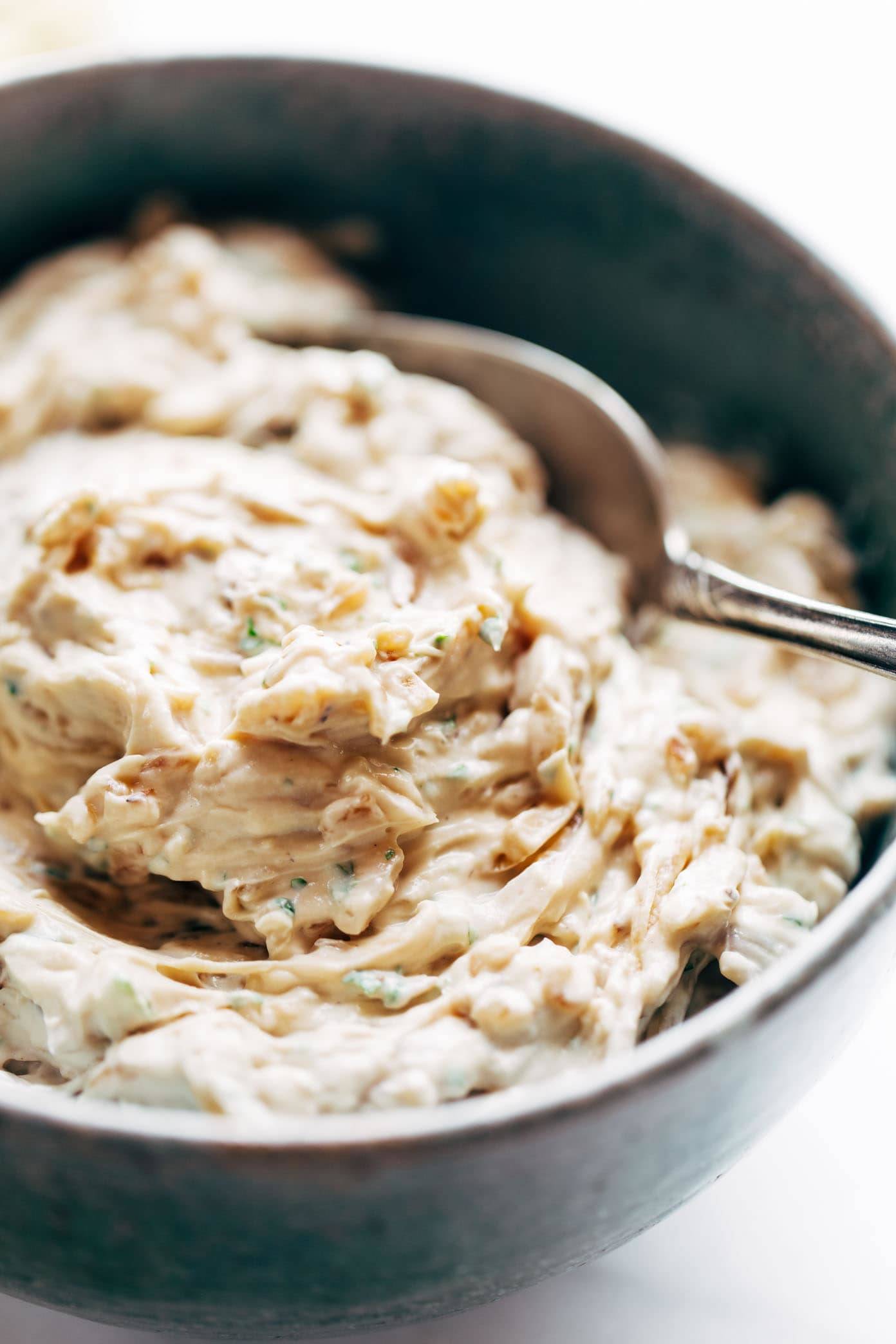 What To Serve with Caramelized Onion Dip
Chips are a good dipping option (says the food blogger obsessed with all kinds of chips). I am partial to sour cream and cheddar ruffle-cut chips here, but plain potato chips are fine as well. I can also vouch for bagel chips, pita chips, pretzel crisps (especially Parmesan Garlic! why dey so good) and if you need to go the veggie route then FINE, yes, snap peas and red peppers and cherry tomatoes are also nice.
If you are making this recipe to eat between two people, I'd suggest cutting it in half. It will give you A LOT of dip. It is ideal for a big holiday party, like 10-15 people.
GOOD NEWS is that it will keep well in the fridge for 3-4 days so you can relive the joy on all your future eats. I have yet to find a savory breakfast, lunch, or dinner that did not benefit from a spoon-plop of caramelized onion dip on top.
Tools For Cutting Onions
The section contains affiliate links to products we know and love.
Caramelized Onion Dip: Frequently Asked Questions
Can you use any type of onions?
Yes! Yellow onions, white onions, red onions, shallots, or a mix of all of them – this is a very, very forgiving recipe. Need inspiration? Check out our guide to everything onion.
How long does this last in the fridge?
This should last for 3-4 days, so you can eat beyond the party or make it a day ahead.
How should I serve this dip?
The most obvious way: with chips and other dippers (potato chips, pita chips, tortilla chips, veggies if you must). BUT it also makes for a delicious burger or sandwich spread if you find that you have some extra to use up.
Are there any shortcuts for caramelizing the onions?
If you don't want to stand over your stove, you have options. You can caramelize your onions in the oven, or dump them in the Instant Pot for an even more hands-off option.
Prefer To Watch Instead Of Read?
Print
Caramelized Onion Dip
---
Author:

Lindsay
Total Time:

55 minutes

Yield:

12+ (perfect amount for a party)
Description
This caramelized onion dip is a total crowd pleaser! Serve with chips, pita or bagel crisps, or on sandwiches and burgers. YUM.
---
3

medium size yellow onions

2 tablespoons

salted butter

2 teaspoons

each salt and sugar

1/4

cup

white wine

12

ounces

sour cream

8

ounces

cream cheese, softened
fresh parsley to taste
soy sauce (!!) or Worcestershire to taste
---
Instructions
Prep: Peel the onions and slice them very thinly. I find it helpful to use a mandoline for this. (affiliate link)
Sauté: Heat the butter in a nonstick skillet over medium heat. Add the onions, sprinkle with salt and sugar, and saute for 10-15 minutes, stirring every few minutes. Pour a little bit of wine in and let it sizzle out. Stir, add wine, sizzle, etc. After about 30 minutes, your onions should be deeply golden brown and fragrant.
Mix: Transfer onions to a cutting board and chop coarsely into small pieces – or just use a kitchen scissors and snip them up right in the pan. Mix the cream cheese and sour cream. Mix in the onions and a handful of fresh parsley. Taste and season – if you want just a little sumthin sumthin extra, add a small splash (like, a tablespoon or less) of soy sauce and/or Worcestershire. This just gives it a little depth and umami flavor.
Notes
I also like this with a mayo base, so sometimes I'll swap half of the sour cream or cream cheese for an equal amount of mayo.
I used Sauvignon Blanc for the wine, but water works fine, too. You just want to keep the onions from getting overly dried and browned and the liquid helps them stay juicy and caramely.
Prep Time:

10 mins

Cook Time:

45 mins

Category:

Dip

Cuisine:

American
Keywords: caramelized onion dip, onion dip, party onion dip
Recipe Card powered by
---
More Appetizers For The Win
One More Thing!
This recipe is part of our collection of best dip recipes. Check it out!
The post Caramelized Onion Dip appeared first on Pinch of Yum.