Ha-looooo!
And welcome to today's episode of Tacos Are The Best Food Ever featuring Caramelized Pork Tacos.
I don't mean to be super obvious here, but we have some really delicious things going on in the food department right now that you need to know about. Starting with thin strips of caramelized pork tucked into a soft corn tortilla, moving on to fresh cucumber pineapple cilantro salsa, and finishing with a chili mayo sauce over the top because SAUCE RULES THE WORLD.
I'm just a little obsessed.
Scrappy Is Best
When I read the book Bread and Wine (affiliate link) a long time ago, one of my favorite concepts/takeaways from the book was this idea that anything can be made into a few certain super-flexible recipes.
Soup, for example. Just about any combination of random ingredients that might happen to be hiding in the depths of the produce drawer of the fridge can probably be made into soup. It might be a scary soup – I'll give you that. But with a little water, a little salt, a few spices… no biggie. You've got a basic soup.
Or stir fry. Assuming you have some sort of grain or rice – or maybe not even because you're just going to create more of a stir-fry-meets-hash situation? I wouldn't be mad – you can almost guarantee that any random ingredient combination can become something resembling a stir fry.
And that's sort of how I feel about these pork tacos, in the most scrappy, hungry, wonderful way.
How To Enjoy These Pork Tacos
These are coming to your face today in TACO FORM. Make no mistake – taco form is the original. This is where it's at. Warm tortilla stuffed to the brim with all those colors and textures and the Sweet Salty Spicy trifecta. But if you're a person who sort of takes these things called recipes and runs with them into crazy food places ( hiii), this is an open invitation for you to reincarnate these tacos into a new food form.
After we devoured the tacos themselves, I found myself bringing this combo back to life in SALAD FORM (toppings + meat over greens with the chili mayo as dressing), and then in STIR FRY FORM (toppings + meat + leftover quinoa, fried into something that resembled the most delicious sweet and savory fried rice) which was really, really good.
And then there was the DIPPED WITH CHIPS form, but that's really only for the select few who have a refined enough palate to really appreciate that kind of sacred food wizardry.
Start with the tacos, though, okay? Sizzle up that meat and chop up your salsa and drizzle with spicy chili sauce – just think of it as your gateway to greatness.
Check Out Our Video For How To Make Caramelized Pork Tacos:
More Taco Yum
This recipe inspiration is coming to us from the extremely talented Stephanie Le of I Am A Food Blog! Here's her original caramelized pork taco recipe and here's her beautiful, drool-worthy cookbook, Easy Gourmet (affiliate link), which is full of recipes like dis. Mwah!
Print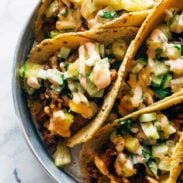 Caramelized Pork Tacos with Pineapple Salsa
---
Author:

Pinch of Yum
Total Time:

25 minutes

Yield:

6-8 tacos (depending on the size of your tortillas)
Description
Caramelized Pork Tacos with Pineapple Salsa – topped with sriracha mayo, obviously! Quick and easy to make! Naturally gluten free.
---
For the Pork:
1 tablespoon

oil

1

shallot, minced

1

clove garlic, minced

1

jalapeño, diced with ribs and seeds removed

2 teaspoons

fish sauce

18 ounces

boneless pork loin, sliced into thin strips

2 tablespoons

sugar

2 tablespoons

water
For the Pineapple Salsa
1 cup

chopped pineapple

1 cup

chopped cucumber

1/2 cup

chopped cilantro

1/2 cup

chopped red onion or shallot
a squeeze of lime juice
a pinch of salt
tortillas for serving
cilantro and lime for serving
chili sauce for topping – see notes
---
For the pork: Heat the oil in a heavy pan over medium heat. Add the shallot, garlic, and jalapeño – saute until fragrant, about 2 minutes. Turn the heat to high and add the pork and the fish sauce – stir fry for a few minutes until the pork is no longer pink. With the heat very high, add the sugar and water and stir once – then let the pork caramelize by not stirring it for about 1 minute. Repeat this process until the pork is nice and golden brown.

For the salsa: Toss everything together in a medium bowl.

For the tacos: Warm the tortillas quickly in a skillet with a little bit of oil. Arrange the pork between 6 tortillas and top with the salsa and the chili sauce.

Equipment
The equipment section may contain affiliate links to products we know and love.
Notes
For the chili sauce, combine two parts mayo and one part hot sauce (more or less depending on how hot your hot sauce actually is – I used Sriracha which is just moderately spicy). Whisk to combine or shake in a jar. Add water if needed to thin out the consistency – serve over the tacos.
For leftovers, store each element (pork, salsa, and sauce) separately.
Prep Time:

10 mins

Cook Time:

15 mins

Category:

Dinner

Method:

Stovetop

Cuisine:

Mexican
Keywords: taco recipe, pork tacos, pineapple salsa, pork recipe
Recipe Card powered by
---
One More Thing!
This recipe is part of our collection of best taco recipes. Check it out!
The post Caramelized Pork Tacos with Pineapple Salsa appeared first on Pinch of Yum.