This week I made caribbean jerk salmon. Spicy salmon with tons of flavor and good-for-you vitamins. Then issued myself an automatic license to eat 50 leftover Cadbury Eggs. I love salmon.
But really, the salmon. Chipotle seems to always be on the brain these days, which lead me to morph my salmon dinner into a Caribbean Burrito Bol, complete with mango and avocado salsa. Ding-Ding-Ding!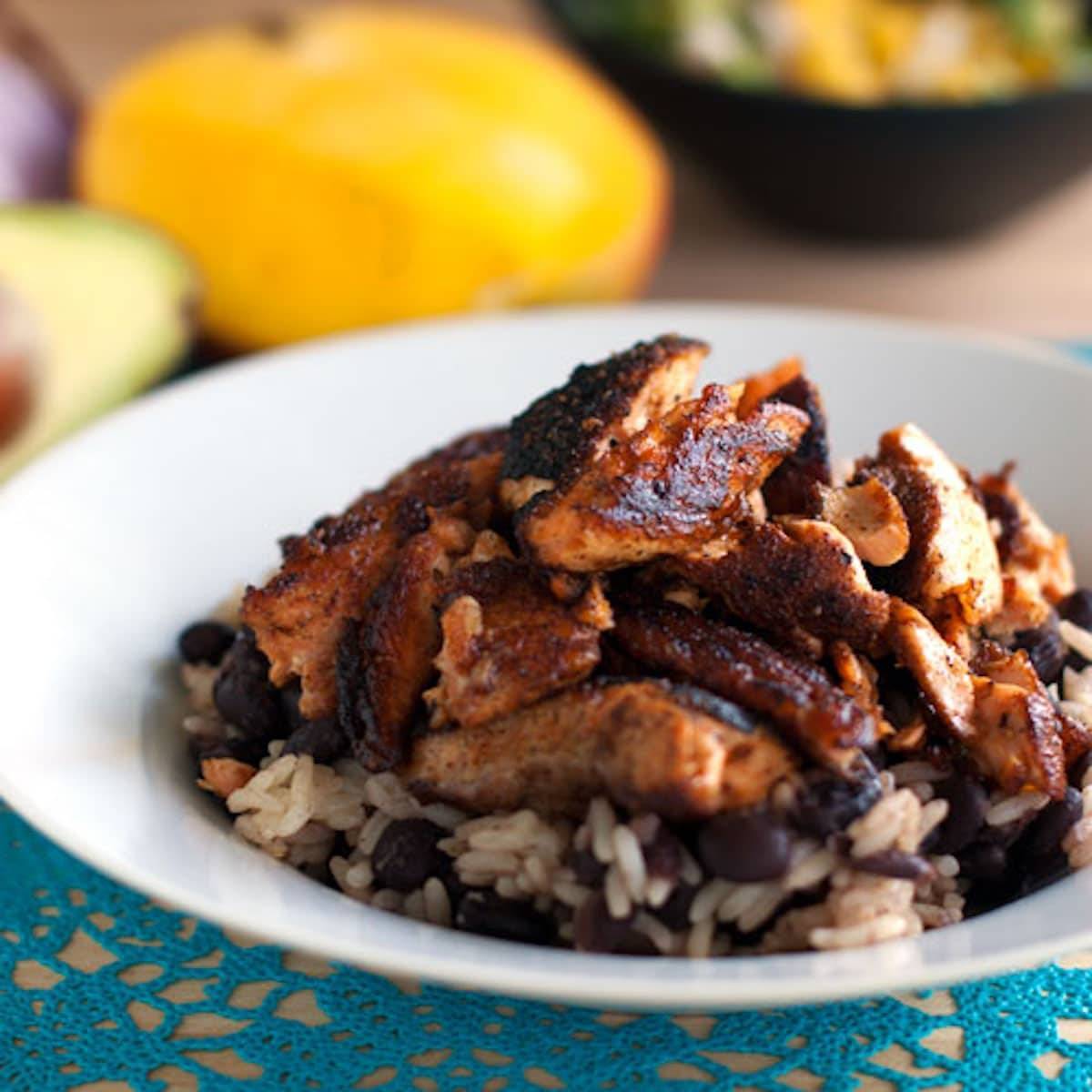 Truthfully, making salmon usually stresses me out. It always gets too burnt on the outside but not cooked on the inside. Maybe I should turn the heat down, or maybe I should start buying skinnier salmon filets, or maybe I should make it more than twice a year, or maybe I should stop playing Draw Something on my phone and start watching the skillet.
Speaking of normal things that shouldn't be stressful, how about that Monday-morning-pre-work-meeting-mocha? Drive through lines are sweat-inducing and bad for the heart when you're running late and the whole city of St. Paul would also like a drive-through mocha.
But the salmon.
The beauty of this salmon (other than the deliciously spiced flavor and lightly crispy texture) is that there is no need to be stressed out. You're going to end up pulling the skin off at the end and stir it all up, which makes the cooking process (for a twit like me) wayyy less intimidating. Once you've got your salmon all prettied up, you're going to plop it on a bed of rice and beans and top it with fresh mango and avocado salsa. Why? Because it's life changingly yummy, and you deserve it. And because Cadbury eggs for dessert are good.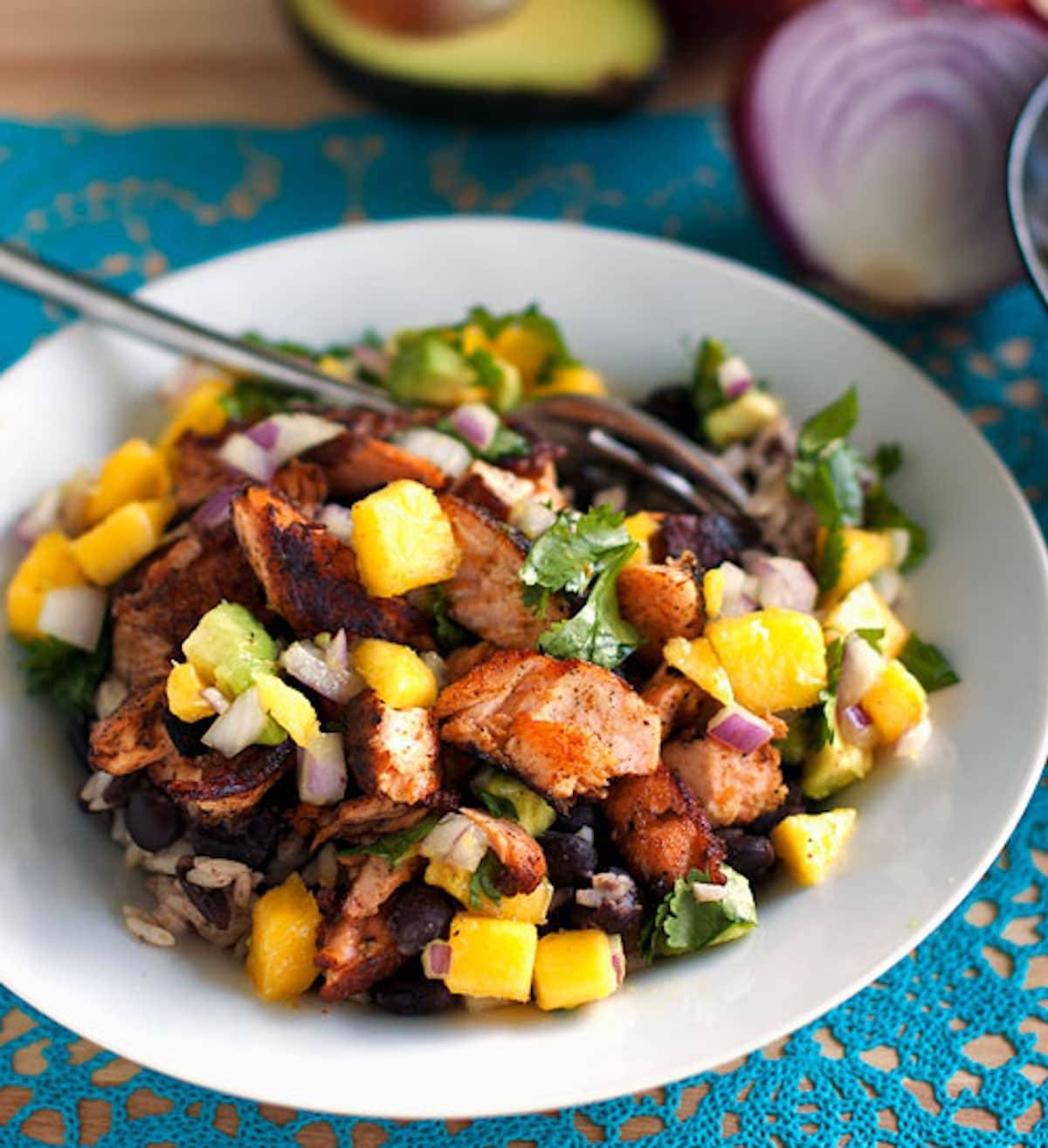 Print
Caribbean Jerk Salmon Bowl with Mango Salsa
---
Description
This Caribbean jerk salmon bowl with mango salsa is easy, full of flavor, and super healthy. This is feel-good food at its best!
---
1

lb. wild caught salmon filet with skin (in

one

or several pieces)

1 teaspoon

oil

1 1/2 teaspoon

cumin

1/2 teaspoon

curry

1/2 teaspoon

chili powder

1/2 teaspoon

allspice

1/4 teaspoon

cayenne pepper

1/4 teaspoon

cinnamon
pinch of sea salt

2 cups

cooked white rice

1

12 ounce can black beans, rinsed and drained

2

mangoes, peeled and diced

1/2

large red onion, diced

1

bunch fresh cilantro, chopped

1

squeeze lime juice

1

avocado (optional)
---
Instructions
Stir the spices together. Rub over salmon filets (on the meat and also the skin if you want). Sprinkle with sea salt.
Heat the oil in a skillet over medium high heat. Add salmon, starting skin side down, and cook for 3-5 minutes. Add more oil as necessary to prevent from sticking. Flip the salmon and cook another 3-5 minutes on the meat side. The salmon will start to get a brown crust on the outside from the spices.
When salmon is mostly cooked, pull off the skin, leaving just the pieces of meat in the skillet. Break up into smallish pieces and leave on heat until completely cooked through (not translucent). Once the pieces are cooked, remove from heat – salmon dries out quickly if you overcook it.
Combine mangoes, red onion, cilantro, lime juice, and avocado in a small bowl and stir until combined. Season with sea salt.
Stir together rice and beans and season with several pinches of salt, adding a tablespoon water if necessary.
Divide between bowls, layering the rice and beans, salmon, and salsa into each bowl.
Notes
The reason I take the skin off is because I never have good luck cooking whole salmon filets and it allows me to make sure all of the fish is cooked through. Also, it makes for great texture in the bowl!
Prep Time:

20 mins

Cook Time:

10 mins

Category:

Dinner

Cuisine:

Caribbean
Keywords: caribbean jerk salmon bowl, salmon bowl recipe, mango salsa
Recipe Card powered by
I would like to live on a bed of rice and beans. Is that so much to ask?
The post Caribbean Jerk Salmon Bowl with Mango Salsa appeared first on Pinch of Yum.