And then comes the part where I post a salad recipe using a bagged salad mix. Modern times have given us modern salad mixes, and I could not be more happy about it.
Friends, meet my Cheater's Power Salad.
First, let me give you the perks of dis lil power salad.
Kale.
Cilantro.
Green onion.
Cabbage.
Shredded chicken (or your choice of protein).
Black beans.
Avocado.
Tortilla strips and crispy onions.
BBQ ranch dressing.
UM, YAH. Are you all over this or what? Because I AM ALL OVER THIS.
I've been having this salad for lunch, like, all of the days of the week. I tell everyone about it. I love talking to people about what they eat in real life, and spoiler: 99% of the time, what people tell me they eat in real life is so simple – grilled chicken, pastas, five ingredient recipes, crockpot soups, tacos and burritos and fried eggs and roasted veggies – that it always brings me back down from the world of glamourous-nutso-instagrammers who are trying to tell us that cordyceps are (or is? is it plural?) normal, and doesn't everyone have that in their pantry? fridge? what do you even keep cordyceps in? don't even get me started on ashwagandha.
You know I am passionate about good food, but I am BIG TIME PASSIONATE about good food that people (including myself) will actually make and eat.
So hi, Cheater's Power Salad! Hello. Get right up in there.
Okay. Now that we've established the deliciousness of this crunchy, nutritious, totally versatile power salad, let me give you the other perks.
Affordable.
Easy to shop for.
Easy to make throughout the week.
Zero prep time. Or maybe, like, five minutes. YOU CAN DO THIS.
No leftover salad ingredients hanging out in your fridge for six months afterwards. I'm looking at you, half-used head of red cabbage.
THANK YOU SALAD MIX. What is my life.
But salad mix has a few buddies that are very necessary for taking this salad to the blog-worthy level.
Just let a simple can of black beans, and a fresh, buttery avocado do their thing, okay? It's not a huge party. We don't have to get complicated here.
And like that, a star is born.
A kale, cabbage, cilantro, green onion, black bean, avocado, chicken if you want (or maybe some quinoa), tortilla strip, crispy onion, BBQ ranch, full-blown STAR. God bless the simple power lunches of this world.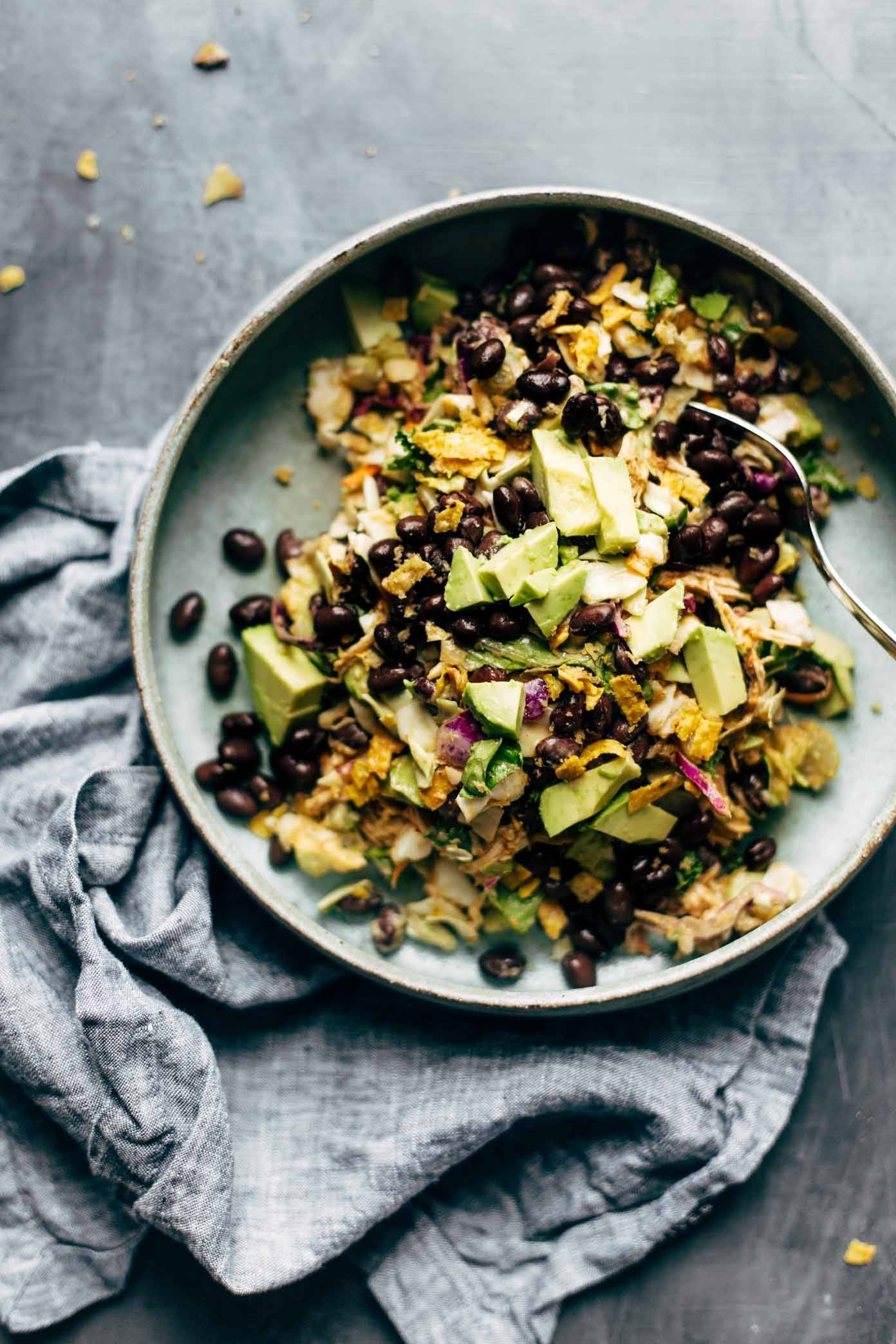 Print
Cheater's Power Salad
---
Author:

Lindsay
Total Time:

20 minutes

Yield:

2-4
Description
Cheater's Power Salad – kale, cabbage, avocado, green onion, cilantro, black beans, crispy onions, tortilla strips, chicken, and BBQ ranch dressing, made from a salad mix! I KNOW. perfect for easy lunches!
---
1

bag southwestern salad mix – Dole Chopped BBQ Ranch Salad Kit is THE BEST. Hands down.

1

can black beans, drained and rinsed

1

avocado, cubed
shredded chicken, quinoa, or other protein of choice
---
Instructions
Cook the chicken (or other protein). I like shredded chicken, so I usually opt for cooking one pound of chicken breasts in the Instant Pot (15 minutes) or slow cooker (3-4 hours) with a jar of salsa or some taco seasoning.
Toss your salad ingredients together. YUM YUM YUM.
Notes
The salad mix I use has lots of cabbage, carrots, kale, cilantro, green onions, as well as crispy onions, tortilla strips, and BBQ Ranch dressing. A good salad mix (like this one) is very important for making this cheater's salad worth your while. This is not an iceberg lettuce situation. It is fresh, nutritious veggies pre-chopped with some yummy extras to boot. Well done, Dole.
Chicken can be hot or cold – I've enjoyed it both ways in this salad! You can easily sub a different protein if you're not into chicken. Nuts, sofritas tofu, or even just some cooked quinoa would be equally as delicious.
I don't recommend making this all at once for one person – I just cook all of the chicken, keep it in the fridge, and then assemble salads throughout the week as I'm ready to eat them.
Prep Time:

5 mins

Cook Time:

15 mins

Category:

Lunch

Cuisine:

American
Keywords: bagged salad recipe, bbq ranch salad, easy salad recipe
Recipe Card powered by
The post Cheater's Power Salad appeared first on Pinch of Yum.