It's time for another version of Chopped Salad Deliciousness.
And I am not mad that this version includes spicy jalapeño garlic shrimp, chopped carrots and edamame, roasted cashews, baby spinach, and the lightest, crispiest, most addicting little golden brown wonton strips PLUS (wait for it…) a garlic-lime-herb-packed tangy dressing.
One thing real quick: I live for dressing. In my contemplative food life, I ask deep questions like: what is a salad without a knockout dressing? Answer: it is nothing.
Dressing dressing dressing dressing dressing. Flavor flavor flavor flavor flavor. Lime lime lime. Garlic garlic garlic. Herbssss.
This salad is SO super crunchy, flavor-loaded, and delicious. I seriously have no interest in messing around with salads unless they are DAAAAAANG good, and this one passes all my tests for the yum factor.
Salad angels. They be singing.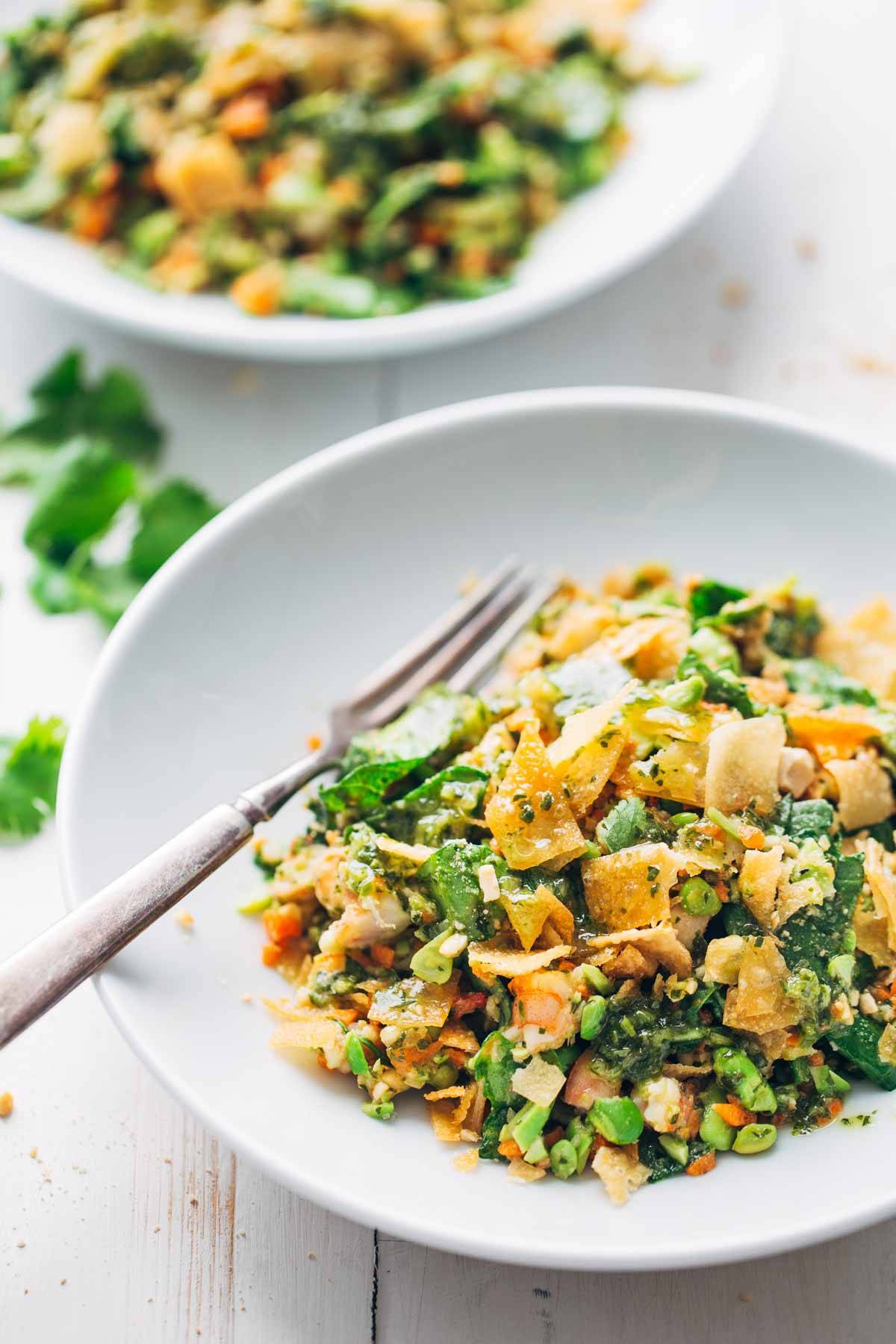 I'm also hearing the springtime weather angels singing (together with the salad angels, obvi) because it's basically been a steamy tropical paradise here in Minnesota this week. 60 degrees and sunny – SAY WHAT? The amount of joy I get from having the sun warm my face and arms while just sitting on our front steps is sort of alarming.
Generally speaking, I don't love spring – if we're being honest, it's pretty ugly with all that snow melting into dirt puddles, revealing the brown soggy grass underneath, and I'm always always always either wishing I was wearing a T-shirt instead of a sweater, or wishing for sunglasses instead of my thickest winter jacket, or wishing I hadn't pulled the flats-without-socks move so early in the year – but other than all that stuff that I don't love about spring, there is a big part of it that I do love.
Primarily these are the things involving babies, dogs, sunshine, and happy neighbors cracking their windows and coming out of Winter Hibernation. Minnesota is such a fun place to live in the spring because you can literally watch everyone coming back to life again.
Also, the new daylight hours? They were made for my procrastinator, always late lifestyle, which usually involves a superfast (read: short) run around the lake, ehhhrrr, the block, whatever – at THE VERY LAST POSSIBLE SECOND OF DAYLIGHT and settling in for dinner sometime around 9pm. The late person schedule not something I'm necessarily proud of, but it's my life right now, and it just jives so much better with the newly adjusted daylight hours.
So welcome, Spring Daylight, sustainer of happiness, giver of energy, joy of my soul. ♡
Thank you for allowing me to be more of my late schedule self.
Now that it's spring and you can still take pictures of your dinner in daylight (wheee!), please make this crunchy, colorful, flavor-packed party of a shrimp salad and send me a picture of you. Or the salad. Or the spring sun. Or all three together – oh my goodness, the amount of perfect in that combination is out of control.
Carry on, Salad Lovers!
PS. I am calling this a Thai salad just to give some indication that there is Asian flavor in the house, but it's really a little bit of everything – between the mint, the jalapeño and serrano, the parsley, the cilantro, the edamame, and the wonton strips, we're crossing lots of borders here. Salad flavor mashup!
Print
Chopped Thai Shrimp Salad with Garlic Lime Dressing
---
Author:

Pinch of Yum
Total Time:

35 minutes

Yield:

4-6 servings (I got five huge meal-sized salads)
Description
This Chopped Thai Shrimp Salad is loaded with veggies and tossed with a homemade garlic lime herb dressing. Crunchy and delicious!
---
For the Garlic Lime Dressing:
1/2 cup

olive oil (or other oil)

1/4 cup

white wine vinegar
juice of

two

limes (lemons also work)

2 tablespoons

water

1 tablespoon

honey

2

cloves garlic

1

serrano pepper, keeping the ribs and seeds if you like spicy

1 cup

packed fresh herbs (mint, cilantro, green onions, parsley)

1/2 teaspoon

salt
For the Salad
oil for the pan

3

cloves garlic, minced

1

serrano pepper, minced

1

lb. shrimp

4 cups

spinach or other greens

4

large carrots, peeled

2 cups

edamame, shelled and cooked

3/4 cup

cashews
fresh wonton wrappers + oil for frying if you want to REALLY take it over the top
---
Instructions
Dressing: Pulse all the ingredients except the herbs together in a food processor or blender. Add the herbs and pulse until they are just green specks (not green puree) in the dressing. Add salt, taste, and adjust. Set aside.
Shrimp: Heat a little bit of oil in a large skillet over medium low heat. Toss in the garlic and the serrano pepper and stir-fry for 1 minute or until fragrant, being careful not to burn or brown the garlic. Add the shrimp, sprinkle with a little salt, and turn up the heat a little bit – enough to cook the shrimp but not so much that you burn the garlic. Saute for a few minutes – when the shrimp is no longer translucent, remove from the pan and set aside until cool enough to handle. Roughly chop the shrimp.
Veggies: Chop the veggies very finely – I do this by just running each ingredient (cashews first, then edamame, carrots last) through the food processor a bit. It gets everything to have that nice "chopped salad" texture without taking a ton of time.
Serve: Toss the chopped veggies, chopped shrimp, greens, and dressing together. Top with wonton strips if you have them (see notes).
Notes
Crispy Wonton Strips: heat oil in a heavy duty frying pan over medium low heat, about 1 1/2 inches deep. Cut fresh wonton wrappers into strips. When the oil is hot (it's ready when a drop of water sizzles across the top), add the wonton strips and gently flip every 30 seconds to 1 minute until very light golden brown. Remove with tongs or a slotted spoon and place on paper towels to drain excess oil. Sprinkle with salt. And now – good luck not eating every last one.
Prep Time:

15 mins

Cook Time:

20 mins

Category:

Dinner

Cuisine:

Thai-Inspired
Keywords: chopped thai salad, shrimp salad, garlic lime salad dressing
Recipe Card powered by
The post Chopped Thai Shrimp Salad with Garlic Lime Dressing appeared first on Pinch of Yum.