This cinnamon sugar apple cake is just one of those things that is very regular but somehow elevates the day a little bit. It's low maintenance, highly snackable, has delicious sweet apple flavor, and 100% as warming, fragrant, and cozy a basic apple cake should be.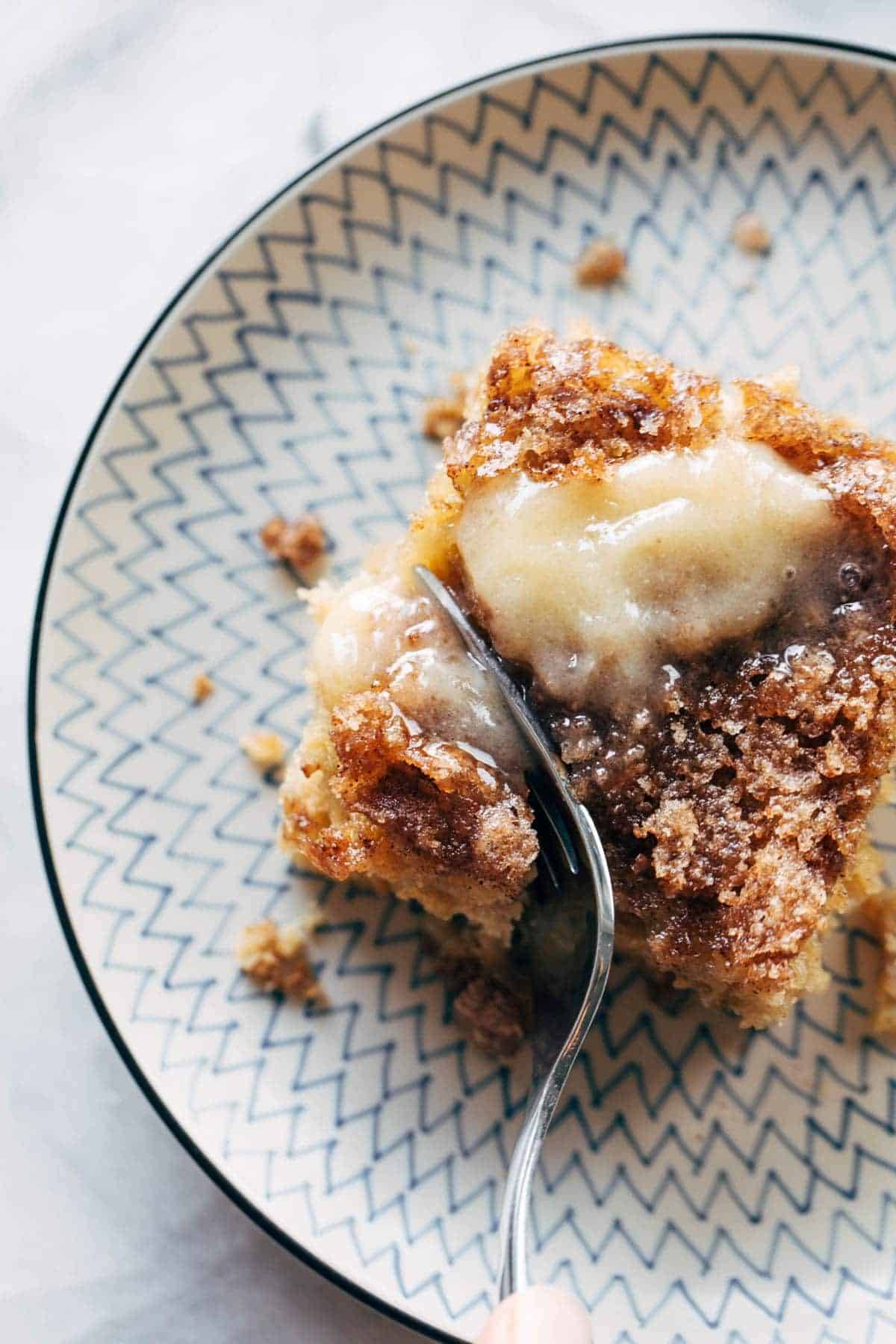 This apple cake is:
light and fluffy
loaded with fresh apples
sweet but not overly sweet
magically crispy with that layer of cinnamon-sugar on top
a nice vehicle for some whipped cream or honey butter
excellent with coffee
and a sweater
and a fall candle
coming to you, warm, fresh-out-the-oven, in just under an hour.
It's just so, so good. And I want to tell you all about it.
---
In This Post: Everything You Need For This Apple Cake
---
Prefer To Watch Instead Of Read?
Ingredients For Apple Cake
Here's what you'll need:
Apples (anything can work, but Honeycrisp or Granny Smith Apples are )
Dry ingredients (flour, baking soda, brown sugar)
Wet ingredients (egg, oil, buttermilk, vanilla)
Cinnamon
Sugar
BUTTER
It's very likely you already have everything on hand which makes this the best lazy weekend last-minute treat.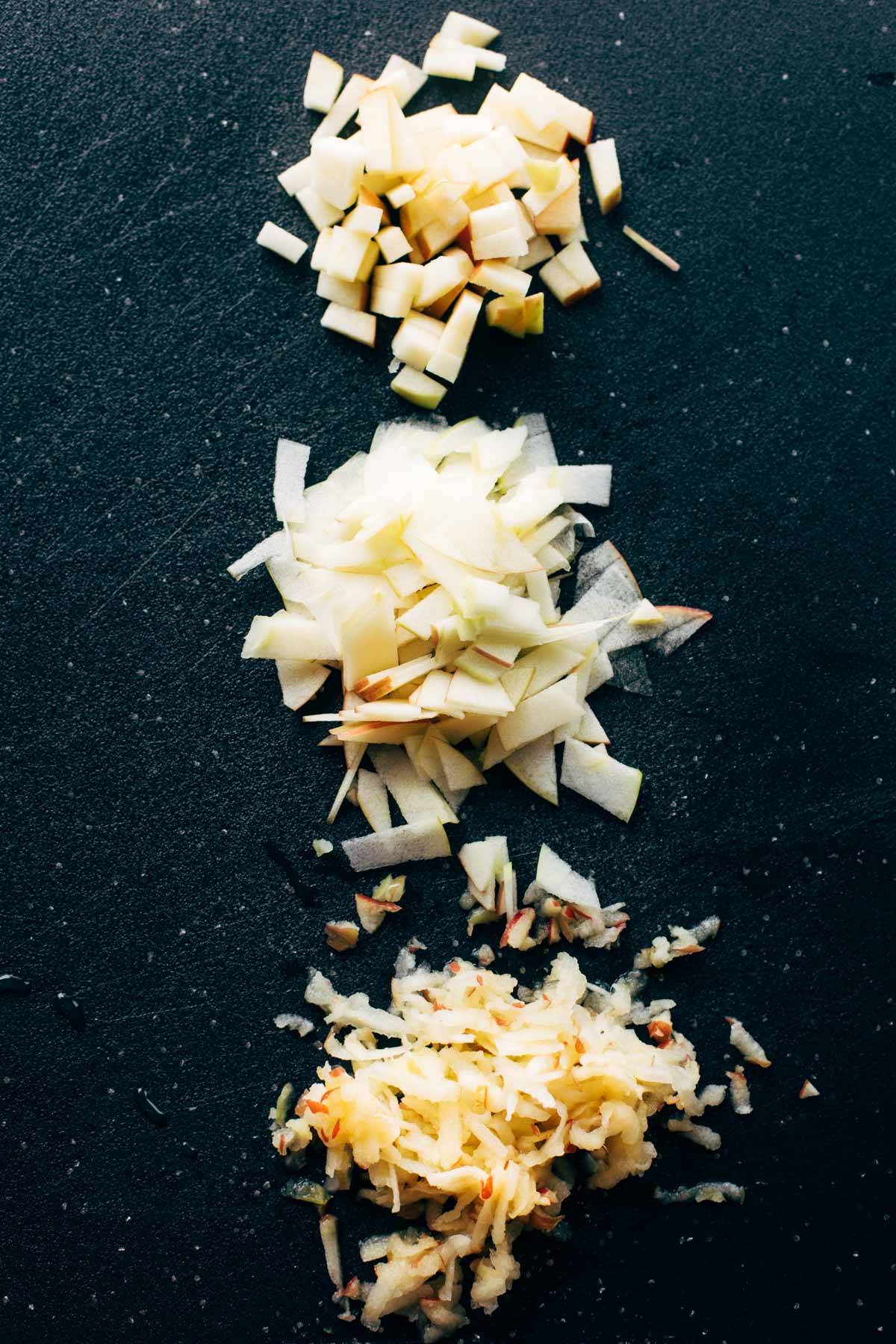 How To Cut Apples For Apple Cake
First of all, let me just establish that I do not peel my apples for anything. No thanks, man. I just cannot be bothered to spend any time removing a perfectly good, edible, nutritious peel. You go ahead and make the rules in your own kitchen.
Here are some apple-cutting options for you:
Finely diced (top): classic apple cake situation. You'll get tiny pockets of juicy apple tucked into your cake. Very normal and delicious.
Thinly sliced (middle): my personal favorite. I use a mandoline (affiliate link) to slice the apples super thinly, and then I run through them again with a knife to create bite-sized, paper-thin pieces of apple. This allows you to still get those pockets of apple in your cake, but helps distribute the apples a bit better so you're not ending up with such heavy chunks of apple in the cake.
Shredded (bottom): the pieces of apple will magically sort of "disappear" into the cake. No pockets of apples – just lots of that naturally wonderful apple sweetness. This is my second favorite way to cut the apples.
The Best Apples For Apple Cake
Now that you know how to slice 'em, what's the best type of apple to use in this recipe?
Here are a few of my favorites:
My First Pick: Honeycrisp! Juicy, crunchy, local to Minnesota (true story!), and just the perfect tartness and sweetness for this cake. I also love these in apple crisp.
A Close Second: Granny Smith. I love the tartness of these green wonders, so if you like a little more zing, this is a good one.
In a Pinch: Fuji or Gala. Great apples, but not as good as our friends above! These will still work great for this cake and are very delicious.
Cinnamon Sugar Apple Cake: Frequently Asked Questions
What kind of flour do you recommend?
All-purpose flour is perfect here!
Will this work without the crumb topping?
It totally will, but also, why would you not?! It's so good!
Can I make this vegan?
Sure! Just use a vegan flax or chia seed egg, vegan butter, and dairy-free milk to make the buttermilk.
What type of apples would you recommend for this cake?
Just about any type of apple would work (it's pretty forgiving!), but I prefer Honeycrisp apples.
Could I freeze this cake?
After baking? Yes. It won't be quite as delicious as freshly-baked, but you should be able to freeze and then thaw it with no problem. I'd just recommend warming it a bit at a very low temp in the oven after thawing.
What is the best way to store this cake?
This would keep at room temperature (covered) for about three days. If you want it to last longer, I'd recommend storing it in the fridge after baking.
Here's How To Make This Apple Cake Recipe
Let me show you how it's done, step by step (in photos!).
Mix your apples into the batter in a large bowl and spread that mixture into a pan.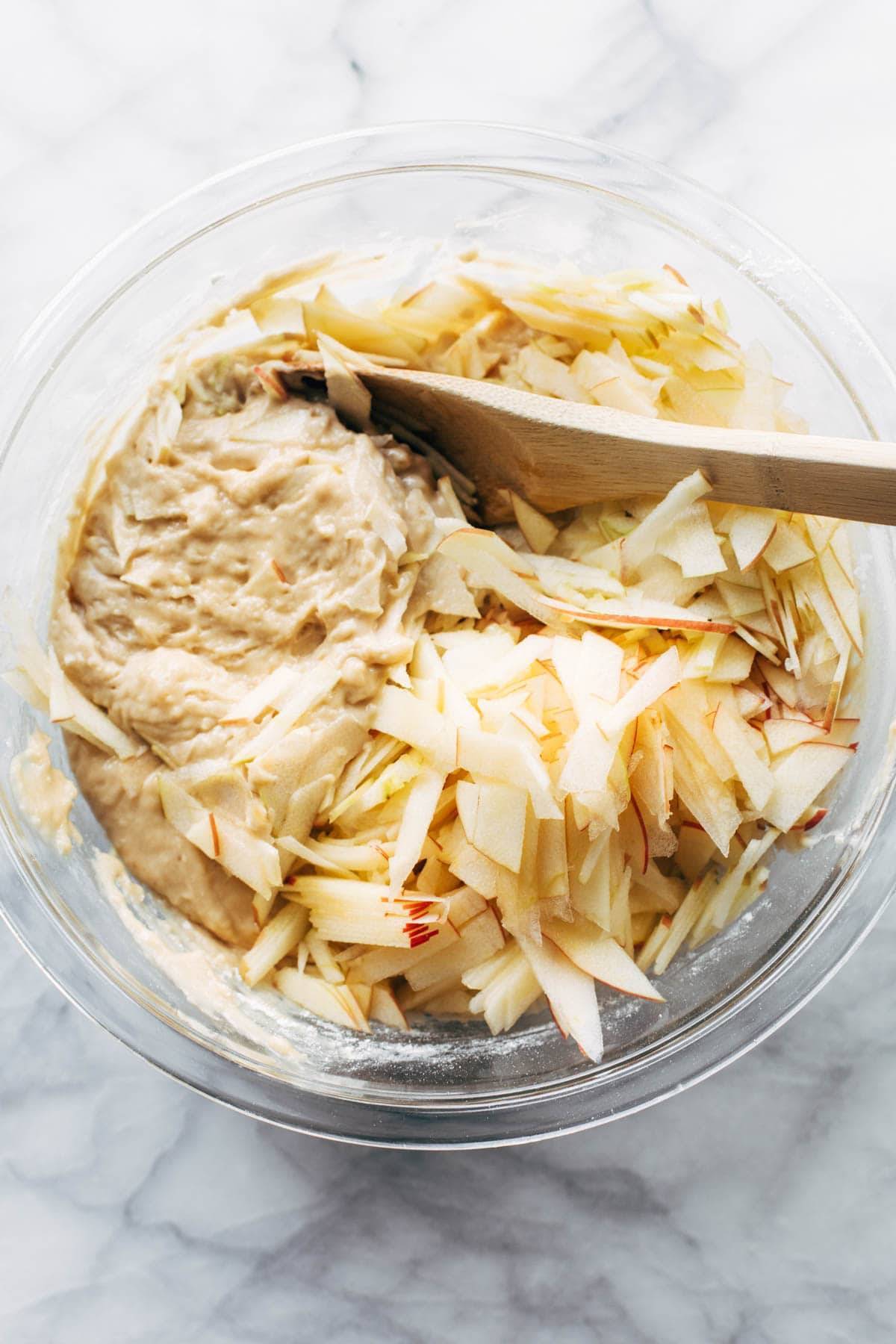 Top with a dust of that buttery cinnamon sugar sand.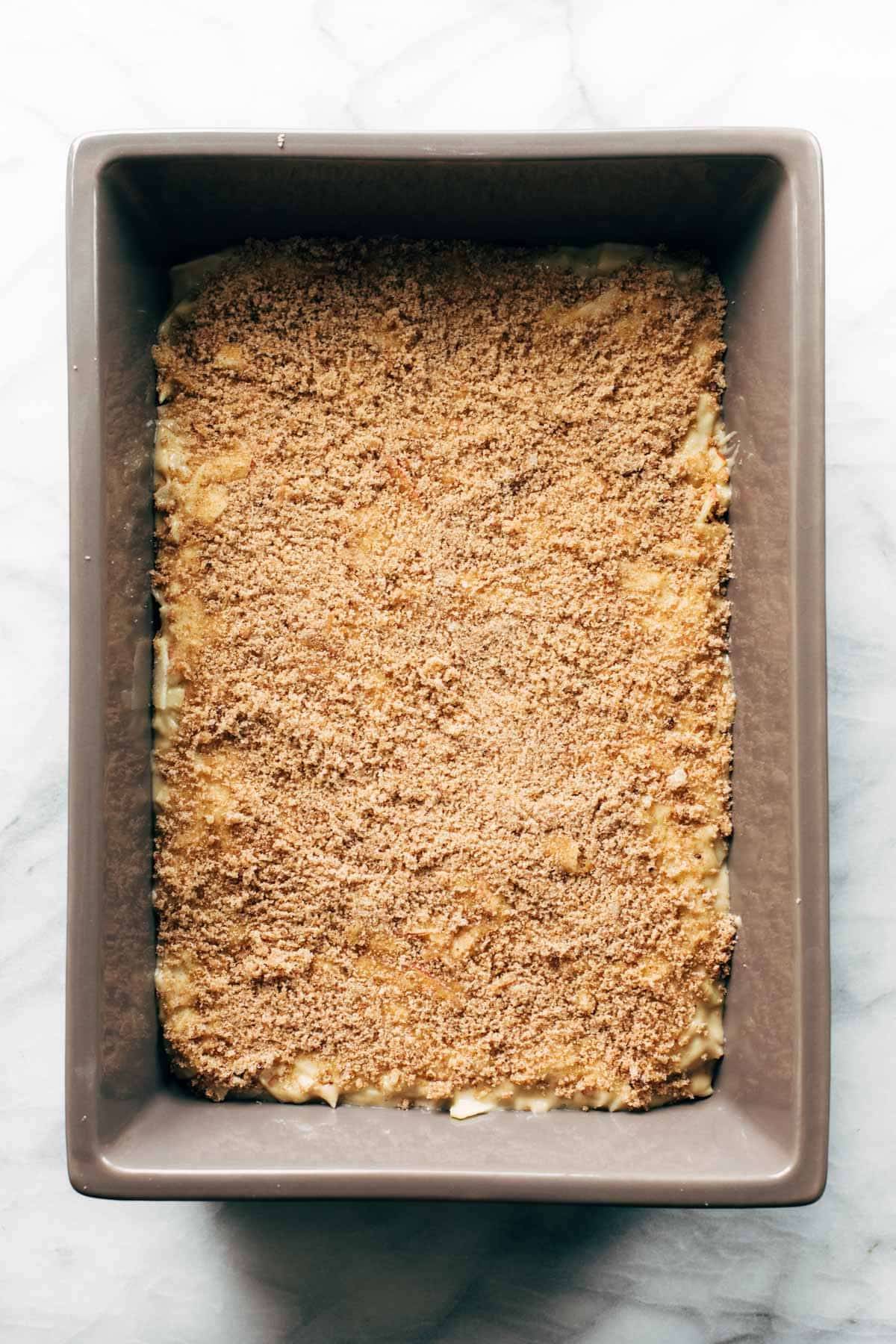 Bake, slice, and now eat, like, a lot of apple cake.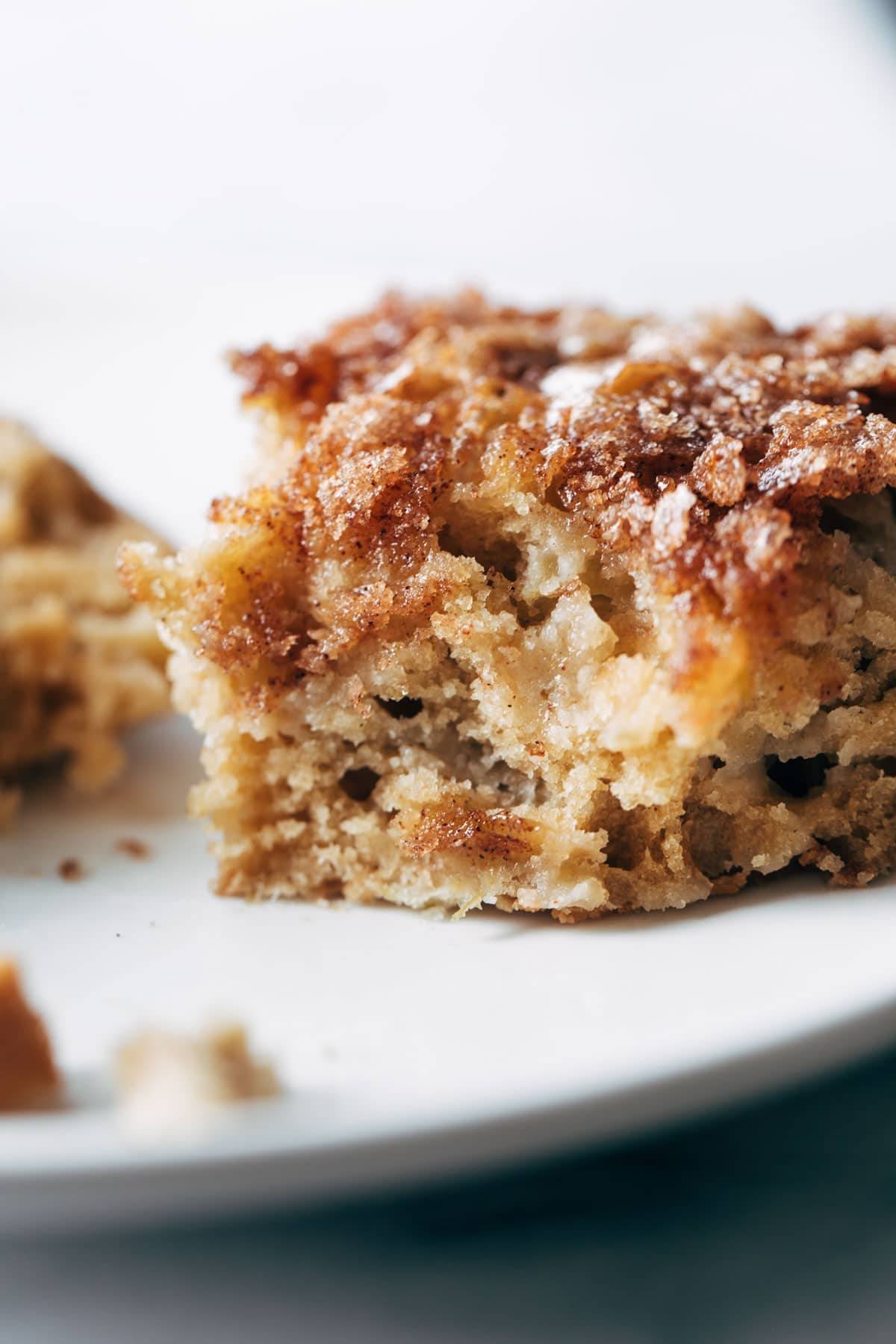 This cake was the perfect weekend treat (not to mention Monday snack and Tuesday 2nd dinner), and guess what's right around the corner?  Wednesday breakfast.
Add some honey butter and coffee and you are in Cozy Fall Business.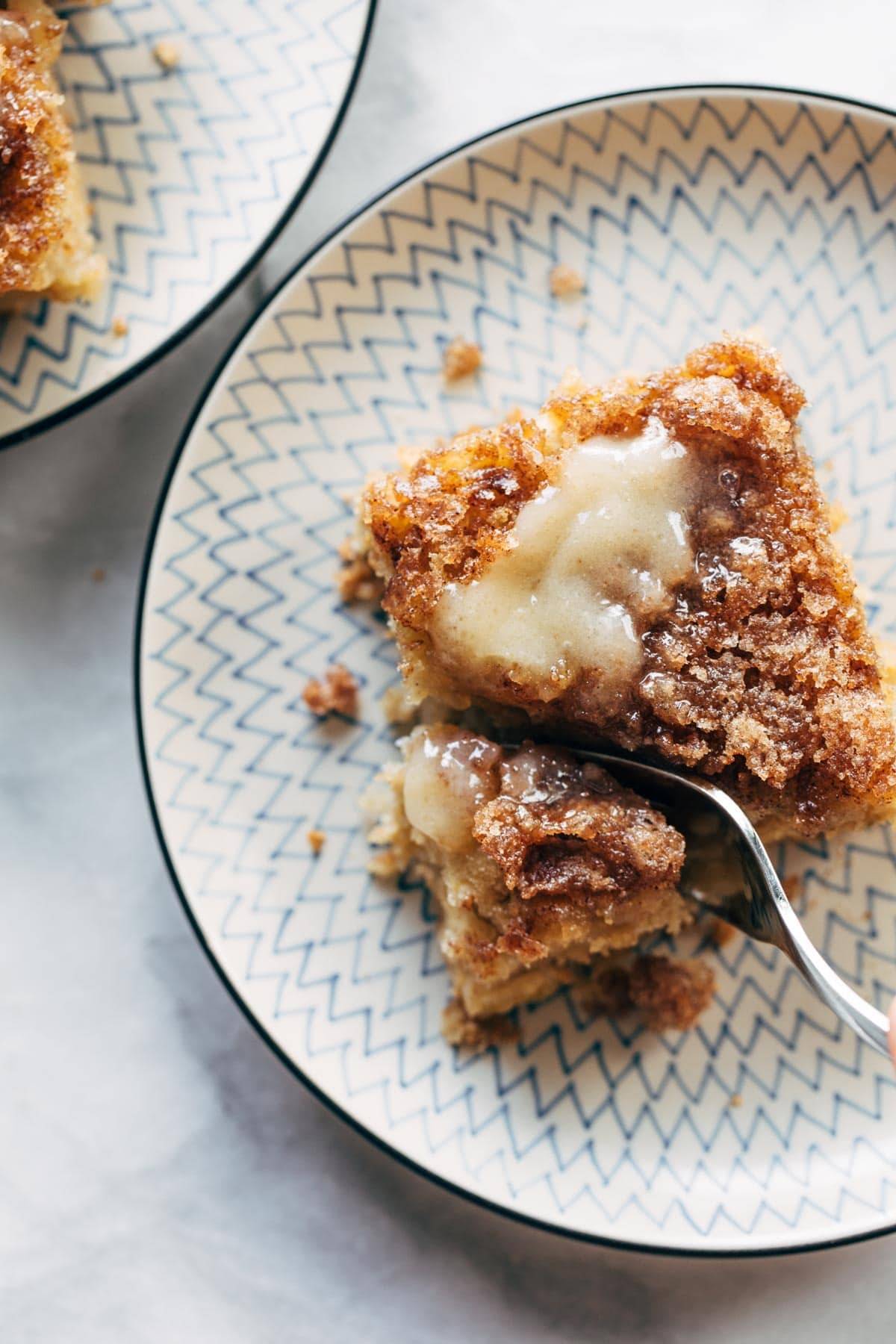 In our house, we have no problem eating the. whole. thing.  As in, two adults and one entire cake. A little piece here, and a little piece there, and three more pieces after dinner, and suddenly it's time to make another apple cake.
Ways To Serve This Apple Cake
This cake makes for an excellent dessert, but also a little treat for a fall brunch.
Any way that you swing it, here are my favorite toppings to serve with this cake:
Whipped Cream: Simple, delicious, easy to whip up.
HONEY BUTTER: That's what's pictured in this post. You can find the quick method for this in the note of the recipe card.
Glaze It: The glaze from these muffins is DELICIOUS and could absolutely work on top of this cake as well.
Ice Cream: If you're serving this as dessert, this cake is also delicious with a scoop of vanilla ice cream on top.
Apple Cake Variations
We like this one just the way it is, but there are some options if you're looking to mix it up.
Bake it in a different size pan. While we've never tested it officially, it should work to bake this in another pan, like a loaf pan or bundt pan. How pretty as a bundt! You could also maybe bake this in two 9-inch square pans, but your cake may be a little thinner.
Make it into muffins. I've already mentioned this recipe, but I think this could work in muffin form too if you're looking for something a little more grab and go (Jennifer Garner did it!). Just reduce the baking time.
Use another fruit. I think this could work with some other fruit variations – like pears? peaches? berries? Lots of options here.
Print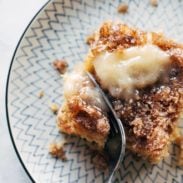 Cinnamon Sugar Apple Cake
---
Description
This simple cinnamon sugar apple cake is light and fluffy, loaded with fresh apples, and topped with a crunchy cinnamon sugar layer!
---
Apple Cake:
1 1/2

cups

brown sugar

1/3

cup

oil

1

egg

1

cup

buttermilk or (1 cup milk + 1 tablespoon white vinegar)

1 teaspoon

vanilla

1 teaspoon

baking soda

2 1/2

cups

flour

2 1/2

cups

chopped apples (see notes)
Cinnamon Sugar Topping:
1/2

cup

sugar

1 teaspoon

cinnamon

1 tablespoon

butter, melted
---
Preheat oven to 325 degrees. Mix or whisk ingredients in order given, stirring until just combined. Fold in your apples.

Pour batter into a buttered 9×13 pan (alternatively, you can line with parchment paper).

Combine last 3 ingredients to make a topping and sprinkle / spread it evenly over the batter.

Bake for 45 minutes. Test with a toothpick if needed. Serve with honey butter or whipped cream if you want. APPLE CAKE IS THE BEST!

Equipment
The equipment section may contain affiliate links to products we know and love.
Notes
Apples: I found that two average sized apples was about the right amount to get 2-ish cups of cut apples. For cuts/textures, see the photo and notes in the post! I like to use a crispy, sweet apple like Honeycrisp for this cake, but honestly, I think just about any type of apple would work.
Types of Oil: Canola or vegetable oil is what I normally use, but olive oil is also really delicious in baked goods – it just has a unique, distinct, olive oily flavor. Also, I haven't tried it yet but I'd be willing to bet that an equal amount of coconut oil or butter would work, too.
Honey Butter: Mix 2-3 tablespoons softened butter with 2-3 tablespoons of honey. Add a sprinkle of sea salt if you want to take it over the top (you do).
Prep Time:

15 minutes

Cook Time:

45 mins

Category:

Dessert

Method:

Bake

Cuisine:

American
Keywords: cinnamon apple cake, cinnamon sugar apple cake, apple cake
Recipe Card powered by
More Delicious Fall Baking Recipes To Try
---
Time To Show You Off!
Tag @pinchofyum on Instagram for a chance to be featured
---
One More Thing!
This recipe is part of our collection of easy baking recipes. Check it out!
The post Cinnamon Sugar Apple Cake appeared first on Pinch of Yum.