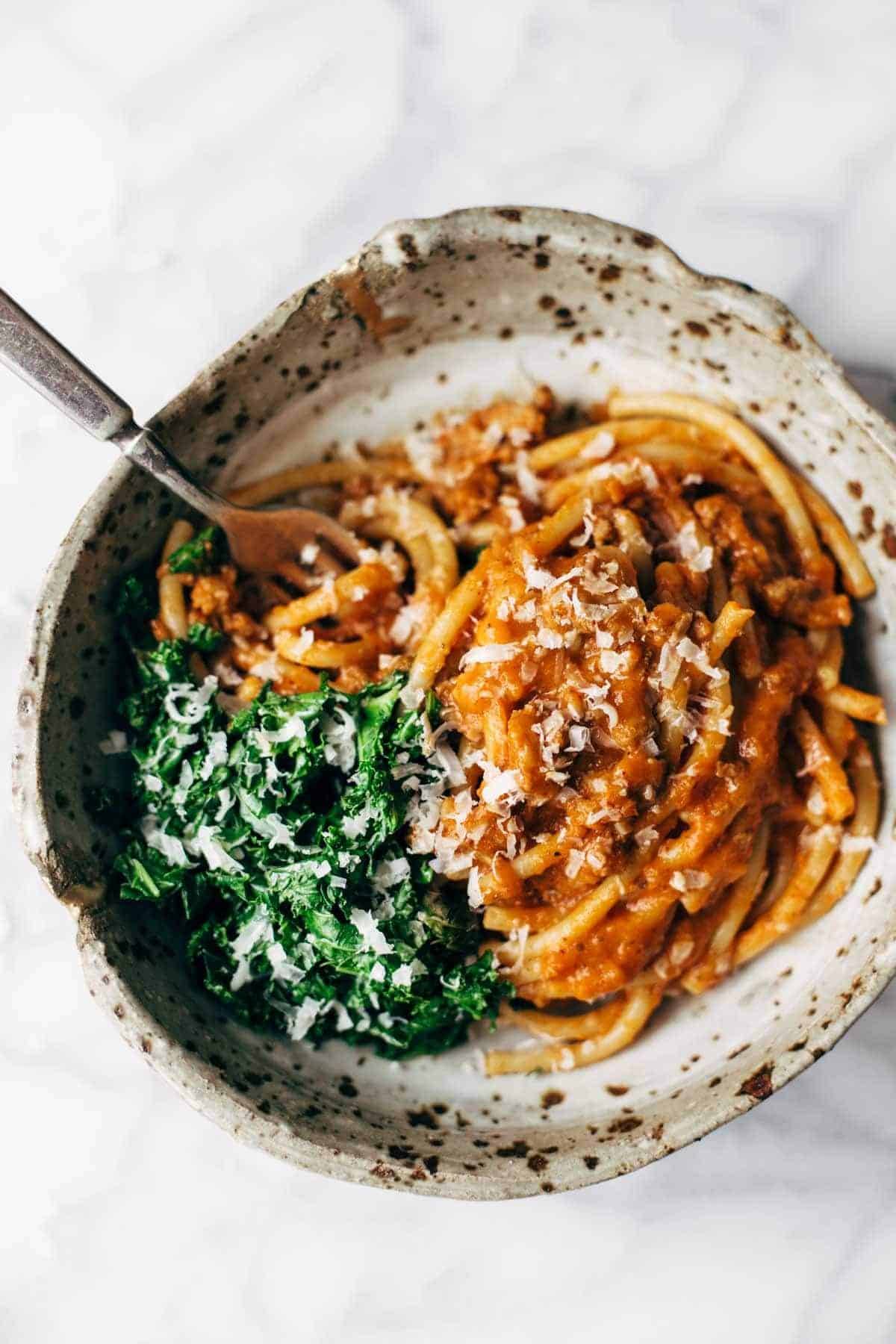 But November?!
Oh my gosh, it's somehow already sweet, cozy November. It was like Sage just finished up being a ghost for Halloween while I took pictures and ate five million KitKats and then BOOM. Just like that. November and all its chilly pre-winter feelings were just HERE.
Do you have candles burning right now? Please tell me you have candles burning.
I know November can mean a lot of things to a lot of people, including but not limited to over-use of bootie slippers even when it's not necessary (but obviously it IS necessary), pre-holiday ordering of minty mochas with pre-holiday listening to Christmas music – you think I don't know you BUT I KNOW YOU, more and more and more candles, and a three second crush on the first supercold days of winter because the whole hats-and-mittens vibe really does start out being really adorable and fun. Key words: start out.
For my fellow Hungry Hungry Pumpkin Eaters, November means that we have entered the season of the year when it's more than okay to embrace mashups of flavors, textures, and colors in recipes like Pumpkin Spaghetti with Garlic Kale. –> See also: Dinner Every Night for the Foreseeable Future.
And let's be honest – that's why I really love November.
How To Make Our Pumpkin Spaghetti (1 MIN):
This pumpkiny spaghetti sauce is totally not my genius. More like it's inspired by my very regular laziness. I saw a jar of pumpkin sauce at Target when I was grocery shopping and it looked like a great way to NOT really have to fully make dinner from scratch and to create opportunities for us to eat pasta all in one fell swoop. Tried it, loved it, read the list of ingredients, and attempted to recreate it.
Pumpkin and tomato together in one sauce? Slow down, friends. I had the saaame questions and concerns.
Don't let the weirdness on paper deter you.
This has been one of my favorite fall meals hands-down and you KNOW I'm serious about my sauces.
FYI: we first made this with spaghetti. Like, noodles. YUM. Then we made it with spaghetti SQUASH to be healthy, which was healthy and a little bit less perfect because, um, it's spaghetti squash. And it gets watery and sad, unlike real carb noodles which love you truly madly deeply with their chewy-soft, sauce-soaking texture. So we made it ahhhgain with noodles. And it's going to be pretty hard for me to go back to any sort of vegetable noodle situation after how hard I fell in love with the carb-sauce combo here (but I will confess that since the sauce is so good, it really does make a great pair for veg noodles of all types).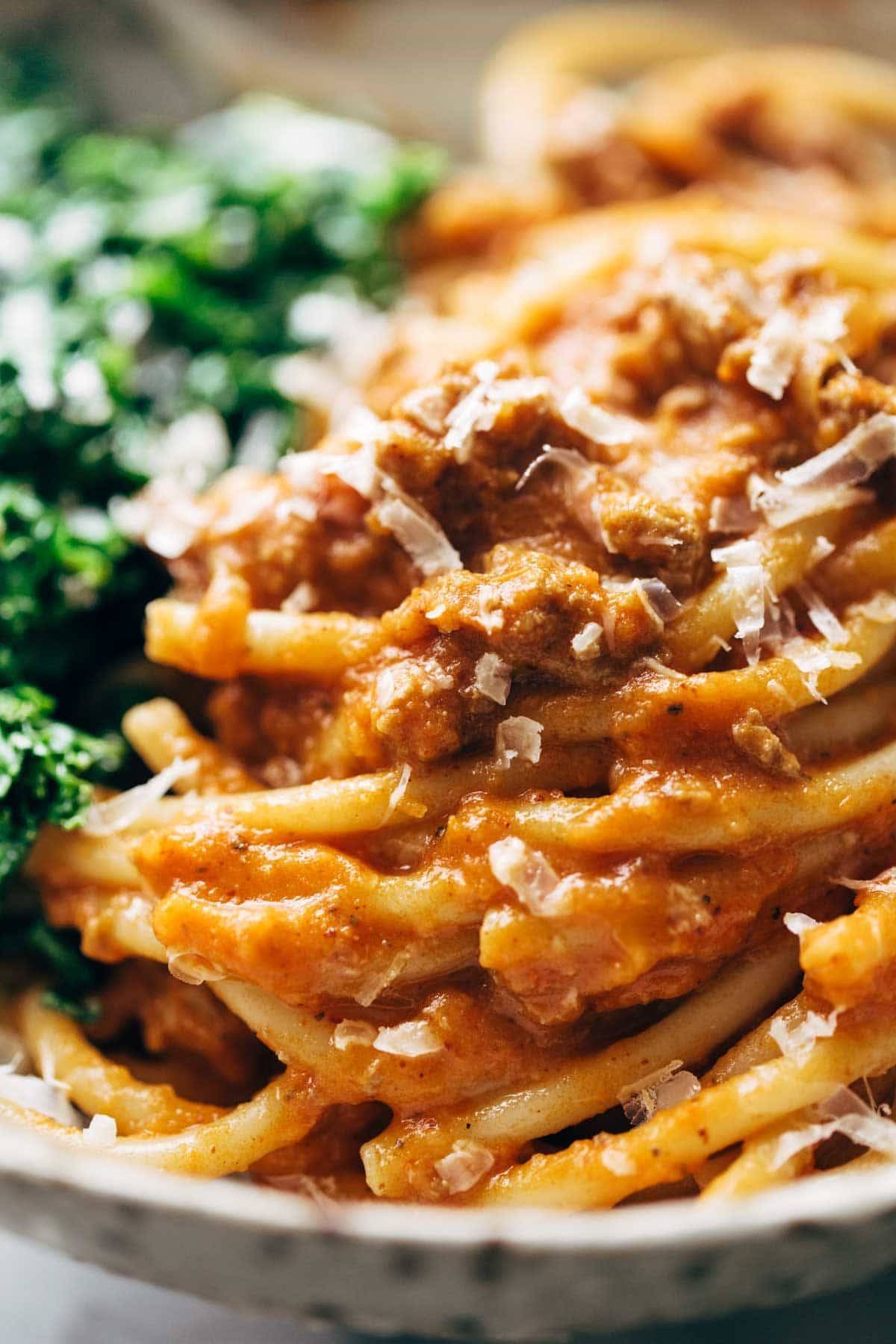 Okay now crew.
Let's keep those candles burning, put on the bootie slippers (already wearing! you know me, always one step ahead! ), and enjoy yoself a plate of steamy noodles with luscious pumpkin tomato sauce, spicy ground turkey, a dusting of Manchego, and a side of sautéed garlic kale.
November is the ultimate.
Print
Creamy Pumpkin Spaghetti with Garlic Kale
---
Description
Creamy Pumpkin Spaghetti with Garlic Kale – this is the most crazy good combination! Spicy turkey, creamy pumpkin sauce, and pasta!
---
For the Pumpkin Sauce
1 cup

sun dried tomatoes packed in oil

1

onion, chopped

2

cloves garlic, minced

3

sage leaves, minced

1 1/2 cups

pumpkin puree

1 cup

tomato puree or tomato sauce

4 cups

chicken broth

1 teaspoon

dried basil

1/2 cup

cream or

half an

d half
teeny tiny pinch of cinnamon
For the Pasta
8 ounces

bucatini, perciatelli, or spaghetti (I used DeLallo perciatelli)

1

lb. lean ground turkey

1

onion, thinly sliced

1 tablespoon

chili powder

1 teaspoon

garlic powder
For the Garlic Kale
2 tablespoons

garlic infused olive oil (see notes)

1

bunch kale, stems removed, leaves chopped
Manchego or Parmesan cheese for topping
---
Instructions
Sauce: In a large pot over medium high heat, add the sun dried tomatoes and a few tablespoons of the oil. Add the onion, garlic, and sage with the sun dried tomatoes and saute until soft and fragrant. Add the pumpkin puree, tomato puree, chicken broth, basil, and cinnamon. Simmer for 15 minutes or so, adding more water or broth as needed to keep the sauce from getting too thick. Puree in a blender or with an immersion blender directly in the pot until mostly smooth. Stir in cream and season to taste with salt, pepper, and red pepper flakes for heat.
Pasta: Boil the pasta according to package directions. While the pasta is boiling, brown the turkey in a large skillet with the onion, chili powder, and garlic powder. Add a few tablespoons of water if necessary to keep everything moist.
Kale: Heat the olive oil over medium heat. Add the kale and saute until wilted.
Toss the turkey, sauce, and pasta together. Serve with the kale. Top everything with the cheese.
Notes
You don't have to use garlic infused olive oil, but that was the easiest way I found to get a nice light garlic flavor without having little pieces of garlic in the kale. If you don't have garlic oil, just use regular minced garlic cloves and throw it in with the kale. Another option: gently heat the oil, add the whole smashed garlic cloves whole and saute for a few minutes to impart some flavor, and then remove the cloves before adding the kale.
Prep Time:

15 mins

Cook Time:

40 mins

Category:

Dinner

Cuisine:

American
Keywords: pumpkin spaghetti, pumpkin and kale spaghetti, pumpkin noodles, pumpkin pasta
Recipe Card powered by
---
One More Thing!
This recipe is part of our collection of yummy kale recipes. Check it out!
The post Creamy Pumpkin Spaghetti with Garlic Kale appeared first on Pinch of Yum.