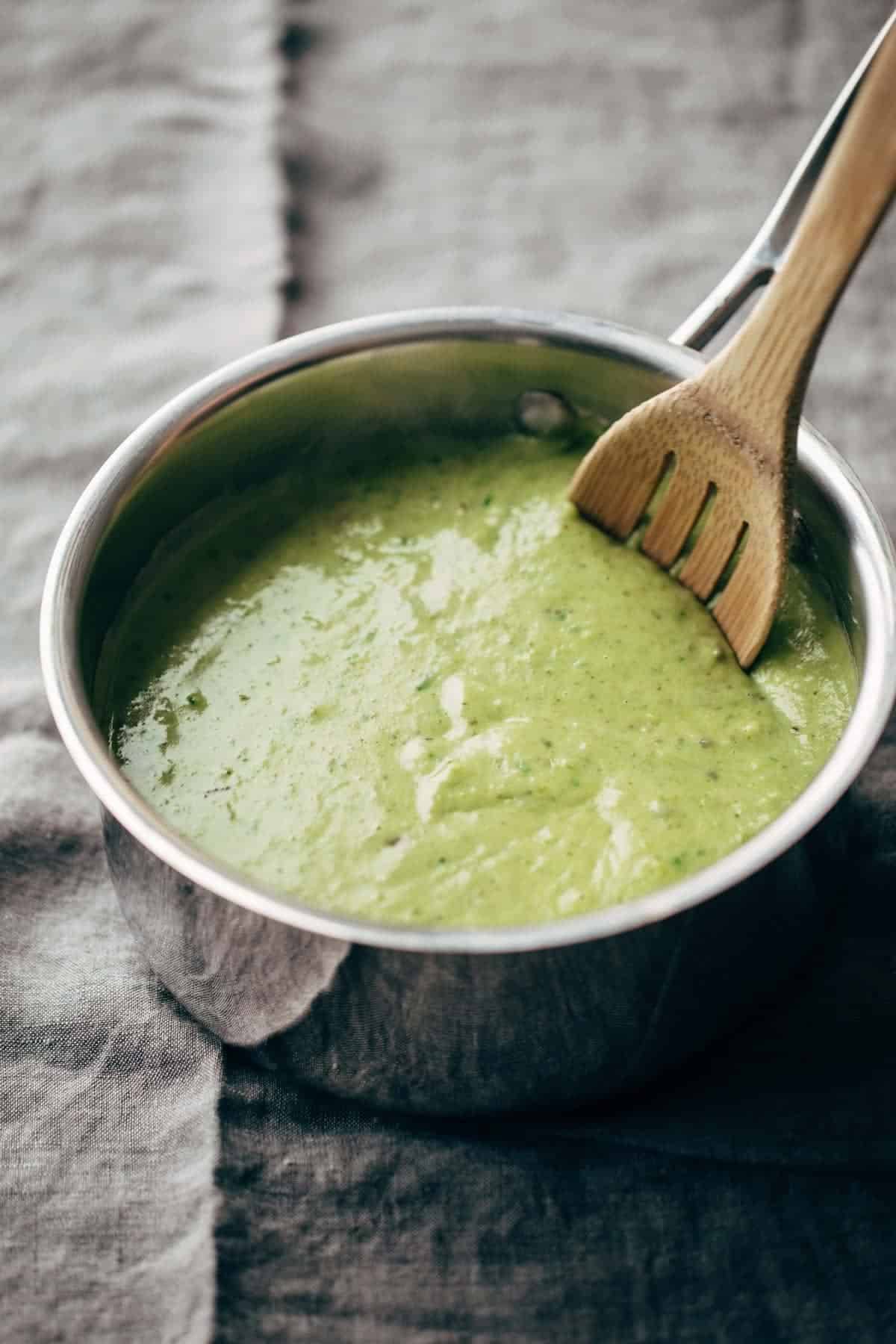 Little message for your brain today 
Creamy spinach and roasted poblano sauce is a thing that you need.
And if you love Mexican food (which is, I think, a prerequisite for reading this blog – have I not made that clear yet?), you absolutely totally seriously must with this sauce. For a few reasons.
Reasons To Get Roasted Poblano Sauce In Your Life:
Enchiladas of all kinds. covered in this sauce. Mic drop.
Burritos. Smothered. Winning.
Quesadillas saucified with spinach and roasted poblano goodness.
Spicy breakfast potatoes and eggs blanketed in luscious, creamy, flavor-packed green.
Roasted chicken with this sauce for dipping, served with a side of Mexican rice and beans, obviously, to mop up the extra sauce.
(Any food in the universe) topped with, dipped in, or covered in this sauce.
And finally, just because if we get right down to it, green sauces are generally pretty bomb. We saw this in 2015 through the introduction of things like Kale Pesto, Avocado Cilantro Dressing, and 5 Minute Magic Green Sauce. And now we can add one more to this list!
Its name is Creamy Spinach and Roasted Poblano Sauce.
At the base level with this sauce, we're talking roasted poblanos, roasted garlic, and roasted onions. I mean… YEAH. Clear eyes full hearts can't lose.
To the blender, we're going to add some spinach and the combine the bright green ohmygoodness mixture with a creamy sauce base that we have bubbling on the stove, and the resulting sauce is a more subtle green with rocking flavor that is everything your Mexican food dreams are made of and more.
If I may be a tease for a hot second, this combo (breakfast enchiladas with chili potatoes, spicy turkey, eggs, tortillas, and cheese) is a PER-FECT example of what a person could do with such delicious sauce.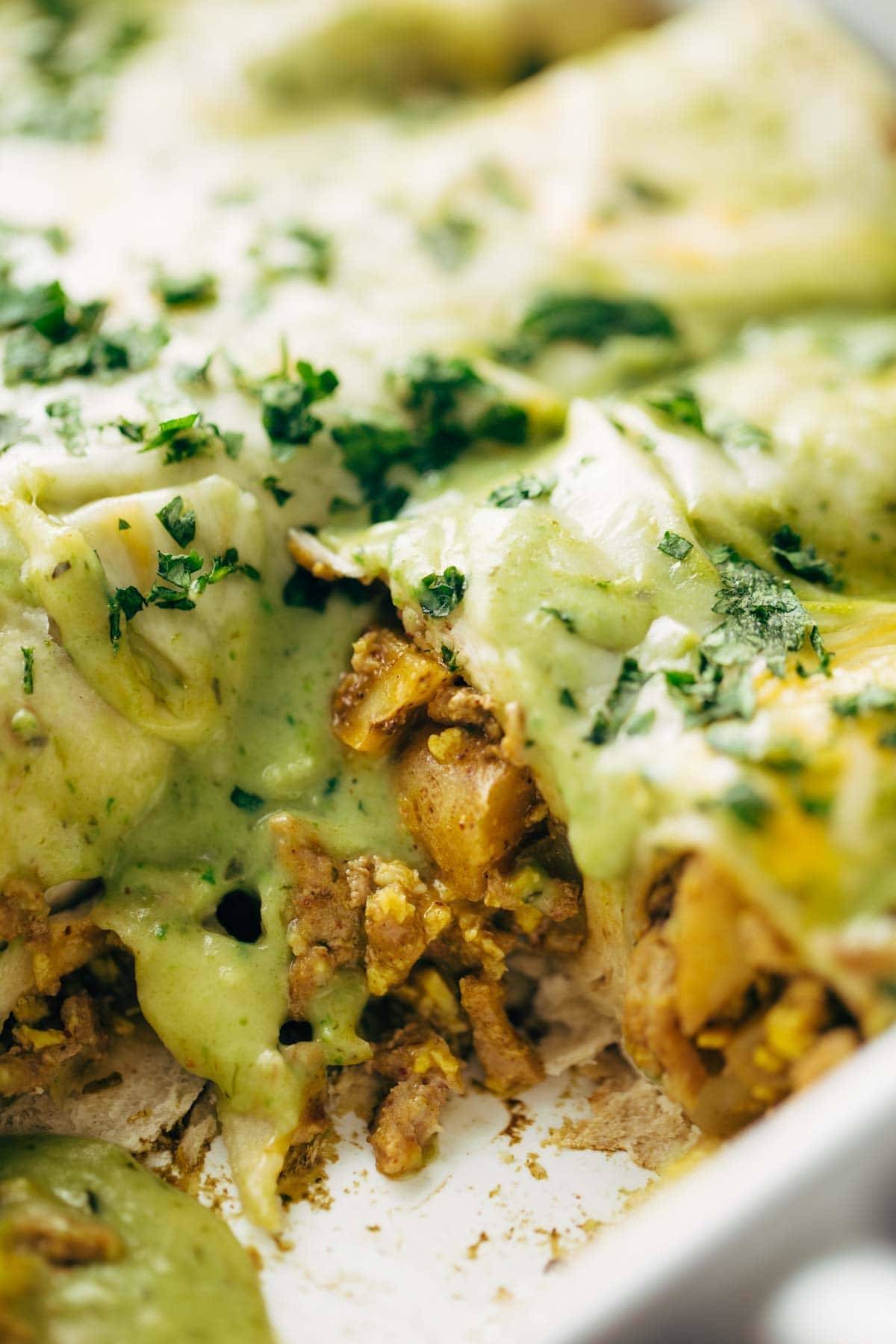 You'll be seeing those breakfast enchiladas in full in tomorrow's post, but for today, all hail the roasted poblano sauce that will bring your homemade Mexican food game to the NEXT LEVEL.
Print
Creamy Spinach and Roasted Poblano Sauce
---
Author:

Pinch of Yum
Total Time:

45 minutes

Yield:

about 4 1/2 cups (roughly 10 half-cup servings)
Description
The sauce for all your Mexican food wants and needs. It's creamy, loaded with flavor, and totally versatile. So delicious! | pinchofyum.com
---
For Roasting:
1 tablespoons

olive oil

4

garlic cloves, peeled

1

onion, coarsely chopped

2

poblano peppers, cut into large strips
For the rest of the sauce:
6 tablespoons

butter

1/2 cup

flour

2 cups

milk (warm)

2 cups

chicken broth (warm)

1 teaspoon

salt

1 cup

spinach leaves
---
Instructions
Preheat the oven to 375 degrees. Wrap the garlic in foil with a little bit of oil. Toss the poblano and onion with the remaining oil. Place all three items on a baking sheet and roast for 30 minutes or until very soft.
Meanwhile, melt the butter in a saucepan and whisk in the flour to form a thick paste. Cook for a few minutes. Slowly whisk in the warm milk and chicken broth. If they are cold, it will be more difficult to achieve a smooth texture. Whisk/simmer until smooth and thick, 5-10 minutes.
Add half of the creamy mixture to a blender or food processor with the roasted vegetables from step one. Add the spinach. Pulse until mostly smooth. Taste and adjust with additional salt, pepper, or other seasoning.
Transfer to the saucepan and combine with remaining creamy sauce base. Season with additional salt and pepper. Use on enchiladas, burritos, veggie bowls, quesadillas, eggs, breakfast hash, or anything else that you want. Sauce for life!
Notes
The longer you simmer the sauce, the thicker it will get.
I found that for leftover sauce (which gets pretty thick) or for sauce that needed to be a different consistency (thinner to pour over enchiladas, for example) it was really easy to just add a little bit of additional chicken broth or water to thin it out. You can just eyeball it to the right consistency based on what you are using the sauce for.
Prep Time:

15 mins

Cook Time:

30 mins

Category:

Sauce

Cuisine:

Mexican
Keywords: poblano sauce, spinach and roasted poblano sauce
Recipe Card powered by
---
See also –> Blender Life Hacks!  I can't stop with this machine.
The post Creamy Spinach and Roasted Poblano Sauce appeared first on Pinch of Yum.